Have you ever dreamed of visiting the sunny beaches of Rio de Janeiro or Sao Paulo, well this is the year to do it. Brazil is the number one destination for 2014, particularly now it's the host of the FIFA World Cup in 2014 and will be hosting the Olympics in 2016.
Even if football or sport in general isn't your thing, here are some other reasons of why you should visit.
The Amazing Beaches
There are over 2,000 beaches and more than 1,000 Brazilian islands scattered across the Atlantic Ocean. While the majority are densely populated, a few remain ecological sanctuaries.
Brazilians take their coastal assets seriously, and beach culture is a big part of the lifestyle. Beachgoers in Rio de Janeiro have been known to break into applause as the sun sets after a particularly fine day of bronzing. Looking at this picture we can clearly see why, two words breath taking!!!!
To Party
The one thing everyone knows about Brazil is that the locals love a good party!! The pre-lenten festival of carnival takes places all over the world, but no place does it like Brazil. The parades, elaborate costumes, pulsing samba music and partying virtually shut down business in major cities for 6 days. The Rio de Janeiro Carnival is perhaps the most famous, drawing nearly 5 million revellers per year.
The environment can only be described as fast and loose with 24/7 drinking, you can even buy alcohol from a cool box on the curb side!! As a foreigner in Brazil you can actually experience more things than the locals because you won't be subject to the class prejudice that exists in Brazil and you won't have financial limitations.
So shake your shimmy and let's get the party started!!
Multicultural cuisine
The Brazilian cuisine is as diverse as its demographics and culture, with a mixture of native dishes paired with the influences of European and Japanese cultures. Their food is rich in fruit, vegetables and meat and with the added Latin-Caribbean mixture of rice and beans makes it an explosion of flavours!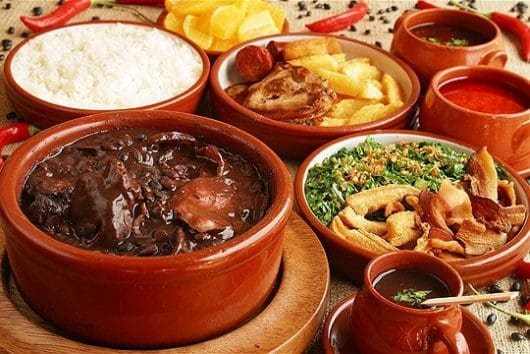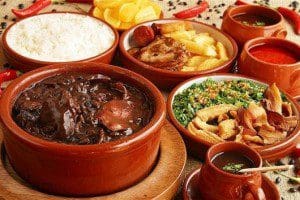 Ecotourism
Brazil has a myriad of protected areas and national parks, and is home to an extensive range of flora and fauna. The Amazon River and rainforest, as well as the Iguazu Falls are some of the places worth visiting.
Nearly 60 percent of the Amazon rainforest, and 25 percent of the world's rainforests are located in Brazil. Nearly 4 million plant and animal species are found in Brazil, including more species of monkeys than anywhere else in the world.
From the winding Amazon River and surrounding rainforest to more than 4,600 miles of coastline to savannas and grassland in south-central and southern parts of this vast country, which makes up nearly half of South America.
One of our favourites is located on the border between Brazil and Argentina, the Iguazu Falls is one of the most awe-inspiring natural sights in the world. Over 275 waterfalls crashing into the Iguazu River from a precipice three kilometres high, one of nature's wonders!!!
Amazing Architecture
Brazil is a mixture of historical and futuristic with the Portuguese architecture of yesteryear. The colonial-style buildings give the country a really charming element. But also the new buildings and modern transportation facilities making it increasingly more sophisticated.
One of the most iconic structures is the 40-metre-tall statue of Christ the Redeemer on the Corcovado peak that overlooks Rio de Janeiro. Hop on to the cogwheel train that takes you through a dense rainforest up to the summit, where spectacular views are guaranteed.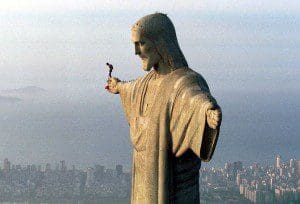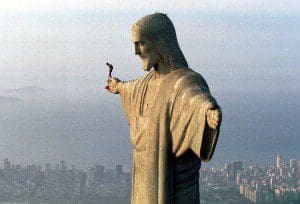 Soccer
Well they are holding the World Cup, so we have to at least mention football, or soccer as it's known over there. For this soccer-loving nation, whose national team has won the World Cup five times, more than any other country this will be the party of the year! Soccer great Pele hails from Brazil and still reigns as the top-goal scorer of all time.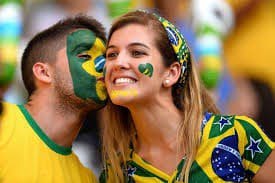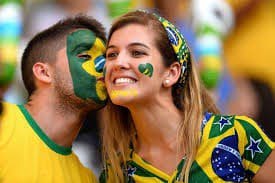 And finally, the people!
Brazil is one of the most ethnically diverse countries in the world. Brazilians can trace their lineage to pre-contact indigenous peoples, Africans who were brought to Brazil as slaves, and anglo-European settlers (particularly Germans and Italians), more than 4 million of whom arrived between 1880 and 1930. Its official language is Portuguese, but 180 native languages are still spoken in different regions, as is German and Italian. The result is a vibrant mix of music and dance, most typified by the Samba.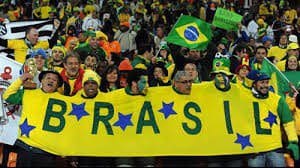 Fancy going?? If you have been, please visit our Facebook page and tell us your experiences.