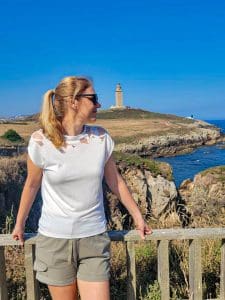 During 2022 we spent a lot of our travelling time on cruise ships, covering a myriad of destinations such as south America and Europe. As you can imagine during this time, we saw lots of ports and there were many which stunned us with their beauty. So, it takes a lot for a cruise stop to be memorable, and we can confirm that La Coruna or A Coruña was one such stop on our western Europe cruise on the Carnival Pride.
So let us explain a little about La Coruna and how easy the port is for cruisers, then we'll delve into the important stuff, the attractions.
A Little About La Coruna
La Coruna is a city and municipality of Galicia in Spain and it's a very common port to dock at during a European cruise. In all honesty we didn't expect much from this stop on our cruise itinerary, because it's classed as one of the smaller ports.
There is a quaint local Spanish feel to the area, but it's the historical sights which keep cruisers returning to the area over and over again. Whether you book an excursion of which there will be plenty to choose from, or simply wander around the city yourself, you will find your time in La Coruna can be filled easily.
If you're looking for a little back history before you head on your cruise, then La Coruna is said to have been founded by Hercules. The Romans occupied the area for a time and their influence can still be found in the region to this day.
One important piece of history occurred in 1588 and is still celebrated in the old town today. The Spanish Armada sailed from Ferrol to Plymouth in England to attack the British, but only half the ships returned, and the Spanish were defeated in battle. One year later Sir Francis Drake took an English fleet to La Coruna in reprisal, but they were fought back by the people of the city who were inspired by their heroine Maria Pita.
Because of the rapid growth in the city's population during the 19th and 20th century, there was a huge amount of transformation and modernist architecture being built, which is still present today.
La Coruna Cruise Port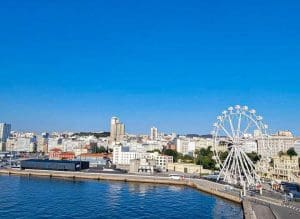 We have a little ritual whenever we cruise and the ship has docked, where we don't look out of the window (if we have one) and we make our way up to the highest deck to see our first glimpse of wherever we are. Now most are working ports, so when we step outdoors, we're greeted by shipping containers or other cruise ships. But you sometimes get those special ports which stop you in your tracks and take your breath away; the likes of Kotor in Montenegro or Skjolden in Norway.
If you're heading to either of these ports, then please check out our guides to Skjolden and Kotor.
La Coruna wasn't as naturally stunning as the other stops we have named above, and yet it was still a surprise to us how lovely it was. The dock itself is directly in the downtown area and is only a 5-minute walk to the city centre.
There is a specific berth for cruise ships which has a smallish passenger terminal with a shop, restrooms, and free Wi-Fi. You'll find tour operators around that area and the taxi terminal if you're planning on heading further out to an attraction.
Once we left the cruise terminal, we headed to the right along the marina area to the Tower of Hercules. But if you're looking for the central shopping area then head to the left of the port or ask for directions. Everything is quite easy to find, and you can meander the streets safely. In fact, we quite enjoyed just wandering around and feeling like locals, even if it was for a couple of hours.
When to Visit La Coruna
The majority of this will be influenced by when you're going on your cruise, but it's worth noting for packing when the best times of year are. Like most parts of Europe, the weather in La Coruna can be quite changeable through the day and what can start off as rainy, quickly becomes sunny.
For the majority of people, we recommend the Spring (April, May and even June) and Autumn (September and October) months for this part of the world, but that will obviously depend on the cruise itineraries and additional elements such as school holidays. Winter tends to be cold and rainy, and you will find many cruises won't head to that part of Europe.
As you can imagine it is the end of June, July and August which are the hottest months and temperatures can get incredibly warm. If you're looking for minimal tourists, then May or September will be the better months for La Coruna.
Attractions in La Coruna
The Tower of Hercules, Known as Torre de Hercules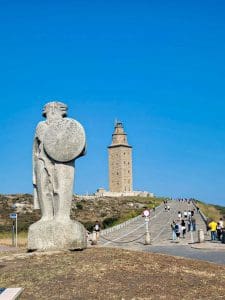 The Tower of Hercules, also known as the Torre de Hercules, is a lighthouse dedicated to the Greek hero Hercules, and it was a nice surprise for us during our time in La Coruna. We hadn't known what to expect, but really enjoyed visiting both the tower and witnessing the surrounding views.
The Torre de Hercules is the oldest working lighthouse in the world and is seen as a symbol of the city, so it holds great significance. We headed there first after leaving the ship and walked along the marina and coastline for about 40 to 60 minutes. We have been told that taxis are relatively cheap if you cannot walk that distance or you fancy saving your legs. It was quite a straightforward walk and the views along the coast are beautiful.
The tower was built by the Romans in the 2nd century and is a UNESCO World Heritage Site. The majority of the lighthouse has been restored and as such it's quite a beautiful sight, as it overlooks the Atlantic Ocean. As you arrive to the area of the Tower of Hercules, you will spot a statue of a Celtic king legend named Breogan. The majority of visitors believe the statue to be Hercules, as did we when we visited. According to legend Breogan was considered the father of the Galician nation and is said to have founded the city of Brigantia, otherwise known as La Coruna. He is also said to have built the Torre de Hercules, hence why he stands proudly at the entrance of the lighthouse.
Before you reach Breogan there is a small office, and it is here you can purchase tickets to enter the lighthouse. At the time we visited, which was August 2022, the general admission price for an adult was 3 Euros, which in comparison to other attractions is incredibly cheap. We bought our tickets on the day, but we have read on multiple forums that it's more sensible to prebook. They only allow so many people up during each hour and as such you may not get a ticket.
On the ground floor you will find a small museum with exhibits showing the Roman foundations and other archaeological finds. There are four floors within the lighthouse which are accessible by the 242 steps, and each have information boards which explain the history of the tower. At the top there is a viewing platform which gives you an opportunity to admire the views of the ocean and La Coruna. The staircase is quite narrow and uneven, so make sure you have comfortable footwear and take your time as you climb.
If you'd prefer to remain on the ground, then there is still plenty to see, because as well as the lighthouse itself there is lots of artwork displayed around the peninsula. We spent quite a bit of time walking around the area and taking in the nature and scenery. So, if you have the time once you've been in the lighthouse, make sure you wander around and take it all in.
Maria Pita Square – Old Town

We thought it was best beginning this section by explaining who Maria Pita is, because she is quite iconic within La Coruna. You may have read above that following the defeat of the Spanish Armada invasion in Plymouth England, the British retaliated and sent a fleet which landed in La Coruna on the 04th May 1589.
Maria Pita assisted her husband who was an army captain to lead the assault against the British. They had already taken control of the lower part of the city, so it was vital for the Spanish that they protect the highest part of the wall. Maria killed an English commander using a spear with an English banner on it; the commander was allegedly the brother of Sir Francis Drake. Maria's husband was killed when a crossbow bolt struck him in the head and it is said that she appeared on the heights of the wall shouting 'Whoever has honour, follow me!'. This impacted the English troops who began to retreat back to their ships as they were driven back by the defenders.
As you can imagine, such courage should be immortalised, so one of the most important areas of La Coruna is named after their heroine Maria Pita.
Pretty much directly ahead from the cruise terminal you will find Maria Pita square, which is the cities main plaza. The square is incredibly grand and is home to La Coruna's town hall and council building, both of which are architecturally beautiful. You will also find lots of cafes, restaurants, and bars, making this a central spot of the community. When we visited, the square had equipment left over from a festival which had taken place the day before. Maria Pita square holds many concerts, festivals, and celebrations during the year, which we found quite poignant because there is a statue of Maria in the square holding a spear and fighting for freedom which the revellers are enjoying.
Galerias, known as 'the City of Glass'
The Galerias can be found within a close distance to the cruise port terminal, in fact we saw them from the top deck of our ship. They have been given the nickname of City of Glass and are quite a site along the Avenida de la Marina.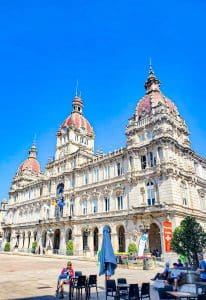 These beautiful buildings are a combination of large areas of glass and white painted woodwork. The sleek façade makes them stand out against the other atypical Spanish houses which all have balconies. Interestingly the marina side of the Galerias is the rear of the building and they date back to the 19th century. Their architectural style ranges from neo-classical and baroque to Romanesque and renaissance.
What makes the Galerias so significant within A Coruna is the fact that the design was so popular during that era, so you're witnessing a part of their history. It's the perfect attraction to add to your list, because it's free, doesn't take up a lot of time and you can access Maria Pita square close by.
Cidade Vella
Cidade Vella is one of the oldest parts of La Coruna and goes from Maria Pita square to the Arts Centre. Within the area you will find sights such as the Xeneral Azcarrega square, San Carlos Garden, Santiago's church and narrow streets with bars, restaurants, antique and craft shops.
We found ourselves wandering around this area for quite a while, taking in the medieval architecture. But it was seeing the locals just making the way through their day, and school children being directed by their teachers, which added an element of joy. We truly felt like we were a part of the local community and witnessing what every day life is like in A Coruna.
The Beaches of A Coruna Orzán and Praia de Riazor
If you're thinking that you'd prefer to spend your time in La Coruna relaxing, then you'll be glad to know that there are two beach areas, Orzán and Praia de Riazor. Both are about a 15-minute walk from the cruise terminal, and you can head through Maria Pita square to get there. Both beaches are close to each other in a crescent shaped inlet of the city, and they are beautiful, with La Coruna's urban landscape in the background. There are walking and cycling paths on the 8-mile promenade which are perfect if you fancy a stroll as you watch the ocean waves.
Santiago de Compostela and the Catedral de Santiago de Compostela
This is a popular excursion on the cruise ship because Santiago de Compostela is the capital of Northwest Spain's Galicia region and is a 50-minute journey from the cruise port. The old town of Santiago is said to be beautiful and has religious significance, as it is rumoured to be the burial site of the Biblical apostle St. James. His remains are said to be in the Catedral de Santiago de Compostela, consecrated in 1211. In the crypt beneath the main altar is the Tomb of the Apostle St James.
The Cathedral is also home of the famous Botafumeiro, which is a giant incense thurible dating back to the mid-19th century. Many Catholics consider Santiago de Compostela to be the world's third most important pilgrimage site.
As you can imagine with a capital, there are many restaurants, bars and shops, plus additional landmarks such as the Museum of Pilgrimage, Mosteiro de San Paio de Antealtares (church and monastery), and Mercado de Abastos (market).
Casa Museum Picasso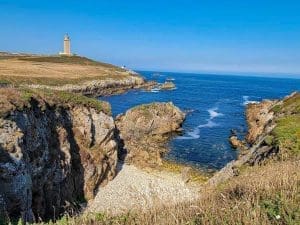 Located about a 15-minute walk from the cruise terminal is the Casa Museum Picasso. This is the apartment where Pablo Picasso lived between the ages of nine and thirteen, because his father taught art at a nearby school. Within the museum is period furniture and copies of paintings and drawings, as well as an original engraving which Picasso created whilst he was there, and they display his talent at its finest. Picasso's family had arrived in La Coruna from Malaga, and then moved on to Barcelona in 1895. The museum provides a tour in English and entrance is free, but make sure you ask when you arrive.
Casa Museo Maria Pita
We've already explained the story of Maria Pita, but you can walk in her footsteps at the Casa Museo Maria Pita. This is the home of the great heroine and is a museum covering her life and the history of A Coruna in the 16th and 17th centuries. Only a little of the house has been preserved, with the rest of the building being modern. You will find information panels in English, an exhibition of photos and certain areas of her home recreated, such as the kitchen and sleeping area. Alike the Picasso Museo, the Casa Museo Maria Pita offers free admission and is only about a ten-minute walk from the cruise terminal to the old city.
Iglesia de Santiago Apostol
This 12th century Romanesque church can be found in the heart of La Coruna and was declared a historic monument in 1972. The church also has civil significance because the city council met there, with documents and ammunition being stored there.
Plaza del Humor
Not far from Maria Pita square is the Plaza del Humor which is an area dedicated to caricatures of famous laughter makers from Cervantes to the Pink Panther. It's a fun spot to hang out for a bit and ideal for pictures with Groucho and Laurel and Hardy.
Museo Militar
This military museum is only 20 minutes from the cruise port and offers a collection of arms, uniforms, banners, and military equipment from the 18th to 20th centuries, with lots of information about Spain's military history. We have been informed that the museum offers free admission, but that most of the information provided is in Spanish.
MEGA Museo Estrella Galicia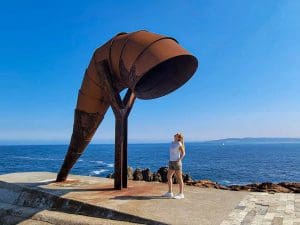 About 40 minutes from the cruise terminal is a museum called MEGA Museo Estrella Galicia, which is a brewery tour for Estrella beer. This is Spain's first and only museum dedicated to the culture of beer, including the history and legacy of Estrella. The interesting part is that the museum is a working brewery, so you're seeing how beer is produced, the ingredients, the brewing process, bottling and canning, and discover the culture of beer through interactive exhibits. You'll end the tour with the chance to pull the perfect pint and drink it, then there is an official store to purchase goodies. Currently a self-guided tour is 15 Euros, which is quite a good price compared to the other brewery tours we have done.
Monte San Pedro
The Monte San Pedro is nearly an hour from the cruise terminal, so it may not be something you want to do if you're visiting from a cruise ship for the first time. It is a hilltop park offering incredible views over the city and coast, but there is the Cúpula Atlántica which is an observation dome with a maze, café, restaurant and two large 1920's guns. The Ascensor Panoramico makes heading to the Monte San Pedro an exciting experience, because it's a large glass ball which transports people to the top of the hill and currently costs 3 Euros each way.
Museo Nacional de Ciencia y Tecnologia
The National Museum of Science and Technology is a Spanish national technology museum and can be found a little further on from the beach or around a 30-minute walk from the cruise port. It is free to enter and offers over 19,000 scientific instruments, technological devices, vehicles, machines, and industrial tools from the 16th century onwards. Within the museum there are lots of interactive exhibits for kids and a huge outdoor area where you can grab a bite to eat.
Museo Arqueologico e Historico
San Anton Castle is a 15-minute walk from the cruise terminal and was a former fortress from the second half of the 16th century, which was built to protect the entrance of the city. It is now used as the Archaeological Museum, with some artifacts dating back to megalithic culture and the late Palaeolithic era. There is also Roman metalwork and pottery, plus Celtic gold jewellery which was created in 2500 to 500 b.c. There is currently an admission fee of 2 Euros, which alike many of the other attractions in La Coruna is incredibly cheap.
Museo de Belas Artes
Only 10 minutes from the cruise port is the Museo de Belas Artes, which is La Coruna's Museum of fine arts. This impressive museum is free to enter and there are over 5,000 pieces which date from the 15th century to the present day, with artists including Rubens, Picasso, Tintoretto and Sorolla.
Church of St. George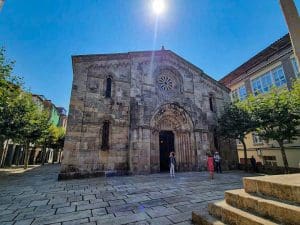 Near to Maria Pita square is the Church of St. George, known as the Inglesia de San Jorge. This is a parish church built in a Baroque style in the 18th century which has two bell towers. The church can be visited as it is open for services and is an exquisite site.
Collegiate Church of Santa Maria do Campo
If you're not too sick of churches, then close to the cruise port is the Collegiate Church of Santa Maria do Campo which is a Romanesque building. It is the location of the Museum of Sacred Art which holds works from the 12th to 15th century. The church itself dates back to the 12th and 13th century and was once the second most important parish church in the area.
Aquarium Finisterrae
This incredible aquarium can be found not too far away from the Tower of Hercules. It has the world's largest saltwater pool, which is below sea level and is home to fish from the Atlantic and Caribbean. There are 48 windows in a room decorated like Captain Nemo's study in the Nautilus. In the pool there are over 700 fish of various species including sharks.
Museo Domus – Casa del Hombre
This incredible modern building faces the bay of Riazor and is a museum dedicated to the human being. Their motto is to 'know yourself as an individual and as a species', with various exhibits on neurons, genetics, and evolution. Again, this is another museum which is cheap to enter, with general admission costing 2 Euros.
Excursions From La Coruna Cruise Port

Although these have been specifically cited from the Carnival website, you will find that many other cruise lines offer similar packages. But cruise excursions can be expensive, so if want to save some money and have more options, these excursions are more afordable.
Camino de Santiago – Drive to Melide and walk along farms, meadows, and a eucalyptus forest. Then finish off your day by visiting the Cathedral of Santiago de Compostela.
Santiago on Your Own – Where you can visit the Cathedral, stroll the narrow streets, and enjoy the many squares.
When you're looking up cruise itineraries, La Coruna probably isn't a place which you'd consider as a must visit. We saw it as an addition to our western European cruise and didn't really plan to do much other than wander. But we were wrong, because we view La Coruna as one of the better stops on that entire cruise.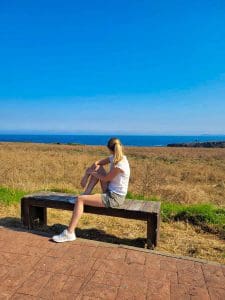 La Coruna is very easy to navigate and because the terrain is quite flat, you'll find walking around is easy. Although there are taxi's available and public transport, if you struggle to walk distances.
As a cruise stop it is ideal, because most attractions are close to the cruise port and as such are walkable. We managed to do most of the activities we had planned within a couple of hours, but there is more we're eager to do next time. If you want to see the Torre de Hercules then maybe head there first, because it can get busy due to it being a popular attraction. Even the park by the lighthouse is great to wander around, and you can spend some time just taking in the ocean and scenery.
There are plenty of museums for the history buffs and as you can see from our guide, they're either free or incredibly cheap, so you won't end up spending much there. This of course means you can treat yourself to souvenirs or maybe trying out the local cuisine.
Other than that, we spent our time wandering the streets and seeing the sights, which felt like an idyllic day in the sunshine. We even popped into a supermarket to grab some snacks for the ship. But if all that walking sounds a little too much then you can always head to the beautiful beaches and just relax, because basically there is something for everyone.
Make sure you tag us in on Instagram if you end up visiting magnificent A Coruna, we love to see what you're up to as you tick off your bucket lists.