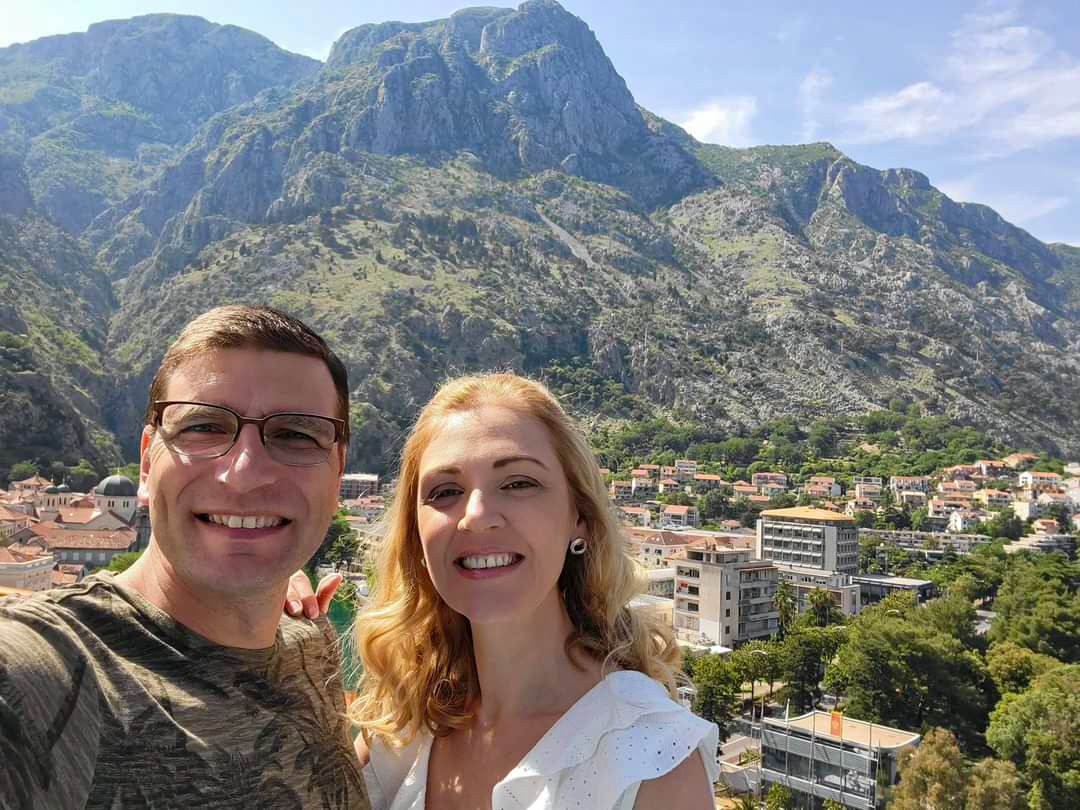 Our visit to Kotor in Montenegro wasn't something we had specifically planned; in fact, it isn't even a place we would have considered. The journey to this European town was during a Mediterranean cruise trip which we took with Carnival on their incredible Pride ship.
Because we only visited Kotor as a cruise stop for a few hours, we wanted to provide you with a list of things to do if you were limited on time. Yes, it's more of a condensed list than others you may read, but most people will initially visit this impressive spot as part of a cruise itinerary. If you go back, then you can expand on the activities there and even venture further afield into beautiful Montenegro.
A Little About Kotor and Montenegro
Montenegro is a country in the Mediterranean which is in the southern part of Europe. Bordering a number of countries including Serbia, southeast Kosovo, Albania, Croatia, Bosnia and Herzegovina. It is separated from Italy by the Adriatic Sea, which is why it's the perfect stop on a med cruise. If you're looking for beautiful clear rivers and lakes, deep blue seas, naturally beautiful forests, and breath-taking mountains, then Montenegro is your perfect vacation.
The medieval old town Kotor has maintained many of its original 12th to 14th century features. It combines quaint narrow streets with the atypical European squares adorned with monuments and fountains. There are no cars within the walls which makes it the ideal place to stroll around and take in the scenery. Speaking of scenery, this is probably one of the most stunning places we have ever been to, with mountains as far as the eyes can see and the natural fjord waterway which helped bring our cruise ship to the dock. Because it is a coastal town you can enjoy the best of both worlds and see why UNESCO have added it to their World Heritage Site list.
Kotor Cruise Port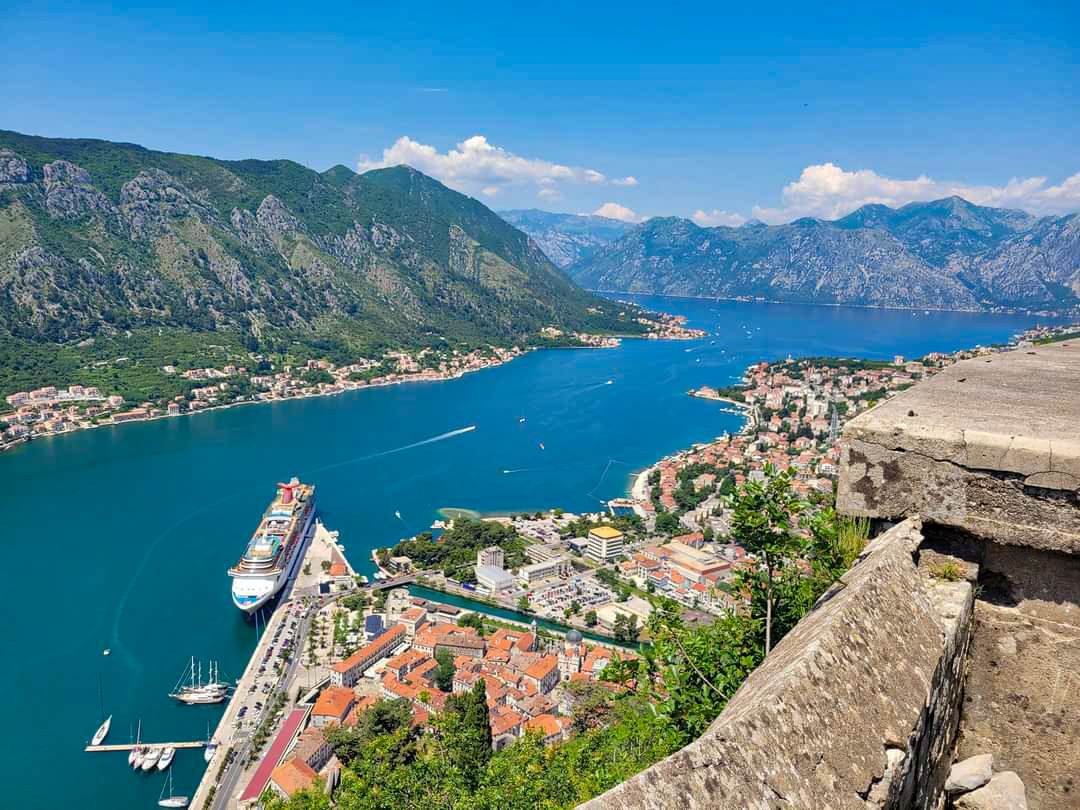 When we travel on cruise ships our favourite thing to do is head to the top deck each morning to get that first view feeling of a new destination. Kotor is one of those places which will stay burned into our memories for a lifetime. The beautiful medieval town with its ancient walls are impressive enough, but absolutely breath taking mountain scenery which surrounds you is something to behold.
Most cruise lines will port at the town docks, but if there are too many ships then you will remain anchored, and they will tender you into the town. On our visit we were docked in the morning, but the ship moved about 1pm out into the water and we had to use the tender boat to get back on. The actual tender journey can take anywhere from 10 to 20 minutes depending on how busy it is and where your ship is anchored.
There isn't much in the actual port, but you will find the usual tour guides selling you their attractions such as hop on hop off buses and boat rides. There will be taxis available for hire, but our advice is to agree on a price before you get in and begin the journey. We didn't spend a lot of time investigating what the tour guides had to offer, because in all honesty we were eager to head to the town itself.
It can be a little daunting when you get into town, but our advice is head to the walls and you will find a gate (the main one is the north gate, but there are four of them). The journey from the port to the old town is only a few hundred feet, so not far at all and easily walkable for most.
When to Visit Kotor
It's probably pretty obvious to say that the summer is incredibly hot in Montenegro and so the attraction areas can get pretty busy. The heat will also make it difficult for sightseeing, so if you have the choice of when to visit, then we would choose a different season.
We always tend to recommend the spring or autumn for travelling, mainly because the weather can be nice and it's not too crowded. Our visit to Kotor was in May and it was beautiful and warm, the atypical t-shirt and shorts weather. But we have read about people visiting in October and it was warm in the day, but a little chilly at night.
If you're heading there in the winter season, then don't be too surprised if you find many of the main attractions are closed and it's a little cold and wet.
Attractions in Kotor, Montenegro
Tour Kotor Old Town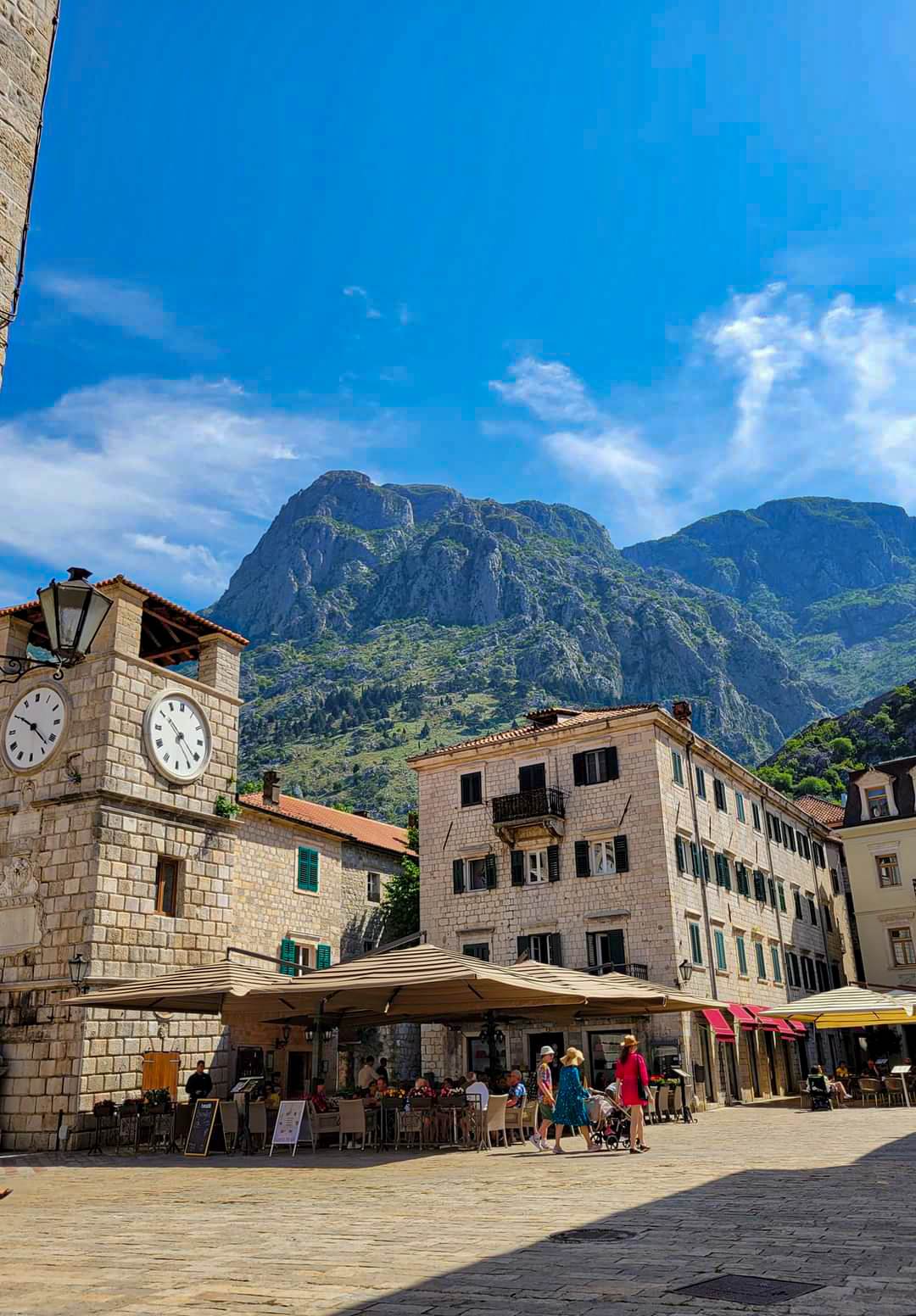 Stari Grad is the old city of Kotor and can be found within the city walls, so it will probably be your first stop. It is a great place to wander and explore, because within the walls there are no vehicles of any kind and it's quite small. The streets are cobbled and interconnected, so it is very hard to get lost. The best part is the architecture which is medieval, with water fountains, restaurants, shops, homes and plenty of churches. As you wind around the streets you will come to a number of town squares, and it's here you can stop for a while, because there are plenty of spots to sit and rest.
If you venture in the Sea Gate which tends to be the main entrance to Kotor Old Town, then you'll wander into the Main Square known as the Trg od Oružja. This is a great place for a drink or a bite to eat, and you'll see lots of little restaurants vying for your business. Also look for the beautiful clock tower which was built in 1602 and is an emblem for the charming town.
Not only is this a great main attraction it is also completely free and easily accessible for most people. If you have walking difficulties or a wheelchair then the cobbled streets can be difficult, but there are some flat areas.
There is a farmers' market which is more towards the south gate, but you'll more than likely spot it as you wander around; its well sign posted. Many of the churches can also be visited, although there may be a donation request. We simply enjoyed wandering around and looking in the shops, but we did stop in 'The Square Pub' for a couple of drinks and found the prices to be really reasonable; especially after being on a cruise ship for a couple of days.
Hard Rock Café fans may have spotted there's a store in Kotor old town. Sadly, this isn't a full restaurant, it's a small shop selling the usual t-shirts and hoodies. If you want a restaurant, then you will need to head to Podgorica which is the capital of Montenegro and is an hour and a half drive on the bus.
If you're looking for in-depth information into the history of the old town, then you will find plenty of walking tours which tend to take about ninety minutes. We absolutely loved our time in Stari Grad and we're really looking forward for the opportunity to go back again.
Hike St John's Fortress Kotor
Now we'll begin by saying that this isn't for the faint hearted, because we've climbed a number of trails and this one was a toughie, especially in the heat. To begin hiking the St John's Fortress you will need to make your way through the old town of Kotor, because the start of it is towards the back of the town. You'll find signposts as you wander through, but locals will also kindly help. Be prepared, because depending on how busy the town is, the hike can be pretty busy; more so if you're there from a cruise ship. If you like it quiet, then get off early and make your way to the trail straight away. There are two trails, one from the old town which follows the walls of Kotor and the other is known as the Kotor Ladder. We'll focus on the first which is the easier of the two and the one we took from the old town.
Before we jump into the hike itself, let us explain why you'd even want to do this zig zag trail and what makes it bucket list worthy. Both during the hike and at the Fortress itself, you will find spectacular views over the city, mountains, and the bay of Kotor. We personally felt that the better views were on the lower parts of the hike, so if you don't feel that you can make it all the way up then don't worry.
The trail begins in the old town, and you start climbing steps past people's houses, so you have a great opportunity to see how the locals live and take some great pictures. You will come across a toll booth and it's here you have to pay if you want to continue. The cost to climb to St John's Fortress was 8 Euros at the time we visited which was May 2022, obviously this may have increased. After you've paid and received your ticket, you can begin the journey up the 1350 steps to the top. Looking online this hike is classed as moderate with a 221 meter or 725-foot elevation. The average length of time it takes to complete the journey up and back is between an hour and an hour and a half, but this will depend on your capabilities.
The first stage of the climb is a lot of cobbled zig zag paths, where you may come across locals selling items such as drinks and snacks. Around the halfway mark you will find a small church called Our Lady of Remedy. Again, there will be locals outside selling food and drink, but you can also go into the small church and take a look. We felt that this was the best view from the hike, because you're at the ideal level to capture the town, bay, and mountains. So, if this is as far as you want to go, then don't worry too much.
The final section can be a little difficult to climb because it's not very well maintained and there's a steep incline, so be careful. One of us slipped on a cobbled section on the way down, and ironically the person behind us did the same thing. The fortress itself is well maintained for being so old, although you will find graffiti and rubbish which can ruin it a little. There are lots of walkways in and around the fortress, and then you have the breath-taking views of the bay of Kotor and the city below.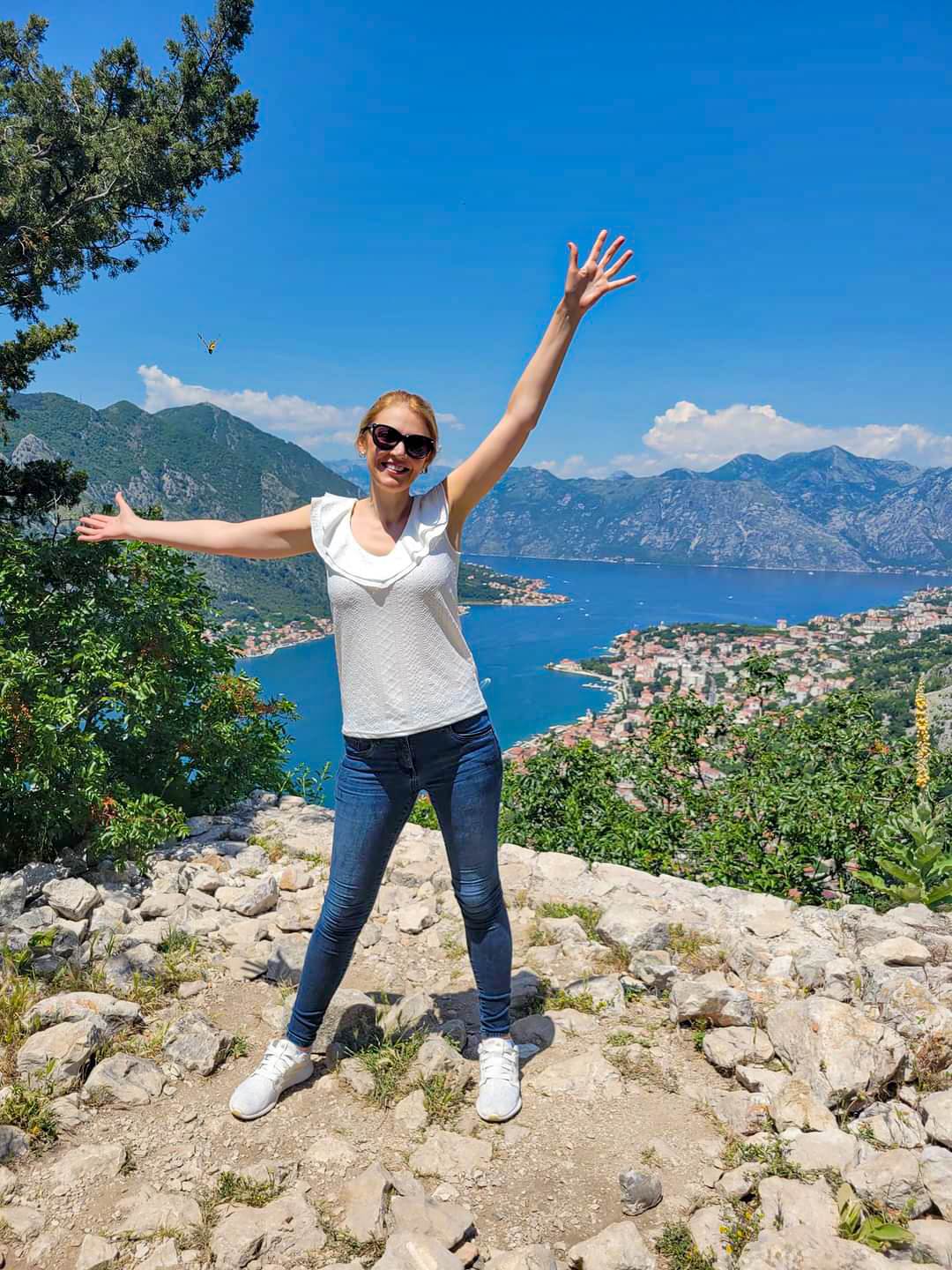 Our top tips to prepare for the hike is to make sure you have sturdy shoes, such as walking boots. There are slippy patches and lots of unpaved rocky sections. That leads us onto the next point and that is to check the weather. If it's raining, then we'd give it a miss because it would be very easy to slip and fall. Finally wear a hat and bring some water, because there's very little coverage from the sun and even though there are locals selling drinks, they tend to run out quite quickly.
As to whether you should hike to St John's Fortress, well that would depend on the weather and how active you are. We did find this a challenge, even though it's considered a moderate hike. The views are lovely, and you don't need to climb the entire way, but there's still plenty to do in Kotor if you want to miss it.
Cathedral of Saint Tryphon
Otherwise known as Kotor Cathedral, you can see the Cathedral of Saint Tryphon towards the centre of the old town. We found it near The Square Pub where we stopped for a drink. There are a lot of churches, monasteries, or religious buildings within Kotor, but this one has a special allure to it. It was built in 1166 on the site of a church dating back to 809 and is a Roman Catholic cathedral. The cathedral was built to honor Saint Tryphon who is the patron saint of the city and is viewed as a great martyr and holy unmercenary.
Currently the entrance fee is 2.50 Euros, but this can change, so be prepared and take a few coins with you. The cost will give you access to the Sacral Art Museum on the second floor which houses relics such as 14th century frescoes.
Within the building you will see it has three aisles, with four floor belfries which are connected by a terrace. The architecture is reminiscent of a southern Italian style, with a Romanesque interior and Baroque bell towers. There have been many changes to the building over the centuries due to earthquake damage.
Opening hours for the Cathedral of Saint Tryphon are between 8am and 7pm, but this will become more limited during the winter. We really enjoyed seeing the Cathedral; we did it after the hike, because St John's Fortress can get quite busy.
The Old City Walls and Bastions
Although there are sections of the old city walls which are crumbling, you will find there are some bits which you can visit. Alike the hike up to St John's Fortress, the walls can be steep and there are some sections in decay. So, make sure you have sturdy shoes and that you're careful when you're on there.
The main sections of the wall you can visit are
Gurdić Bastion (South Gate)
Korner Bastion (on the south side)
Valier Bastion (also on the south side, above the Sea Gate)
Kampana Tower and Citadel at the southwest corner
Bembo Bastion near the River/North Gate
How long it takes to visit the old city walls and bastions, will depend on how much of it you want to see and how busy it is. We ended up being quite limited on time so sadly didn't explore the walls very much.
Kotor Cats Museum
We did a double take when we saw this during our research for visiting Kotor, but it's actually very real. If you're a cat lover then this is the perfect addition to your vacation, and it's quite small so won't take you too long. There is currently a cost of 1 Euro to enter the museum and you can discover about the cats within the area and maybe even meet one. As you walk around Kotor you will see cats everywhere and they've become mini celebrities.
The Cat's Museum has displays, pictures and artwork of the local cats, with many of them being quite humorous. You can even purchase souvenirs of a feline friend, but it's cash only so make sure you have brought enough for the entrance fee and any extras you want. When we visited the opening times were Monday to Saturday 10am to 8pm and on Sunday it's 9am to 5pm.
Church of Saint Nicholas and Kotor Churches
As well as the beautiful Kotor Cathedral, you will find a number of churches within the old town including the Church of Saint Nicholas. This is a Serbian Orthodox Church and is another prominent sight to behold. It was built in 1909 on the site of a church dating back to the 17th century and can be found by St Luke's Square. The church has two bell towers with black domes and golden crosses, with stunning frescoes on the walls as you enter.
The other churches you can find in Kotor are.
St Luke's Church 1195
Church of Saint Mary 1221
Saint Michael's Church 18th Century
Monastery of Saint Francis 17th Century
Franciscan Monastery of Saint Claire 18th Century
Visit Kotor Beach
If you're looking for something a little more relaxing, then why not head to the beach. Yep, Kotor has a beach which is only a 6-minute walk from the cruise port. Now the beach is predominantly pebbles, but there are plenty of popular beaches around the world which are the same. You can hire a sun lounger and relax whilst taking in the spectacular scenery. There is a swimming area which is cordoned off to protect people from boats and cruise ships.
Kotor Hop on Hop off Bus
If you're a regular cruiser, then you'll know that as you leave the ship you tend to be bombarded by locals offering excursions and activities. In Kotor there was really only one company within the port itself and that was the Hop on Hop off bus. The other tour operators were found as you walked to the old city, so if you're not sure of what you want to do then our advice is head that way.
Now we didn't do this tour, because we mainly focused our time on the old city and hiking to St John's Fortress, but from our research we will next time. The cost of using the bus for the day was 20 Euros when we visited in May 2022 and there are four stops which include Kotor, Risan, Perast and Bajova Kula.
Let's start with what is a hop on hop off bus. We've been on a few all over the world and we highly rate them. Most make it easy to get from one attraction to another and move quickly around a city. But whilst you're travelling, they will have guides informing you about the sights you're seeing including the history and interesting facts. You can stay on the bus for as long as you like and complete a full circle of the route. Or you can use it to jump on and off and see the different towns we'll explore below.
The Kotor hop on hop off provides travellers with the opportunity to reach further areas in Montenegro. These are the areas you can visit.
Risan – Is found on Boka Bay and is the oldest town in that area, having initially been populated around the 3rd century BC. It is found at the innermost section of the bay and was once a centre for craftsmen, seamen and tradesmen. One of the main attractions in Risan is the Roman Mosaic Villa, which dates back to the 2nd and 3rd century. The arrival of the Romans brought with it marble sculptures and stunning mosaics, with five having been preserved. Of these mosaics the most famous depicts Hynos, the god of sleep.
Perast – Another small coastal town on Boka Bay, Perast is part of the UNESCO World Heritage Site Natural and Culturo-Historical Region of Kotor. It opens directly onto the water and offers seventeen Renaissance and Baroque palaces, narrow streets, squares and nineteen churches. Perast is only 20 minutes away from Kotor on the bus and offers a really chilled vibe. The stop at Perast will give you access to the attractions 'Our Lady of the Rock Island' and the 'Island of St George'.
Bajova Kula – This gravel beach is unseen from the road but is a favourite of the locals. The beach is managed like a tiny resort with sunbeds and a bar. Nearby there's a 17th century tower called Bajo's Tower which is surrounded by laurel trees.
Hop on Hop off is a great way for you to see more than the area around the cruise ship, but make sure you keep an eye on times so you're back before it departs.
Kotor Maritime Museum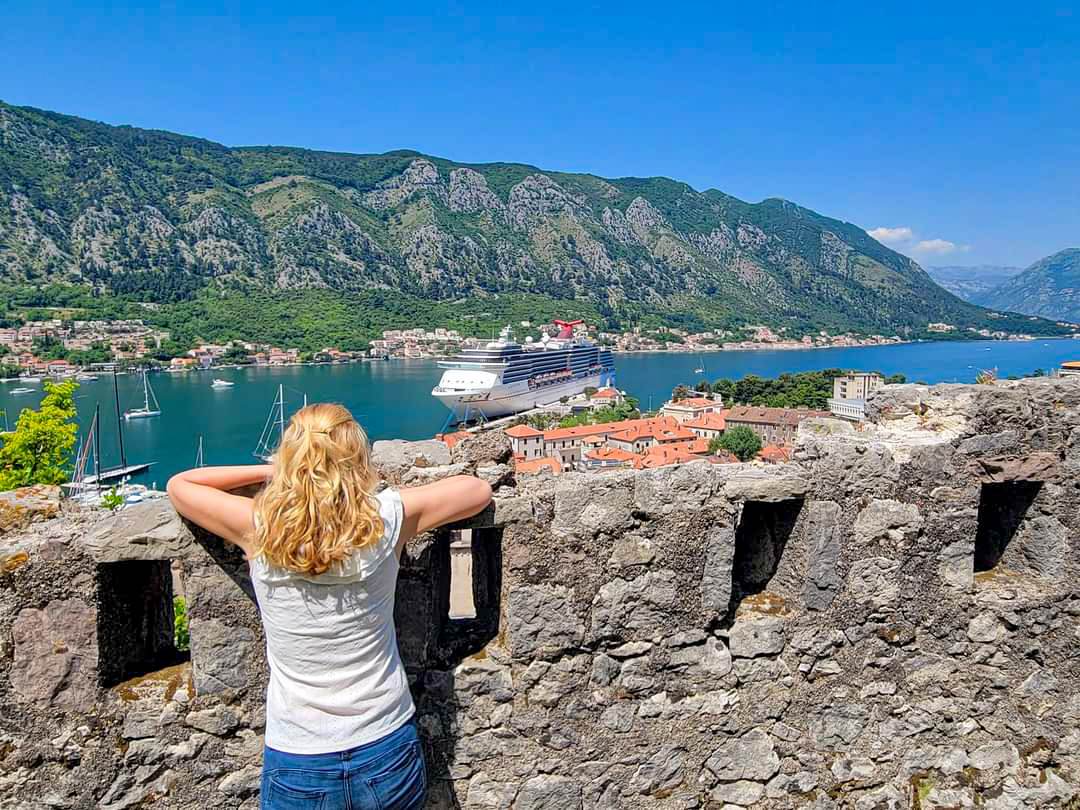 If you enjoy museums, then the Kotor Maritime Museum may be the perfect attraction. The entrance fee is 4 Euros, and you will walk through an exploration of the regions proud naval history. The collections found in the museum include photographs, paintings, uniforms, and weapons. Opening times will vary depending on the day of the week and season, so check out their website before you visit.
Visit Our Lady of the Rocks
This is an artificial island where according to legend two Brothers from Perast found a painting of Madonna and Child. Because of this, locals built a church dedicated to Our Lady which is the home to beautiful paintings by known Italian artists.
Additional Excursions which can be Booked from The Cruise Lines
Blue Cave speed boat
Budva and Village Life
Skadar Lake
Visit to the Manut Brewery
Kayaking Boka Bay
Panoramic Mount Lovcen
Cruising Kotor Bay
Although you can book these excursions with your cruise line, they can sometimes be expensive. Another option is to book Viator excursions, that way you can save money and take advantage of their buy now pay later option.
Regular cruisers will know that sometimes the port you visit can be very hit and miss. Some have lots to do and see, whereas in others there's very little and it's better to book an excursion with the cruise line.
As you can see there's plenty to do in Kotor and we imagine you won't get it all done if you're visiting via a cruise ship. Our advice would be to simply enjoy the local scenery because it is one of the most beautiful cruise ports we have ever seen. You can easily stroll around the old city, hike up to St John's Fortress, or head out of Kotor and see another area of Montenegro. If you're planning on grabbing a taxi then make sure your driver speaks English and you agree a price before you get in, then there will be no issues when you arrive.
There are lots of local guides who provide tours for an in-depth look into the history of the area, so that maybe something you can check out when you arrive.
We would love to go back and venture out further using the hop on hop off buses, but if you're a little unsure then there's enough to keep you occupied in the old city itself. There are plenty of food and drink spots, but most of them tend to be found in the town squares. We've read reviews about the Montenegrin wine, which will be at the top of the list for our next visit.
If you do end up going to Kotor, then please tag us on Instagram because we would love to see your pictures.