If you're heading to Olden in Norway, the likelihood is you're visiting via a cruise ship. Olden is one of the top destinations on a Norwegian Fjords cruise and for a very good reason. No, it's not a huge city or town, nor does it have a lot to do. It is the sheer beauty of this tiny village which will have you in awe with its glass lakes, rolling mountains and endless waterfalls, which truly epitomise Norway. We visited this incredible spot during a cruise on the Carnival Pride in June 2022 and we can honestly tell you we loved it.
Olden is a village which is found in the municipality of Stryn in Vestland county. As you sail in on the cruise ship, you will have made your way down the Nordfjorden to end up on the Oldebukta bay, which is by the Oldeelva river, at the northern end of the Oldedalen valley.
At the time of writing this guide the population of the village was 498, so as you can imagine there were a small number of houses dotted around and not many facilities, as you would expect in larger places such as Bergen.
To make the most of your time in this idyllic spot, we bring you the things to do in Olden, Norway from a Cruise Ship. This guide will also be handy for those of you who may simply be driving around Norway and you've decided to head to Olden for a day or two.
When to Visit Olden
If you're hoping to see the Northern Lights or Aurora Borealis, then you'll be looking for cruises in the earlier and later parts of the year when its colder. This is because during the summer months the length of daylight is much longer and as such you cannot see the light display. We cruised in June 2022 and during that time the sun didn't begin to set until around 11pm, but it wasn't fully dark until 1pm. Then it became lighter again from about 3pm, so as you can imagine it wasn't dark long enough to see the northern lights. Although it is pretty cool to sit on the deck at midnight and it still be light.
If you're not a fan of the cold and wet and you don't mind missing the lights, then the summer months are for you. Sadly because of its location, even in the summer you can still find Norway is incredibly rainy and a tad chilly. In fact, for most of our Norwegian cruise it rained and bear in mind that's June.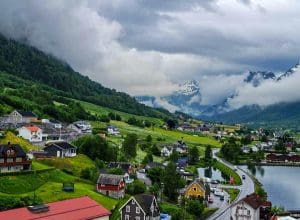 The weather in Norway is quite unpredictable and as such you should prepare for everything. Firstly, just before you pack, check the weather apps and see what they say you can expect as this will have an impact what to wear on a Norwegian Fjord Cruise . We pretty much had a full week of rain, and it does make it difficult to explore and enjoy the place.
That leads us onto our next tip, and that is to pack layers, especially waterproof clothing, and shoes; more so if you're looking at hiking. We unfortunately didn't do our research and take hiking shoes with us, so just did it in normal trainers, but they ended up quite messy.
The key to feeling comfortable and enjoying your experience is preparation, then you'll have everything you need whatever the weather.
Getting Around
Because this is a small, isolated village you won't be able to grab a taxi or bus as easily as the larger towns and cities. If you have an idea of any places you want to visit or excursions you wish to do, then our advice would be to book with the cruise line or an onshore operator. You then have the peace of mind that they will bring you back to the port area before the ship departs.
If you simply prefer to wander about then get those walking shoes on and head out. Follow the Oldeelva river and you will come across some breath-taking natural spots and a few tourist shops. Of course, you can always grab one of the touristy transport options such as the bus or train, but we'll delve into them a little further down.
The Port of Olden
Your first impression of Olden will be sheer amazement, because the natural views are spectacular and go on for miles. We loved here and Skjolden for their scenery and could happily have sat there all day, it was such a memorable experience. If we could make one recommendation to you it would be to keep those curtains closed (if you have a cabin with a window) and head up to the top deck to take in your first view of Olden. We promise you won't regret it and it's become a tradition of ours whenever we reach a new port. Sometimes you will get the usual docks, but then there will be occasions such as Olden or even Kotor in Montenegro which offer magnificent scenery.
Olden's port is small, and one cruise ship pretty much takes up the docking space. Because they are a tender port, if there is more than one ship scheduled then you may have to anchor out in the water and take a boat to the shore. But the process is normally incredibly quick, safe, and easy, so don't worry about that too much. We've taken plenty of tender boats and it's normally an exciting start to your day.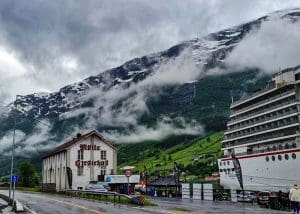 The cruise port is about 1km away from the centre of the village which depending on your speed, is about a 10-to-12-minute walk. It is here you will find a supermarket, some tourist shops and clothing shops.
Within the port you will find the cutest atypical Norwegian tourist information centre. There's a small café / pub, a few souvenir shops and next door to the tourist office is the local tour operator Olden Adventure. This will be the tour operator that the cruise lines use, so if you miss out on booking before hand then head over and see what they have available. You'll find plenty of outdoor options such as bikes, the open top bus, trolley train, kayaking and Rigid Inflatable Boats (RIB).
As you go through the security gate there will be lots of people walking around with information on the excursion options available. Take your time, ask for the prices and what it involves before making your decision. You will see the open top buses and trolley trains just outside the security gate, so if you have any physical disabilities you won't have to walk very far.
Things to See and Do in Olden
Hopefully we've emphasised Oldens beauty enough, that you're already looking forward to going. But the key question is, what will you do when you're there? The great part of this little village is you don't have to pre-book an excursion if you don't want to. You can see what's available on shore, jump on one of the little tour options or simply wander.
Briksdalsbreen (Briksdal) Glacier Tour
Part of Oldens incredible landscape is due to the powerful affect of the glaciers there, which over time have shaped the mountains and created the waterfalls, lakes, and fjords. For those of you who didn't know, a glacier is basically a massive body of slow-moving ice. They form a big part of Olden's tourism, especially the Briksdalsbreen glacier, known as Briksdal in English. This glacier in particular was part of the largest in mainland Europe known as the Jostedal Glacier.
Your excursion will begin just outside the security gate of the port, where if you have prebooked you will be met by the tour guides. If you chose to book on the day, then head over to the Olden Adventure area and they will guide you on what to do and where to go.
The glacier area is about 25 kilometres south of Olden, which means you will have a 45-minute bus journey. This isn't a bad thing, because it gives you the opportunity to enjoy the beautiful valleys and natural scenery which makes Norway the incredible place that it is. Depending on the time, they may make a few stops along the route so you can take photos.
When you reach the destination then you will have the option of hiking up or taking a 'troll car' to the glacier and lake. The tour guides give you a couple of hours so you can take it easy and wander up to the glaciers edge. You will discover the history of the area and glacier, and feel the force of the waterfalls that can be found along the way.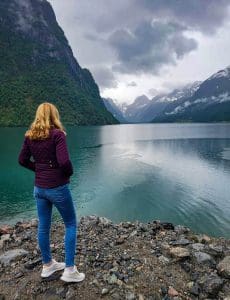 Unfortunately, we didn't do our research before we went on the cruise, so missed out on visiting the glacier. As such we cannot give you information from a personal perspective, but we can assure you that on our next visit to Olden we will definitely visit.
Tours begin from the cruise port at around 9.30 am and 11am, and they last for three and a half hours. For those of you looking for a little more freedom there is a shuttle bus to and from the glacier, but you will always have the risk of not getting back to the ship on time. If you choose this option, then maybe get up nice and early to be the first ones heading off.
This tour can be booked with your cruise company, but we found a cheaper option for our next visit that can be booked through Viator
Loen Skylift
One of the newer attractions in the area is the Loen Skylift which is only 6 kilometres away from Olden cruise port, in the village of Loen. There is a shuttle bus available from the port every 30 minutes which transfers you from the cruise pier to the Skylift. You can spend as long as you like there, but remember to give yourself enough time to get back before the ship departs. Tickets are available from Olden Adventure, so if you have any questions then ask them.
So, what is the skylift? It is the steepest cable car in the world and takes you to the top of Mt. Hoven in only five minutes, which is 1011 meters above sea level. At the top of the mountain station, you will enjoy incredible views of the Norwegian fjord landscape, including Mt. Skala, Lake Lovatnet, Jostedalsbreen Glacier and Olden.
At the top of Mount Hoven is a number of hiking trails which you can explore on your own. But they also have a restaurant and bar within the mountain station. Hoven restaurant offers a selection of warm and cold dishes and then you have Hoven bar and café, which has a wide selection of alcoholic and non-alcoholic drinks. There is a Skyshop which sells souvenirs and gifts so you can remember your special day.
Hopefully on your trip you'll have a clear day so you can enjoy the breath-taking views of the majestic Norwegian Fjords.
Olden Sightseeing Bus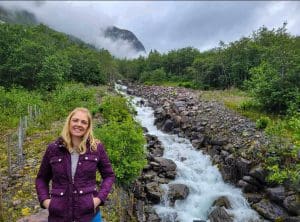 As you disembark from your cruise ship you will see a number of open top buses. This was the tour we decided to do, because in all honesty we hadn't prepped well for our Norway trip as we didn't know how good or bad the weather would be.
There are a number of bus representatives around the port, so if you have any questions then they can help you out. We paid twenty euros in June 2022, but it's always a good idea to check online for the latest price before you go.
You are taken to various scenic points including beautiful Olden lake and will be given historical and local information on the buildings. Although you won't go as far as Briksdal Glacier, it can be seen in the distance. There are two photo stops along the route, and you will stop for about 10 minutes, with the whole trip taking between an hour, and an hour and a half.
We really enjoyed this tour, and because it's only an hour you can do the bus and then another shorter option such as the skylift. If it's raining then they will have the top floor of the bus covered, which is one of the reasons we chose this option.
Land Train
Very similar to the bus except it doesn't go as far, is the Olden land train. At the time we travelled it was around 17 pounds each for the train and it takes about seventy minutes. Again, there is commentary telling you all the facts and history of the area. This option is a little more open to the weather, so if it's raining then you may prefer the bus instead.
Shopping
Ok so there aren't loads of shops in Olden, because essentially it is a small Norwegian village. But when you originally disembark you will see a number of souvenir shops with the normal touristy things, as well as locally produced items.
If you head the 10-to-12-minute walk into the centre of town then you will see more shops available. This will include further tourist shops, a supermarket and a clothing shop which specialises in outdoor wear.
We understand that when it comes to a real shopping experience in places such as Milan or Paris, little old Olden cannot compare. But you can still enjoy spending a few euros on touristy bits which will forever remind you of a great cruise you once went on.
Kayaking on the Nordfjord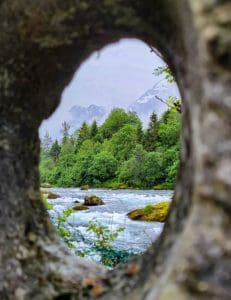 Whether you have kayaked before or this is a new adventure, then why not experience the beauty of gliding on the glass like water of the Nordfjord. This green water was made by glaciers and is the ideal place for beginners.
Once you leave the ship then you will be taken for a safety briefing and kitted up with a life jacket and gloves. They use stable tandem kayaks and you will begin in a small pool to get used to paddling. You will then move to the fjord where you are given information about the local history, culture, and natural knowledge of the area as you kayak. There is a safety boat with you the whole time, for any emergencies. You will enjoy about two hours on the water and then head back to the small pool before heading ashore.
Sadly, we didn't book this tour because it was predicted to be rainy weather all week, but we'd love to do it in the future because the water is absolutely stunning.
So, there you have it, hopefully we've expressed the beauty of Olden and you're excited to visit. As we've already mentioned, the weather can be unpredictable and will influence your decision as to what attraction you wish to do. So check it out before you go, because it will affect a number of things including what you pack.
Another tip from us is to get up early, so you can be up to watch the ship enter the fjord and sail down to Olden. But also you'll disembark quickly and can get a few of the attraction options into your day, such as the bus tour and the skylift, with maybe a little shopping thrown in.
The Briksdal Glacier is quite popular and as such it can book up really quickly, so if that's a must on your bucket list then prebooking is advised. But again, there are plenty of attractions available on the day for those of you who want to decide when you get there.
No matter what you do, we know the lasting memory that Olden will have upon you because it is truly the most tranquil place. If you do visit then please tag us into your Instagram posts, because we love to see what our readers are up to as they tick off their bucket lists.
Also, as well as perusing through our site for more cruise tips and info, feel free to join our Cruising Through Life group on facebook. Here you will be able to ask questions and find lots of information about cruising and cruise lines form fellow cruise enthusiasts.