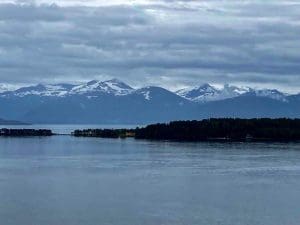 We ventured on our first Norwegian cruise in June 2022 on the Carnival Pride, with very little expectations of what we would see and being very ill prepared. Our experiences during the cruise around Norway, led to us falling in love with the country, and eager to go back.
We have since realised our many mistakes in packing, which led to us ending up cold and wet on a few occasions. As such we have written a guide on what to wear for a Norwegian Fjords Cruise, so that you're better prepared for your trip.
The majority of people heading to Norway, tend to do so via a cruise ship and as such it is an important part of their tourism. During our trip we visited many beautiful spots such as Olden and Skjolden. But within this guide we're going to focus on the smaller town of Molde, which may have less to offer activity wise than some of the other ports but is still worthy of being on your Norway bucket list.
If you're heading on a Norwegian Fjords cruise, then please check out our guides to Skjolden and Olden.
Molde is a town in the municipality of Møre og Romsdal county, and is located on the Romsdal Peninsula, surrounded by the Fannefjord and Moldefjord.
At the time of writing this guide the population of the town was 32,002, so unlike some of the other locations it had more of a built-up feel. Yet we still found Molde to maintain that quaint Norwegian small-town feeling, as we strolled around taking in the sights.
An important part of Molde's history is the fact they are known as the city of roses. This is a 100-year-old description which came about because of the many rose gardens that can be found there.
If you want to make the most of your time in this incredible cruise port, then let us help you with our guide on the things to do in Molde, Norway from a cruise ship. If you're not visiting via a ship and you're simply driving around Norway, then hopefully this will also help you with planning your itinerary.
When to Visit Molde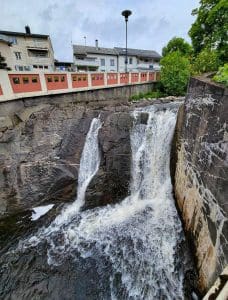 If you're hoping to see the Northern Lights or Aurora Borealis, then you'll be looking for cruises in the earlier and later parts of the year when its colder. This is because during the summer months the length of daylight is much longer and as such you cannot see the light display. We cruised in June 2022 and during that time the sun didn't begin to set until around 11pm, but it wasn't fully dark until 1pm. Then it became lighter again from about 3pm, so as you can imagine it wasn't dark long enough to see the northern lights. Although it is pretty cool to sit on the deck at midnight and it still be light.
If you're not a fan of the cold and wet and you don't mind missing the lights, then the summer months are for you. Sadly because of its location, even in the summer you can still find Norway is incredibly rainy and a tad chilly. In fact, for most of our Norwegian cruise it rained and bear in mind that's June.
The weather in Norway is quite unpredictable and as such you should prepare for everything. Firstly, just before you pack, check the weather apps, and see what they say you can expect. We pretty much had a full week of rain, and it does make it difficult to explore and enjoy the place.
That leads us onto our next tip, and that is to pack layers, especially waterproof clothing, and shoes; more so if you're looking at hiking. We unfortunately didn't do our research and take hiking shoes with us, so just did it in normal trainers, but they ended up quite messy.
The key to feeling comfortable and enjoying your experience is preparation, then you'll have everything you need whatever the weather.
Getting Around
Because Molde is quite a small town, you can easily work your way around it on foot. Although we will prewarn you, this is quite a hilly place, especially if you want to visit the Romsdal Museum. We saw an elderly lady with a walker hiking up the hill, as we struggled behind her, which was quite an impressive sight to witness.
Most of the local sights can be accessed by walking or hiking if you fancy doing the Varden viewpoint. The majority of other excursions will be a distance away and require transport, so it may be better to book through your cruise line. We're thinking more specifically about the Atlantic Ocean Road which is about 50 minutes from Molde. If you book with the cruise line, then you have the peace of mind that they will bring you back to the port area before the ship departs.
We didn't look specifically but we can imagine there is local transport available such as taxis or buses, but the majority of attractions are in the town anyway so you probably wouldn't need them. As we left the ship, you will see a few local tour operators, but the town is so small that the best option is to throw on some comfy shoes and just start walking.
The Port of Molde
As with most of the ports on your Norwegian cruise, Molde is pretty small and doesn't have much in the way of facilities. When you look out from the ship you can see mountains in the background on one side and the town on the other. The views are spectacular, as you would expect from Norway.
Our ship was docked at the port, and we could walk off, unlike other ports where you need a tender boat. To exit you simply walk through a gate and you're in the town of Molde itself. Just outside the gate there is a small news agent style shop with food, drinks, and souvenirs. But you will also see the tour operators in the same area, and they will be offering pretty much the same excursion to the Atlantic Ocean Road. Just make sure you have enough time to get there and back before the ship departs.
Things to See and Do in Molde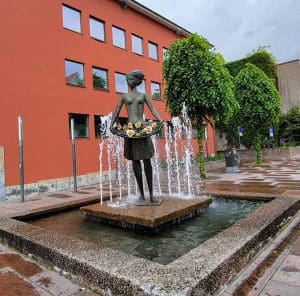 Although Molde is a little bigger than some of the other ports on most Norwegian Fjord itineraries, there still isn't loads to do there. Because it's a town you will find lots of shops, cafes, and restaurants. We spent a lot of our time wandering around and looking in shops, which was a nice break from other ports where we can sometimes find ourselves rushing to make sure we see everything.
As we've already mentioned, the weather can be unpredictable and will influence your decision as to what attraction you wish to do. So, check it out before you go, because it will affect a number of things including what you pack.
The Romsdal Museum
The Romsdal Museum is a part indoor, part open-air museum and is the largest folk museum in Norway. It is only a 10-minute walk from the town centre of Molde, but we'll prewarn you, because it's all up a steep hill. Established in 1912 the Romsdal Museum was created to show buildings and interesting interiors from the region.
The indoor section is within a modern building called the Krona. Inside you will find historical footage displays, local art, Bunad workshop, a café, and a museum shop. Within the exhibits you'll see portraits of coastal life and photos of how World War II affected Molde. Outside you will see the beautiful town street 'Bygata' which shows typical Molde houses from the pre-war period. Most of the buildings are originals and have been re-sited from other regions in Norway, including a 17th century church, smokehouses, 'open hearth' houses and sheds. This section of the museum is next to a lovely park area, with benches and a duck pond, which is perfect to relax after you've walked up the hill to get there. You can spend a couple of hours easily in the Romsdal Museum, and admission was 150 NOK which is around £12.00.
The Varden Hike
We were informed by other travellers on the cruise ship about the Varden Hike, and how the viewpoint offers incredible views over Molde, the fjord, and the islands. It's 407 metres above sea level and you will also see the famous Molde panorama which offers 222 snow clad mountains.
Now here is the kicker, because if you want to hike up then you're looking at a one hour walk on a nature trail from the centre of Molde. So there and back it will take you two hours, plus the time you take at the top. Because of this we decided to spend most of our time in the town itself, but we discovered afterwards that you can grab taxis to the top and they only take about 10 minutes. At the top of the trail is the Vardestua restaurant which offers a range of local food and drinks.
To find the trail head up to the Romsdal Museum and then follow signs towards Varden via the Storlihytta cabin. To take an alternative way down, follow signs towards the Skihytta cabin, then pick up Vardevegen.
Before you attempt the Varden Hike it's important that you check the weather, because it may not be safe to head up if it's raining heavily.
Molde Cathedral
As you walk around the town of Molde, you will spot the cathedral which is positioned on the hillside above the main street. Next to the cathedral is a 50-metre-high free standing bell tower which is topped with a copper clad pyramid. The cathedral was consecrated in 1957 and is a double-nave long church in a gothic style, with beautiful stained-glass windows. It's the third church to be built on the site after one was destroyed during World War II and another burnt down.
If you dock and the cathedral is open, then it is definitely worth spending some time having a look around.
The Rose Maiden Molde Town Hall
Outside the Town Hall in Molde, in the square is a bronze statue of the Rose Maiden. We've already mentioned that they are known as the city of roses, so it would make sense that they celebrate it. The maiden is surrounded by a dancing fountain, and you don't have to walk too far from the cruise port to find the Town Hall. You simply head along the main street past shops and restaurants. The Rose Maiden was a gift to Molde in 1971 and in her arms is a basket filled with roses. Molde cherishes the flower so much, that even the roof of the Town Hall is covered with a rose garden.
Walk Around Molde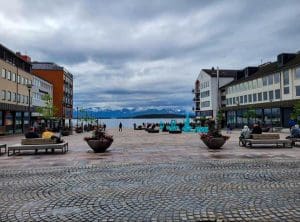 One of our favourite things to do in Molde was simply walk around and take in the sights. When we left the ship, we initially went to Aker Stadion which is the stadium of Molde FK the Norwegian football team. There's a nice waterfront around the stadium which you can explore, before heading back into the main area of the town. There you will find plenty of shops and restaurants, with the majority being in a compact area towards the waterfront, so easily accessible from the ship. This is the perfect way to explore the Norwegian culture, try some local delicacies and look around the shops. You will have plenty of time to cover the majority of the local attractions in Molde and walk around sightseeing.
Møre og Romsdal Art Center
Møre og Romsdal Art Center displays both Norwegian and international art and was opened in 1978. You can find it in the centre of Molde, with admission being free and it is dedicated to contemporary art. There are constantly changing exhibitions with art and artists from all over Norway, plus a selection of glass, ceramics, and prints.
Additional Excursions which can be Booked from The Cruise Lines
Although these have been specifically cited from the Carnival website, you will find that many other cruise lines offer similar packages.
The Atlantic Ocean Road – The famous Atlantic Ocean Road is a feat of modern engineering and is a series of bridges which connect the island of Averøy with the mainland. As you travel along you can enjoy views of the ocean and you'll have the opportunity to stop in a small fishing village called Bud to take some pictures and look across to the Bjørnsund Islands. This type of tour is the ideal way to experience Norway's inclement weather, which can send waves crashing against the small islets.
Bergtatt Marble Caves – This marble quarry is a 40-minute drive from Molde and is a unique experience. You will learn about the geography of the area from a local guide and then head across a lake on a barge into darkness. As it gets lighter in the cave, you'll see four chandeliers which are used to light up the marbled walls.
In comparison to other ports on your Norwegian Fjord cruise, there isn't lots to do in Molde. But this is the ideal place to stop rushing around and take in the sights and culture of Norway. Although we didn't see the Atlantic Ocean Road, we'll definitely look at going next time because it sounds incredible.
The main area of the town is pretty flat, and by that we mean around the shops and restaurants. But if you want to delve further into the town, then you'll be climbing up a hill and it can be quite steep, especially as you head to the Romsdal Museum.
If you visit Molde then please tag us into your Instagram posts, because we love to see what our readers are up to as they tick off their bucket lists.