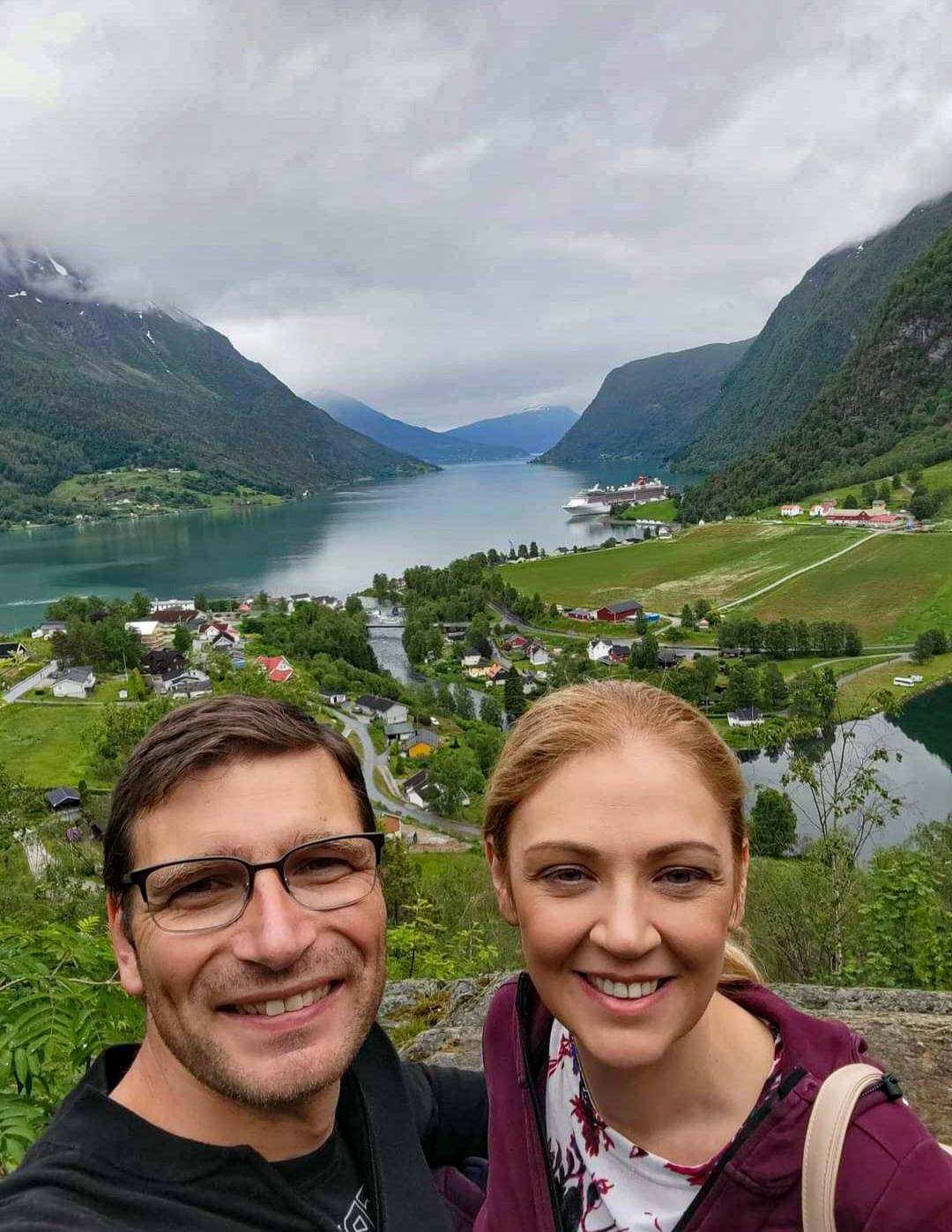 We visited Skjolden during a Norwegian Fjord cruise on the Carnival Pride and although we spent a lot of time in 2022 cruising, this village really stood out as a favourite. We'll start by saying that it is a small place, so in reality there isn't much to do. It's not like many other ports where you spent all day jumping from one attraction to the other and clocking up those miles on your fitness tracker.
What made Skjolden so memorable was the scenery, which just took our breath away. We have a rule on cruises, that if we're in an inside room we will head to the highest deck in the morning to take in the first glance of our new port. Skjolden was the most impressive first glance we have ever had from a cruise ship. There are picturesque views of mountains as far as the eye can see, and the water is so calm it almost looks like glass. Then add in the incredible waterfalls and glaciers, it's no wonder Norway is known for having the finest scenery in the world.
The village of Skjolden has a population of 300 and is famous for being the Gateway to the National Parks because it has three nearby, namely Jotunheimen, Breheimen and Jostedalsbreen. If you're looking for history, then you have Urnes Stave Church which is UNESCO listed and the oldest stave church. There is Jostedal Glacier which is the largest glacier on a European mainland.
If you're up early enough, then you will enjoy the sail in through the Sognefjord which is Norway's longest fjord at 204 km. But don't worry because you can always enjoy the views when the ship sails at the end of the day. It can get a little cold depending on the time of year, so make sure you wrap up warm.
So let us take you through the port of Skjolden and explain some of the local excursions you can enjoy there.
When to Visit Skjolden
You tend to find that most cruise lines only visit Norway in the summer and autumn months, because it can get quite cold and wet. When we went on our cruise it rained for most of the week, quite heavily. Thankfully we were lucky on the day we visited Skjolden, but it was still wet and cold, and that was in June.
Our advice is to check the weather before you go so you know what to pack for a Norwegian Fjords cruise. But some staples would include warm, rain proof gear, including hiking boots. There are some beautiful spots to climb in Norway, so make sure you have decent footwear.
Getting Around
If you've prebooked an excursion then your transport will be sorted, but if you're just wanting to see Skjolden then you won't need it. The village is pretty small, so anyone wanting to get out and about either had to book an excursion or you can hire a bike and cycle out a little bit. We recommend that you grab a tourist guide from the information centre and then you can see what walks and hikes are available nearby.
The Port of Skjolden
As you leave the cruise ship you will be directed to a white wooden building which is where you will find the port security. Within the building is a shop selling the usual touristy bits such as ornaments, mugs, and postcards.
When you leave the wooden building, you will find yourself on a road with a few Norwegian houses and hills in front of you. This was our first real Norway fjord experience, and we loved the houses, but more than that we adored the sheep who roamed around the hill with large bells around their necks. The true quintessential Norway experience, so we spent a little time watching them and wandering along taking in the sights. The cruise ship looked impressive on the shore with all of the scenery around it.
We headed round the lake into the centre of the village and walked past wooden beach huts and other houses. As we continued round there was a stand for the Adventure Tours Norway which offers guided RIB boat tours, hiring a bicycle, hiking, fishing equipment, paddle board tours and glacier tours.
As you follow the path round, you will cross a bridge with a fast-flowing river below it. Once over the bridge then you're in the centre of the village. Again, there's not a lot there, but you will find a Co-op shop for any food, drink, or essentials that you need and nearby is a tourist centre.
Things to See and Do in Skjolden
When we visited Skjolden we didn't book any excursions, because in all honesty we had no idea what we wanted to do. We simply enjoyed the village and scenery, so we'll start there and give you information about what we did.
Skjolden Tourist Information Centre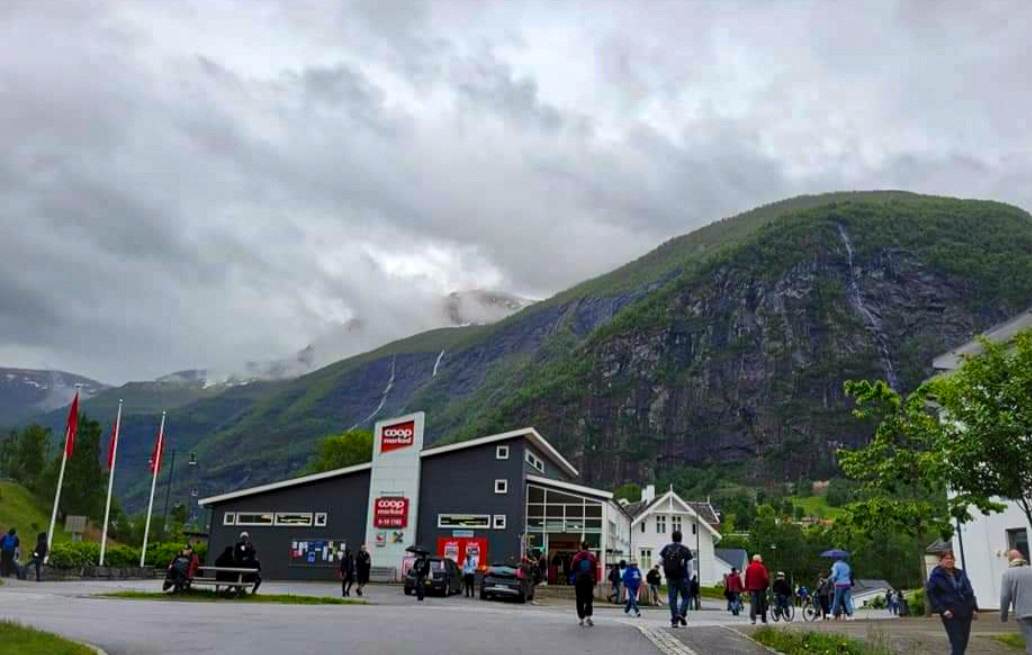 I know it seems a little weird to have a tourist centre as an attraction, but it's the first thing you come across when you reach the main area of the village. Firstly, there is a public toilet available for free, but because of this there can be queues so don't leave it until last minute; if you know what we mean. Within the centre you will also find a lovely little café which opens daily, information on the local area, a handicraft shop, swimming pool, climbing wall, and shooting range.
Berghut Blauwe Route
This hike begins from Skjolden, so you don't need any transport to get there. It's a moderate level hike so you can do it in trainers, but they will get muddy as it's through forest terrain and there's no specific path. The initial part of the walk is up a road past local people's houses and a school, so you can enjoy the village feel as you begin. You're then directed into the forest where you can see a trodden down path from the many other people who have walked the same route. It's very up and down as you climb, with some parts being quite awkward because you have to step up large boulders. They can be slippery, and it can get muddy if it has rained that day, so having grip on your shoes is essential.
The hike up takes about 20 to 30 minutes which isn't too long, and at the end is the most spectacular view of the mountains, fjord entrance and cruise port, the village and the Eidsvatnet lake. There's not really anywhere to sit, except for a huge boulder and depending on the time of day it can get busy. Heading to the trail earlier means you get the wonderful view without lots of people about, getting in your way.
Once you're finished you will head back the same route, all the way into the village.
Adventure Tours Norway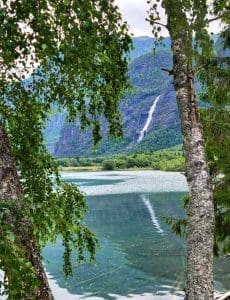 If you book an excursion or tour with your cruise line for Skjolden, then probably it will be with Adventure Tours Norway. But should you miss out, then you might be able to book something with them when you reach the shore. They have a spot set up selling tours as you walk along to the main village from the cruise port.
They offer a range of options including an RIB boat, bicycles, hiking, fishing, glacier tours and stand-up paddle tours. Because they are a local company, they know the best places to see and have an extensive knowledge of the various spots. You can visit places like Breheimen national park and Jotunheimen national park. You can take the RIB boat up the Sognefjord or to the Urnes Stave church.
We didn't do any of the activities, but we will definitely look at the RIB boat the next time we visit. From speaking to other passengers on the cruise, they loved their experience so it maybe something you want to research before your trip.
Skjolden Llamas
Within Skjolden itself, you have a llama farm which offers tours, walks and close contact with a herd of llamas. You can walk with a llama along the river, and it lasts about 90 minutes. On cruise ship days the tours begin from outside the tourist information centre, so it's best you book in advance to avoid disappointment. There is a minimum of one llama for every two people and when we checked the website the price was NOK 200 per person.
The Urnes Stave Church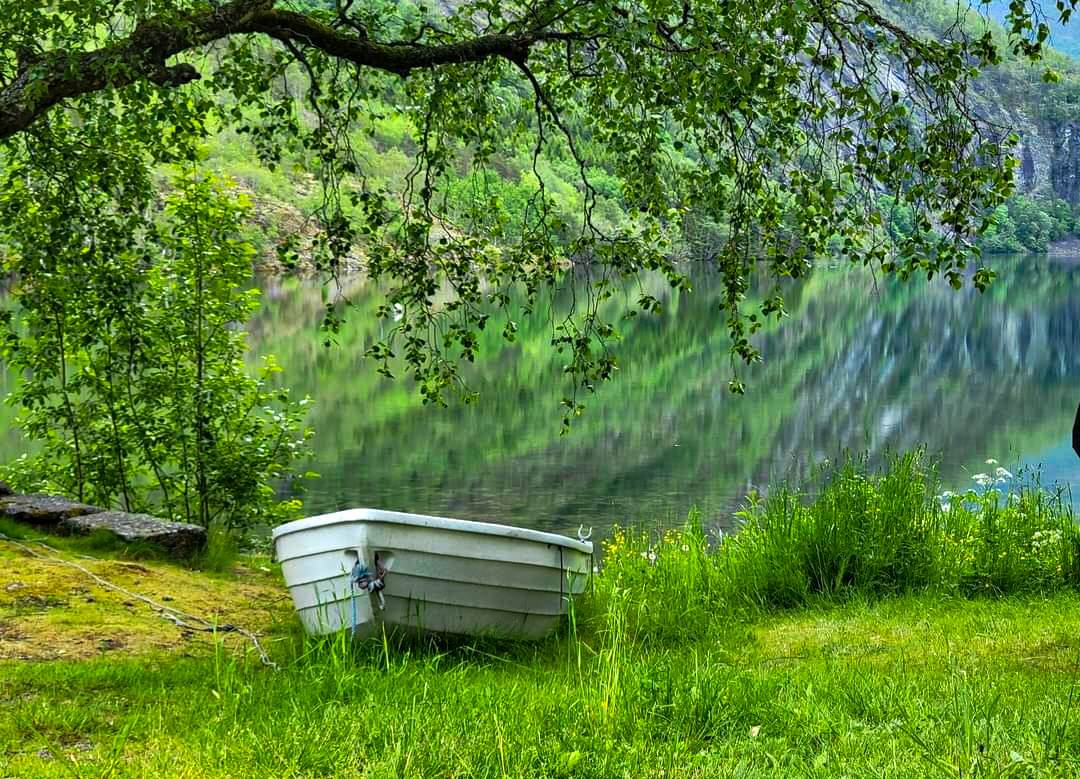 Although you may not have heard of the Urnes Stave Church, it is quite recognisable for many. It is Norway's oldest and most highly decorated stave churches and is on the UNESCO World Heritage List. Although other churches were built on that area of land, the one which stands today dates back to around 1130 AD.
Stave churches were built throughout Scandinavia after the end of the Viking era, which is between 1100 and 1200 AD. Urnes has become a precious piece of Norway's heritage, partially because it's the oldest church, but also it is the most beautiful. What draws many people to visiting Urnes Stave Church is the fact that its architecture is so technologically advanced for being built in the Middle Ages. It is very reminiscent of a basilica, with the exception that it is wholly made of wood. There are carvings within the wood, for example you can see fighting animals on the northern wall.
It can be found around 30km away from Skjolden in Sogn og Fjordane, meaning that it is quite a distance from the cruise port. Because public transport is minimal in the village you would need to book an excursion either with the cruise line or the local adventure tour operators. The easiest way to get to it would be via the RIB boat, but if you're ok with driving then this is a more scenic route.
The church is open daily and tickets at the time of writing (November 2022) are NOK 100 for adults and NOK 80 for children. There are no food and drinks at the site, but you will be able to access toilets. Although we try to use public transport when we visit somewhere, this is a rare occasion we would recommend booking an excursion.
Sognefjell Mountain Road (Sognesfjellsvegen, National Tourist Route)
If you Google the Sognefjell Mountain Road, you'll find it is a 4-hour hike one way, so if you're cruising then we wouldn't recommend it. But you could start the initial part of the walk which takes you around the beautiful lake of Eidsvatnet. There are sign posts which will direct you and as such you shouldn't get lost. We walked around the lake and then headed back because we had done a few other things already and time was ticking on. If you continue with the walk then you will head to the highest mountain pass in Norway, through the Jotuneheiman National Park and on to the village of Lom.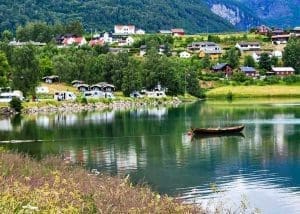 As you can see, even for a small village there is still plenty to do on this stop during your Norwegian fjord cruise. Sadly, we didn't book any excursions, but we definitely would next time, and we'd opt for the RIB boat to see the Urnes Stave Church.
Even if you prefer to just wander around a cruise port, then we think you will be bowled over by Skjolden. It is simply breath taking and the more you look around the more you find, because it feels like there are an endless number of waterfalls on the mountains. For the cruisers who have booked an interior room, then try our trick and head up in the lift to the highest deck and then wander out for your first glimpse; we promise you won't regret it.
Because the village is so small, buying anything within the shops can be a little expensive. It may be better to wait for the larger towns to purchase sweets or crisps.
If you do end up going to Skjolden, then chances are you will also visit Olden on a cruise. But please tag us on Instagram for all of your travels, because we would love to see your pictures.