Our journey to this incredible Panama Canal Partial Transit cruise began with the discovery of cheap flights. As many of you out there who travel a lot will know, it's really hard to resist a bargain. The flights were from Manchester UK to Orlando Florida, so the obvious plan would be to hit the theme parks as we have done so many times before.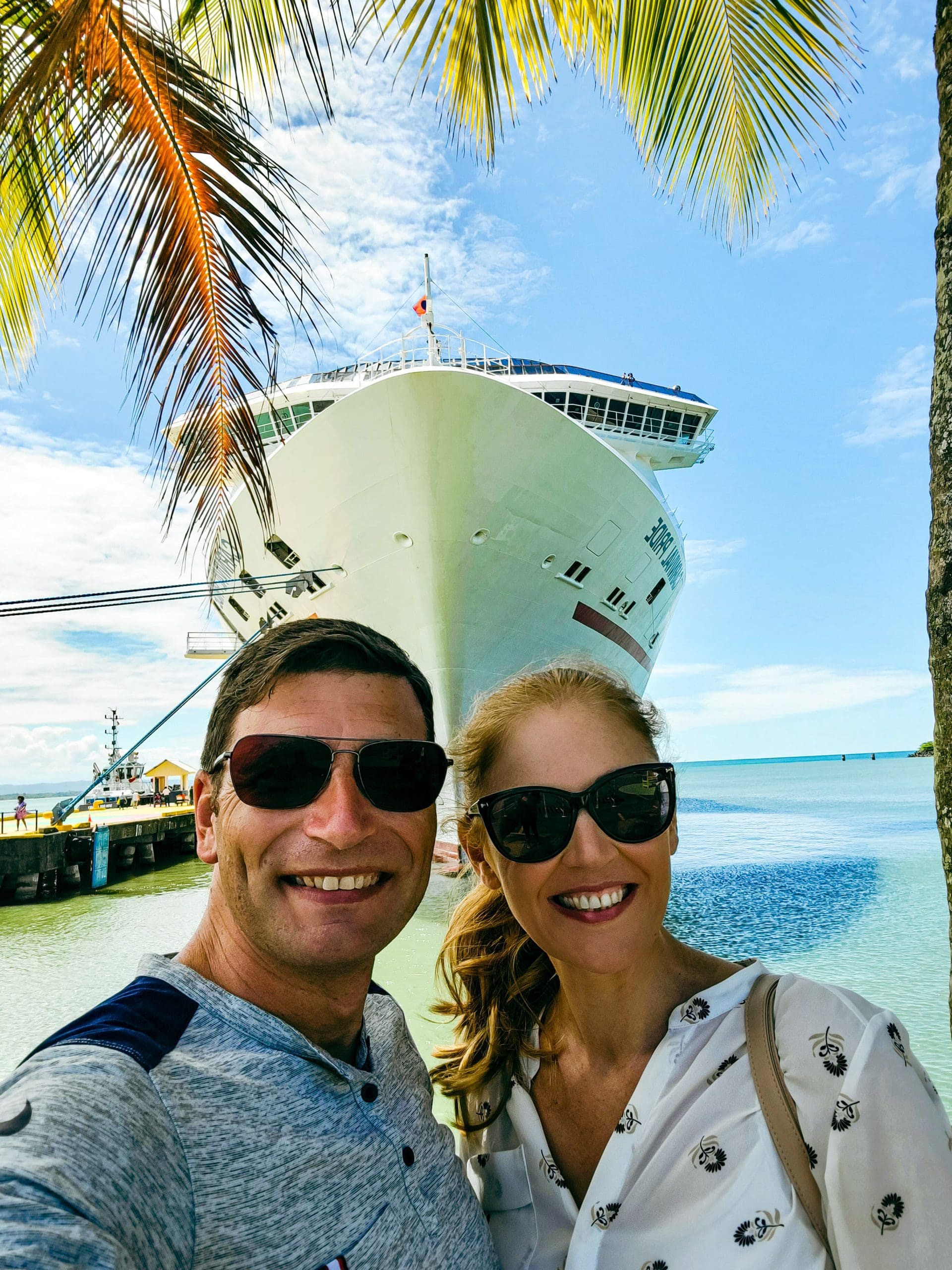 Then we found an even bigger bargain on Carnival.com, so immediately switched arrangements and made it a cruising holiday. Although we flew into Orlando, the actual cruise sailed from Tampa, so we had to hire a car to drive over to the cruise port.
We flew out at the beginning of February 2022 and hadn't done our usual in depth planning because of Covid 19. The original route of the ship had already been changed, so we felt it was wiser to wait until we were on board to plan any excursions. Having sailed with Carnival Cruise lines a number of times before, we were used to the shorter trips of 4 or 5 nights on the smaller ships. This cruise was for 9 nights down to the Panama Canal on the larger Carnival Pride. Panama Canal has been one of the top items on our ever-growing bucket list, so this was the perfect opportunity to tick it off.
For a trip which was a last-minute bargain, it became one of our greatest travel memories. We made some great friends from all over the world, tasted incredible food and got to see some extraordinary sights including sloths and howler monkeys in Costa Rica.
If the Panama Canal is on your bucket list, then we highly recommend checking out the Carnival site and seeing what they have on offer. We have a tip on how to get your cruise much cheaper, which we'll share in the booking section of this guide.
We took a route which stopped at
Limon, Costa Rica
The Panama Canal
Costa Maya, Mexico
There were quite a few sea days which we personally enjoyed, but if you like to port on a regular basis then this may not be the cruise route for you.
As we mentioned slightly above, the original itinerary had been changed as we were due to port at Grand Cayman. The authorities chose to close off the island due to their concerns over Covid 19 and as such we ended up going to Costa Maya instead. If you've not cruised much in the past, then sadly this does occur on occasion due to weather and issues at the port. Sometimes you may not even be able to port at all, if the captain believes that it is unsafe to do so.
Carnival Pride Cruise Ship Statistics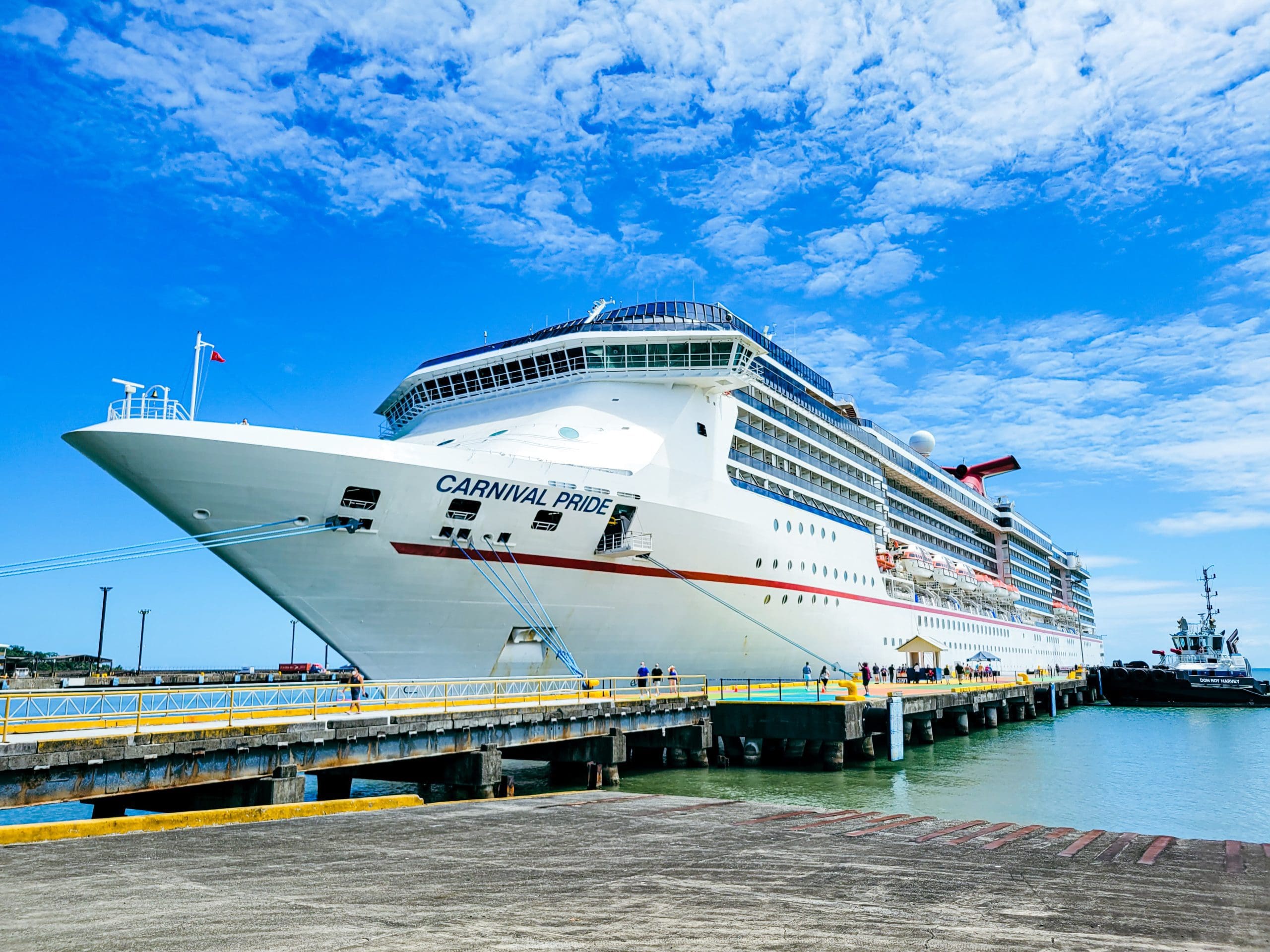 So, let's start with some facts about the ship which was launched on the 29th March 2001.
It weighs 88,500 gross register tons,
The ship can take 2,124 people,
It is 294 meters in length and 32 meters max beam (the width of the ship at its widest point),
There are 930 crew on the ship.
Getting to and From the Cruise Terminal in Tampa Florida
Because we chose our trip based on the air fare, it meant we ended up flying to Orlando and hiring a car to drive to Tampa which is where the ship departed. Most of you booking this cruise will probably find it easier to fly straight to Tampa Airport instead and then get a taxi or a ride app pickup such as Uber or Lyft.
But if like us you found a cheap flight to Orlando International Airport, then you will want to hire a car. Most of the time we find our flights on Skyscanner.com, but did you know they also search for the best car hire deals as well? If you don't find anything you like there, then we have also found some great car hire prices on holidayautos.com. It's best to play around and see if you can grab a bargain because we have found that prices have increased quite a bit for car hire in Florida.
There is one other option from Orlando for those of you who prefer not to drive and that is the direct train from Orlando City Centre to Tampa. This train is available daily and takes about 2 hours from the start of the journey to the destination. From Tampa Union Station to the cruise port is a 4-minute car journey or a twenty-minute walk.
Carnival does offer transfers to and from Tampa airport, so make sure you check out their website as this maybe the best option for direct travel.
Booking and Checking in Process for the Carnival Pride
Carnival VIFP Club
Before we go into the booking process, we wanted to give you a quick tip, which can help reduce the cost of your first cruise with Carnival. By joining Carnivals VIFP Club you can enjoy exclusive discounts which we have found will drastically reduce the price. Registering is easy because they simply need your name, date of birth, an email address and a password. You will receive a confirmation email once complete and can browse away to see what cruise options are available. On a future cruise we have booked we saved three hundred pounds each, purely for being VIFP's.
If you enjoy your cruise so much you want to book again, then you will begin to earn points. Passengers will receive 1 point for every day you sail, with the more points accrued moving you through higher VIFP levels. Each level brings with it a raft of extra bonuses, so it can be incredibly worthwhile sticking with the same cruise line over and over again. These are the different levels and a few of the benefits:
Blue – First Sailing – Members only offers.
Red – 2 to 24 points – Members only offers, complimentary 1.5 litre bottle of water.
Gold – 25 to 74 points – Same as above plus, appreciation drink, Gold VIFP Pin.
Platinum – 75 to 199 points – Same as above plus, priority check in and boarding, VIP party, limited wash and fold service, priority spa reservations, Carnival logo gift, priority debarkation.
Diamond – 200 plus points – Same as above plus, priority seating at speciality restaurant, unlimited wash and fold service, one-time free cabin upgrade or third and fourth guests sail free.
How to Book your Carnival Cruise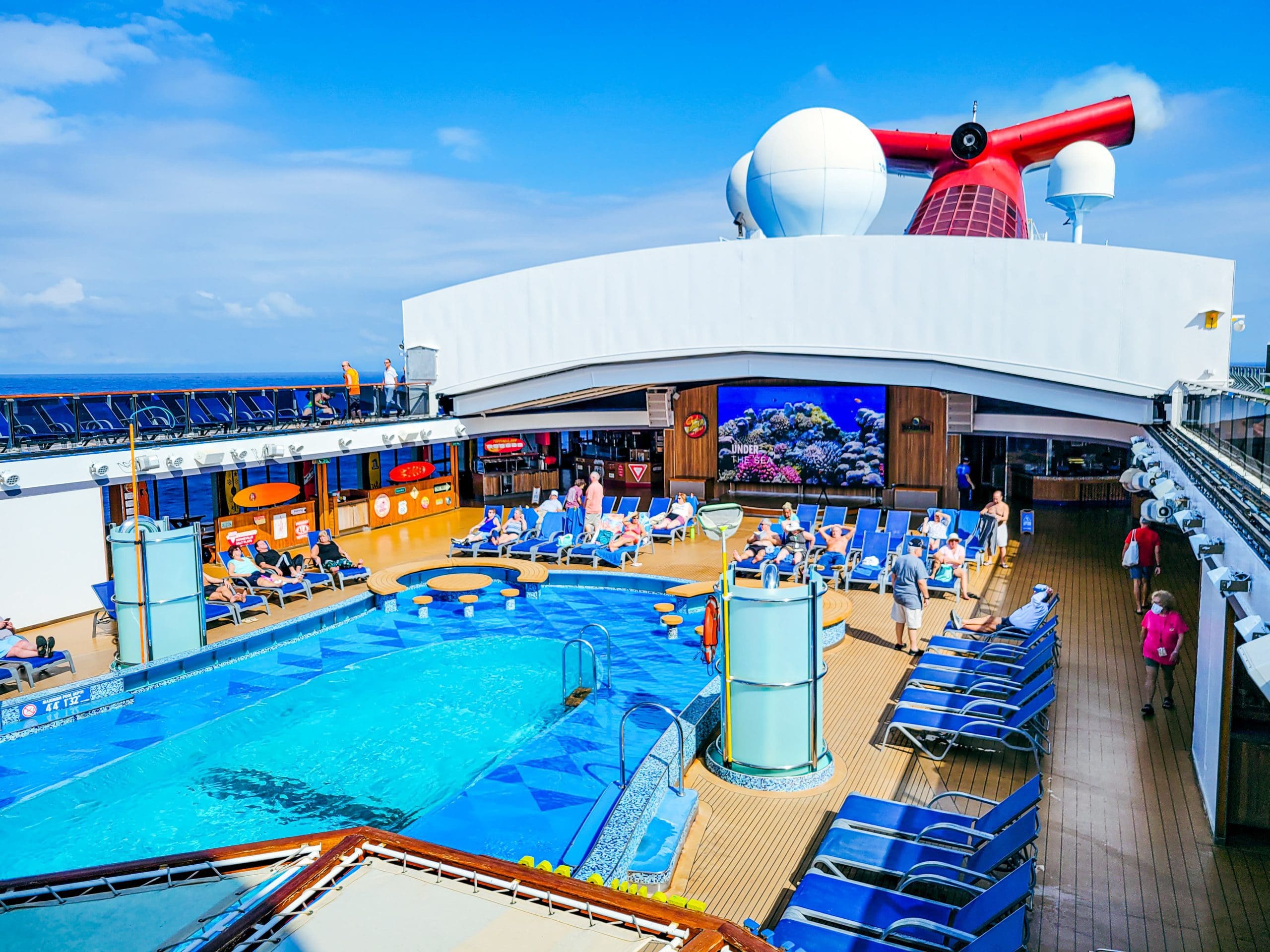 Once you have registered for the VIFP Club, you'll then be looking at booking your cruise, so here is a quick step by step guide on the process.
Firstly, choose your trip and then select the room class, for example interior or balcony.
You will then select the room type as this could vary, so again for example if you chose an interior room, you could choose a standard or obstructed view. We chose to have an interior with obstructed, view which is actually a larger room on the outside with a large window, but it is covered by the lifeboats.
Once the room type is chosen then you are given the option to actually pick your room, meaning you can select the area of the ship you want to be in. This may not seem important, but it can be depending on where you prefer to be. We positioned ourselves towards the back of the ship, so all of the entertainment such as the theatre and comedy club were in easy reach. But if we wanted to go to the restaurants then we had to walk through to the front of the ship. It really depends on your preference, because you could always go mid-way, so you have the best of both worlds.
Next is the cruise summary which will provide a breakdown of the cost per person, taxes, fees, and port expenses. On this section there are two tick box options for prepay gratuities and vacation protection insurance. Obviously, what you want to pay in advance is completely up to you, but we have always chosen to prepay the gratuities.
If you're happy to continue, then you will be asked to fill out the lead passenger's information only. After that is done it is the payment section next, with Carnival Cruise Lines accepting credit/debit cards or Paypal.
Once that's done you will receive an email confirmation with all of the details. Check over everything to ensure that it is accurate because it's better to amend the booking earlier than leave it until the last minute.
It may seem strange, but it's after you have completely booked your trip that you will add the details of any other guests and the VIFP numbers. You can also add extras such as the 'Bubbles' or 'Cheers' package which is the soft drinks and alcohol options. Plus, if there are any excursions you want to prebook and any soft drinks or water for your cabin. If the trip is for a special occasion, then you may be interested in the decorations that Carnival offers for your room. We saw lots of people had brought their own decorations and it's a nice way to make the vacation extra special.
Two weeks before you travel you can check in online, get your luggage tags, select the time you want to board the ship and print your boarding passes. You will also have the opportunity to choose your evening mealtime which could be 6pm, 8pm or 'my time dining'. If you choose the final option, it means you can head to the restaurant whenever you choose, but if they are busy then you will have to wait for a table to become available.
Checking in for your Carnival Cruise
When you arrive at the cruise terminal you will have your luggage taken from you, so that it can go through the usual baggage security checks. Your bags will then be delivered to your stateroom later in the day, so we recommend keeping some basic clothing items such as bathing suits in your hand luggage.
You will keep your hand luggage and there will be staff directing you to the check in area. The first step is to go through security, so remove any metal items from pockets and place in a bag as you would do in an airport.
Then you will head to a designated check in desk to provide passport details and have your picture taken. This picture is used to identify you as you leave the ship and for when you return. Normally with other cruise lines you are given your room key at check in, but on this trip our key was left outside our room.
After this is all done you are ready to head onto the ship and enjoy your vacation.
Carnival Hub App
Before we explore what is on the Carnival Pride, we want to tell you about the Carnival Hub app which will make your trip even more enjoyable. The app has everything you need to know about the ship and the ports you will be visiting. This is what you can find:
Shore Excursions – You can see what is on offer in each port, how much the excursion costs, details of the trip and reviews from other Carnival seafarers. There's even an FAQ section for those generic questions you may need answering. If you find an excursion you fancy then you can book on the app and it will be added to your bill, known as the 'Sail and Sign Statement'.
Drinks Packages – If you missed the drinks package section when you booked, then don't worry because you can still purchase it on the app. There are full details available, information on the prices and an FAQ section.
Spa and Salon – Sometimes a vacation needs an added bit of relaxation, so why not treat yourself to a massage or facial. You can find out what treatments are available, how much they cost and book on the app, with an early bird discount being added.
Book Speciality Dining – which on the Carnival Pride is David's Steakhouse.
Activities on the Cruise – Pre-Covid you would normally receive a daily activities sheet called 'Fun Times', but those days are gone. Now you have everything you need on the Carnival Hub app, including the list of what activities are available on that day, where to find them on the ship, what time they're on and a description of what you can expect. There's even an option of highlighting the activity as something you want to do, so you get reminders when it's nearly time for it to start. This is much easier than carrying the paper copy around with you, because it's all on your phone. We'll explore the activities further on in this guide.
Port Information – The app provides details of each of the ports you will visit and what makes them so special.
Chat Plan – If you choose not to take out an internet package on the ship, but you need to stay in contact with family members onboard then this may be a great option for you. The Carnival Hub app has a chat box section in which you can contact other people on board and it only costs five dollars per user. We decided to purchase it, so it cost us ten dollars in total and in all honesty, it was hit and miss as to whether the receiver actually got the message. But we'd still recommend it, because it's better than nothing and if you have any issues then go to guest services who will sort it out.
What's available on the Carnival Pride?
The Carnival Pride has 12 decks, with the main areas of entertainment being located on the first three. The lido deck is on floor 9 which is where you will find the pools, buffet restaurants and the spa and fitness centre. We'll go through a full inventory of the facilities so that you have everything you need to know beforehand.
The Cabins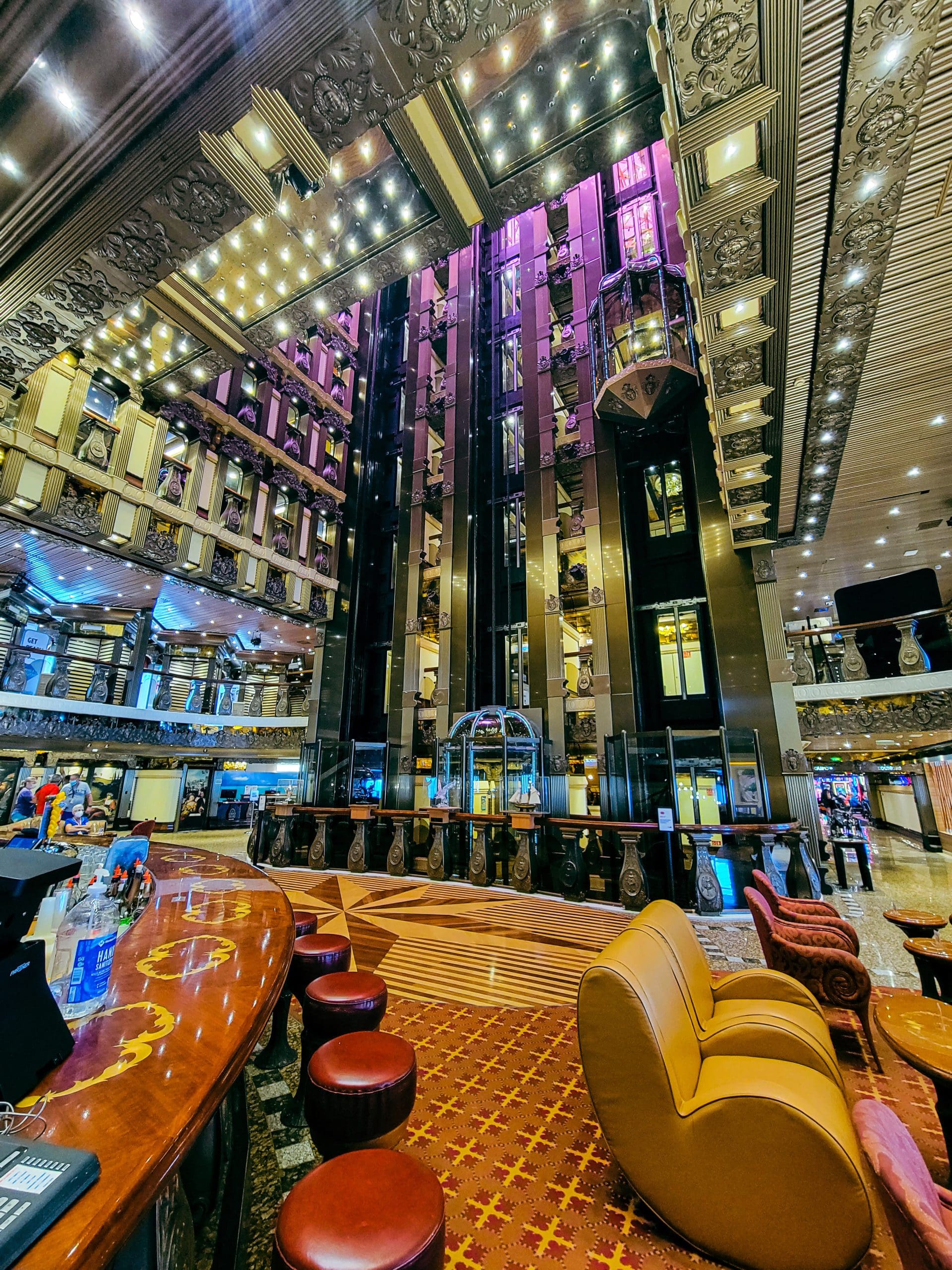 We stayed in an Interior with Window class cabin (video), but here's a small breakdown on the range of cabins available on the Carnival Pride.
Interior Cabin – There is 277 interior rooms which are around 185 square foot in size, and they can accommodate up to four people. Within the room you will find a small couch and table, a vanity area with stool, a fridge, safe, plenty of wardrobe and draw space, and a bathroom with shower. On the ship there is a small number of what are classed as interior rooms, but they in fact have floor to ceiling windows. The reason they are within the interior group is because they are obstructed by lifeboats and as such you get some sunlight in, but you cannot see very much.
Oceanview Cabin – There are 103 rooms with ocean views and alike the interior cabins they are around 185 square feet and take a maximum four people. It's a very similar room to interior ones, just with a window which is quite large and square. We have paid for Oceanview rooms on other ships and only had a small porthole, so this is larger than most.
Balcony Cabin – On the Carnival Pride there are four types of balcony rooms, which equates to 632 rooms in total. This includes balcony, balcony with obstructed views, an extended balcony and then the premium balcony. All of the rooms with the exception of the premium balcony rooms, are the same size which is 185 square feet. This doesn't include the actual balcony size because this will vary with the standard and balcony with obstructed view being 40 square foot and the extended being 60 square feet. The premium balcony is a whopping 230 square foot with a 55 square foot balcony. The balcony with obstructed view accommodates up to three people and the rest of the rooms can take up to four people.
Suite Cabin – There are four suite types on this ship which are Vista, Junior, Ocean and Grand. The benefit of this type of room is all of the additional space you will enjoy, plus at this level there is VIP check in. Each standard of suite varies slightly, but for all of them you will find a walk-in closet and a whirlpool tub in the bathroom. Here is a little information on what is in each:

Vista Suites – There are 10 suites at this level, and they total 245 square feet. The room accommodates up to three people and has a sofa bed, table, chair, vanity unit and a bathroom with a tub. What makes this room extra special is the 220 square foot balcony which runs around the exterior of the room and provides a wall of windows. On the balcony there are two loungers, two small tables and five chairs, so you can relax in the privacy of your own space.
Junior Suites – With only two Junior suites available, these rooms will accommodate a maximum of two people. They measure 275 square feet and offer the usual amenities of a bed, seating area with a couch, plus table and chairs. The room is quite spacious with an entryway, a walk-in closet, and a bathroom with a tub. The balcony is much smaller than the Vista as it is only 40 square feet and had two chairs and a small table.
Ocean Suites – This suite can accommodate up to four people and is 275 square feet. There are 32 rooms which again offer a walk-in closet, double vanity unit and whirlpool tub and the other amenities mentioned above such as a table, and sofa chair bed, as well as the usual bed. The balcony is 85 square foot and has two chairs, a sun lounger and small table.
Grand Suites – With a name like Grand Suites you will expect the room to be good, and boy it is. Accommodating up to four people, the 300 square foot room has everything you need and more. There are six rooms, and they have a large bed, a desk and chair, a dressing area with a vanity, sofa bed, chairs and table, and a large bathroom with a whirlpool tub and double vanity. Of course, a great room means you should have a great balcony, and this is a 115 square foot space with two chairs, two loungers and a small table.
Restaurants and Speciality Dining
We'll talk some more about the food further on in this guide, but this is a list of restaurants available on the ship.
Mermaid's Grille – Lido Buffet, Chopsticks and Late Night Buffet
Normandie Restaurant – Main Dining Restaurant
Carnival Deli
Bonsai Sushi
David's Steakhouse
Seafood Corner
BlueIguana Cantina
Guy's Burger Joint
Pizza Pirate
Swirls Soft Serve and FroYo
Coffee Bar
Bars
There's plenty to choose from whether it's the more formal Alchemy Bar or the laid back RedFrog Rum Bar. We loved the SkyBox Sports Bar to relax and take in a game, plus they held some great sports quizzes there daily.
SkyBox Sports Bar (Deck 2) – This bar is the dream of every sports fan, with memorabilia over the walls, huge TVs behind the bar showing all of your favourite games and a scrolling sports ticker with the latest sporting news. You have plenty of seating throughout, from high tops to booth chairs and stools in front of the bar.
Piazza Café (Deck 2) – This little section is the perfect spot for that caffeine hit, with coffee and tea options. They also have a range of cakes including the biggest donuts you've ever seen. Sadly, these aren't included in your meal plan and so you have to pay extra.
RedFrog Pub (Deck 2) – Themed on Carnivals specially brewed beer the ThirstyFrog Red, this bar offers a Caribbean feel with palm trees all around you. There is a mixture of high-top stools and tables, and the more relaxed lounge chairs. The RedFrog Pub offers an array of alcoholic drinks including frozen cocktails, plus it's the ideal place to see live entertainment or karaoke.
Casino Bar (Deck 2) – If you're eager to spin the slot reels or the roulette wheel, then you may need some lubrication to calm those nerves. So, grab a drink at the casino bar first and then head to your favourite game. There are servers walking around the floor as well if you're after another drink.
Alchemy Bar (Deck 2) – Not far from the main restaurant and sometimes overlooked as a drinking spot. The Alchemy Bar is a pharmacy themed cocktail bar with an incredible range of cocktails. There are a few high-top stools and plenty of beautifully decorated chairs of all shapes and sizes. You can enjoy live performances there on occasion, but it is the perfect location to sit and relax, or chat with new friends you've made on the ship.
Renaissance Lobby Bar (Deck 2) – The semicircle bar found in the atrium lobby is near the impressive glass lifts. There are stools at the bar to grab a drink, but also lots of additional seating within the lobby area where you can watch live entertainment throughout the evening.
RedFrog Rum Bar (Deck 9) – Basically the pool bar and alike the RedFrog Pub has a Caribbean theme with stool bar seats.
BlueIguana Tequila Bar (Deck 9) – Another bar near the main pool, but it's decorated with a beautiful Mexican tiled theme and has a menu of tequila-based cocktails and drinks.
Serenity Bar (Deck 9) – Serenity is basically the pool area where no children are allowed. It has more comfortable sun loungers and is accessible to any adult passengers. The Serenity bar covers the back wall of the area and has lots of seating and a large menu of drinks.
Raphael Lounge (Deck 3) – Another bar which is close to the main restaurant entrance, as such it's used for pre or post meal drinks. As with the many other bars there is plenty of seating and an extensive bar menu available.
Ivory Piano Bar (Deck 3) – This bar doesn't open until 9pm, so as you can imagine it's pretty much party central. There is an elevated piano in the middle of the room surrounded by bar seating, plus more relaxed seating throughout the rest of the room. It's the perfect place to watch live music every night.
Dress Code
Daytime – Cruising in general is much more relaxed than it used to be, especially when it comes to Carnival cruises. During the day most people are in swim wear, shorts, and t-shirts, with flip flops. If you are heading into the restaurants through the day for lunch, then you will be expected to wear something over your costume or put on a shirt, and bare feet are not allowed.
Evening – When it comes to the evening meals and activities, we would generally advise smart casual. Cruising has certainly changed over the years, and you don't have to dress in ball gowns and tuxedos. Of course, this means no shorts or beach wear in the restaurants.
Additional Facilities on the Cruise Ship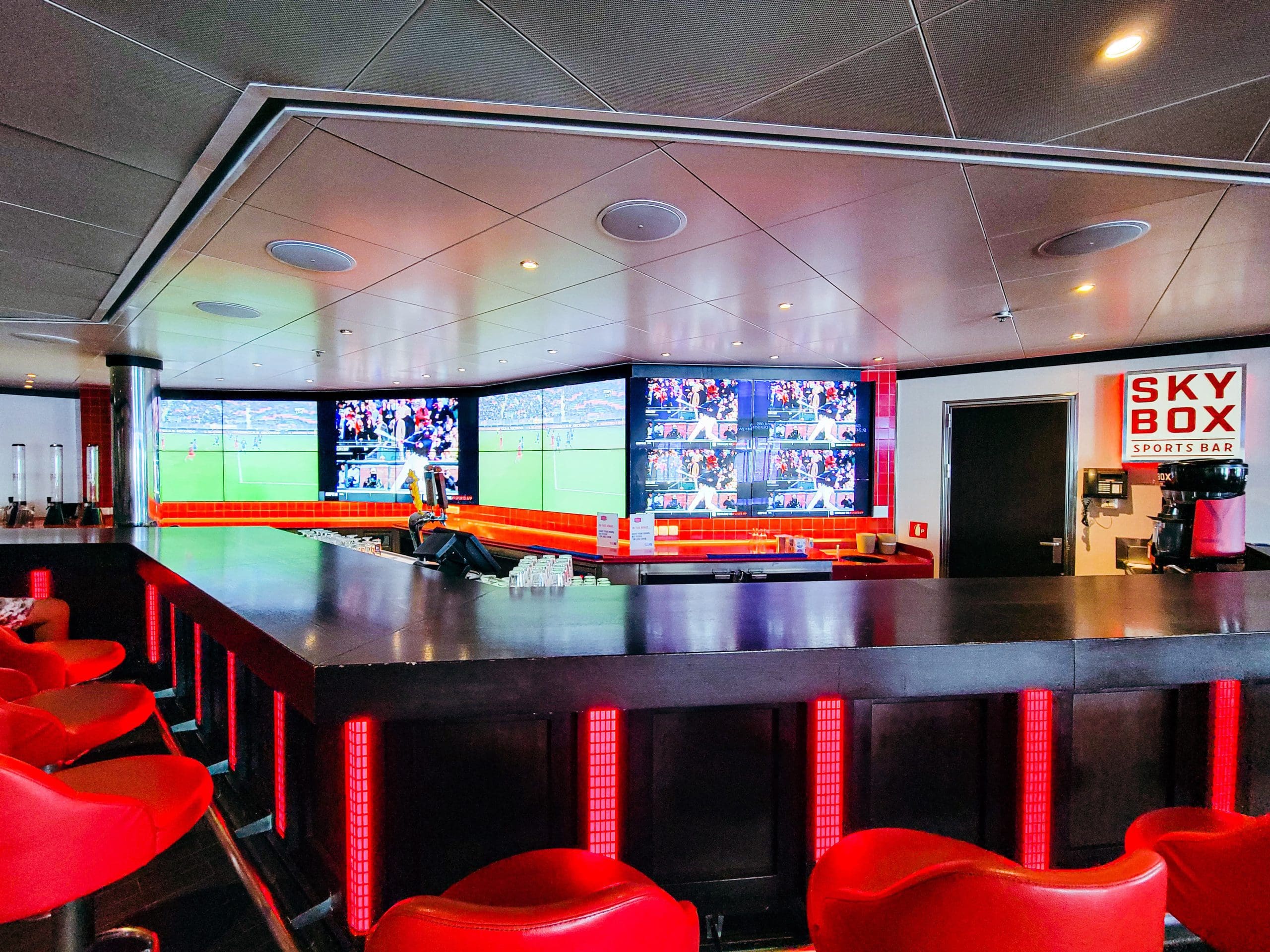 Cruise liners are huge, so it can be a little daunting if you've never been on a ship before. We remember our first cruise and when you arrived it felt so big, but then seemed to shrink and feel more manageable during the vacation. Before you even arrive on the ship it's worth knowing what is available and where you can find it.
Raphael Room Art Gallery (Deck 3) – Although used as a conference room on occasion, the Raphael Room is the location for any art lovers on board. They hosted regular art shows where you could buy the pieces available.
Chapel (Deck 3) – Should you need some alone time then there is a small chapel available.
Winners Club Casino (Deck 2) – Having been to a few casinos on various cruise ships, this was one of the bigger spaces we have seen. There were plenty of slot machines for varying budgets and a range of table casino options including roulette, craps, blackjack and poker. Keep a look out for the special games and tournaments on your Carnival app, because you may be in with the chance of winning more than you expected.
Pools (Deck 9) – There are three pools on the Carnival Pride which are the forward pool, the main pool on the midship and the Serenity pool. If you're looking for peace and quiet, then we recommend heading to the forward pool or Serenity (if you don't have children). For those of you who enjoy a lively environment, then the midship pool is going to be your preferred spot. There is live music and bands playing, dance classes and contests, although this can get loud. This is also the section where you will find a lot of the food places such as BlueIguana Cantina and Guy's Burger Joint.
Around all the pools you will find at least one hot tub, lots of sun loungers and seats to relax in the sun and shade. Basically, there is something for everyone, the best thing to do is scope it out on day one, so you know where you want to head after that.
Butterflies Lounge (Deck 1) – This beautiful lounge has walls and ceilings covered in butterflies. In fact, the entrance is adorned with what looks like real butterflies; it is a sight to behold. What makes this lounge extra special is the fact that it is home to the Punchliner Comedy Club, so if you are looking for a laugh then this is the place to go. There tends to be two comedians every night, one is PG rated and then a naughtier R rated show. But you will be told by the compere at the beginning, so you can choose if you wish to stay.
The lounge itself has a stage at the centre and is surrounded by curved booth styled chairs, with small tables in front. You will also find normal chairs at the front and sides if you are brave enough to get closer to the comedian and await their comedy wrath. There is a bar at the back of the room serving comedy themed cocktails and an array of drinks, but don't worry because servers can be found easily. The room tends to have low lighting, especially during the show and it can get pretty busy in there, so make sure you turn up early to grab a seat.
Taj Mahal Theatre (Deck 2 and 3) – The theatre is spread over three floors and houses 1,167 guests in its comfortable and elaborately decorated chairs. It's used for various events including shows with dancers and singers, magicians, game shows, daily bingo and even informative gatherings such as the disembarkation meet up. The shows can fill up pretty quickly, so make sure you get there early to grab a seat.
Beauties Nightclub (Deck 1) – As with the rest of the ship, the décor in Beauties Nightclub is extravagant and bold, with colourful torsos of the body beautiful all over the room. The nightclub is over two floors with plenty of seating and a big dance floor for you to make your moves. There is a large bar, but as with the other areas there are plenty of servers walking around to take your drinks order.
Atrium Lobby (Deck 2) – This is the area where you can speak to someone should you need to, because they have a guest service and an excursions section.
Promenade (Deck 10) – Ideal for walkers and those of you who like to look out into the vast blue ocean, the promenade circles the ship. If you're looking to burn some of those calories from all of the incredible food and drink, then 3.5 laps of the promenade equate to one mile.
Crystal Card Room (Deck 2) – Although it's not a large space and there's no bar in there, the Crystal Card Room has a number of tables and chairs which are ideal for groups playing card games.
The Warehouse Arcade (Deck 3) – This incredible room is filled with a range of virtual reality and arcade games for all ages.
Self-Service Laundry (Various Decks) – Should you need to do any laundry during your trip then there are a number of locations on Deck 1, 4, 5, 6 and 7. You will need to have coins for the machines, and you can buy detergent on board.
Internet Café (Deck 2) – Located on Deck 2 the Internet Café has five computers and one printer. There are a few internet plans which you can find on the Hub app.
Fitness Centre and Aerobics Studio (Deck 9) – We used the fitness centre on a number of occasions, and it offered a wide range of equipment, so it doesn't matter if you're after cardio or weights they have you covered. The centre opens between 6am and 10pm, is located at the front of the ship and can be accessed via the Spa. It's on two levels with the cardio machines at the bottom and weight machines at the top. There are towels and wipes for the machines to keep everything hygienic.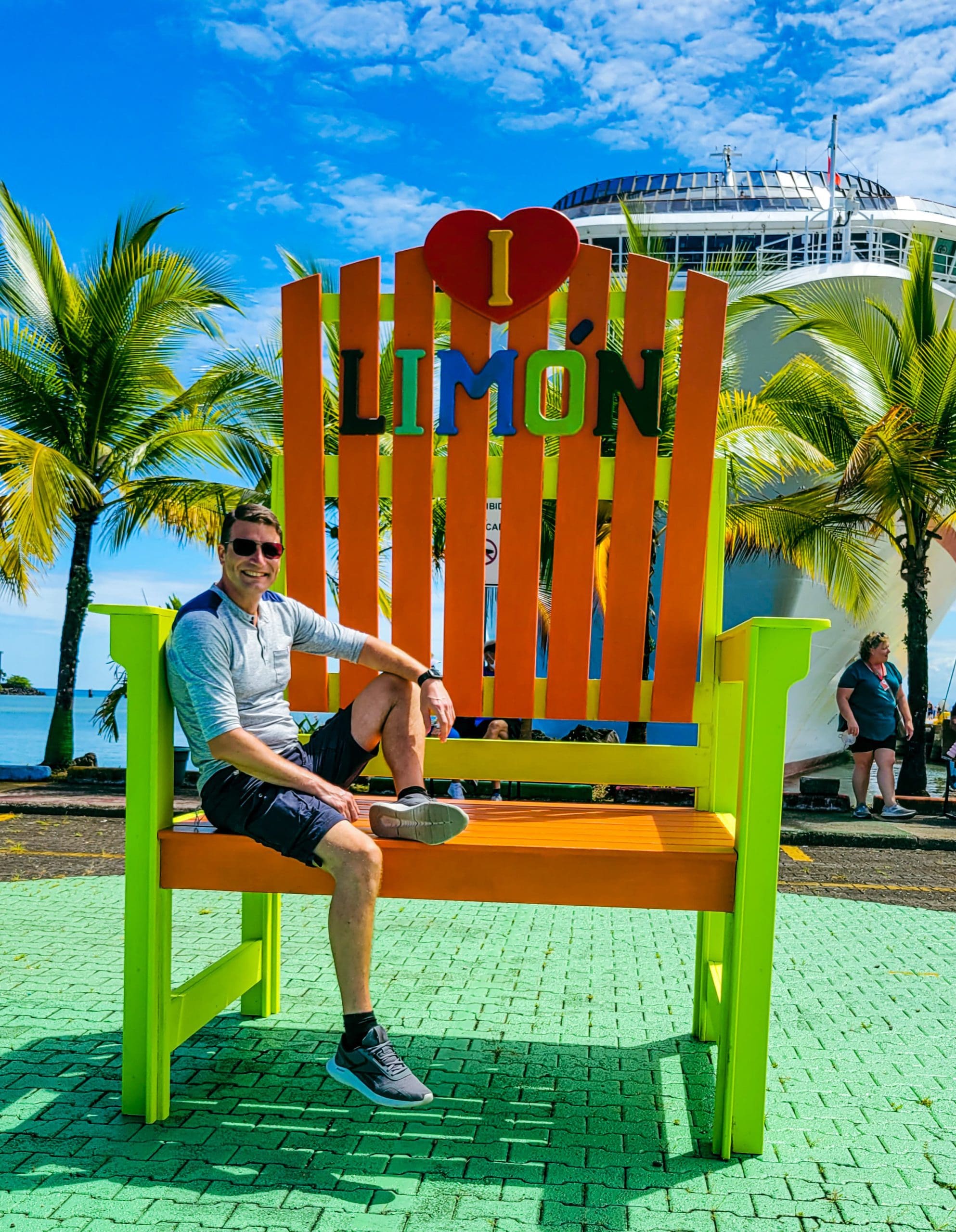 Within the aerobics studio you can access a number of classes such as morning yoga. If you prefer running and walking then head to deck 11 for the jogging track, with fifteen laps equating to one mile. Also on deck 11 is the basketball court which is great fun, but can get a little windy on sea days; well that's our excuse for being so bad at shooting hoops.
Spa Carnival (Deck 9) – The Spa on the Carnival Pride is on Deck 9 at the back of the ship, and you can see it as you walk through to the fitness centre. There are 14 treatment rooms offering a range of options such as massages, facials, and salon services. The Spa is available between 8am and 10pm and you can book by heading to the Spa itself or by using the Carnival Hub app. Throughout the cruise you will hear about special offers because the prices are pretty steep, but if you want pure relaxation then this is the perfect option. You can find lockers for men and women for your valuables and there a hot tub which looks out onto the ocean, as well as a steam room and sauna in each set of changing rooms.
Pixels Gallery (Deck 3) – During your time on the cruise ship, you will see photographers who will take pictures which you can purchase. The pictures are printed and placed in the Pixels Gallery, so you can go and take a look whenever you choose. As well as photos you can purchase cruise related picture frames, photo albums and photography equipment.
Dreams Studio (Deck 3) – Situated near Pixels Gallery is the Dreams Studio, where you and your family can pay to have professional photographs taken. The pictures can be within the studio where you will stand in front of incredible backdrops of picturesque destinations. Or you will be posed in the ideal photo spots on the ship, so you have a forever memory of the perfect cruise vacation. Depending on the package you choose you can have your pictures printed, held on a digital file, made into collages or large prints.
Cherry On Top (Deck 3) – Sometimes we need a little sweet treat, which is why Cherry On Top is the perfect pit stop. This sweet shop offers a number of tasty options, plus you can buy flowers and gifts for those special occasions.
The Fun Shops (Deck 3) – Within the same area as Cherry On Top, also known as the Via Veneto hallway, are the two Fun Shops. On one side you have duty free items, clothing, toiletries, and general cruising gifts. Then on the other side is the huge jewellery store, which also has designer bags, perfumes, and skin care. There are regular discounts throughout your trip, so keep an eye out on the app. The shops tend to be closed when you are in port, so make sure you visit when sailing.
Kids Club (Deck 10) – Most of us consider cruises to be for the older generations, because historically they were the only people who could afford it. But now things have changed with prices becoming more affordable and the idea of seeing lots of new places being enticing. Carnival like other cruise lines have an extensive range of activities for kids, no matter their age.
The kid's area on the Carnival Pride is called Camp Ocean and is a supervised area for Penguins (aged 2 to 5 years), Stingrays (6 to 8 years) and Sharks (9 to 11 years). The activities are all age appropriate and create a fun educational experience on the wonders of the ocean. This includes things like art, crafts, songs, dancing, toys, movies and video games. If you want your kids to join in with Camp Ocean, then make sure you register online before you sail.
During mealtimes the children will eat together and be served kid friendly options such as chicken nuggets and mac n' cheese.
The camp is available whether you are at sea or in port and they are open from morning until night. After 10pm this will change to a babysitting service called 'Night Owls' and there is an additional charge you should be aware of.
A regular theme on the Carnival ships is Dr. Seuss, so they will have a Green Eggs and Ham Breakfast, and a Seuss-A-Palooza Parade and Story Time. There are even character appearances so you can get a photo with your favourite Dr. Seuss character.
For the teens aged 12 to 14 years old, they have the Circle C club, where they can chill, connect and make new friends. They can enjoy activities such as dance parties, scavenger hunts, games and outdoor movies, whilst being supervised by onboard counsellors.
Finally for the older kids aged 15 to 17, you have Club O2 which offers various activities throughout the vacation. Generally, on port days the club won't open until the back on board time. But on sea days the hours are 12pm to 5pm and 8.30pm to 1am. Activities are the same as the younger teens, with video games, playing sports, watching movies, karaoke and even a Carnival prom. Let's just say, no matter the kids age they will be fully entertained and you can enjoy your vacation knowing they're having fun.
Carnival Pride Upgrages – 2023 Dry Dock
Since our Panama cruise, we have been lucky enough to sail on the pride several times through Europe in 2022 and 2023. During these our cruses we visited the following ports;
Following it's dry dock in Europe in May of 2023, the Carnival Pride had some significant alterations and upgrades. From cosmetic to functional changes, some of which didn't go down too well with fans of the ship. Some of which we have already amended above, details of these changes can be found below.
Fresh New look
The first thing you'll notice about the Pride is the fresh lick of paint and new livery. Gone is the single red stripe, having been replaced with a blue design that covers most of the bow and then sweeps down to the water level. More cosmetic changes can be found in the corridors and casino, where they replaced the carpets. Over the course of the summer season in Europe they are also replacing the mattresses.
Internal Facelifts
David's Steakhouse is one area that has received a minor facelift. The glorious statue of David been removed and it has been renamed the Fahrenheit 555 Steakhouse. but other than that not much more has changed.
Sky Box Sports Bar is another area to be hit with a new look. Having been renamed the Heroes Tribute Bar, it has received a fresh coat of paint and the sports memorabilia has been replace with tribute materials to honour forces personnel. But don't worry, it's still your go to place for sports.
The biggest area to receive a new look, as well as a new layout is the gym. The decor has been updated to a nice bright calming theme throughout, but the lockers, steam room and sauna remain in the same locations with the same access points.
The seating area with hot tub access has been closed off and is now a relaxation area, with comfortable seating and cold drinks. So there is no longer a view in to the gym. The gym is still accessed via the locker rooms or side doors, which are now touch pad activated.
As you walk in to the gym, cardio equipment is still on the main floor, but the first thing you will notice is that there is no longer a hot tub. This has been replaced with an impressive multi purpose cable machine, free weights, benches and mats.
This change has allowed more room to be freed up on the upper levels for resistance weight machines. This was previously a limited range, but you have access to any possible machine you could need.
Functionality
Less able boddied passengers will be pleased to know that some areas of the ship are now more accessible. Firstly, most of the public toilets have been remodelled to improve access for wheelchair users. Secondly, Carnival have added lifts to the outside on deck 10, to improve access to deck 11 sports deck and waterworks.
The Nightclub has also seen a change. It is still accessible from deck 2 near the alchemy bar, but no longer on two levels. The lower level has been closed off to make way for more cabins on deck 1.
As well as the carpets being replaced, the casino has also had it's bar removed and replaced with more slot machines.
New Shop
Possibly the one change that wasn't too welcome was the new shop. Generally, more shops to browse is a good thing, but not in this case. The new shop is a carnival excursions specific space, where you can buy snorkels, water shoes and anything else for those trips ashore.
But it came at the expense of the games room, so now there is no designated quiet place to play card and board games with your friends and family. the games and books have now been relocated to the Piazza Cafe next to the casino, which is not ideal.
If you are more of a visual person then we cover all these upgrades in our Carnival Pride ship tour and walk-through video on our YouTube channel.
Carnival Pride Food and Drink
Because of the fact you're based on the ship for the majority of your mealtimes, it's important to consider if you're catered for. The cruise lines are fully aware of this, so they offer a huge range of options which should tick the boxes for the fussiest eaters out there.
We've given you a list of the restaurants above, so you can see there's lots of options on places you can eat. But what exactly do those restaurants offer you, and what about those of you with special diets or preferences.
There are two main food options and that is the Normandie restaurant which is the main venue for your evening meals and the Mermaid's Grille, which is the buffet option.
Normandie Restaurant
Normandie is more of a formal space and as such you can expect a menu of starters, mains and desserts. Every day has a different menu, but during our time we saw everything from soups, salads and shrimp cocktails for starters, Indian curry, Mexican burritos, steaks, chicken dishes, ribs, mac n cheese and even frog's legs for mains and lots of cakes, ice cream and sorbet for dessert.
Mermaid's Grille
Mermaid's Grille is a smorgasbord of culinary delights and again the options change daily. There is a huge salad station, a freshly made pizza section (Pizza Pirate) and a whole area simply for cakes and pastries. You also have the Carnival Deli which has freshly made sandwiches and wraps. The other stations are the buffet options and, in all honesty, we could spend a long time listing the various food options. But as you can imagine there are plenty of meat options in various sauces, chilli, lasagne and vegetables and the usual breakfast offerings in the morning. Depending on the time of day there is a station which during lunch time is Asian inspired and then in the evening tends to serve fish-based dishes, known as seafood corner.
BlueIguana & Guy's Poolside Dining
On the same Deck as the buffet restaurant (Deck 9) you also have BlueIguana Cantina which is a Mexican taco and burrito spot. Also, Guy's Burger Joint where you can grab your burgers and fries and make them your own with the toppings bar.
We can't imagine you will struggle to find something you like, whether it's during the day after you've been sunbathing, or at night if you want a less formal bite to eat.
Speciality Restaurants
There are a couple of speciality restaurants on board, but these come with an additional cost. Bonsai Sushi is as you would imagine a small sushi restaurant, so you can just walk in and order. Whereas David's Steakhouse is a formal restaurant and as such you would need to prebook.
Finally, you have the Carnival Coffee Bar, which is another spot where you have an additional charge. They serve speciality coffee and tea, plus the largest cakes, pastries, cookies, and donuts known to man.
Carnival Menu Mate
For those of you with special diets, allergies or intolerances who are thinking, 'well they'll have nothing for me', think again! In the buffet restaurant they have a 'Menu Mate' which is your food allergy assistant. They will help research what food you can and cannot have and walk around with you and point out the options. One member of our party has a number of food intolerances and as such the menu mate was invaluable. Just head to them on the first day of your cruise, you'll find them at the main entrance of the buffet restaurant.
The same support is given in the main restaurant, because on your first night you simply inform the waiter of your food intolerances, preferences or allergies. They will show you on the menu what can be adapted, after having spoken to the chef. For the following nights you will have the option of seeing the menu for the next night and picking what you want to eat, which can then be adapted especially for you. We requested the Carnival cruise vegan options with no soy and ate such varied incredible dishes, it was a treat.
Carnival Pride Activities and Entertainment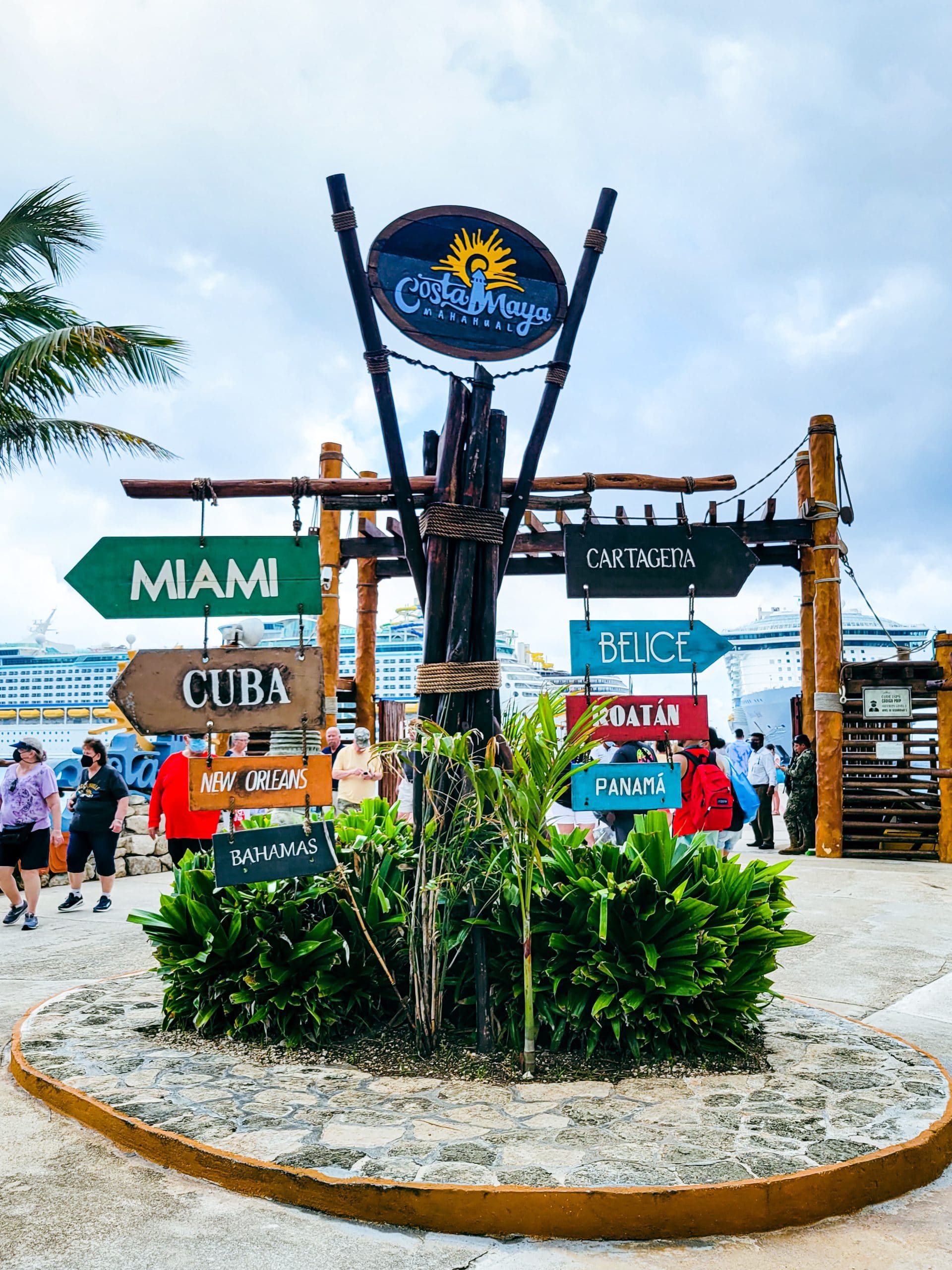 Most of us who have sailed before will know the raft of incredible activities which are offered on cruise ships. It's rare that we've spoken to regular cruisers who have said they were bored. But if you are new to these ocean holidays then be prepared for a vacation you've never experienced before, because it can be action packed. Remember that everything you need to know will be listed on your Carnival Hub app, including the time of the activity and where you need to go. There is so much to do that it would be impossible for us to write it all down, so here's a taster of what you could be enjoying.
Art Auction
Ping Pong Tables
Basketball Court
Mini Golf Course
Bingo
Carnival WaterWorks – Water slides and kids play area
Comedy Shows
Deck Parties
Dance Classes
Fitness Classes such as yoga and Pilates
Karaoke
Trivia Contests
Movie Screenings at the Carnival Seaside Theatre
For those of you who may be walking the line, Carnival host a number of Friend of Bill events to help keep you on track. Perfect for if you are ticking a cruise off your sober bucket list.
Places Visited During Panama Canal Partial Transit Cruise
The Panama Canal Partial Transit Cruise was one of the longest ones we have done, covering 9 nights. But when it comes to ports, in reality there were very few and the majority of days we were at sea. Our reason for booking this cruise was because it sailed down a section of the Panama Canal, but we were excited to visit both Costa Rica and Mexico for the first time.
Unlike other cruises we have taken, the prices of the excursions on Carnival were pretty reasonable. Caribbean ports tend to have a small area where you can wander around a few shops before heading back onto the ship. Unlike European ports where you dock in the actual main towns. So, to get the most out of the Caribbean experience it is wise to book an excursion.
We met some passengers who preferred to see what was available on shore with the locals and we completely understand why; its much cheaper. Personally, we like to feel safe in the knowledge that if you book via the cruise line, then the ship won't leave without you. Basically, the decision is yours as to what you want to do. So, here's a little bit of information on what is available at each port and some of the excursions via the cruise line.
Limon Costa Rica
Limon is also known as Puerto Limon and is the capital city of the Limon province. As you wander around the area you can see a mixture of Italian, Jamaican and Chinese influence, which stems from the labourers who worked on the railroad which connected San Jose to Limon to improve trade and exports.
When you walk along the dock you will be welcomed by a local band, playing Caribbean style music. To the side there are a few photo opportunities including a huge Costa Rica sign and a large colourful chair with the words 'I Love Limon'. We couldn't resist getting a few pictures with our cruise ship in the background.
You will then walk into the Port Limon market, which had a number of stalls selling the normal souvenir bits and pieces. There is a small, air-conditioned café which if we recall correctly had Wi-Fi access. You will then walk through a security gate into the city centre. It's a typical looking Caribbean town with a variety of shops, bars and restaurants. There is a park as you leave the port which has sloths sleeping in the trees, but if you're shown where they are by locals then you will be expected to tip them.
We didn't spend much time wandering around because we were booked in on an excursion, but Limon is much larger than a lot of the other places we have been to and generally it felt pretty safe to walk around.
Our excursion was the Caribbean Train, Boat, and Bus Experience and although we have been on a few cruises we have never been on an excursion. After being picked up on a comfortable air-conditioned bus, we were driven around the town of Limon whilst the tour guide gave us a history of the area. Then we made our way to the Caribbean train through banana plantations, with the guide stopping off to grab a bunch of young bananas to show to the guests on the bus. When we arrived at the train we boarded comfortably and had the opportunity to buy drinks and snacks from the locals. There isn't much on offer and they sell out fast, so we recommend bringing water with you. The train covers quite a distance at a slow pace through wooded areas, past beaches and small local villages. You'll find there is plenty to see, especially when it comes to wildlife. The train stopped a few times when the guide saw howler monkeys and you could walk to the front of the cabin to take a look.
When you come to the end of your train journey, you will reboard the bus and be driven to the boat port. There are toilets available and a small shop to purchase the usual souvenirs, but we'd recommend waiting until after you have been on the boat. Once boarded you will sail down a river for about 30 to 40 minutes before turning round and heading back. During this time, you'll see an array of wildlife including crocodiles, sloths and monkeys. There will be a fruit platter waiting for guests at the dock with watermelon and pineapple, plus the opportunity to sample the local coffee which you could then purchase.
After all of that, it's time to jump back on the bus and head to the cruise port. All of this will take about 4 to 5 hours, which at a price of around eighty dollars is incredibly good and we would recommend this excursion to other travellers.
Here are some of the other excursions available in Limon.
Caribbean Train, Boat, and Bus Experience
Caribbean Cacao Experience
Tortuguero Canals and Rainforest Walk
White Water Rafting
Rainforest Sky Walk
Veragua Rainforest Tram and Trails
Sloth Sanctuary and Canoe Adventure
Cultural Journey and Soul Food Delight
Panama Canal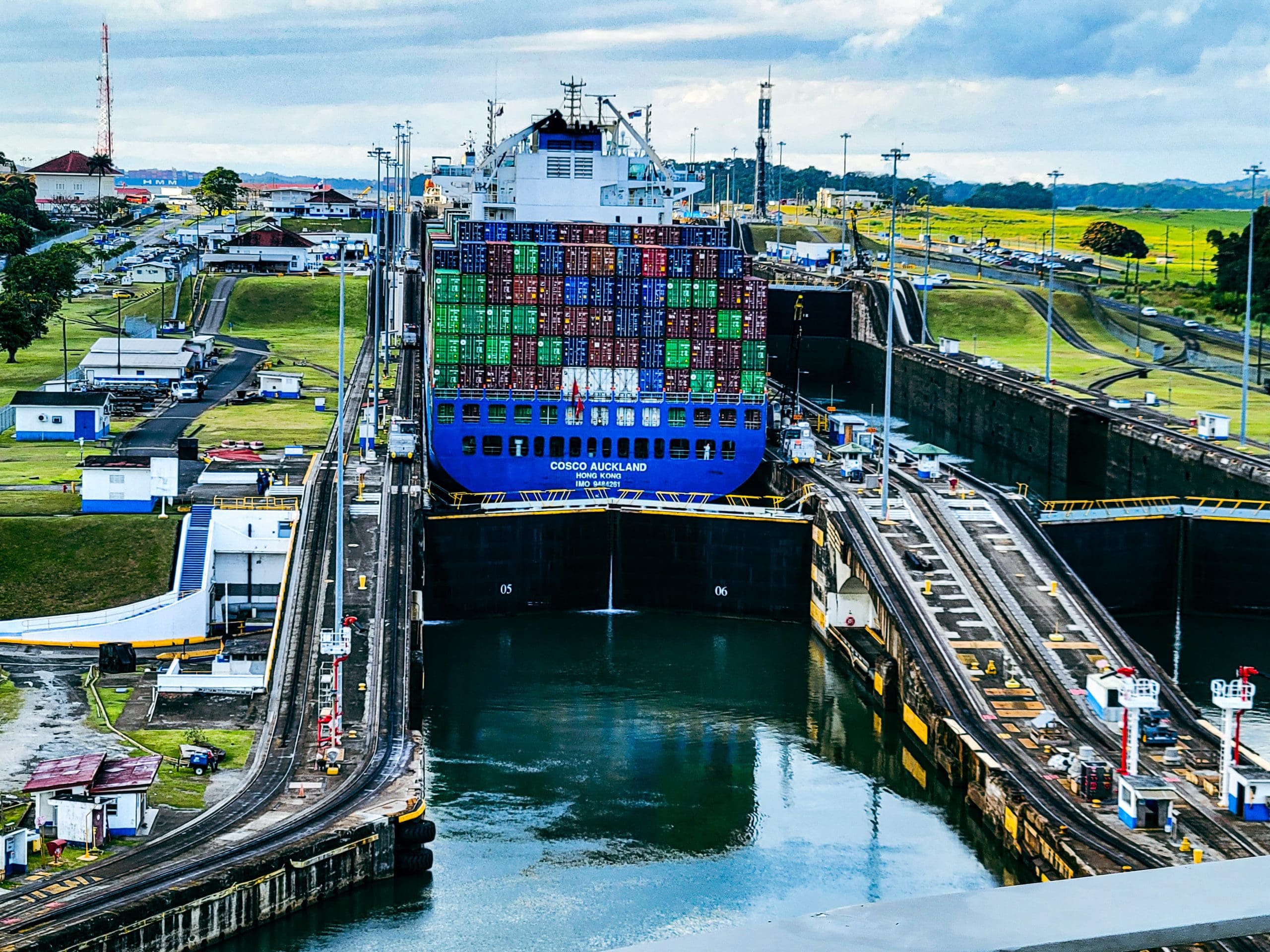 One of the greatest feats of mankind was building the Panama Canal which is a waterway connecting the Atlantic Ocean to the Pacific Ocean. It was created to reduce the time it takes for ships to travel from the Atlantic to Pacific and was the largest and most difficult engineering projects undertaken. The impressive locks will lift the ship 85-foot above sea level and then lower them on the other end.
We began our journey down the Panama Canal quite early in the morning, approximately 6am. So, you may need to have an early night and set your alarm, but don't be too surprised to see lots of other passengers doing the same. The ship will reach the lock around 7am and will move through a set of three gates. During this time, you'll hear information about the building of the canal and interesting facts over a speaker.
Once through the lock you're in Gatun Lake where we sat for a couple of hours, then turned around and headed back through at around 2pm. The whole process is pretty slow, so you can walk around and witness it from different parts of the ship. We recommend heading to the lower decks so you can see the Panama Canal 'Mules' in action. They are trains which help steer the large ships through the lock and prevent them from hitting the sides.
Be aware that you may be stood there for some time and even if it's cloudy you can get burnt, so wear sunscreen or cover up with a thin top and hat.
Costa Maya Mexico
Of all the cruise ports we have visited, Costa Maya is definitely one of our favourites. It is the first Western Caribbean cruise port that was purposely built for cruise ships only. Within that port there is a modern shopping mall, restaurants, and bars, plus some exciting attractions.
There is a private beach, Mayan spa, and saltwater pool, for you to relax and while away your shore time. Attractions include Kakaw which is a museum about cacao beans, a tequila museum, an aviary with a variety of birds and a swim with the dolphin experience.
If you simply want to wander about, then there are plenty of photo spots around the resort. There are a few live performers playing authentic Mexican music to enjoy, both on the dock and in the resort.
For those who fancy leaving the resort, then there is a replica Mayan temple which is only a 5-minute walk away. We found it safe enough to walk to, but there wasn't much more to see, so we headed back.
We chose not to go on any of the excursions in Mexico because there was nothing we fancied. But here are some of the excursions available in Costa Maya.
Dolphin Swim
Chacchoben Mayan Ruins
Fly Fishing Tour
Glass Bottom Boat and Snorkelling
Bacalar Lagoon Boat Ride
Select Retreat and Mayan Wellness
Seven Colors Lagoon River Tubing
Scenic Raft Experience Swim
As you can imagine this was the trip of a lifetime and we thoroughly enjoyed it. Not only the cruise ship and the wonderful staff who made the experience memorable, but also the ports we visited. Then add in the impressive Panama Canal and you have the perfect cruise. The number of sea days to port days was perfect for us because we enjoy spending time on the ship, but we realise it's not for everyone.
Hopefully this guide has covered everything you need to know about the Carnival Pride and the ports of Limon and Costa Maya. Boarding the ship was simple and fast, and we found Tampa to be a great cruise port.
The ship has so much to offer that even as we write this, we realise we didn't do everything that was available and so are eager to go back. Activities were endless and fun, with something for everyone. Then add in the incredible food and drink options in both the main restaurant and the buffet, and the dietary support we received from the Menu Mate, allergy assistant which was second to none. The lady remembered our faces and names every day and would walk us around the buffet restaurant and show us what we could eat, which we really appreciated.
Entertainment on the ship varied from comedians to dancers and singers. We loved the comedy magician on the final night, but you should be aware that performers can vary from cruise to cruise, so you never know what you can expect.
If you decide to book, or you have already booked, then we wish you a wonderful time and please tag us into your Instagram pictures, we love to see your adventures.