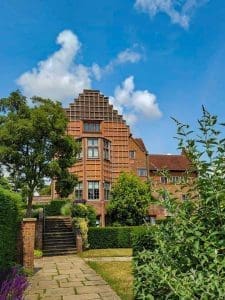 Sir Winston Churchill was a man of many famous quotes, but one of his lesser known was 'A day away from Chartwell is a day wasted'. To impact one of the greatest figures of the twentieth century so deeply, Chartwell House must be a place of outstanding beauty. So, with that in mind we ventured to Westerham in Kent to see this National Trust property.
We discovered from our trip that Chartwell provides visitors with the ideal combination of the perfect day out and a history lesson, which is something we've come to expect from the National Trust.
Who Was Sir Winston Churchill?
Churchill was known to be a man of many trades, from a British statesman, orator, prime minister, author, family man and artist. But his iconic status came from his ability to rally the British people during World War II which led the country from the brink of defeat to victory.
Born in November 1874 in his ancestral home of Blenheim Palace in Oxfordshire, Churchill joined the Royal Cavalry in 1895 which led to him travelling the world. He was elected Conservative MP for Oldham in 1900 before defecting to the Liberal Party in 1904. Churchill served as Conservative Prime Minister twice, from 1940 to 1945 and then from 1951 to 1955.
Many people view Churchill as the greatest prime minister of all time, for his inspiring speeches and the refusal to give in, even when things were going badly. But he is known to be a man of many sides, whether it's erratic decisions which were strongly criticised when he was in office such as the disastrous Gallipoli campaign, to his bouts of depression which plagued his life.
He died in 1965 at the age of 90 due to complications from a stroke and was honoured with a state funeral.
What is Chartwell House?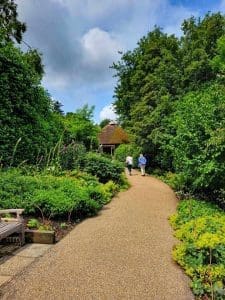 Chartwell House was the home to Winston and Clementine Churchill (his wife) from 1922, until his death in 1965. It was their family home and as such was an important part of his life. The rooms within Chartwell generally remain the same as when Churchill lived there including the décor in pale colours, with his artwork, photographs, books, and personal items all displayed throughout the house. But it is the incredible hillside gardens which really reflect the Churchills love of landscape and nature. Chartwell House was in a derelict state when it was purchased by the family, so they employed architect Philip Tilden to modernise the building and extend it eastwards.
Aswell as the house, the gardens and woodland made natural play areas and inspiration for Churchills art. He created the lakes, terraced garden, and kitchen garden, the Marycot which is a playhouse designed for Winston's youngest daughter Mary. There's even a brick wall which was built by Sir Winston Churchill himself.
Chartwell and the National Trust
As with most large estates, Chartwell was expensive to run and was listed for sale by the Churchills numerous times. After World War II his income reduced significantly due to not having written any work for six years, which placed a lot of financial pressure on the family. Thankfully a group of friends and admirers bought Chartwell for the Churchills and immediately gave it to the National Trust. There was a condition to this gift, and it was that Winston and Clementine would continue to live in the house for as long as they wished, after which the National Trust would then open the home to the public.
Winston left Chartwell in October 1964 to return to his main home in London for his 90th birthday celebrations. He died a few weeks after his birthday on the 24th January 1965. Because London was their main home, Lady Churchill decided to remain there, as such the National Trust began preparations to open the house to the public which happened in 1966.
With support of the Churchill's youngest daughter and Winstons former secretary Grace Hamblin, the house was displayed to give visitors a glimpse into the life of the family as if it was the 1930s.
Visiting Chartwell House
Arriving and Parking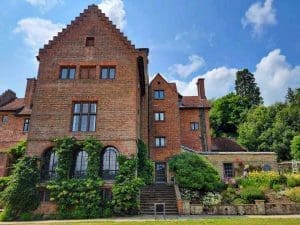 You will find the address and postcode for Chartwell House on the National Trust website (Mapleton Road, Westerham, Kent, TN16 1PS). The route we followed seemed to be an incredibly long way round small country roads and we nearly missed the entrance. There is an easier route which is from the M25 join the A25 and follow the brown National Trust signs. M25 anti-clockwise: Exit at junction 6 on the M25. At the roundabout take the third exit onto the A22. At the next roundabout take the first exit onto Oxted Road/A25. At the roundabout take the second exit onto A25. Follow the A25 into Westerham. Turn right opposite Quebec House onto the B2026/Hosey Hill. Fork left off B2026 after 1 ½ miles onto Mapleton Road and Chartwell is a short way down on the left. M25 clockwise: Exit at junction 5 on the M25. Use the left lane to continue on Sevenoaks Bypass/A21. Merge onto Westerham Road/A25 via the slip road. Follow the A25 into Westerham. Turn left opposite Quebec House onto the B2026/Hosey Hill. Fork left off B2026 after 1 ½ miles onto Mapleton Road and Chartwell is a short way down on the left.
After you drive up a windy road, you'll reach the car park which is very atypical National Trust. The car park appears to have been cobbled together in what was once a wooded area, so the parking spaces and road area is quite bumpy. We found the actual parking spaces to be quite tight, but even though it was a busy day we managed to get one. When we visited it was a dry day but we can imagine if it had rained that the car park would have been quite muddy, so you may want to take a spare pair of shoes just in case.
There are a number of payment machines around the car park and currently (summer 2023) there is a fee of £4 per car which isn't too expensive. If you are a National Trust member, then you can park for free by scanning your membership card at the machine. When we arrived, we had planned on becoming members so went over to register first and we were given a ticket to display in our car.
Public Transport
If you're heading to Chartwell House by public transport, then you have a couple of options.
Train – Edenbridge (4 miles) and Oxted (6 miles) stations are accessible from London Victoria and London Bridge. Sevenoaks station (6 miles) has a regular fast train service from London Charing Cross, Waterloo East, and London Bridge. Oxted and Sevenoaks have taxi ranks outside to get to Chartwell.
Bus – Catch the 246 London Bus route from Bromley North (passing close to Bromley South train station) to Chartwell.
Booking Tickets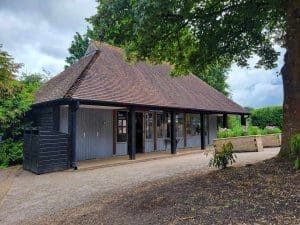 Some National Trust properties require that you prebook tickets, but when we checked for Chartwell, we saw that you can purchase tickets on the day from the visitor centre, which is what we did. If you prefer to make sure you have a ticket, then they offer a small number of afternoon slots which can be pre-booked. They are between 2pm and 3.40 pm and are available four weeks in advance on a rolling weekly basis. You simply ex-change your e-ticket for a paper one on arrival, just make sure you're there 10 minutes before your time slot for the house.
As you're reading this you may be wondering what we mean by slots. When you visit Chartwell, you see both the gardens and the house. The gardens are extensive and can take some time to walk around, so you can spend as long as you like meandering the pathways and enjoying the views. Because the house can get busy and the rooms are compact, when you purchase your ticket, you will be allocated the next available time slot for the house. The house tickets are available from 10am on the day in the visitor centre on a first come, first served basis. But the house actually opens from 11am, with the last entry being 3.40.
Here is a list of opening and closing times for the facilities in Chartwell.
| | |
| --- | --- |
| House | 11:00 – 15:40 |
| Car park | 09:00 – 17:00 |
| Garden | 10:00 – 17:00 |
| Studio | 11:30 – 16:00 |
| Cafe | 10:00 – 17:00 |
| Shop | 10:00 – 17:00 |
| Second-hand bookshop | 10:00 – 17:00 |
| Visitor reception | 10:00 – 17:00 |
| Exhibition | 10:00 – 17:00 |
Now you know the option for booking tickets, how much is Chartwell to visit?
Adult tickets for the house, garden, and studio as of August 2023 are £22.00,
Children aged 5 to 17 are £11.00,
Family £55.00 and 1 adult and up to 3 children is £33.00.
If you don't want to visit the house, then you can purchase a ticket for the garden and studio only.
Adult tickets are £15.40,
Children £7.70,
Family £38.50 and 1 adult and up to 3 children is £23.10.
National Trust members can enter for free when they show their membership card. We ended up purchasing an annual membership because we planned on visiting a few places that day and over the following couple of days. If you're interested here are the current membership prices (August 2023).
Joint Membership – 2 adults (aged 18+) living at the same address – £139.20 a year £11.60 a month.
Family Membership – 2 adults (aged 18+) living at the same address and their children or grandchildren (17 or under); under 5's go free – £146.40 a year £12.20 a month.
Family 1 Adult Membership – 1 adult (aged 18+) and their children or grandchildren (17 or under); under 5's go free – £91.20 a year £7.60 a month.
Individual Membership

Adult Membership (aged 26+ years) – £84.00 a year £7.00 a month.
Young Person (aged 18-25 years) – £42.00 a year £3.50 a month.
Junior (aged 0-17 years, under 5's go free) – £10.00 a year. Junior membership includes free entry and a junior welcome pack. It does not include car parking, handbook, and the National Trust Magazines.

Lifetime Membership

Individual life membership – For 1 member – £2,020 standard and £1,510 senior.
Joint life membership – For 2 people living at the same address – £2,520 standard and £1,895 senior.
Family life membership – 2 adults and all their children or grandchildren up to the age of 18. Adults must be living at the same address and under 5's go free – £2,640 standard.
National Trust members enjoy.
Free entry to over 500 places,
Free parking at most National Trust car parks,
National Trust handbook,
National Trust magazine three times a year.
If you pay for a new joint, individual or young person membership by annual Direct Debit online, you will receive a £15 National Trust gift card.
The House Itself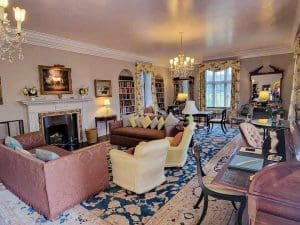 During the Second World War Chartwell House was pretty much unused. But during the periods he was out of office the family would spend time at the home and Churchill was known to compose speeches, paint and write books.
The house was built in 1382 and was called Well-street, due to being owned by Willam-at-Well. After being passed onto various owners, it was purchased in 1848 by John Campbell Colquhoun, who spent a lot of time enlarging the house. It was his grandson who sold Chartwell to Churchill. Between 1922 and 1924 Churchill had the house rebuilt and extended by the society architect Philip Tilden. The house remained unused during the Second World War because of its position in the country so close to occupied France, which made it vulnerable to a German airstrike. During this time the lakes around Chartwell were covered in brushwood to make the house less identifiable from the air. There were a few exceptions and they tended to be at times when Churchill suffered from acute stress. Including the fall of France in 1940 and the failure of Operation Battleaxe to relieve Tobruk in 1941.
The family returned to the house on the 18th May 1945 and began opening it up. After Churchill had lost the June 1945 general election, he considered selling Chartwell due to the expense of running the estate. A group of friends organised by Lord Camrose, raised the sum of £55,000 which was passed to the National Trust so that they could buy Chartwell from Churchill for £43,800. Once the sale was completed, the Churchills committed to a 50-year lease for an annual payment of rent for £350. This allowed them to live at Chartwell until their deaths, at which point the property would revert to the National Trust. After his stroke in 1953 Churchill stayed in Chartwell, where his condition deteriorated. It was thought he wouldn't survive but a year later he had made a remarkable recovery and chose to retire. Over the next 10 years Churchill's time was spent at Chartwell until his death in January 1965. Lady Churchill then relinquished her rights to the house and the National Trust began the process of opening it to the public.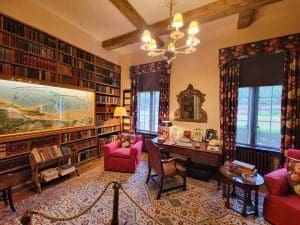 You now know a little of the houses history and the process of booking your ticket and time slot. Once your time has arrived then you can head to the front door of the house and either show your membership card or ticket. We'll go through each section of the house but won't delve too much into the items you can find there, because discovery is part of the fun when you visit a historic home.
As you enter the house, you'll see a quaint drawing room with a large portrait of Churchill on the main wall. This room can get quite congested due to being the first in the house. As you'll know from other National Trust properties there tends to be a planned route throughout the house and as such you cannot go back to the main entrance. Because of this we recommend that before moving to the hallway area, you go to the room at the back of the house. There you'll see a video about the house and information on the Churchill family. When you head back into the drawing room you can then go out onto the veranda which has spectacular views of the gardens, lakes, and surrounding fields.
As you wander through the hall, you'll enter a large room at the back of the house which is the Lady Churchill's sitting room. This beautiful room contains a lot of original pieces of furniture and decoration, including the table and dining chairs designed by Heal's. There will be volunteers in each of the rooms who can provide you with information about the furniture, the room, and the Churchill family.
You'll then move through to the library which has a wide range of Churchills books, including many he wrote. There are other major pieces of Churchilliana, including a 1942 siren suit portrait by Frank O. Sailsbury.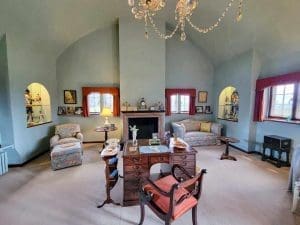 On the first floor you'll find Lady Churchills bedroom, which is a beautiful and bright room, with incredible views. Winston and Clementine slept in separate bedrooms to accommodate their different sleeping patterns. Clementine would go to sleep and wake up early, whereas Churchill was known to work through the night and sleep in through the morning.
The next few rooms were guest bedrooms, but they have been amalgamated into a museum room of Churchills artifacts and a Uniform room. Within these rooms you'll see Churchill's Nobel prize in literature, his honorary citizenship documents to the United States of America, some of his famous hats and military uniforms.
The next room is Churchill's study which was his workshop for over 40 years and is said to be the heart of Chartwell. Many of his famous speeches which warned against the rise of Hitler were composed in this room. In 1945 after he was defeated in the election, he retreated to this study and wrote. The study is a huge room with a lot of original furniture and on the beams, there are three banners, Churchill's standards as Knight of the Garter and Lord Warden of the Cinque Ports and the Union Flag raised over Rome on the night of 5th June 1944 which was the first British flag to fly over a liberated capital.
Sadly, Churchill's bedroom is the only room which isn't open to the public, but you will still gain an understanding into the life of the family as you wander through the house. You will see one of the families' bathrooms near the staircase before you head back downstairs.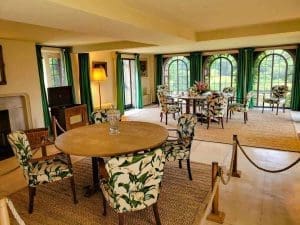 As you head back down the wooden panelled stairs, you'll then enter the dining room which has large decadent windows offering the best views over the expansive gardens. From there you will find the kitchen and finally a small museum area dedicated to Winston which again displays a number of artifacts including his gas mask, family photos, books, maps and cigar boxes.
You'll then exit to the back of the house with views over the lake, but this is a great place to appreciate the architecture of Chartwell House.
Gardens in Chartwell House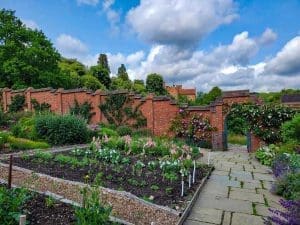 Before you head into the gardens, make sure that you grab an audio guide which is available from the visitor centre, this will give you the history of each area. The gardens surrounding the house comprise of 8 hectares (20 acres), and a further 23 hectares (57 acres) of parkland. Most of the areas you will see were created by the Churchills, including the terraced lawn and the wall at the front of the house. You also have the water garden which had the golden orfe pond where Churchill fed his fish and the swimming pool which was constructed in the 1930's. Here are the areas you can visit during your time in Chartwell.
Rose Garden
The rose garden is as it sounds, a beautiful formal display of roses which was designed by Lady Churchill. The garden is at the north of the house and leads to the terrace lawn and has views over the surrounding estate and countryside. In the middle of the rose garden is the Golden Rose Avenue, which was a gift to the Churchill's for their 50th Wedding anniversary from their children. There is a chart in the garden which details the names of the roses you will see, which all come in shades of gold and yellow.
Walled Garden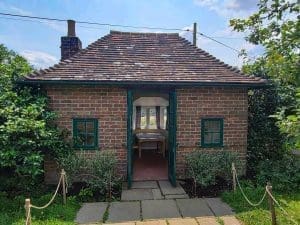 Next to the rose garden is the walled garden which was built by Winston Churchill himself. This area was a working kitchen garden and as you can imagine, there are a variety of fruits and vegetables grown there. You may even spot a few chickens in the large coop, as you wander around. Within the walled garden you will find the Marycot which was a playhouse that was created for Mary Churchill. The garden is surrounded by an apple orchard and a wildflower meadow.
The Studio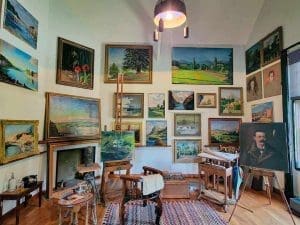 Winstons painting studio is a short walk from the house and holds the largest single collection of his paintings. Although it's not a huge room, the vast amount of art in this space was breath taking and displays the sheer talent that Churchill had. You'll be astounded to know that he didn't actually value his art that much once it was completed and as such, he gave many pieces away. Churchills love was the process of making art and it helped him during his mental health battles.
Croquet Lawn
To the south of the house is the croquet lawn which was previously a tennis court. Lady Churchill was an accomplished and competitive player of both, whereas Winston was not.
Woodlands
The woodland area is huge, so strap on your walking boots and wander along the pathways to the many children's play areas, tree houses, bomb crater, Canadian camp, and lakes. There are picnic benches around the woods if you have brought your own lunch.
The Café at Chartwell House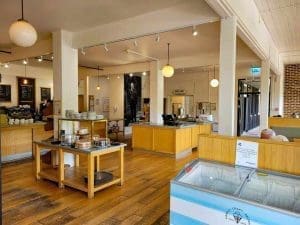 On the opposite side to the visitors centre you will find a number of facilities including the café. Known as Landemare Café after the Churchill's cook, Georgina Landemare. This large open space offers seating inside and outside, which was ideal when we visited because it was gloriously sunny. The café serves light lunches and one pot meals such as bean chilli, frittata, and jacket potatoes. But you also have a range of sandwiches, cakes, and bakes, for the perfect snack and re-fuel before wandering in the gardens. During the summer they also sell ice cream and if you're looking for refreshment then there is a good range of hot and cold drinks.
National Trust Shop at Chartwell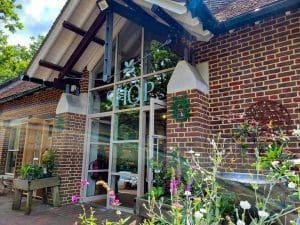 Next to the café you will find the Chartwell Shop, which is larger than the many National Trust shops we have seen. Just outside there is a plant shop which sells peat-free plants, pots, and garden ornaments. Within the shop you will find a range of home and garden souvenirs, alike the normal pieces you would find in a National Trust shop. But because this was Churchill's home you will find an array of products more specifically about World War Two and Churchill himself, including books and ornaments.
Book Shop
There is a second-hand bookshop which can be found near the shop and café. We've noticed more and more National Trust properties offer this and we love it. There was a good range from various categories such as fiction, non-fiction, biography, and lifestyle.
Toilets and Lockers
Between the café and shop you'll find the entrance to the toilets, which were nice and clean when we visited. Within that area you can find lockers for any large items such as rucksacks. There is another set of toilets just past the house and near the croquet lawn. But if you're heading into the woodland area, then sadly you won't find any.
Dogs
Dogs on short leads are allowed in the garden and assistance dogs can be taken into the house, studio, and shop.
Should I Visit Chartwell House the Home of Winston Churchill?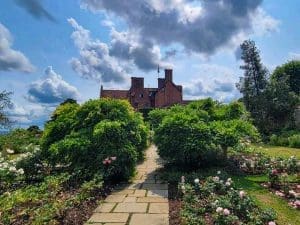 If you're a history buff then yes, a fan of Winston Churchill, also yes and finally you love a nice day out in a beautiful location, a great big yes.
Our advice with Chartwell House is to make sure that you get there early, so you can go and see the house, and then you have plenty of time to wander around the gardens. This National Trust spot isn't great for rainy days, so we'd leave it until the sun is shining and you can enjoy the greenery and views.
If you are a Churchill fan, then be prepared to see an incredible amount of memorabilia from throughout his life. We haven't gone into too much detail here because there was so much to see and finding the artifacts is part of the enjoyment of visiting a place such as Chartwell.
Although it's a great spot for families, the kids would probably rather be in the gardens and woods, whereas we're sure the older members will love the house.
If you do visit Chartwell House, then please tag us on your pictures on Instagram, we love to see what our readers are up to.
For those looking for something else to visit close by, then you should head to Down House, the Home of Charles Darwin which is less than twenty minutes drive away.