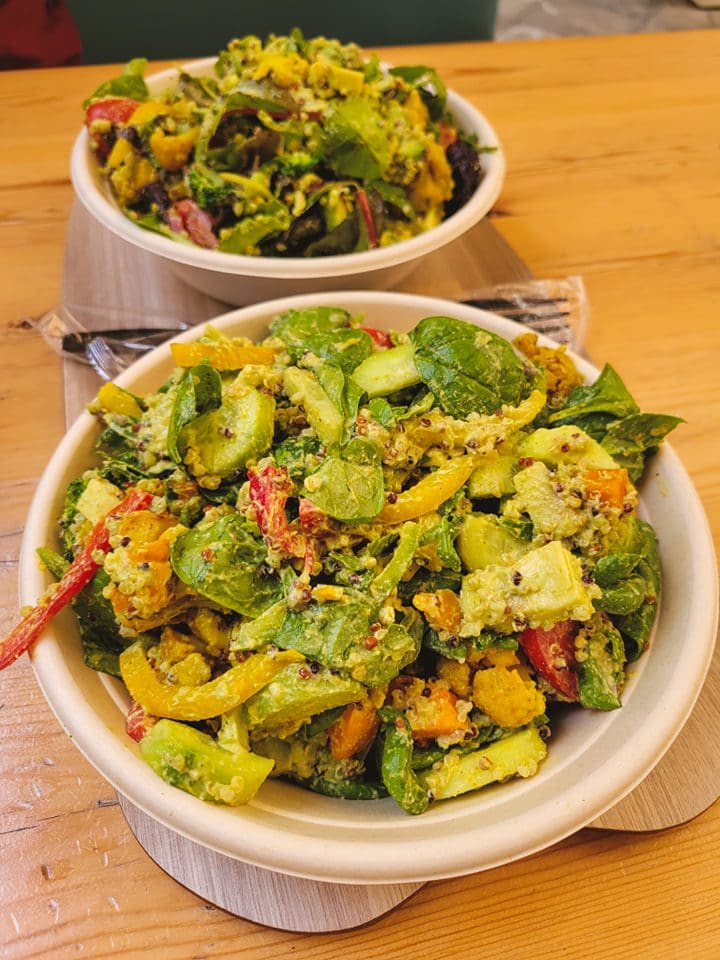 Being Vegan or on a Plant Based diet is getting easier and easier, with an endless number of imitation products being released by supermarkets and fast-food outlets. But when you're travelling it can be a different story because you have no idea what is on offer in the place you're heading to and in many cases, you cannot read the ingredients labels on any food items. If you suffer with any food intolerances or allergies, then this can enhance the problem further.
The key to an easy life and happy travels is preparation. Within this guide we are specifically looking at Athens, and what it has to offer any plant powered visitors.
Vegan Food in Greece
When you imagine food in Greece, you tend to think of meat-based products such as Moussaka and Lamb Gyros, or lots of seafood. But don't worry because Athens more than looks after its Vegan friends, with incredible food and a multitude of options.
Everything the meat-based people can do the vegan restaurants can do even better. Meaning you can enjoy lots of traditional options, with plant-based meats you've come to know and love. Lamb is swapped for seitan and mince for tofu, then you have the array of veggie burgers.
Because we like to make our readers lives easier, we'll bring you a list of the top Vegan and Plant based restaurant options in Athens city centre and the kind of food you can expect to see in there.
Plant Based Restaurants and Takeaways in Athens City Centre
Whether your destination is Athens or somewhere else, if you are Vegan then your first port of call should be the Happy Cow site. This website provides a list of all the vegan and health restaurants within the area you are travelling to, and people can leave reviews and rate them. Most of the places we are going to mention are on there, but we have a few extras which are great options.
If you're travelling with meat eaters or flexitarians, then don't worry because most of the restaurants and tavernas in the city centre had at least one vegan option. We have to admit that we were pretty shocked by how much was available, with takeaways having five or six extra veggie options on the side and most of them were vegan. But we will focus on predominantly vegan places to ensure we have you covered and because we like to support plant-based businesses.
Vegan Beat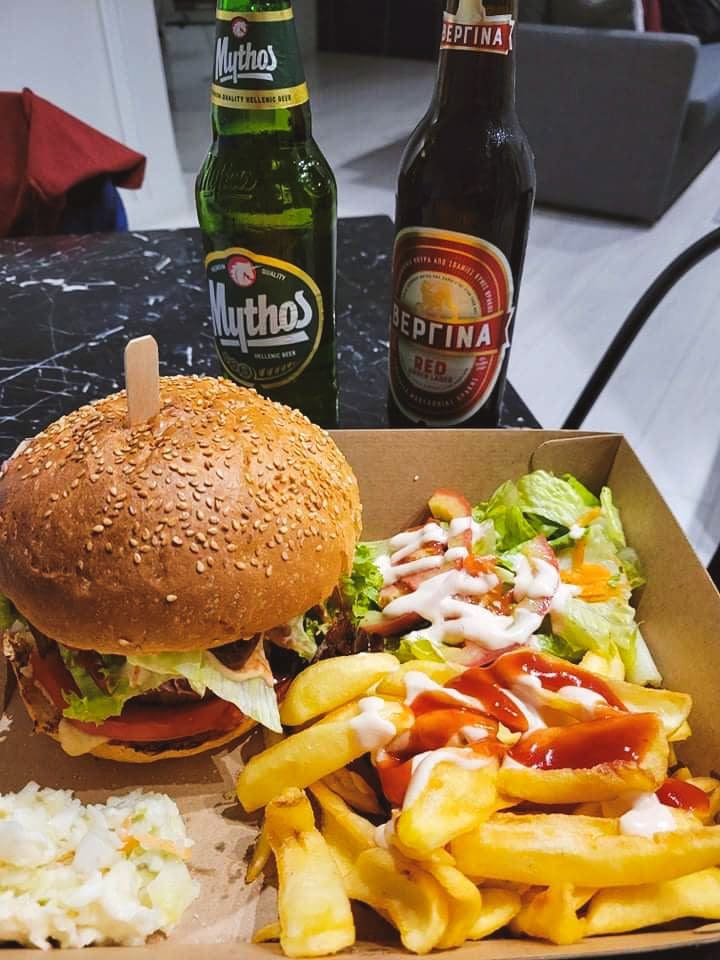 Although Vegan Beat is only small and the menu isn't extensive, what they do offer is incredibly delicious. You can opt for dine in or take away and they are open every day from 12pm, with closing times varying (ensure you check online for opening times as this can change).
We ended up going to Vegan Beat more than once on our short visit to Athens, it was simply that good! The menu can change but when we went it was very much a burger and gyro restaurant. We grabbed a mushroom burger and spiral potato, which had a lovely spicy sauce drizzled over it. The burger was literally oyster mushrooms, with all sorts of flavours and textures added by the salad and coleslaw. You can grab a salad if you're looking for something a little healthier and they have a great range of drinks. We found that the prices were reasonable, especially when the food is so tasty.
Local Green
This place is ideal for the plant-based readers out there because Local Green is a restaurant which offers salad bowls, sandwiches and wraps. All their produce is 'seasonal, farm-fresh, organic and locally grown'.
For us the best part of their menu is the create your own salad. They do have meat and fish offerings as part of the protein selection, but we watched as they specifically used individual tongs for the vegan options. To build your bowl you get to choose from a mixed leaf for example spinach leaves, then a grain such as quinoa and four additional sides (such as tomatoes, cucumber, broccoli, beetroot, or peppers). You can then pay to add any extras such as avocado, tofu or sweet potato and finally garnish it with a vegan salad dressing; we had the avocado with cashew and it tasted divine. We paid twenty euros for two huge salads and drinks, which we felt was a really good price. Especially because we kept adding more and more extras.
Local Green provides a copy of the menu on their Instagram page and pictures of their tasty offerings, including the seasonal sandwiches and wraps. They are perfect for those of you with food intolerances who prefer to know what is in your meal. Also, they're pretty close to Vegan Beat, so why not treat yourself and grab a little something from both.
Apart from being closed on Sunday, they open at 11.30 am and until 7pm (ensure you check online for opening times as this can change).
Mama Tierra
Another great dine in and takeaway option, Mama Tierra has an extensive menu which should suit everyone. What we really loved about this restaurant is the ethnic meals that were authentically Greek, such as falafel plates and Moussaka. On top of that you have plenty of the usual salads and burgers, with all of the ingredients clearly listed on the menu. Their takeaway menu is different to the in-house one, so check online before deciding what you're going to have.
The curries are insanely tasty and portions are pretty ample, so you won't be left wanting more. Mama Tierra is closed on a Sunday, but for all the other days of the week they open between 1pm and 10pm (ensure you check online for opening times as this can change) making this a great place for your evening meal.
Veganaki
With a bright Mediterranean feel, Veganaki offers a range of vegan and plant-based options including salads, sandwiches, and traditional Greek choices. They even have Vegan Feta, which is incredibly nice, for those of you who fancy trying a Greek salad. This is definitely the place to experiment with your food and try something a little different, because you won't be disappointed.
We ended up going back more than once, simply to try a few dishes. They are open every day between 11.30 am and 12 am (ensure you check online for opening times as this can change), so again another good evening meal option for you and they are pretty centrally located. As well as really friendly service, we found that the prices were reasonable as well.
Winners Vegan
This beautifully decorated vegan restaurant is within the Niki Athens Hotel and provides a touch of glamour to your plant-based food. Although the price is a little higher than our other options, the food is incredible. You have plenty of salad bowls, burgers, and some insanely tasty desserts to choose from; we can highly recommend the brownie.
Winners Vegan is closed Monday and Tuesday but open the rest of the week with varying opening and closing times; so, it's best to check their website. That we are aware of there was no takeaway option, but we simply enjoyed relaxing and taking in the atmosphere.
The Vegan Vandal
If you're looking for a good all-rounder of vegan food options, then the Vegan Vandal is probably what you're looking for. It's a smaller restaurant than the others, but the food is still impressive. There are a good mixture of main meals including the usual burgers, pizza, salads, and gyros. They are open daily from 3pm to 11pm (ensure you check online for opening times as this can change).
Avocado
Avocado is a vegan and vegetarian café which offers both dining in and delivery on most of its menu. The actual menu itself is pretty extensive with everything from soups, salad and pasta, to sandwiches, burgers and paninis.
The café is located close to Syntagma Square and as such it is ideally located for most areas of central Athens. It offers a cute vibe which you tend to find in many vegan restaurants, but we have to say the food was out of this world and the portions were mighty.
Avocado is open seven days a week, but their open and closing times do vary, so make sure you check their website before heading over.
Peas Vegan and Raw Food
We have to admit this place is quite small, but it's because of this that Peas feels quite homely. They offer the usual vegan café basics, such as sandwiches, pitas, wraps, burgers and salads. But their prices are really reasonable, especially for the portions you get.
Peas is closed on a Monday but open the rest of the week from 12 noon to 11pm (ensure you check online for opening times as this can change). They are located not far from the Acropolis Museum, which is ideal for those of you staying within the area of Plaka.
Mother Vegan Café
Sadly, we didn't get the chance to visit Mother Vegan Café, so we cannot tell you from personal experience about the food. But from checking out the reviews on Happy Cow it seems to have a great reputation.
This bistro bar has the usual items which can be found at other cafes and restaurants. Mother Vegan Café offers dine in and takeaway and they're open every day apart from Monday from 9am to 9pm (ensure you check online for opening times as this can change).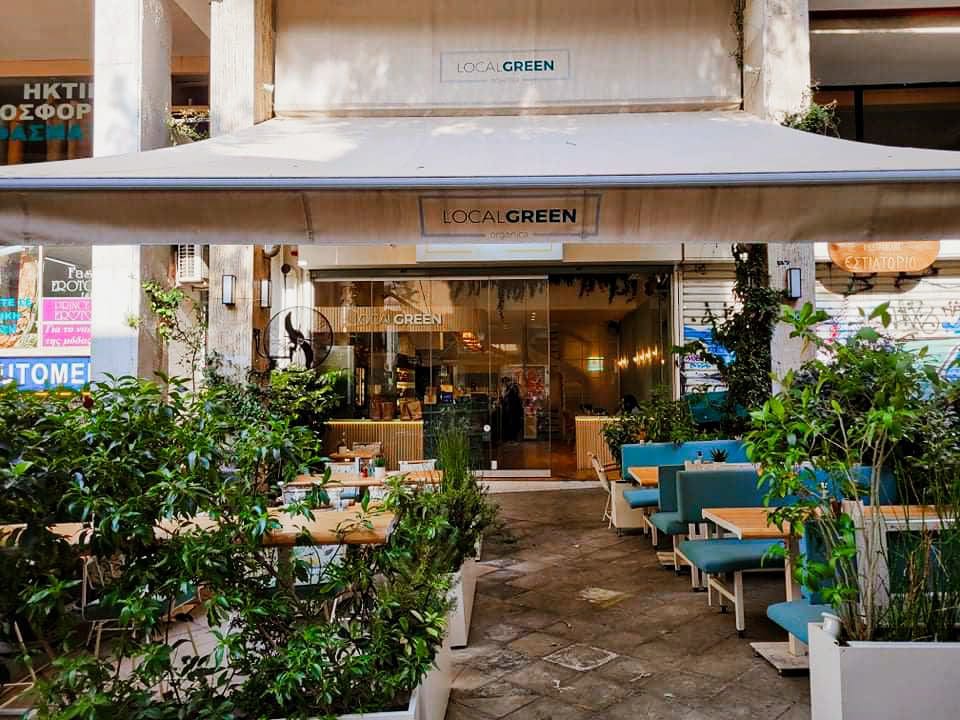 Although they're not necessarily vegan cafes or restaurants, we do enjoy heading to a noodle bar if we struggle to get food. Now as you can gather, we didn't struggle at all in Athens, but we couldn't resist checking out Street Wok and Wok & Walk. We found that Wok & Walk provided the better meal of the two with tasty udon or rice noodles and chunky pieces of vegetables.
So, if you're sick of salads and burgers, and looking for something a little different, then this maybe an alternative for you.
Well, that's it, with all of these options you should be sorted for vegan food for at least a week. But if you're anything like us you'll end up going back to the same places over and over again. We were thrilled by the choice in Athens because we have struggled in many other European cities that we have ventured to. If you have any allergies or intolerances then make sure you tell a member of staff when you arrive, or sometimes we find it easier to pre-message on Facebook or Instagram and they can tell you what options would suit; if any.
Enjoy your time in the beautiful capital of Greece and if you're sorted for food but not sure what to do when you're there, then check out our guide on all the top attractions Athens has to offer. This city is the perfect place to make incredible travel memories as you tick some of those items off your bucket list.