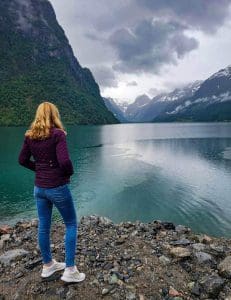 Norwegian Fjords Cruises have become increasingly popular over recent years, with more and more companies offering them. Knowing what to expect on this type of route can be difficult to predict, because it's very different to your normal Mediterranean or Caribbean cruises.
It doesn't matter if you're new to the cruising life or an expert, you'll still want to make sure you're prepared for Norway. So, we're here to assist your preparation with our guide on what to pack for a Norwegian Fjords Cruise.
A Little About Norway
You will find this Nordic country in Northern Europe, and by looking at the map you will see it comprises the western and northernmost portion of the Scandinavian Peninsula. The capital of Norway is Oslo, and it has a population of over 5 million. What makes Norway stand out for most people is its beautiful landscape and rich heritage. You have the opportunity to see some incredible historical sites such as the beautiful 14th century wooden houses in Bergen, the 18th century Gamle in Stavanger and 9th century Viking boats in Oslo.
For most though, Norway is an opportunity to enjoy outdoor adventures such as hiking and kayaking. Or if you're looking for something a little faster then there's always the Rigid Inflatable Boats (RIB).
Why Do I Need to Plan Packing for my Norway Cruise?
Basically because of two words 'the weather'. Norway's weather can be described as unpredictable and it's the difficulty of an ever-changing forecast which can make packing problematic. The week we were due to travel, which was in June 2022, it was forecast to rain heavily the entire week. As any traveller knows, rain can make it difficult to see the place you are visiting.
We kept an eye on the forecast and the closer we got to our departure date, you could see daily changes. We ended up having a few dry days at the beginning and heavy rain at the end, especially in Bergen.
If it was a med cruise or Caribbean cruise then you would find it easier, because it tends to be summer clothes such as t-shirts and shorts, or swim wear. But in Norway you can have extreme changes from beautiful sunny days to torrential downpours.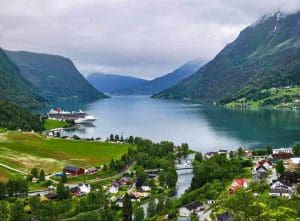 We will admit that we did some preparation in terms of checking the weather sites and taking warm clothes, but we still hadn't done the greatest job packing. Now we've been we have a greater understanding and wanted to give that knowledge to our readers, to hopefully make their trip more comfortable and less soggy.
Before you pack, another thing to think about is what excursions you fancy trying when you're there. Norway is renowned for its outside activities, so if you want to try any of them, then you need to make sure you have the right gear.
Pack According to Seasons in Norway
We thought it would be wise to begin looking at the seasons in Norway, as this may influence when you book and what you pack. As we have stated above, Norway is quite unpredictable weather wise, so this is a generalised summary. Bear in mind when you're researching the weather, that not only can it vary within a set place. But because you're cruising you will be moving to different regions.
You'll find that most cruise lines only tend to visit this area between spring and autumn. Most ships head back to the Caribbean during the winter or to generally warmer climates. Because of that we'll specifically look at these seasons.
Norway Springtime Weather
As you can probably imagine Spring is a difficult one to predict, with some years being warm and others being chilly. The Southern part of Norway will enjoy Spring first, usually in April and it will move North as the month goes on. The most Northerly part of Norway may still have snow and probably won't enjoy the better weather until May or June.
With more sunshine and melting snow, you will find there are more natural waterfalls over Norway and plenty of flower's blooming. That time of year is truly a sight to behold for anyone who loves nature.
Norway Summer Weather
Summer in Norway tends to be June, July, and August, but you'll find the best weather in July. This is when you can enjoy the hottest temperatures during your cruise. Over the Summer you will find that you have long days and incredibly short nights, or we should say non-existent in some areas. Don't be surprised to witness midnight sun as you sail along a fjord, it is quite an experience.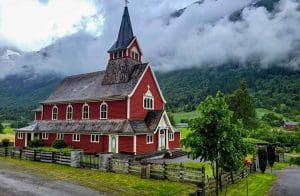 This is the ideal time to explore the outdoor activities such as hiking and kayaking, because temperatures can reach 25 to 30 degrees. Now bear in mind that sunshine in Summer is not a given, the same as in any other country. As we've mentioned we cruised in June, and it rained for pretty much the entire time. Which is why checking the weather forecast is a must before you pack.
Norway Autumn Weather
Some cruise lines continue visiting Norway during the autumn months, but that tends to be until the end of September. Temperatures can drop quickly during this time (less than 20 degrees Celsius), the days get shorter, and it will get colder and wetter. But you will have a greater chance at witnessing the beauty of the Northern Lights (aurora borealis). So really it will depend on what your priorities are, in terms of what time of year you choose to sail.
Packing for a Norwegian Fjords Cruise
So, let's get to the nitty gritty of the article, because essentially that is what you're here for. Again, our suggestions will be completely dependent on the time of year you're cruising, the duration of your cruise and the excursions you're contemplating doing when you get there.
Rather than just give you a list of what we took, we'll provide you with a general summary of items, including what to wear and why they're a good idea for this specific itinerary.
Layering Up
We have mentioned once or twice that it's difficult to predict the weather in Norway, so we'll start by giving you our best advice and that is pack layers. This means that no matter the weather you can layer up or strip down if it gets warmer through the day. Obviously the earlier in the year and the later, then you'll need to look at wearing jumpers. We tended to stick with t shirts and thin sweaters or hoodies when we went on our Norwegian cruise in June.
One thing we didn't do, but we'd strongly recommend is to make sure some of those layers are waterproof. There is a strong chance there will be rain, as we experienced for most of the week. You may find in Norway that when it rains, it pours, so preparation is important.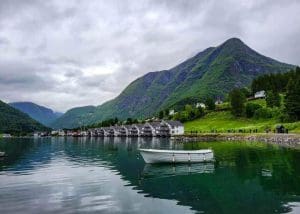 Another aspect is the excursions you will choose to do, so if there are water elements then wet proof is essential. If you're excited about visiting a glacier in Olden for example, then it will be quite cold up there.
Even when you're on the ship walking around it can get a little chilly, especially in the evening, so a jumper or sweater is a great option to have. Most travellers like to get up early to watch the morning sail in down the fjord, so grab those thermals to really enjoy the experience.
We mention the cold and rain a bit, but obviously if it warms up then you need to easily be able to strip some of your layers and put them in a bag or rucksack. This is why thinner layers make sense, because you can adapt your clothing fast and wherever you are, without any embarrassment.
If you're unsure of what layering actually means, then you could have a vest, t-shirt, hoodie, jumper and then a coat on. Then if it warmed up, remove the jumper and then maybe the hoodie; you get the picture.
Comfortable Footwear
Now here is where we truly messed up, because we both took trainers with us and they were material; we know, rookie mistake.
Wherever you travel and whatever you choose to do, the number one rule is comfort, especially comfortable shoes. The times we have seen people hiking in flip flops and you can see they're in extreme pain, so always take comfortable trainers or walking boots.
Now obviously we messed up, because we didn't factor in that we were travelling to Norway in a week when it was due to rain heavily. Also we had no idea what we were going to do when we arrived at each port. So hiking wasn't a consideration when we packed, which again led us to our trusty old trainers. Yes, they were comfy, but mix the rain and hiking to a beautiful spot in Skjolden, and you get extremely messy and wet footwear which has to last you the entire trip.
Next time we go on a Norwegian Fjord cruise we'll take walking boots with us, as well as our trainers. The boots are waterproof and as such they will be perfect for those rainy days and the hiking excursions. But we'll have our trainers for the cities and towns, or when we're relaxing on the ship at the end of the day. If you don't have walking boots then you can get them pretty cheap on Amazon, but make sure you wear them in a little before you go.
Warm Socks
Now we've mentioned footwear, it's also worth thinking about the socks you're going to take with you. You want to make sure they're thick enough to keep your feet warm when you're out hiking up a glacier or kayaking down a fjord. But also take plenty of pairs because they may get wet and who wants to be doing laundry when you're on vacation?
Hat, Gloves and Maybe Even a Scarf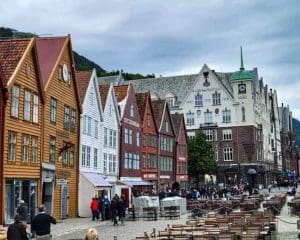 We've mentioned Norway can get cold, haven't we? Even during the Summer months you may find that they have a cold snap and wish you'd brought along your trusty winter staples. We found hats, gloves, and scarves incredibly handy in the mornings and evenings as the ship set sail and you had the winds to contend with. Let's just say we value our comfort and staying warm is the key to having a great time.
Then you have the excursions which mainly start earlier in the day, so it tends to be a little cooler and you may be heading to a glacier which again will drop that temperature.
Waterproof Clothing
How far you want to go with this is completely up to you, you can be fully head to toe in waterproof or simply wear a jacket. But the basics we'd recommend is a waterproof coat, because it can be so uncomfortable walking around soaked; sadly, we know from experience.
Again you will have checked the weather before you go, so you'll have an idea of what to expect. But prepare for everything because it is very changeable especially around the fjord areas.
We'd also recommend taking an umbrella just as a backup, because sometimes the rain can be torrential. When we stopped in Bergen during our cruise it was a dry cloudy day, but as we walked around it suddenly began pouring and we mean heavy rain. After a while there was no point trying to walk in it, so we headed back to the ship, which is a shame because in all honesty we didn't really get to experience Bergen properly.
Sun Protection such as Sunglasses and Suntan Lotion
We've talked about rain and cold a lot, but there will be days within the summer where you can enjoy sunshine. Even on cooler days the sun can be quite bright, think of sunny winter days in the UK. That's why it is worth popping sunglasses and suntan lotion in your case. From reading other guides it seems the sun can be quite strong when it is out, so take high SPF so you don't get burnt.
Binoculars
One of the main reasons people head to Norway or go on a Norwegian Fjords cruise is because of the scenery. With incredible views and so much wildlife, we know nature lovers will be in awe. The perfect way to enjoy the majesty of Norway is through binoculars, so why not take a pair with you.
As you sail through the fjords, you'll see small villages in the distance and lots of waterfalls. The binoculars give you the opportunity to look closer and enjoy the beauty of this magnificent country.
Formal Wear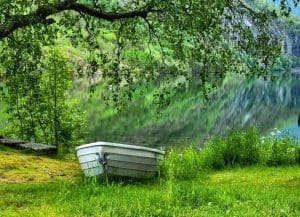 It's not all about the daytime adventures, because you are on a cruise and that means lots of evening entertainment and incredible food. Now cruises have changed considerably over the years and they are much more relaxed than they used to be. Many people still believe that you have to wear ball gowns and tuxes, but that's certainly not the case. Most cruise lines have formal nights, but they're not every night, they're normally only on sea days. It tends to be black tie for the men and dresses for the ladies, but in all honesty there's no rule that you must dress up that formally (although it's worth doubling checking on the cruise lines website). You can simply wear what you'd choose on a night out, for example a shirt for the men and a nice top for the ladies. If you don't fancy any of that, then there will be less formal eating places around the ship where you can relax after a busy day.
Gym Gear
You may be surprised to hear, that many people love going to exercise when they cruise, so the gyms are normally well equipped. We've always been big fans of the gyms on ships because you have the opportunity to try out the equipment with some incredible views.
Norway is quite a fast-paced place with lots of outdoor exercise, so you may be too tired to hit the weights. But on sea days grab that gym gear and check it out, because most even offer exercise classes and a running/jogging track.
All that exercise may make up for the mounds of incredible food you will eat during your trip.
Swimwear
In all honesty we didn't bother taking any swimwear, but that was because we had looked at the weather forecast, and it was scheduled to be rain and cold the whole time. Even though that was our decision you may choose to take some, because depending on the ship there could be indoor pools and hot tubs available. You could even get lucky and enjoy warm days on the deck by the pool, it's purely chance.
Electrical Adapters
Most of us are aware that depending on the country we visit, we may need adapters for electrical items. But what you may not know is the adapters that are needed will be based on where the ship primarily sails. For example, our ship was the Carnival Pride which sails during the winter months from America and in the Summer from Europe. But its plugs are American because Carnival is primarily based in the USA. Our advice would be to check the statistical information on the cruise lines website, they tend to provide details for each ship in their fleet. You may be able to buy adapters on board the ship, but just in case you cannot its wiser to prepare and bring them with you.
Waterproof Backpack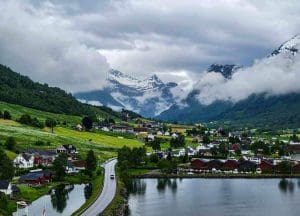 Normally we see a lot of travellers using backpacks, but it's never really been something we have ever taken. We didn't want to carry around a lot of things, so we'd take a small rucksack of the basics. As you're probably starting to gather, a Norwegian Fjord cruise is a little different, and there's a greater possibility of you getting wet than on other trips. So, a waterproof backpack is a great idea to carry everything you need and to store those extra layers of clothes if the day warms up. You could even take a spare pair of shoes if the ones you are wearing get muddy or soaked.
Reusable Water Bottle
The more we cruised the more we realised there are essential items you need to take, which many newbies don't think about. One of the main ones we recommend is a reusable drinks container. Most ships will have water filling stations, because they're aiming to reduce plastic wastage. But by reusing your drinks container you are also saving money by not having to buy bottled water.
Having the container means you will have drinks through the night; the older readers out there know what we mean. But also you can take the bottle with you as you head out to explore the port you're in and not have to worry about finding drinks when you're there.
Camera
You are travelling to one of the most beautiful places in the world, that is a fact. So, you want to make sure that you take plenty of pictures to reminisce about your time there. Some of the pictures from our Norwegian Fjord cruise are the loveliest we've ever taken, and the credit cannot be with the photographers. The scenery is simply stunning, so make sure you take your camera with you, whether it's a DSLR or a simple mobile camera.
As a side note, keep the battery charged and make sure you have enough storage, because you're probably going to take quite a few pictures.
Sleep Mask
If you've booked an inside cabin, then you shouldn't have a problem with light coming in. But if you have a window in your cabin then you may prefer to have a sleep mask, if you like it to be completely dark. Remember that for the majority of the summer in Norway, it doesn't get dark at all. So take a mask just in case, because you want to be well slept and ready to go in the morning when you reach your next port.
Towel Clips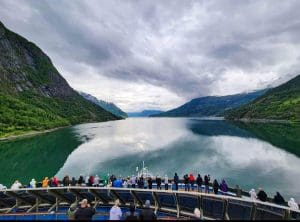 This is a 'maybe' item because it will completely depend on the weather the week you sail. It wasn't something we took because it rained all week, but if you're lucky enough to get sunshine and you fancy relaxing on a sun lounger then these towel clips are a god send. Even if you don't use them on that particular cruise, then we're sure you will want them on another. They're great for breezy days when the beach towel gets blown about and slides down, instead you simply secure it in place with the clips.
Alarm Clock
Most people use mobile phones for their clocks and alarm, so if you don't have a mobile then it's worth taking an alarm clock with you. The cruise lines generally don't provide them in the room, and they will be needed to ensure you are on time for excursions or for those of you who chose a set time for your evening meal.
Portable Charger
We've mentioned making sure you have your camera because of how beautiful Norway is. But it may also be sensible to take a portable charger with you, just in case you run out of battery at any point. When you're out and about you won't have much opportunity to find a charging port, so this is a great way to ensure you have enough battery life for the entire day.
Ear Plugs
The majority of the times we have cruised we found the rooms and corridors to be incredibly quiet and as such there's no need for ear plugs. But we're pretty heavy sleepers, especially after a day of lots of walking. Our last cruise was in the UK school holidays and it was a slightly different story, with kids running up and down the corridors and the cabin doors being banged. Because of this we would recommend you take ear plugs, for those just in case times.
We generally don't have problems with ship noises such as the engine or other disturbances, but if you think you may, then it's worth having ear buds available. It may sound strange but ear plugs also have a medicinal benefit, as they can help to prevent seasickness on a cruise. Which is particularly handy for the Norwegian Fjords, as the English Channel can sometimes be a bit choppy.
Toiletries
Although this is a little generic, we thought we'd just add a small paragraph here for those of you who are new to cruising. Most cruise ships have some toiletries in the bathroom, for example on our ship they had a body wash and shampoo/conditioner. If you're ok with a generic brand then why not save some money and use theirs, but we prefer to bring our own. Aside from that you need to bring everything else you want, but don't worry because if you forget anything you can find most items in the shop onboard or you can wait until the first port and grab it there. Norway is quite expensive in comparison to other European destinations, but you're on holiday so make sure you travel in comfort.
Alcohol or Soft Drinks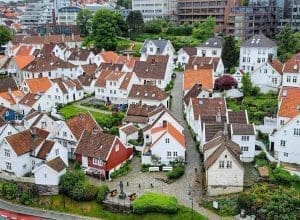 Did you know that many cruise lines allow you to bring a limited amount of alcohol and soft drinks on board with you. You can also purchase alcohol when you're in the ports and bring it back on the ship, as well as snacks. No? Well, we didn't either until our last cruise and wow was it a revelation. You can dramatically cut your onboard bill and enjoy your favourite tipple as you sail down the fjord. We bought local drink options and enjoyed them as we sailed.
When we sailed, we could bring a bottle each in our hand luggage and 12 cans of pop each, which is a fair amount to start. It is always a good idea to check the terms and conditions section of your booking to see what they say.
Cruise Essentials
Although we've covered the general items of what to pack for a Norwegian Fjords cruise above, there are also some items that we just can't do without on any cruise. Some of them are more weather specific and suited to sunny climates, so below are the items we feel are applicable to a cruise in Norway and the Fjords.
Some travel bloggers will recommend some more expensive versions of all of the above, but traveling is already expensive and those we've recommended are affordable and have served us well.
Tips When Packing for a Norwegian Fjords Cruise
Monitor the weather forecast as you get closer to the departure date for your holiday. Yes, the weather can change, but you'll have a general idea as to what it will be and can pack appropriately.
Take a look at the excursions available during your cruise and think about which ones you may want to do. This may require certain types of clothing and footwear, such as hiking books.
Pack the essentials you will need in your hand luggage, because when you get to the cruise port, they will take your suitcases from you, and you'll receive them later at your cabin door. Especially any medications which you may need to take.
If you're unsure about what the weather will be, then always take the safe option and pick waterproof clothing. Then if you get caught out, at least you're not soaked through and drying your coat onboard with the room's hair dryer.
Take a pair of slippers with you, we have bought travel ones which we take on all of our holidays. They make walking around the room more comfortable and it's easier to slip on when you're going to the loo through the night.
Take booze and soft drinks with you because prices on board can be quite expensive. We still bought cocktails on the ship, but whenever we stopped at a port, we would grab a few cans of beer and a bottle of wine. You can also buy bottles of spirits if you prefer and it's a great way to try local drinks during your trip.
Summary of what to Pack Based on the Season
Spring Packing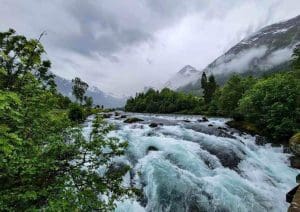 This time of year, you can pack light clothing items and a warm jacket for those odd days it gets chilly, especially at night-time.
Summer Packing
Norway is a must for anyone's Summer bucket list, although it can be a little unpredictable, so it maybe that you'll want shorts, t-shirts and the normal summer gear, or the weather turns for the worst (as in our experience) and you get a lot of rain. Then you'll be looking at rainproof clothing and shoes. It can get cold at night either way, so a warm jumper or coat is strongly recommended.
Autumn Packing
Be prepared for colder weather and heavier layers, so if you have a warm day, you can take some off. Because winter arrives early in Norway you may need hats, gloves, and boots, especially if you're planning outdoor activities.
Now this isn't an exhaustive list of what to pack, because what you choose will be incredibly individual such as toiletries, travel documents and medication.
As you will have gathered, a Norwegian Fjord cruise is very different from many of the others you may have already been on. But if you're anything like us then it will stand out as a vacation of a lifetime. Don't expect sunshine, sunbathing and deck parties, instead you'll enjoy insane views, endless waterfalls and lakes like glass.
It's worth checking the terms and conditions and FAQs of your cruise line before you go, because if we had we'd have known that we could take booze on board sooner, and it would have saved a small fortune.
We loved our trip to Norway, especially because it was easy to get to as we sailed from Dover. You don't need to fly anywhere and take on that additional cost, instead we simply drove down and headed to the Dover cruise terminal parking section. The whole process was quick and easy, and it's something we'd happily do again. Southampton is a more popular port for a Norwegian Fjords cruise, and Southampton cruise parking options plentiful and affordable.
Hopefully with our guide you should have everything you need to start packing for your trip and you'll probably do a better job of it than we did. If you go on a cruise in Norway then please tag us into your Instagram pictures, we love to see when our readers tick something off their bucket list. Plus, we can never get enough pictures of such a beautiful country.