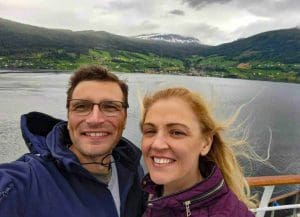 Our first trip to Norway was during a Norwegian Fjord cruise on the Carnival Pride in the summer of 2022. We had no idea what to expect or how beautiful Norway would be. During our trip we went to places such as Bergen, Molde, Olden and Skjolden, but within this article we're going to focus on the first port we visited; the incredible Stavanger.
If you've booked a cruise to Norway then check out our guides on Molde, Olden and Skjolden. Plus, we have a 'What to Pack for a Norwegian Fjords Cruise' guide, which gives you great tips on prepping for the trip.
Although Stavanger is small fishing village, it is the fourth biggest city and third largest metropolitan area in Norway and can be found on the southwest coast. Its official founding year is 1125 which was the year that the Stavanger Cathedral was built. Most of the city consists of 18th and 19th century wooden houses which are protected and considered part of the city's cultural heritage. Because of this you will experience a small-town feeling as you wander around. Stavanger's population grew in the late 20th century due to its oil industry and as such it is known as the oil capital of Norway.
What makes Stavanger a popular port with cruise lines is the fact that it combines history with modern vibrance. So, lets delve into the things to do in Stavanger from a cruise ship.
When to Visit Stavanger
If you're hoping to see the Northern Lights or Aurora Borealis, then you'll be looking for cruises in the earlier and later parts of the year when its colder. This is because during the summer months the length of daylight is much longer and as such you cannot see the light display. We cruised in June 2022 and during that time the sun didn't begin to set until around 11pm, but it wasn't fully dark until 1pm. Then it became lighter again from about 3pm, so as you can imagine it wasn't dark long enough to see the northern lights. Although it is pretty cool to sit on the deck at midnight and it still be light.
If you're not a fan of the cold and wet and you don't mind missing the lights, then the summer months are for you. Sadly because of its location, even in the summer you can still find Norway is incredibly rainy and a tad chilly. In fact, for most of our Norwegian cruise it rained and bear in mind that's June.
The weather in Norway is quite unpredictable and as such you should prepare for everything. Firstly, just before you pack, check the weather apps, and see what they say you can expect. We pretty much had a full week of rain, and it does make it difficult to explore and enjoy the place.
That leads us onto our next tip, and that is to pack layers, especially waterproof clothing, and shoes; more so if you're looking at hiking. We unfortunately didn't do our research and take hiking shoes with us, so just did it in normal trainers, but they ended up quite messy.
The key to feeling comfortable and enjoying your experience is preparation, then you'll have everything you need whatever the weather.
Getting Around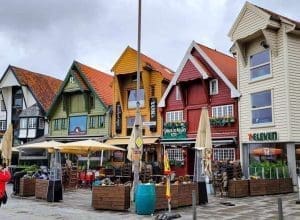 Unlike many of the smaller isolated villages, in Stavanger you can pick up a taxi or bus relatively easily. We have read that taxi prices are astronomical so it's best to use other options. One of the easiest ways of getting around the city to visit the attractions is by using the hop on hop off bus. They can be found a short walk away from the cruise port and are the perfect way to relax as you take in the sights and listen to the history via their audio guide.
We know that hop on hop off buses can be a little pricey, so if you're able bodied then our advice would be to simply walk. From the cruise port to the furthest drop off point for the hop on hop off buses which is Mosvatnet Park, it's a 30-minute walk, which is achievable for most people. Both options have their benefits, because by taking the hop on hop off bus, you get to the attractions quicker, learn the history as you're driving and save your legs. But by walking you'll spend less money, and you can enjoy wandering the streets and taking in those hidden sights. Stavanger is known to be a city of street art, which is much easier to see as you walk around the cobbled walkways.
The Port of Stavanger
One of our favourite things when we cruise is that first view of a port in the morning. Most of the time you'll get a typical cargo dock which isn't exactly inspiring, but every so often you'll walk out to the most spectacular scenery. If we could make one recommendation to you it would be to keep those curtains closed (if you have a cabin with a window) and head up to the top deck to take in your first view of Stavanger. This has become a tradition of ours and although Stavanger isn't as breathtaking as Olden or Skjolden, it still offers some incredible sights.
There are four different docking locations in Stavanger, all based in the heart of the city and positioned around the Vågen (Harbour). You'll probably find that your cruise line will dock in the Strandkaien berth, located directly opposite Gamle Stavanger which is the perfect spot to grab your excursions or buy tickets for the hop on hop off bus. There is no terminal or dockside facilities because the town is so close, you simply walk through a gate and conduct the normal security checks. There should be someone there handing out local maps and you will see the tour guides a short walk away.
Things to See and Do in Stavanger
Hopefully we've emphasised Stavanger's beauty enough, that you're already looking forward to going. But the key question is, what will you do when you're there? The great part of this city is you don't have to pre-book an excursion if you don't want to. You can see what's available on shore, jump on one of the little tour options or simply wander.
Old Stavanger Known as Gamle Stavanger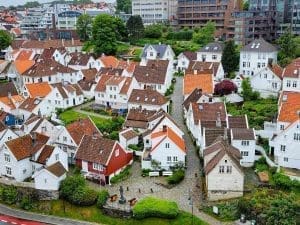 If you head to the top deck of the ship and look around at the views, you'll spot a section of the town filled with little white houses topped with red tiled roofs. It tends to be the first area most people walk around because it's so easily accessible from the cruise port. This area is known as Gamle Stavanger, and it is a historic section of the city because it consists of restored wooden buildings which were built in the 18th and early 19th century. After World War Two there were new city plans to replace the old wooden buildings for concrete ones. But an architect named Einar Heden spoke up against the proposal and as such the Gamle remain.
Although some of the 250 beautiful white houses are owned by the municipality, most of them are privately owned and you can see they take a great pride with blooming hanging baskets and rose bushes creeping over the white picket fences. You will be shocked to discover though, that the entire wooden city of Stavanger comprises of around 8,000 houses in varying styles. The best part of this activity is that it's free to wander around the rustic cobbled streets and it provides the perfect photo opportunity. In between the houses you'll spot the odd shop here and there, so take your time and meander up and down the streets.
Stavanger City Sightseeing – Hop on Hop Off Bus
If you've ever used a hop on hop off bus before, then you'll know that they provide tourists with an easy way to explore the city. Most offer a pickup location from the port terminal, and you can choose to either stay on the bus and take in the sights for the full loop or hop on and off at the specific stops to visit tourist attractions. You are given an audio guide on the bus so that you can discover the history or significance of each location as you drive past. The best part is that you can do this for the whole day, or as long as your cruise ship is in dock.
We are huge fans of Hop on hop off buses and have used them in many locations such as New York, Boston, Barcelona, and Rome. They make it easy to navigate a new city and find the various attractions, especially those which are difficult to get to by walking or public transport.
Stavanger city sightseeing bus goes to 12 stops including the Cathedral, Petroleum Museum and Ledaal Royal Residence, and runs from 10am to 4pm. At the time we visited which was summer 2022 it was £34.13 for an adult and £17.07 for a child. Bearing in mind that normally attractions and activities are more expensive in Norway, we still think this is a little pricey. Most of the stops are walkable, with the furthest point being a 30-minute walk away which is achievable for most. If you have difficulties walking, then the bus may be a great option for you to get around and see the city easily. For those who are abled bodied, then we would recommend putting those trainers on and getting your daily steps in.
Øvre Holmegate
Øvre Holmegate also known as Fargegaten (which means the street of colours) is a complete contrast to Gamle Stavanger. You can find it on the opposite side of the harbour to the little white houses. This pedestrianised street displays its buildings in a rainbow of colours, such as pink, blue, green, and yellow. The street has become a popular attraction for tourists who love to wander around, take photos, and stop for a drink in the many coffee shops or pubs. But its not just the colour of the buildings which will make you pause, because this little spot is popular for its street art. In 2005 hairdresser Tom Kjørsvik and artist Craig Flannagan collaborated to bring life to this previously sleepy and rather dull Øvre Holmegate. After four years of working with the council and gaining permission from the landlords of the buildings, it was brought to life with bold colour and incredible street art. As you wander around and take in the street art, make sure you check out the mailboxes because they too have been decorated.
Stavanger Cathedral
Norway's oldest cathedral is less than a 10-minute walk from the harbour of Stavanger and is quite a sight to behold. It is the seat of the Bishop of Stavanger who leads the Diocese of Stavanger in the church of Norway. What makes this cathedral stand out, is the beautiful grey stone long church style.
Built around 1150 the original cathedral was constructed out of wood but was damaged by a fire in 1272. It was rebuilt in the stone gothic style, with the west tower being given a larger base. The cathedral can occupy around 800 people and as you enter you will see three sculptures of King Magnus VI, King Eric II and King Haakon V. Within the cathedral there are three aisles with diaphragm arches and an elevated central nave which has Romanesque design. The central nave is an arcade with round pillars along its length and the capitals on the pillars depict scenes of Ragnarok. You'll find a variety of sculptures between the towers and central building, and the east exterior of the building has two towers with lancet windows. There is a crypt below the church and there you will find four postholes from a building which was there before the cathedral was built.
Unlike many other churches and cathedrals, there is an entry charge to Stavanger Cathedral which can be a little annoying. So, you simply have to decide whether you are willing to pay to see the lavish interior.
Valberg Tower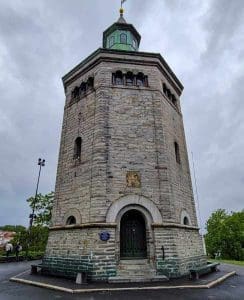 Valberg Tower also known as Valbergtårnet was constructed between 1850 and 1853 and is a former observation tower. It can be found close to the Øvre Holmegate area, so is only a short walk from the cruise port. As a permanent lodging for the watchmen in Stavanger, one of their duties was to alert the people in the town if there was a fire, bearing in mind that most of Stavanger's homes are made from wood. Within the tower there is a museum on the first floor, and you can head to the top to check out the views of the port below and the incredible city of Stavanger.
Stavanger Museum
There are a number of museums across Stavanger with many focusing on the natural and cultural history of the area. Most of the museums are within the city centre, with Stavanger Museum housing the Norwegian Children's Museum and exhibitions focusing on natural history and the history of Stavanger. Stavanger Maritime Museum and the Norwegian Canning Museum are in Old Stavanger. Stavanger Art Museum lies next to the lake Mosvannet, and Stavanger School Museum is in Hillevåg. The neighbourhood of Egenes is where you can find the The villa Breidablikk and the summer mansion and royal residence Ledaal are in the Eiganes neighbourhood.
Sadly, we didn't have the opportunity to visit any of the museums, but here's a quick list of what you can find.
Stavanger Museum of Natural History – Within this museum you will find the department of zoology and the department of cultural history. They focus on ornithology, collecting local fauna and exotic mammals and birds donated by sailors and travellers.
Stavanger Maritime Museum – Found on the west side of the Vågen harbour, the Maritime Museum has exhibits on the development of shipping and fishing from the last 200 years of Stavanger's history and its importance to the economy. The museum owns and operates two older sailboats, Anna af Sand from 1848 and Wyvern from 1896.
Norwegian Canning Museum – Stavanger was once the canning capital of Norway and boasted over 50 canneries. The museum is located in an old cannery in the Gamle Stavanger, and exhibits focus on the machinery, tools, photographs, labels and commercials from the canning industry.
Norwegian Children's Museum – Imagine a museum filled with exhibits about anything connected with children and childhood. As you walk through a maze, you'll discover a number of exhibitions and activities about traditional toys, tree houses, labyrinths, board games and general play. This museum is the ideal place to reminisce and a great option for younger cruisers.
Stavanger Art Museum – Found on the west side of the lake at Tjensvoll in Stavanger, the art museum has an extensive collection of more than 2,000 works. This includes Norwegian and international artists from the 1800's to the present day, such as Harriet Backer, Kitty Kielland, Edvard Munch and Knut Baade.
Norwegian Printing Museum – Stavanger forms a central spot within the Norwegian printing industry. The museum is located in an old canning stock dating from 1913 and has been restored to its original condition.
Stavanger School Museum – Located in a schoolhouse from the 1920's, the museum covers the history of the school in Rogaland.
Norwegian Petroleum Museum – We mentioned above that Stavanger is the oil capital of Norway, so it probably won't surprise you that they have a museum dedicated to the oil and gas industry within the city. This interactive museum shows you how oil and gas are formed, discovered, and produced. But also, how the discovery of Oil in the North Sea led to the Norwegian petroleum industry being developed and its impact on the country.
Museum of Archaeology – The museum displays human development in the Rogaland region from the Stone, Bronze, Viking, and Middle Ages which spans 11,000 years. With collections of Viking Voyagers found in Viking burials, including swords, jewellery and items brought back from raids and expeditions overseas.
Ledaal – This was a summer house for the Kielland family and was bought by Stavanger Museum in 1936. The royal residence Ledaal dates from around 1800 and is now the official royal residence for the king of Norway but is also a museum which can be visited.
Breidablikk – This is a well-preserved merchant's mansion which was built between 1881 and 1882. It was designed by architect Henrik Nissen and displays lavish decorations.
Viking House – This cool attraction can be found right next to the cruise port. Viking House is a virtual reality story of the Viking history within the Stavanger region. It lasts about 25 minutes, and you can climb aboard a Viking ship and join the adventure. You'll hear about the story of Harald Fairhair who was Norway's first king and the famous battle of Hafrsfjord in 872.
Wander Around Breiavatnet Lake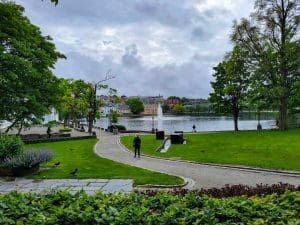 We stumbled across Breiavatnet Lake as we wandered around the centre of Stavanger. Found in Byparken this is a wonderful spot to take a moment and rest your feet, whilst taking in the wonderful views. You'll find statues dotted around the lake and lots of wildlife such as ducks and swans swimming in the lake. There's even a fountain which creates a tranquil environment and is ideal for a moment of relaxation.
Enjoy a Drink on the Skagenkaien
The morning you arrive in Stavanger and look out from your cruise ship, you'll see a row of beautifully coloured houses along the harbour. This area is known as Skagenkaien and it is the liveliest street in Stavanger. It is full of pubs, bars, restaurants, and shops, so if you're looking for a rest spot after a long day of walking then this area is ideal. As well as offering Nordic charm, the historic waterfront is named after the oldest street race 'Skagen'. The word Skagen came from 'Skagi' which translates to headland. The street runs along the eastern side of the harbour from the town square in the south to Upper Holmegate in the north.
Visit the Local Craft Market
If you're looking for a little trinket for yourself or something as a gift for a loved one, then Stavanger has the ideal spot with its local craft market. You'll find it close to the Burger King which is only a 5-minute walk away from the cruise port. They sell the usual wares you find in craft markets including wooden ornaments, Christmas decorations, hats, and scarves.
Head to the Shopping District
Most of us prefer to visit museums and attractions when we travel, but if you like to slow things down a bit then why not head to the shops and see what they have to offer. The best area for clothes shops, especially Nordic brands is the Østervåg area. Many are boutiques and independent stores with some incredible clothes, although we will prewarn you that Norway is a little pricier than other countries we have travelled to and that is reflected in the cost of their clothes.
Decorative Grates and Plaques
If you're looking for something a little quirky, then as well as the incredible street art in Stavanger you should take a look at the decorative grates and plaques which are around the city.
Popular Shore Excursions from Stavanger
For those who would like to see a little more of the area and you're thinking of heading further afield, then here are a few of the excursions available. Although you can usually book with the cruise line, we recommend you use Viator to book these excursions, as they are far more affordable.
Lysefjord Cruise and Pulpit Rock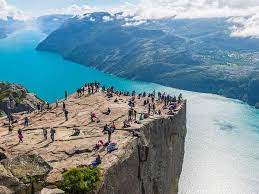 This excursion is the most popular one in the area and as such it will more than likely be available via your cruise line. If not, then you will find lots of independent boat tours on the harbour area. We always recommend heading down early to make sure you get a space on the boat, as they can book up fast and you can enjoy the tour with plenty of time to wander Stavanger when you get back.
Lysefjord is one of the most popular fjords in Norway and for a very good reason. This 42km fjord offers the most spectacular views of waterfalls, small islands and mountains which is why an excursion on a cruise is ideal. There's normally a guide on the boat who will show you interesting and historic points as you sail past. If it's included in your trip, then you may visit the renowned Pulpit Rock which is one of Norway's most famous landmarks.
Pulpit Rock or Preikestolen is a steep cliff which rises 604 metres or 1,982 feet above the Lysefjord. The cliff is named Pulpit Rock because it resembles a preacher's pulpit. It actually juts out over the fjord so at the bottom it looks a little underwhelming, but if you hike to the top then be prepared for spectacular views. You'll find a flat surface which is a perfect spot to stop and take in the surrounding landscape. The journey up to Pulpit Rock is classed as an easy hike if the weather is good. It can be a little more difficult if you experience rain, so make sure you take hiking boots and the appropriate clothing.
The whole trip takes approximately four hours, but this will depend on the time given to hike the rock.
Lysefjord RIB Ride
If you're looking for a little more excitement, then maybe a RIB (rigid inflatable boat) ride is a better alternative. You can speed along the incredible Lysefjord taking in the scenery and local wildlife. The best part is that because you're travelling faster than the other cruises along the fjord, you cover more area, and it will take half the time which gives you longer to walk around Stavanger. They tend to have live commentary and you'll wear thermal marine suites and dry bags are provided for belongings.
Flor og Fjære
This man-made tropical garden is only a 15-minute walk from Stavanger cruise port. It is on the island of Sør-Hidle and host tours between May and the end of September. The gardens are redesigned and replanted every year. Gardens on the island range from roses to cacti and each garden contains exotic plants from all over the world. After touring the gardens, guests eat at the restaurant on the island with a rotating buffet prepared by their chef, Andre Mulder.
We're glad that Stavanger was the first cruise port we visited in Norway because it was the ideal city to explore and find our feet. There was enough to do to make our time there enjoyable, but we didn't feel the need to rush around. Granted we didn't visit the many museums which are available, but we know that we will definitely try to fit them in next time. There's something for everyone and most of the top attractions are a short distance away from the cruise port, so even those who struggle to walk far can explore them easily.
If you're looking for something a little more adventurous, check out the excursions with your cruise line. If they're booked up or a little above your price range, then you can always check out the tour operators on shore. As we have mentioned above, Norway is a little more expensive than many of the other countries in this area, so any activities will be on the pricier side.
We visited Stavanger on a Sunday so sadly we didn't get the chance to go into many shops as everything was closed. You will also find that smaller shops close on Saturday afternoons. If you are shopping and you use a credit card, then make sure you have your driver's licence or passport with you for identification.
If you do visit Stavanger then please tag us into your Instagram posts, because we love to see what our readers are up to as they tick off their bucket lists.