Travel is one of the most inspirational and rewarding things we do in our lives. It pushes you out of your comfort zone and helps to create unforgettable memories and stories which you can relive over and over again. Then add in the culture, unique foods, and drinks, and it's easy to understand why so many people spend their time planning and daydreaming about their next trip.
But what about if you are vegan, plant based or have intolerances and allergies to certain types of food? This can make even the most experienced traveller nervous, especially when it's a completely new country and you're moving around a lot.
Our recent trip was a Panama Canal Partial Transit Cruise on the Carnival Pride, and although we have been on a cruise with Carnival before, we haven't done it plant based. As with many of our other trips we did our prep and took a few bits with us such as wraps, salad dressings and siracha. Cruising is not like other trips you will go on, because really the only place you can get food is on the ship. So, if they have nothing for you, then you're in trouble and probably living off bland food the entire time.
In all honesty, even though we prepped for the trip, we didn't feel too concerned due to having seen big changes on other cruise lines. Because of the rapidly increasing demand for plant based and vegan options, many cities and tourist spots have a multitude of vegan restaurants. This has transferred to other aspects of vacations such as all-inclusive hotels and of course cruises. The demand is certainly there, and veganism is no longer seen as a trend.
If you've booked or you are planning on booking a cruise on the Carnival Pride, then let us guide you through what you can expect if you are vegan, or plant based.
Guide to Carnival Pride Vegan and Plant Based Food
The best place to start is by telling you what restaurants are available on the ship, and we can go through the main ones and give you some details on breakfast, lunch and evening meal.
On the Carnival Pride you had the following options for restaurants throughout the day.
Mermaid's Grille – Lido Buffet, Chopsticks and Late Night Buffet
Normandie Restaurant – Main Dining Restaurant
Carnival Deli
Bonsai Sushi
David's Steakhouse
Seafood Corner
BlueIguana Cantina
Guy's Burger Joint
Pizza Pirate
Swirls Soft Serve and FroYo
Coffee Bar
Mermaid's Grille is the main buffet restaurant and Normandie is the spot for your evening meals. Within the buffet restaurant you will find the Carnival Deli, Seafood Corner, Pizza Pirate and Swirls Soft Serve and FroYo. BlueIguana Cantina and Guy's Burger Joint are both nearby on the lido deck, closer to the pool area. In all honesty we didn't bother with David's Steakhouse, Bonsai Sushi or the Coffee Bar.
Mermaid's Grille Plant Based Options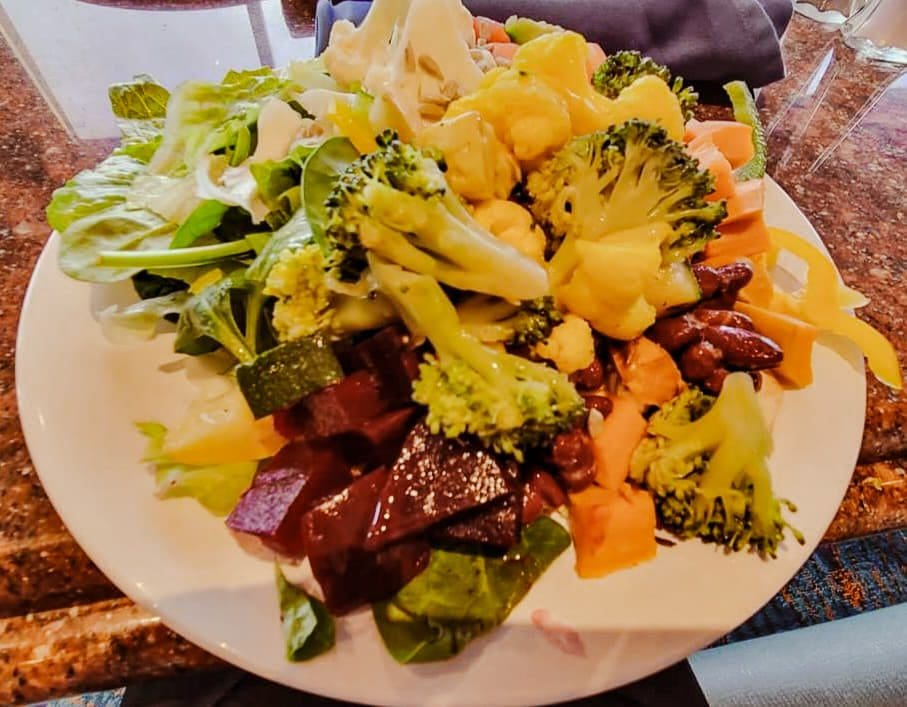 This is the area where you will spend most of your time dining because it offers food for the majority of the day. In the morning for breakfast there are an array of options for everyone, but we did struggle through the buffet section. There were beans and tomatoes, which you could put on toast, oatmeal, and fruit but other than that it was mainly meat based or vegetarian options. The best place to head is the BlueIguana Cantina which offers a vegan burrito which consists of guacamole, beans and hash browns.
Lunch is a whole different ball game because you can head to the following spots.
Carnival Deli has a falafel wrap which you can have with a side of fries,
BlueIguana Cantina has a veggie burrito which is pretty similar to the breakfast one,
During the day Seafood Corner is an Asian food section and here you can enjoy a couple of vegan dishes such as soups, salads, and bento boxes. Normally they are tofu based with a mixture of sauces and vegetables.
Pizza Pirate is open for most of the day and when we checked the pizza base was vegan. We tended to have the tomato base sauce, topped with mushrooms; but it was really tasty.
The rest of the buffet section is what you would usually expect, with a section for main dishes, salad bar and desserts. We spent a lot of time at the salad bar which had an incredible range of options with the usual salad, tomato, cucumber, and peppers. But then there was quinoa, tofu, broccoli, mushrooms, seeds, and nuts. We brought our own salad dressing, but there was a variety of options there, just ask for advice on which is vegan.
On the mains section there were a few choices such as vegetables with a sauce on, but be extra careful because we thought one was ok and it had finely grated cheese. This was the same both day and night, so if you choose not to eat in the main dining restaurant for your evening meal, then bear in mind you may not have a great variety of options.
There wasn't much for dessert sadly, but we did have a lovely banana chia pudding on one day which was recommended by a member of staff.
The labelling isn't great for vegans on Carnival ships, because currently they only state if something is vegetarian so you will need to ask for assistance from the Menu Mate.
Menu Mate – Food Allergy and Intolerance Support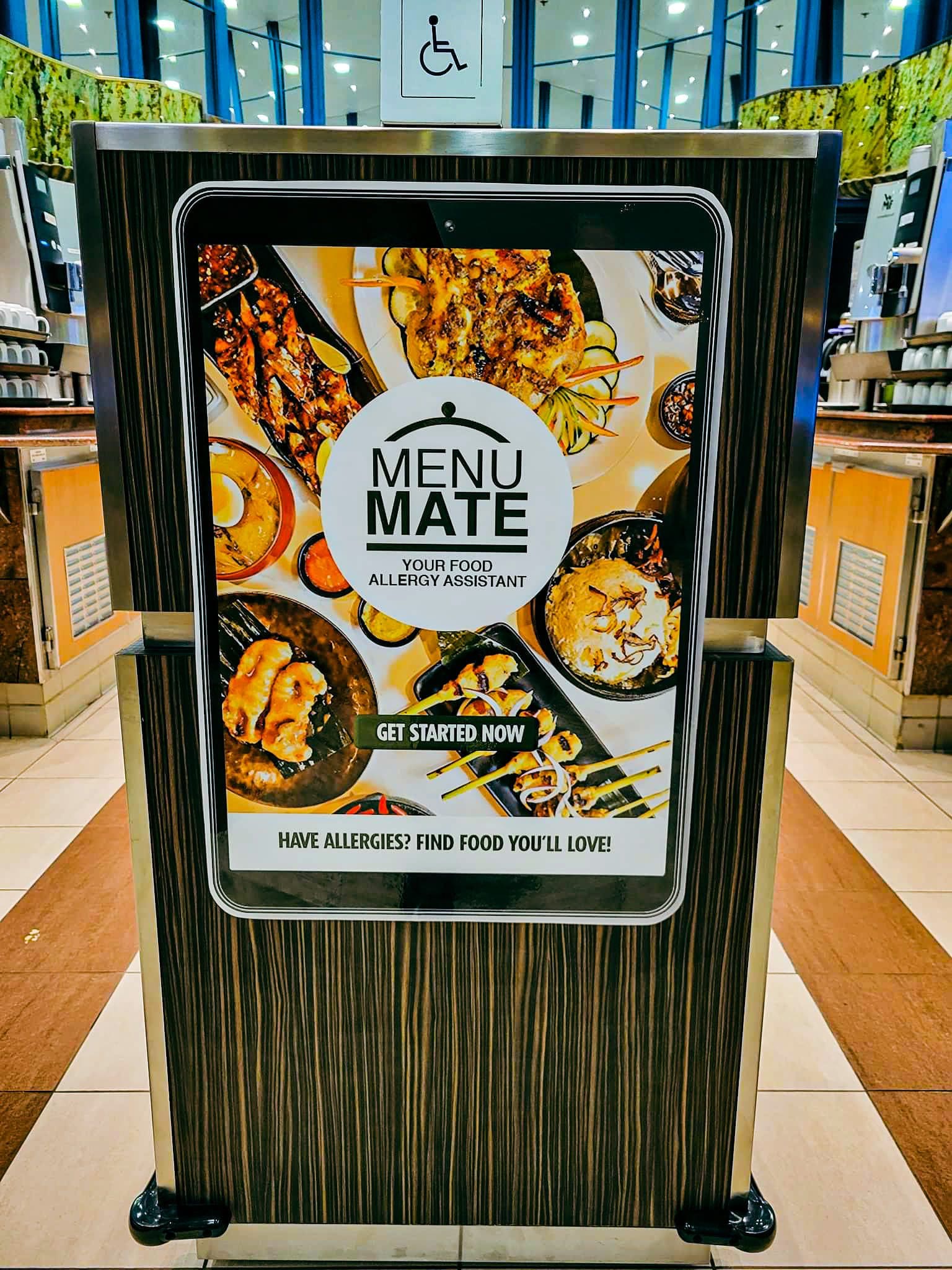 Within Mermaid Grille you will find a Menu Mate stand at the entrance of the restaurant. The Menu Mate staff are there to support customers with any dietary advice such as intolerances, allergies, and food preferences. We found them to be invaluable because every day they would walk around the restaurant and show us which food was vegan and soy free. Our advice would be to head to the Menu Mate station when you arrive on the ship and inform them of your dietary needs. They will then prepare a list for the following day of what you can and cannot have.
There are labels on the dishes, but they only tend to be for vegetarians and not vegan, so it's great to have someone show you which is ok. Also, the lady on our cruise even recommended a few bits we wouldn't normally look for, such as the banana chia seed pudding.
Normandie Restaurant Vegan Options

Although we are aware that you can get breakfast and lunch within the Normandie Restaurant, when we looked at the menu there was very little, so we opted for the Mermaid's Grille instead.
For evening meals, we would head to the Normandie Restaurant which was a sit-down waiter service meal. There was a choice of a starter, main and dessert on the menu, and although there were some vegetarian options there were no vegan dishes.
On the first night we informed the waiter about our food preferences and the intolerances we had. He went through the menu and discussed what could be converted for us into a plant-based meal, which for us had to be soy free. For every other evening meal, we would look at the menu the night before and choose what we wanted for the following day. This meant that the chef could cater for our diet and sometimes we had little extras thrown in as a treat.
We were offered bread rolls before our first dish came out, so we asked if any were vegan, and they confirmed that the white rolls were. But we would suggest double checking before you take one as food suppliers can change. There was only butter on the table, but the staff will get you some dipping oil if you request it.
For starters we tended to have a small garden salad, although the chef did make us a Thai soup one night and cauliflower wings another night. We had a great variety of main meals, such as burritos, stir fry's, root vegetable pie and our absolute favourite the Indian selection, which included mini poppadom's, a small salad, bhajis, two types of curry and rice.
Finally, desserts, and as you can imagine there wasn't much on offer apart from a fruit plate or sorbet. So, we chose sorbet every night and wow did we love it, because you had a new flavour for every meal such as mango, raspberry, apple and even champagne.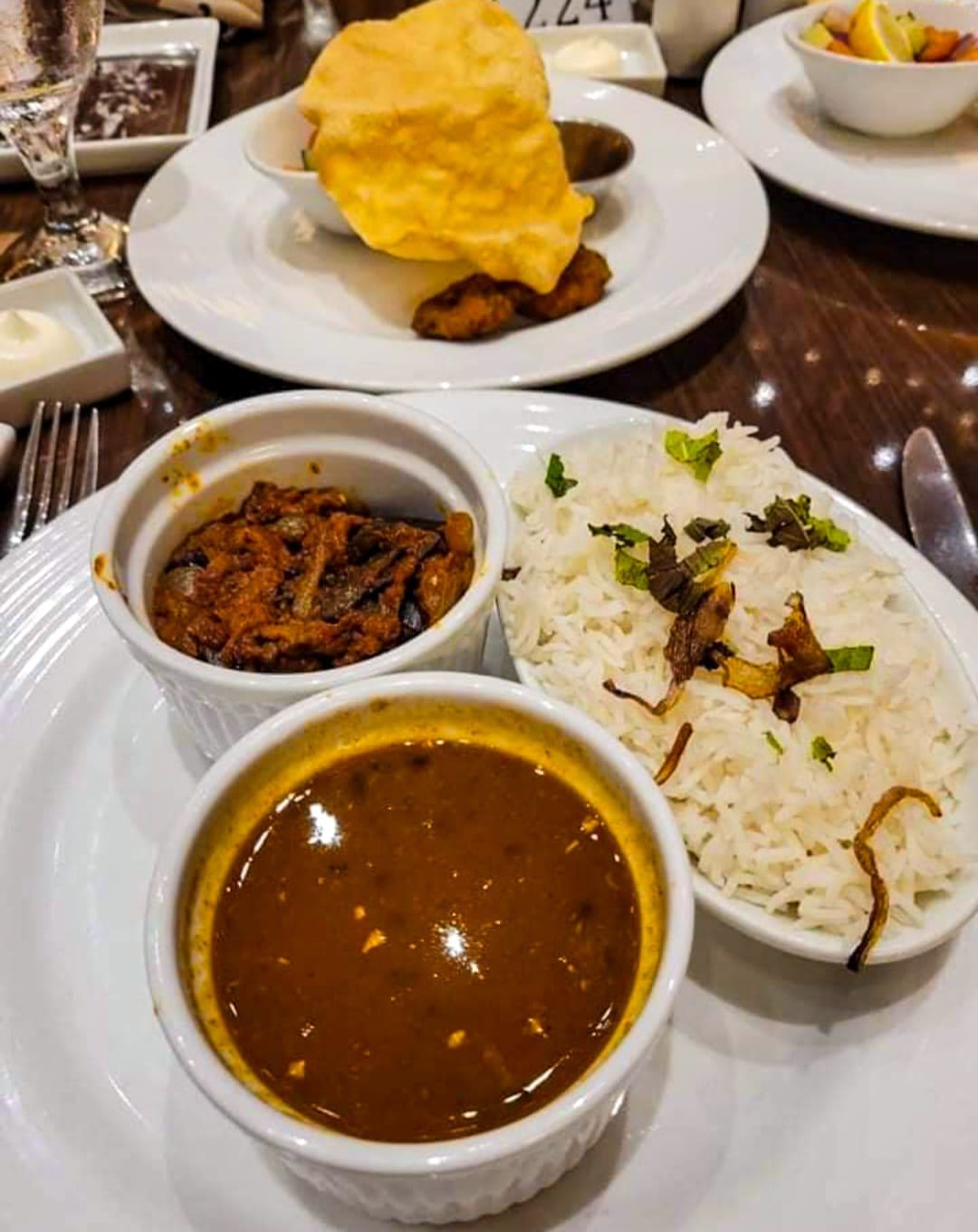 It may not sound like we had a lot of options but from what we have experienced in the past, this was wonderful, and the food was delicious. What made it even better was the understanding of the restaurant staff who seemed to have a strong knowledge of what vegan means and ensured that allergies and intolerances were passed onto the chefs. If there was any difficulty with our order then they would discuss it with us, but in general the whole process was simple.
The fact that we pre ordered the night before meant we had the excitement of knowing what food we were looking forward to the next day, which was an added bonus.
Sea Day Brunch
On sea days you have the option of dining in the Normandie restaurant for brunch, giving you that extra special service.
This would be the perfect place for something sophisticated like a vegan cream tea but alas, the only vegan options were a fruit platter or Chia seed pudding. So we didn't bother going and sitting for such limited options. Although if you sweet talk your menu mate like we did, they will go and fetch you a pudding to take away.
Should I Book a Carnival Cruise as a Vegan
As you can see, we had a great time on the Carnival Pride and ate like a king and queen. The greatest part for us was the fact we could still enjoy the nutritious food we love, and there was plenty of it. It can be difficult when you travel with vegan food, because it always tends to be Beyond or Impossible burgers, so it was nice to have a full range of vegetables and salad.
If you like to nibble then it may be best to bring your own snacks, because there wasn't much. Unless you class pizza as a snack, which we enjoyed on numerous nights after going to see the late-night comedy shows.
When it comes to drinks, there is an extensive bar menu, but they don't have any labels in regard to vegan options. Our advice would be to ask the bar staff and if you have roaming data available on your phone then check out Barnivore. This is a site that lists which alcoholic drinks are vegan, including beers, wines, and spirits.
It's pretty clear that cruise lines are starting to change what they offer, especially because the demand for vegan and plant based is there. So, we look forward to seeing more and more options available over the coming years.
If you have booked a cruise with Carnival and more specifically on the Pride, then we hope you enjoy your vacation and make sure you tag us into your pictures on Instagram.