We have been to Universal Studio's in Orlando a number of times over the years and have stayed in a variety of accommodation such as villas, hotels on International Drive and 3 of the Universal hotels. These include the impressive Hard Rock Hotel, Loews Royal Pacific Resort which is a Polynesian paradise and the 1950's inspired Cabana Bay Beach Resort. Each one brought their own unique benefits, such as proximity to the parks and early access, or free fast pass.
So, what does the latest addition to the group have to offer? We found ourselves staying in Universal's Endless Summer Resort in February 2022. During our trip we ended up with rooms in both Surfside Inn and Dockside Inn, so we're eager to tell you why you'll enjoy this great hotel on your next Universal Studios vacation.
Universal Studios opened the doors of both Endless Summer hotels in June 2019 and although they are the first accommodation options in the 'value' category, we certainly wouldn't let that put you off.
Universal Surfside Inn and Suites
Surfside Inn offers the cool, chilled vibe you would expect from a beach themed hotel, with plenty of surf boards dotted around the complex and even your hotel room. It is the sister hotel to Dockside Inn and Suites, which you will see is based across a road and easily walkable. As a guest of Surfside you can also access the facilities in Dockside, which offers more because it is a larger hotel.
The Rooms at Surfside Inns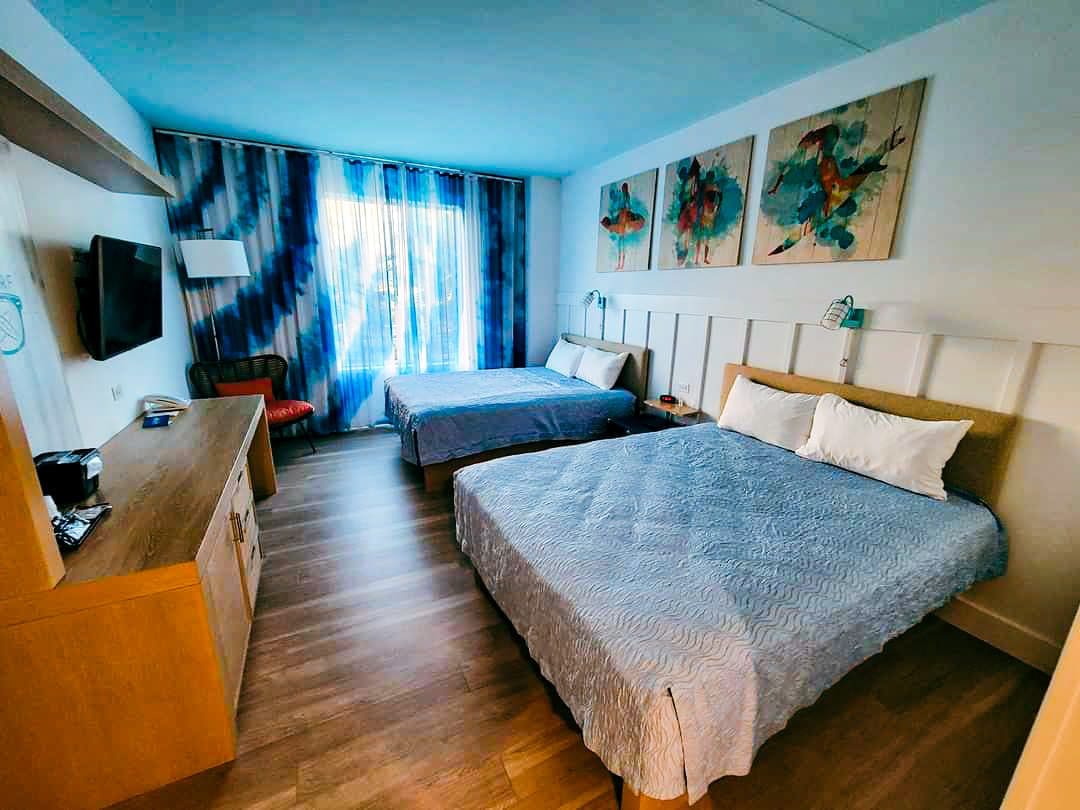 There are 750 rooms in total, all of which have beach and surfing related touches to the décor. They include 175 standard double queen, 185 double queen pool view, 261 standard two-bedroom suite, 75 two-bedroom suite pool view and 54 two-bedroom suite water view. The two-bedroom suites are perfect for families because they have a kitchen, dining area and can sleep up to six people.
As you would expect there is free wi-fi within the hotel for up to four devices, but if you want to add more then you can pay an additional amount per day.
Surfside Inn Facilities
Although we know your main reason for being there is the parks, you may also want to use the facilities at Surfside. So, let's start with the pool, which is shaped like a surfboard. There is only one pool for the entire complex, but it does have enough space and there were plenty of sun loungers available.
Within the lobby area you will find the check-in desk, a guest services and car rental desk. There was even a coffee shop for that morning pick me up and as you can imagine it was always quite busy. Close to the lobby was the games room filled with arcades and of course the Universal Studios Store, which had the usual merchandise from the parks, some essential bits and also hotel specific items.
For those of you who feel like a full day at the parks isn't enough of a workout, then Surfside Inns has a complimentary fitness centre with a great option of cardio and weights machines.
Finally, there is the I-Drive Garden which surrounds the hotel and includes flowers connected to Universal Studios such as 'Minion Garden' and 'Raptor Garden'.
Surfside Inns Eateries
You won't find a full-service restaurant at Surfside Inns, but they have a few places where you can grab basic food. Within the lobby there's a Starbucks where you can get the usual coffee fix and a sweet treat. You'll find the Beach Break Café has grab and go snacks on their hot food counter such as burgers, salads, sandwiches, and packet items such as chips. By the pool is the Sand Bar which is drinks only, but the cocktails are really good, and you get to keep the glass. There is even pizza delivery to your hotel room, which is a perfect option when you're tired at the end of the day.
Universal Dockside Inn and Suites
Across the road from Surfside is the sunny and bright Dockside Inn, which takes inspiration from the beach with sea, sand, and beautiful sunsets. It is a larger complex than the Surfside resort and as such offers more facilities.
The Rooms at Dockside Inns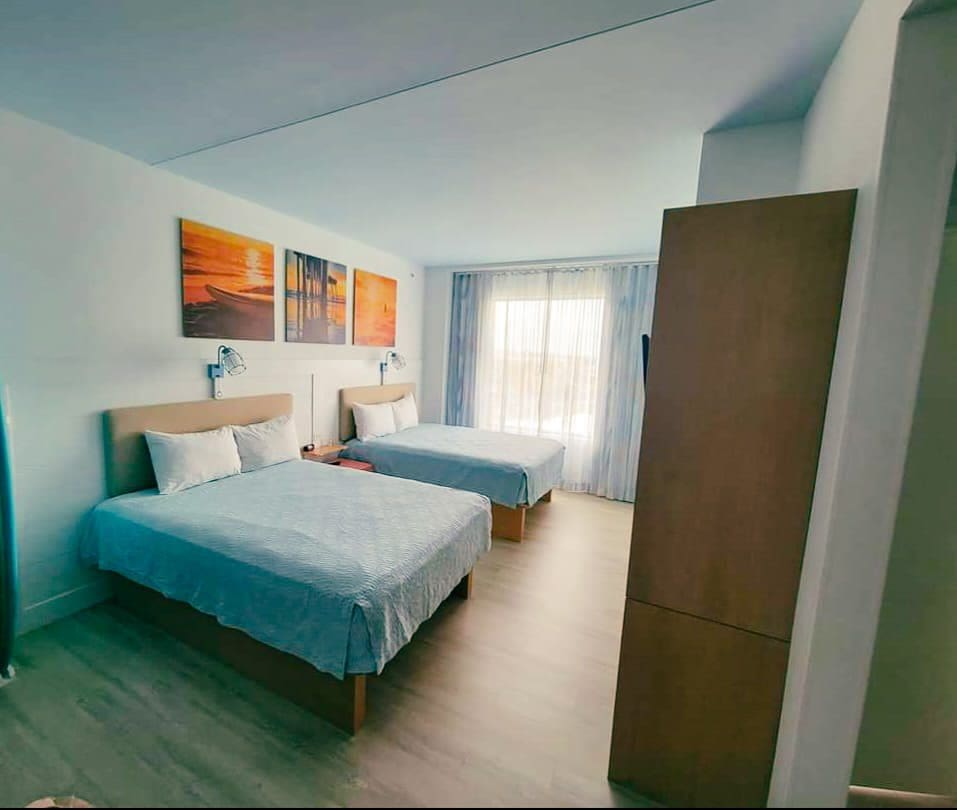 There is more than double the number of rooms at Dockside, because there are 2,050 in total. Alike the other hotel they offer 1,113 two-bedroom suites which can fit up to six people. The décor is beach related with sunset pictures of surfers on the walls.
Again, there is free wi-fi within the hotel for up to four devices, but if you want to add more then you can pay an additional amount per day.
Dockside Inn Facilities
We'll start with the pools again, because at Dockside Inns you have the choice of two pool areas, with plenty of sun loungers. As you can imagine there's more facilities because it's a much bigger hotel.
Again, in the beach themed lobby area you will find the check-in desk, a guest services and car rental desk. Dockside has a coffee shop and there's a games room filled with arcades. You also have the Universal Studios Store where you can grab any essentials you've missed, some last-minute merchandise, or treat yourself to hotel logo items as a reminder of an incredible vacation.
As you can imagine Dockside has a complimentary fitness centre, with plenty of cardio and weights machines.
Dockside Inns Eateries
In comparison to Surfside, everything is much bigger in Dockside and that includes the number of food spots. Again, there are no full-service restaurants, but there are plenty of other options to keep your hunger at bay.
As with the other hotel there is a Starbucks within the lobby, but it's a bigger size and offers more options. Dockside also has a full food market called Pier 8 Market, which has a hot food counter offering a number of items such as burgers, pizza, dessert station, fried chicken/waffles and pasta, plus a small section of grab and go snacks such as chips and chocolate. At the pools you have the drinks only bars which serve tasty cocktails, they are The Wavemaker and The Oasis Beach Bar. There's a third bar in the lobby called the Sunset Lounge, if you're looking for a chilled drink after a busy day. You can also enjoy pizza and fried chicken delivery to your room, meaning you can chill and have food come right to your door.
How Far Is Surfside and Dockside Inn from Universal Studios and City Walk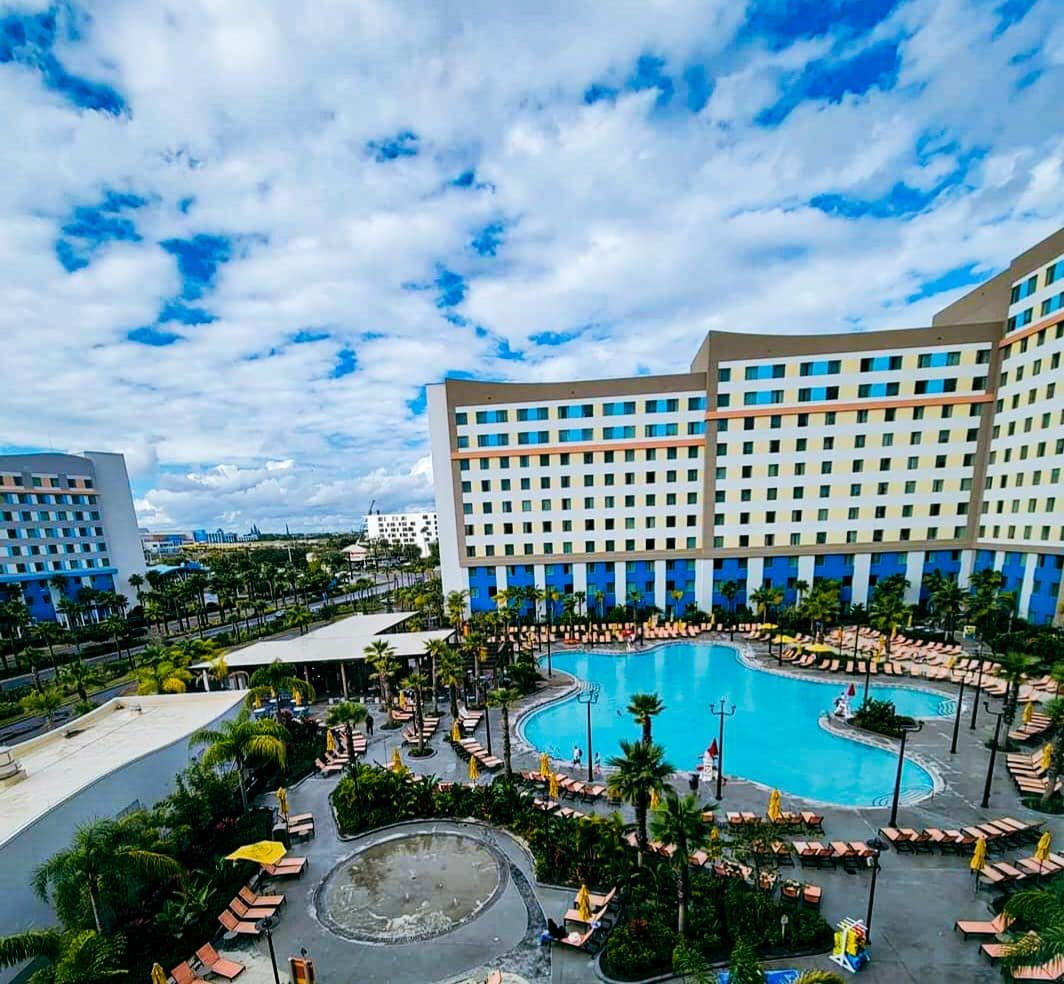 The plot of land that Endless Summer is built on was originally where you could find Wet 'n Wild Orlando. It was purchased by Universal Studios in 1998 and demolished in 2016, to create the beautiful resort which now stands.
To get to the parks you can either hop on the complimentary buses, hire a rental car, or simply walk. Unless you are planning on visiting Disney or other areas of Orlando, we wouldn't recommend hiring a car. You would have to pay the for parking in the hotel, which is $15 plus tax, per night and then parking at Universal itself, which is currently $27 (February 2022).
If you enjoy walking, then it's a relatively simple route from the hotel to the bus drop off/pick up area in City Walk. It took us about twenty to thirty minutes at a nice pace (most of that was waiting at traffic lights), and it gives you the opportunity to stop for a picture of the Universal Studios sign.
The easiest method was jumping on the Universal Studios complimentary bus, which took between five and ten minutes. It's about the same distance as Cabana Bay to the parks, so even though Endless Summer is a value hotel it's not much further to travel.
Benefits of Staying at Universal Surfside and Dockside Inn and Suites
Because you're staying at a Universal Studios resort then you are entitled to some benefits, including.
Early Park admission to Islands of Adventure,
Complimentary bus to and from the hotel and City Walk,
Resort wide charging privileges,
Purchases within the park being delivered to your room, so you don't have to carry them around all day.
The hotel is incredibly close to I-Drive and all the attractions that can be found there.
Disadvantages of Staying at Universal Surfside Inn and Dockside Inn and Suites
Sadly, not everything is perfect, so here are the areas that may put you off staying there.
They don't allow pets,
Surfside doesn't really have a great choice of eating options, but you can always head over to Dockside which has more on offer in their food market.
Unlike many of the other Universal hotels, you cannot pool hop if you stay at the Endless Summer resorts. Of course, you can go between Surfside and Dockside, but for example you couldn't access the pool at the Hard Rock Hotel.
During our stay we found the walls to be a little thin, so you could hear everything in the room next to you, including a family singing 'happy birthday'. If you choose to book, then remember to take your ear buds with you just in case.
Should I Stay at Universal's Endless Summer Resort?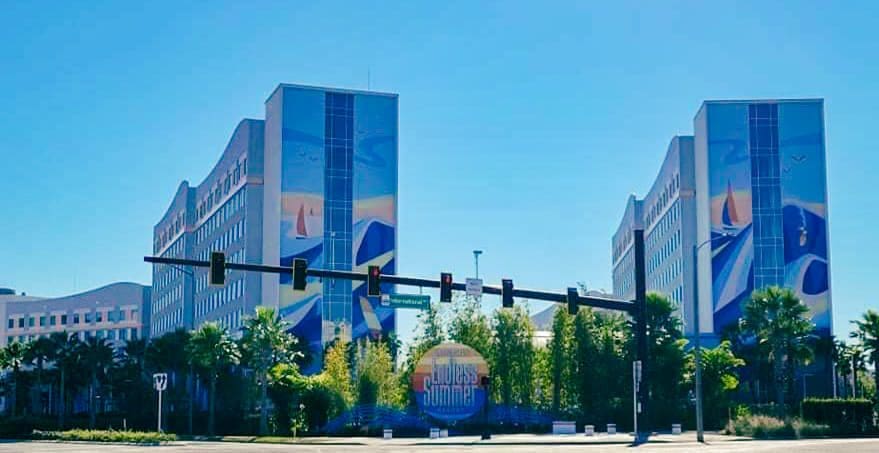 Did Endless Summer feel like a Universal hotel? well in all honesty yes it did. If you're wanting to stay on a Universal resort complex but you don't have much to spend, then this may be a great option. The actual distance to the park isn't that far and the buses were regular enough that you didn't have to stand around waiting for long.
The high standard of the room and the quirky theming were all very reminiscent of the other resort hotels, just without the big price tag. We are aware that the Loews hotels and Hard Rock hotel have extra benefits such as fast pass privilege during your stay, but is it worth the extra price you're paying. Other than that, you get the same benefits in Endless Summer as you do in the rest of the hotels.
We really enjoyed our time at both hotels especially the suite in Dockside; it was huge. The beds were so comfy and the facilities in the hotel provided everything we needed. As we mentioned in the disadvantages section, our only gripe would be the sound proofing in the room. We were disrupted a few nights during our stay which isn't great after a long and tiring day in the parks.
Would we stay at the resort again? If the price was right, then yes! We do plan on ticking off the other Universal hotels which are on our bucket list, but they are pretty expensive, especially when you're already paying so much to get to Orlando and visit the parks.
If you stay at the Endless Summer resort then make sure you tag us in on Instagram, we'd love to see your pictures.