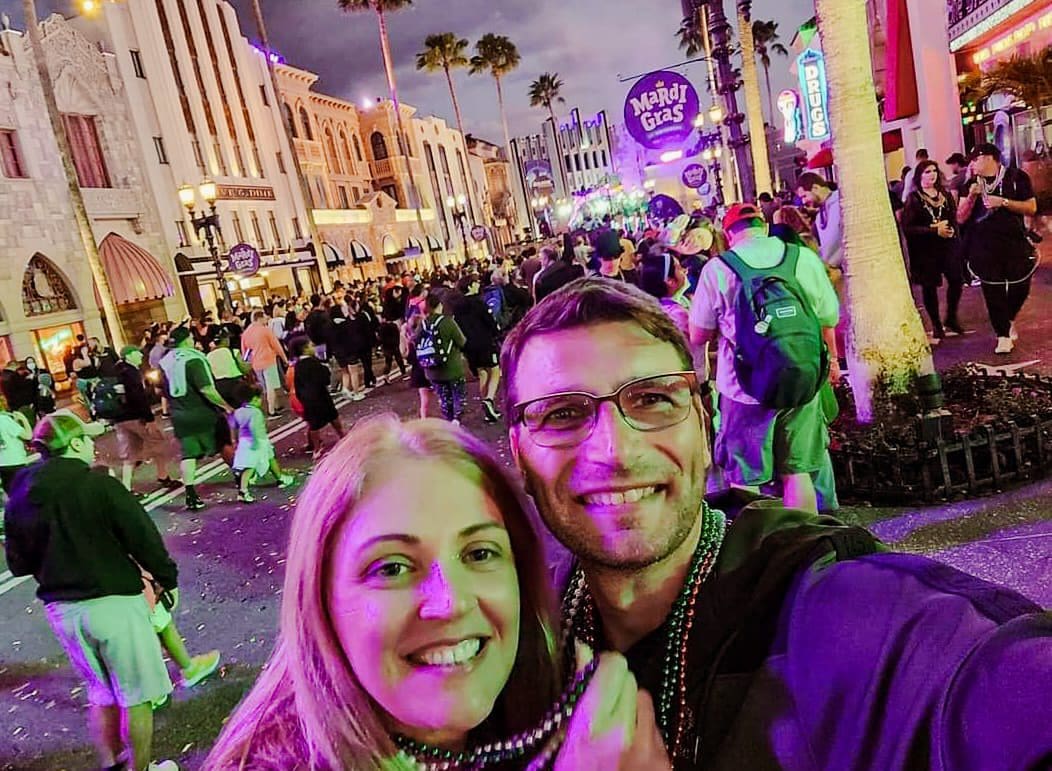 At the beginning of every year Universal Studios Orlando throws a big party, because the incredibly popular Mardi Gras begins. So, what exactly is Mardi Gras and how is it celebrated at Universal? We have the low down on making the most out of your visit and where to stand to get more of the iconic beads.
What Is Mardi Gras?
So, let's start by explaining what Mardi Gras is, for those of you who must have been living under a rock. This carnival celebration has links to Christianity in that it begins on the Epiphany (Three Kings Day) and ends the day before Ash Wednesday. The term Mardi Gras is French for Fat Tuesday, which ties to the tradition of eating all the rich, fatty foods before fasting for lent.
Of course, Mardi Gras is heavily associated with New Orleans in Louisiana, where the celebrations last two weeks. There is normally a parade every day of decorated floats and extravagant costumes, with locals and community groups taking part in the fun. As well as lavish costumes, and bright beautiful colours, you will of course find plenty of beads. The 'throw' are items which are thrown from the floats and generally they are plastic beads. Then add in the incredible music which tends to be brass instruments, rhythm and blues and the famous zydeco, and you have the party to end all parties!
Mardi Gras Universal Studios
Universal Studios Orlando brings its visitors a taste of the Big Easy on selected nights between February and April. The Mardi Gras celebrations began in 1995 and since then it has become one of the most popular events on the parks calendar. This is due to the extravagant parades, incredible food and drinks, plus live entertainment from top performers and of course lots of lots of beads to catch.
Attending a Mardi Gras at Universal is the perfect way to end your day, after the thrills of incredible rides and coasters. What we love about it, having attended Mardi Gras in New Orleans is the realism and excited feeling that you get being there. Of course, there's always the special extras which Universal is known for so let's bring you the best of the bayou.
It's important to note that there is no additional cost to you attending the Mardi Gras parade. Unlike a lot of other events at UO, the parades, concerts and all of the other facilities are included in your daily ticket to the park.
Universal's Mardi Gras Parade
The Mardi Gras parade is the highlight of the event so it makes sense to start there and explain what you can expect. There are normally twelve floats of varying themes, with the more popular ones being the King Gator, and King and Queen Float. Designs on the floats can vary every year but are always bold and beautiful. Between the floats are dancers all dressed within the themes, with some walking on stilts.
The parade starts from the gates near the Horror Makeup Show and Mel's Diner, and then heads towards the Minions ride and past the Mummy. It then continues round past the Transformers ride and heads back to the gates it started from. So, as you can see it covers quite a large section of the studios park, which means there's plenty of good spots to grab those beads. Parade viewers can stand on the pavements around the park, and you will be stopped from stepping onto the road by members of the Universal team.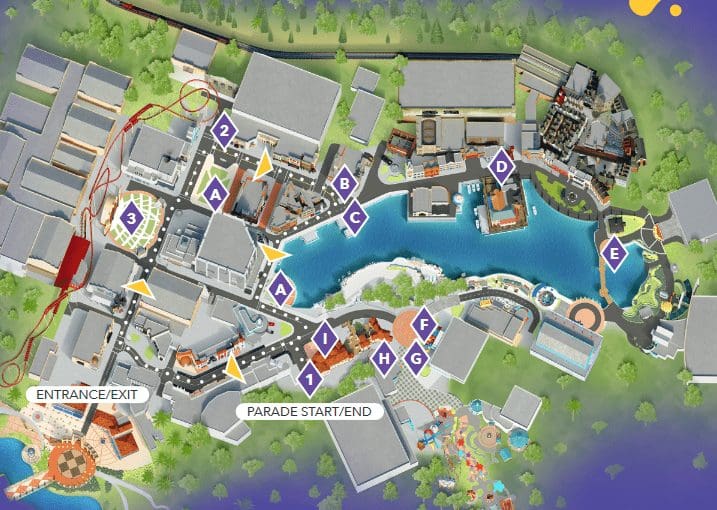 As the parade moves through the street you will see park visitors on board, who have been lucky enough to get a spot on the float. They will throw beads into the crowd at whoever shouts loudest, so make sure you wave those arms and make yourself known. Then add in the blasts of glitter and even flames on some of the floats and you can imagine it's a real party atmosphere.
Our favourite spot to watch the parade and of course catch those beads is along the Hollywood Section, especially by Mel's Diner where it all starts. The throwers are all excited about being on the float and as such they tend to chuck a lot of beads at the beginning and then hold off in the middle. If you want more then head to the other side of Mel's Diner by the Transformers ride for the end of the parade, because the float riders will want to get rid of any beads they have left and as such it can literally rain beads.
Be aware that once the beads are flung then they can land anywhere and sometimes people will get hit by them. This is especially relevant if you have young kids in the front row or babies. Members of the Universal Studios team will follow the parade along the crowd, preventing guests from stepping onto the parade path for health and safety reasons. So, if any beads land on the road, leave them until after the parade and the road is cleared.
Mardi Gras Tribute Store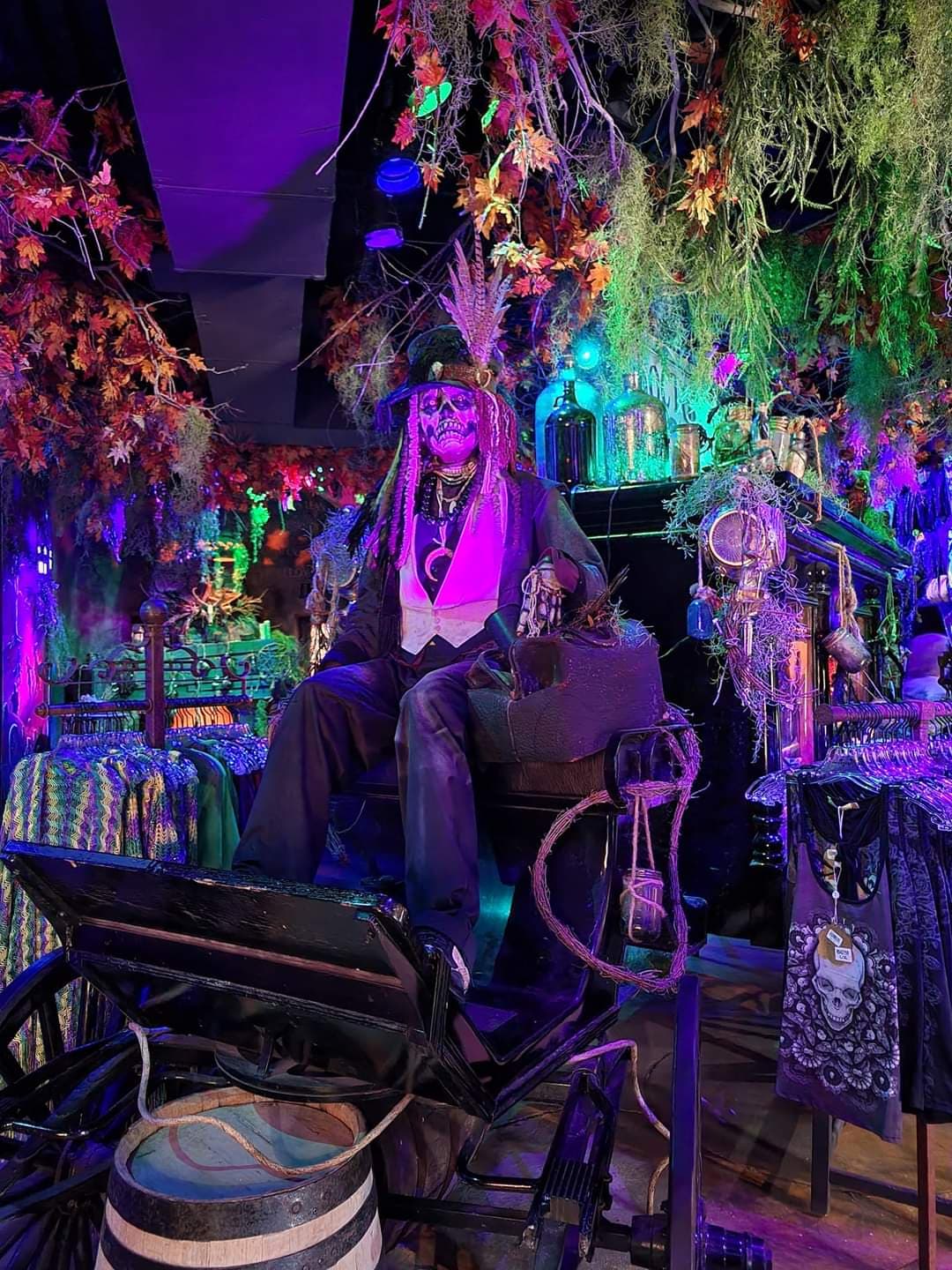 Before the parade even begins, you can get your Mardi Gras fix by heading to the Universal tribute store and checking out the merchandise. When we visited in 2022 there were two stores, one in Islands of Adventure and the main one in Universal Studios. Every year these get bigger and more impressive, so they're a must see, even if you're not planning on buying anything. If you are, then you can grab t-shirts, masks, crowns, mugs, and even extra special Mardi Gras beads suitable for a king or queen.
Within the store you may see characters from the Bayou, but don't be alarmed because they won't harm you. In fact, they're perfect for a picture, to show friends and family at home what they're missing.
Live Entertainment in the French Quarter Courtyard
Throughout the day the French Quarter which can be found in Universal Studios in front of the tribute store, comes alive with incredible live entertainment. Mardi Gras performers will dance along to live music from Zydeco and Louisiana jazz bands. So, you can join in and bust a move, or grab a picture with a performer on stilts and watch the fun from the nearby benches in the park.
Mardi Gras Food and Drink
When Mardi Gras began, the food and drink section was all within the French Quarter Courtyard. But now you will find tents all over the park, with various types of food from carnivals all over the world. You can enjoy delicacies from New Orleans, Brazil, Cuba and Puerto Rico to name a few.
Favourite foods of Mardi Gras are the twisted taters, jambalaya, Po'Boy, gumbo and of course beignets. But there's so many more options that you could spend your entire day just eating; sounds good to us.
Then add in the cocktails and beers which are also inspired by flavours from around the world. The cocktails are all served in souvenir glasses, and if you want a refill then you can use your glass again and get your drink cheaper. The servers at the kiosk will only give you one drink per person per ID, so make sure your party is with you or they buy their own. There is of course soft drinks available and bottled water, for those of you who aren't interested in the hard stuff.
Live Concerts at Universal Studios Orlando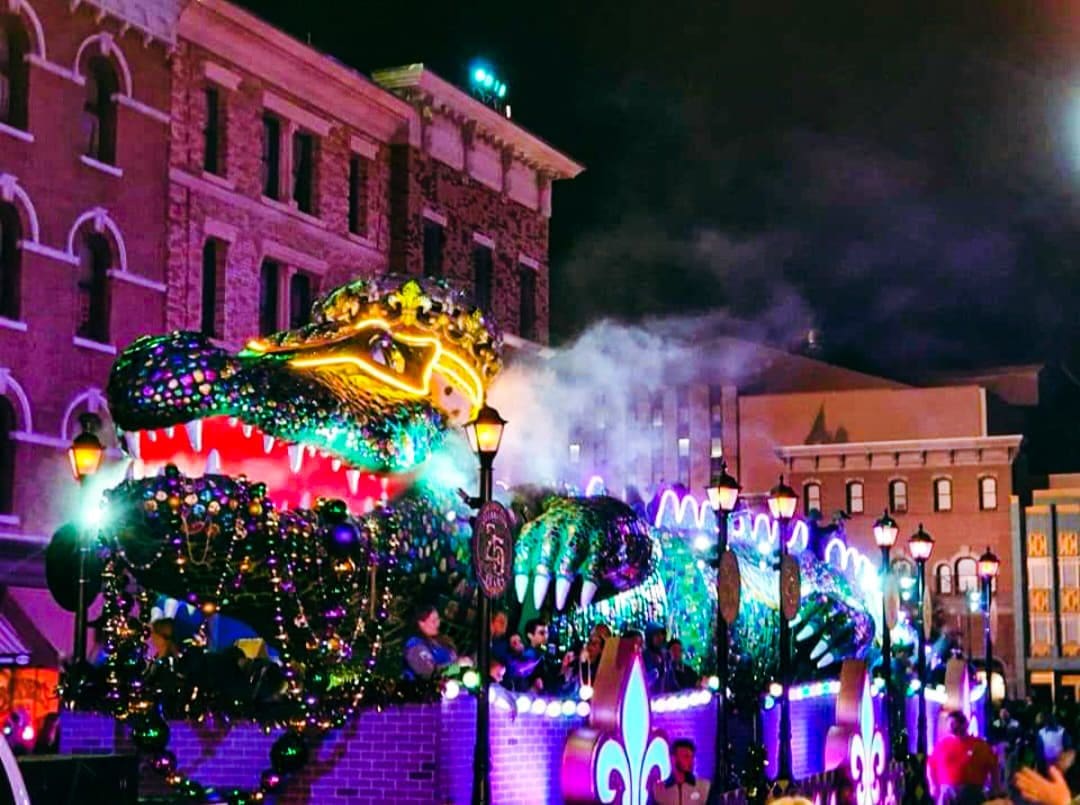 On select nights through the Mardi Gras event calendar, Universal Studios hosts incredible live concerts. We have been to see a few artists including Ne-Yo, UB40, Olivia Newton John, the Beach Boys and Macklemore. But the Music Plaza stage has hosted legends from every genre of music such as pop, rock, country, and Latin, including Diana Ross.
If you're not interested in watching the concert, then we recommend heading to the rides. But if you fancy a dance then head over to the concert area early, because depending on how popular the artist is, the lawn area in front of the stage can fill up quickly. Some guests will wait for 2 to 3 hours to make sure they get a good spot before the concert begins.
Ride the Mardi Gras Floats
One of the privileges of being an annual pass member, is you can join the priority list of becoming a bead thrower in the parade. If you don't have a pass, then don't worry because you can join the float list, although it only has a limited number of spots. You can do this at guest relations in the Universal Studios Park, which is also where you will pick up information about the parade and your wrist band which states what float you will be on.
Make sure you follow the instructions of where to go and at what time, because you could miss out on the fun. Each float has a costume specifically designed to match which you will have to wear, but it just slips over your head.
Being on a float makes you feel extra special and there are photographers taking pictures, which you can purchase as a souvenir. There's nothing quite like throwing those beads to a crowd who are waving to get your attention.
Once the bead throwing duties are over, if it's a concert night then you will have plenty of time to head over before it starts.
Here's our Mardi Gras top tips.
If you've seen the parade before and you don't want to grab anymore beads, or you don't fancy watching the live concert, then it's the perfect time to hit those rides. The wait times for rides will plummet and you'll find yourself getting on them easily.
We know that Hollywood Rip Ride Rockit is already pretty awesome, but it's especially cool during a Mardi Gras concert at night where you can see the crowd below.
Make sure you have downloaded the Universal Orlando Resort App, because this will give you all the information you need. That includes the menus of the food and drinks kiosks, where to find them, the times for the parades and concerts, plus which artists are playing. You can even mobile-order food and drinks so they're there waiting for you when you arrive. Of course, the app can also be used to inform you of the ride wait times, so you can quickly head to your favourite one and hop straight on.
When it comes to 'what to wear' then we recommend thin layers, so you can strip down through the day when its warm and then layer up again at night. Our advice is to keep an eye on the weather, because Florida can be a little unpredictable and the parade may be cancelled if the weather is bad. Finally, and most importantly are comfortable shoes, because you will be on your feet and standing still for quite a while.
We recommend staying at a Universal resort hotel, we've been lucky enough to stay at their Hard Rock Hotel, Royal Pacific, Cabana Bay and Endless Summer Resort. The benefits of staying on-site include early park entry and any Mardi Gras merchandise you buy can be delivered straight to your hotel, so no dragging it around the park all day. Some hotels even include express passes for all guests through the duration of your stay, including the day of your arrival and departure.
You may be able to gauge through this article that we absolutely love Mardi Gras, so we always tend to head to Orlando at the same time of year. We've thrown beads and caught them, and every time is just as exciting as the last. When the music kicks in and you hear 'Feet Don't Fail Me Now', then you won't be able to resist tapping those tootsies.
But Mardi Gras is more than the parade, as wonderful as that is. It's the delicious food, intoxicating drinks and impressive decorations which can be found all over Universal Studios. The fact that this event is free, and you can watch incredible bands just tops it all off.
If you head to Universal Orlando during Mardi Gras then tag us into your Instagram pictures, we'd love to see you celebrating with your Krewe.