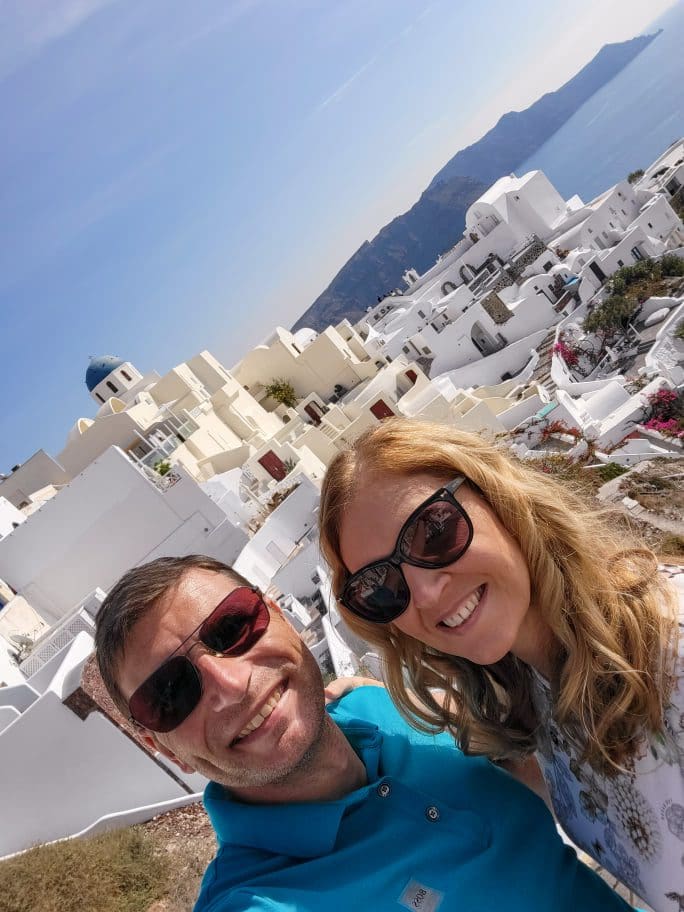 Whether you are vegan, plant based, or you suffer from intolerances or allergies, traveling can be daunting. So, when we booked our trip on the Norwegian Cruise Lines (NCL) Greek island cruise aboard the Norwegian Jade, we were a little worried. Most of you will have your routine of prepping vegan food items to take with you when you travel. Or simply accept that you'll live on bland food for the entirety of the trip, because there's usually very little on offer.
Over the last couple of years, we have seen a big change, with the demand for plant based and vegan foods increasing. Having been used to a menu offering one vegan option, we are now delighted to see two or three choices in many more restaurants abroad. What was once seen as a trend is beginning to feel more mainstream, with vegan only restaurants and businesses opening and offering food to satisfy even the carnivores in the group. Because of this many companies such as NCL are having to adapt their food and drink options, but what exactly do they have to offer?
Vegan Food on Cruise Ships
We must admit we're not cruising experts although we have done four or five short ones, and each time food has been a struggle. The set evening meals were much easier than the daytime buffet options. Most of the time we lived off salad, because everything else was laced with meat, fish, or dairy. There was no information on the food labels indicating what was in each dish and basics like vegetables were cooked in butter.
Even a sandwich was a no go because the bread had milk in it and most of the snack options were meat based. Life revolved around salads in the day, snacking on fries and then most nights the meal was a curry. Now we love a good curry, but to have that every night for a week was a little much.
Thankfully as we went on more cruises our knowledge grew, and we knew to take wraps with us to make lunches a little more exciting. Also sauces such as siracha, BBQ and a salad dressing, to add flavour to dishes. Even having a few nibbles like vegan chocolate and biscuits for those times when you just want to have something a little naughty as a treat, because it is a holiday after all.
Norwegian Jade Vegan and Plant Based Food Options

We booked the Norwegian Jade NCL within two weeks of us arriving on the ship, so it was all a little last minute with very little research. If you look online there isn't a lot of information about vegan and plant based on the cruise, but you can find plenty about vegetarianism.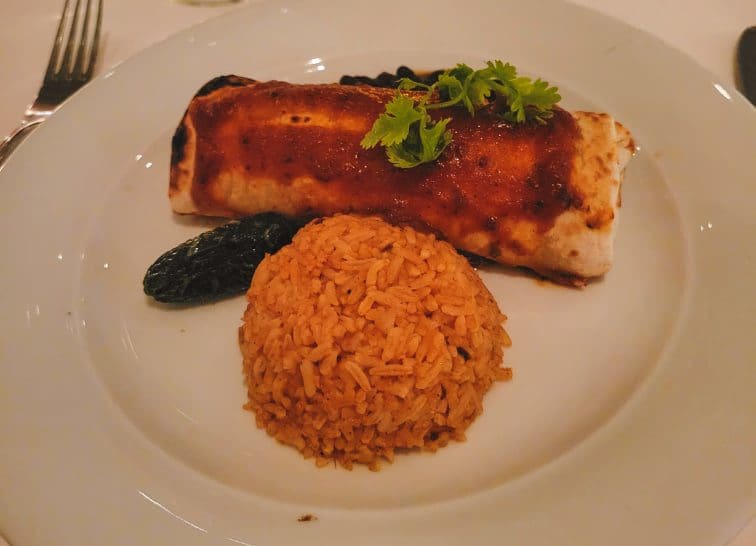 So, we did our usual preparation and took nibbles, wraps and sauces, knowing the likelihood was we would be living off them for the entire week.
The Norwegian Jade NCL route started at the port of Piraeus in Athens and went to Mykonos, Patmos, Rhodes, Heraklion, Olympia/Katakolon and Santorini. It is the ideal option for those of you who like to get off the ship and wander, without paying for the excursions. But if you prefer to book in something specific, then there were plenty of options to choose from, whether it was discovering musical culture in Rhodes or wine tasting in Santorini.
Back to the food, we have to admit we were floored by the number of options available to us and the assistance given by the staff onboard. We became known as the 'Vegan Couple' and in all honesty we didn't mind, in fact we wore the badge proudly.
We'll work through the day and give you an idea of what was on offer, but this will change most days and possibly it will adapt over time. The more people ask for vegan food, then companies will be open to increase the options available.
This is a list of the restaurants available on the ship, and as you can imagine we didn't get to visit them all.
Moderno Churrascaria – Brazilian food
Cagney's Steakhouse
Garden Café – Buffet Restaurant
The Great Outdoors – Buffet Restaurant
La Cucina – Italian Restaurant
Topsiders Bar and Grill – Pool Side Snacks
Jasmine Garden – Asian Resturant
Sushi
Atrium Café – Cakes and Pastries
Teppanyaki
Alizar – Main Dining Restaurant
Grand Pacific – Main Dining Restaurant
Le Bistro – French Cuisine
O'Sheehan's Neighborhood Bar and Grill
Breakfast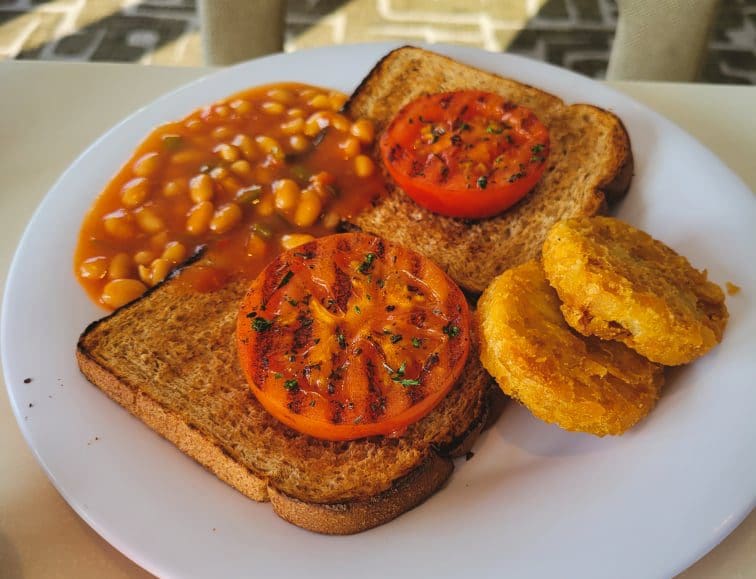 We're not normally big breakfast people, but we did hit the buffet restaurant everyday which was called the Garden Café. There were plenty of juices on offer, tea and coffee and our personal favourite green tea. Of course, most of the food is the usual breakfast items such as eggs, bacon and grilled cheese. But you can grab a few bits such as grilled tomatoes, beans, hash browns and toast. We were informed that they were all vegan, but you may want to double check when you're there just in case any items have changed. Although it didn't quite go with any of the other items, there was steamed vegetables available every day at breakfast, for those of you hankering for a bit of broccoli to wake you up.
In general, there wasn't loads for us at breakfast, but it completely depends on the kind of things you like. If you're a fruit fan then you will love it, but sadly we're not big fruit eaters. Also there were cereals and soy milk available upon request.
Lunch
Again, most of the time we went back to the Garden Café/the Great Outdoors. This is when things got tasty, and our plates were ridiculously full.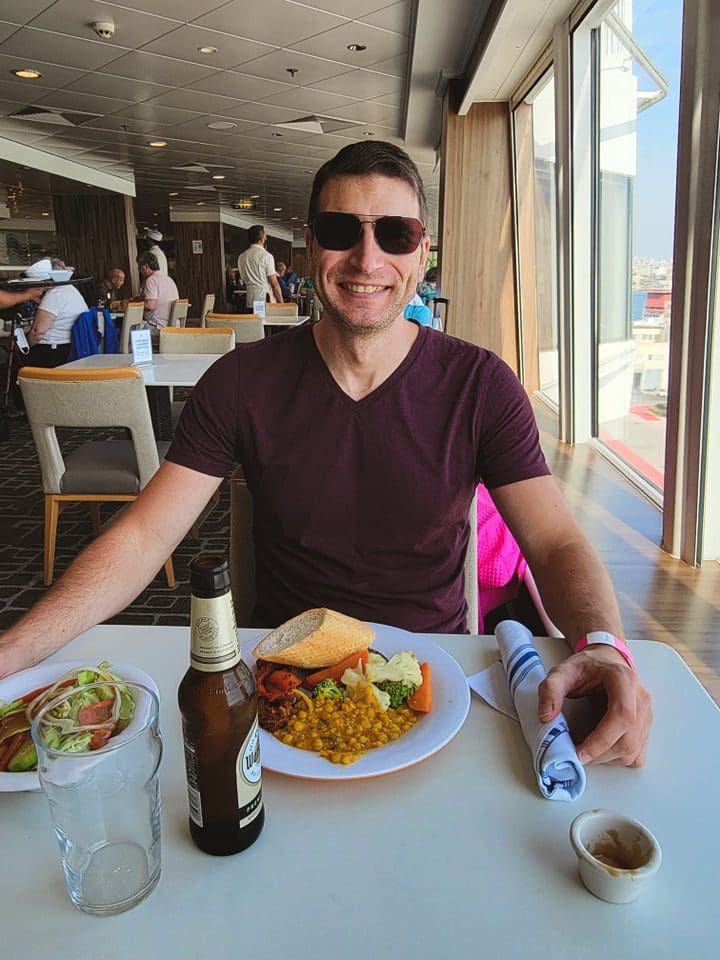 Unlike the old days before covid when you could help yourself to whatever you wanted, now you will be served food by the kitchen staff. Our first stop everyday was at the salad station, where you had pre-plated nice sized portions of three types of salad on one side and on the other you would find smaller portions of bean and fruit salads. Most of the time these were all plant based and so we were good to go. But keep an eye out on the labels because at certain points through the week they would throw in bacon bits or cheese on one of the three salads. We would grab a couple of bowls and to use up the wraps we brought on the ship, we would make a little salad wrap and add our sauces. Obviously if you haven't brought anything with you, then there is a salad dressing station with a variety of oils and balsamic vinegars. If you spot a salad with olives, even if you're not a fan, then we recommend trying it. We normally hate olives, but these were gorgeous, tasty and not salty like the ones we have tried in the past.
If you're looking for something warmer than a salad, then don't worry because NCL have you covered. Every day after we finished our salad, we were greeted by one of the chefs, who would walk around, and show us which dishes were vegan. This happened because on the first day we specifically asked if one of the curries had milk in it. The chef went to check and each day after that he had a list of everything that we could eat. Sadly, none of the labels provide any of this information, they literally just tell you what the dish is i.e., five bean chilli. But having someone point out everything available to us meant we could walk around and choose what we wanted to have, which was such a treat. Most days we had steamed vegetables, different flavoured curries, tomato sauce-based options, poppadom's and even sandwiches made with pretzel rolls. If you're a curry lover, then you are in for a treat!
Because we're huge fans of vegetables we were delighted to see so much available, even okra. All of the veggies were well cooked but not mushy, which was perfect for us.
The chef on occasion pointed out the soup (there were normally two options), but again just ask and make sure in case they use fish or animal stock.
Dinner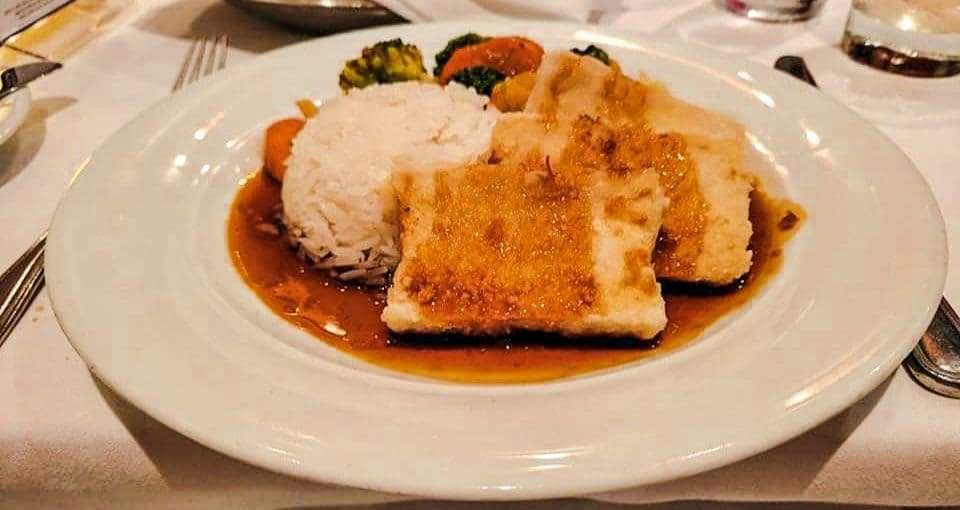 After you arrive on the ship and sort out your room and bags, head over to the main restaurant to inform them of your food preferences. Either they will take the information, or they will tell you where to go. We had to go to the Jasmine restaurant where a kind member of staff took down our room number and logged in the details.
That night we were given the menu and told what could be converted into vegan. We had a couple of options on both starters and mains, but for dessert it was always a fruit plate.
There are specific bread rolls you can have which are vegan, if you ask the server to check, but we had white crusty ones. Obviously, you wouldn't use the butter on the table, but a member of staff can get some olive oil and balsamic for you. We tended to just eat the bread and we really enjoyed it.
For starters we had a few options through the week, including spring rolls, minestrone soup and we loved the bruschetta topped with tomato.
Mains again changed most days which added to the enjoyment. We had a beautifully pesto pasta, spicy stir-fry's, crispy tofu and veggies, and even bean burritos.  Every meal tasted incredible, and we left the restaurant so full we chose not to bother with dessert which again was simply a fruit plate. Admittedly we're not big fruit fans, so after the first night we were more than happy to leave it at starters and main.
During the meal a waitress would come over to us with the menu for the following day and we'd decide on what we wanted. It gave the chefs time to prepare it for us and we were excited for the meal the next day.
Regarding wine and drinks you would need to ask the staff to look at the labels, but if you have roaming data available on your phone then check on Barnivore. This is a site that lists which alcoholic drinks are vegan, including beers, wines, and spirits.
Snacks and Evening Nibbles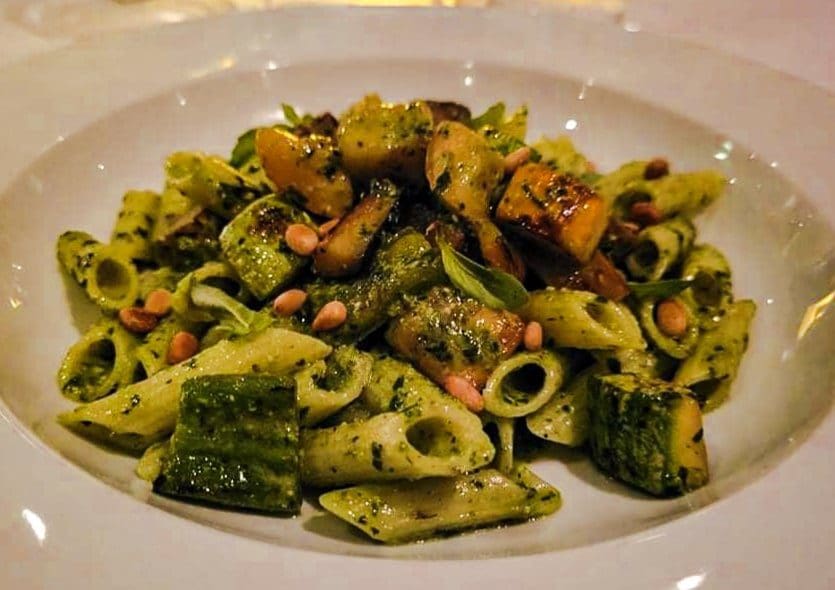 Once dinner had settled a bit we would normally head back for seconds; we are on holiday after all. We would either go to O'Sheehan's but they only really had fries, or back to the garden café. There was plenty of curry, chilli, stir-fry, and veggies available for those of you after a little snack and of course the pretzel bread if you want to make your own sandwich.
Speciality Restaurants
The likelihood is you're not going to head to the Brazilian and French restaurant, or even the steakhouse; we didn't even attempt it. But we did enjoy a meal at the teppanyaki, which can be adapted to suit your preferences, because it is predominantly vegetables anyway.
We didn't go to the Italian restaurant or Jasmine Garden, but we have been told that dishes can be modified to vegan if you tell them when booking. That we could see there were no options for Vegans at the sushi bar and we couldn't find any cakes or desserts apart from fruit to suit our diet.
At Topsiders Bar and Grill which is on the pool deck, you only really had items such as fries and salads. In general, it was a burger bar and sadly no one is offering the Beyond Burger quite yet; fingers crossed for the future.
So What Did We Think?
Overall, we found that the staff and chefs had a good idea of what vegan and plant based is. We have been to restaurants before and offered fish and butter, but everyone on the ship was pretty clued up, which made life a million times easier.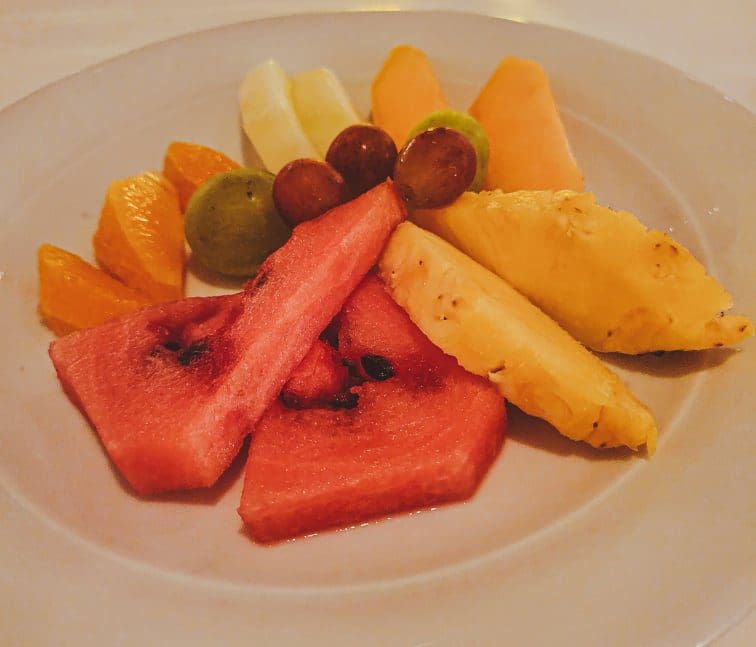 Yes, you will need to prep a little, but most of us are used to that by now, especially if you have food intolerances. So, take any sauces you prefer with you such as salad dressings and if you like spicy then we always recommend siracha. We just put them in a zip lock bag in our suitcase and we've never had any problems. Just make sure that they are brand new sealed containers.
Because there was so much on offer, we hardly ate any of the snacks we brought, but again if you're like us and you love to eat then take some of your favourites with you.
You will find that every day brings a new menu and new food options, which can be difficult if you have a restricted diet. Normally that creates fear in us, but we found it quite refreshing during this trip and we'd definitely cruise with Norwegian Cruise Line (NCL) again.
The key is ensuring you have spoken to the ships dietary specialist when you arrive and getting to know the chefs in the buffet restaurant. If you've done that then you're sorted and can relax and enjoy the many many incredible experiences, you will have on the ship and when you port.
If you have booked your trip, then we hope you have the best time ever. If it's anything like our experience, then we know you will! If you need any help with planning then head to our guide to Athens.