With beautiful lush green mountains and golden sandy beaches which go on for miles, the island of Oahu, Hawaii is a travellers paradise. It is perfect for every kind of holiday maker, whether you're looking to relax and unwind, head out to see the sights, or burn off some energy. Of course, Hawaii in general has been at the top of our bucket list for years and at last we can officially check it off. We had the most wonderful time on our trip which lasted seven nights and we're eager to help you with our little guide to visiting Oahu Hawaii.
Flights to Oahu, Hawaii

When it comes to booking flights we tend to use companies like Sky Scanner, who pull information from a number of airlines to get the best price for you. We didn't head to Hawaii directly, but instead did a few stops including San Francisco, Boston and Chicago. This worked out flight wise to be a cheaper route for us, so it may be worth considering additional destinations when you look up flights.
Top Tip: We tend to find flights are at their lowest rates if you book them 6-7 months in advance.
Where to Stay in Oahu
Choosing hotels or accommodation is always difficult when you've never been to a place before. We always tend to stay around the touristy places on our first visit, just so we can get the lay of the land. If you go back, then you will have a better idea of what suits you and your holiday plans.
Probably the most popular tourist destination in Oahu is Waikiki, which is on the south side of the island. You'll have seen images of Waikiki on shows such as Hawaii Five-0 and movies like 50 First Dates. So, we decided if it's good enough for Adam Sandler then it's good enough for us.
We booked the Hyatt Centric Waikiki Beach, which was the perfect location as it was a 10-minute walk to the beach and even closer to a multitude of shops and restaurants. Waikiki has everything you could ever need including a number of restaurant chains and convenience stores. Near to our hotel was a Japanese food court, which is perfect for those of you who love ramen or onigiri. There is a strong Japanese influence in Hawaii, due to the large number of tourists heading in from Japan.
One thing you need to be aware of when you are booking your hotel, is the resort tax in Oahu. At the time of writing this the tax was just over 10% of the cost of your accommodation. So, you will need to factor in this additional cost when you're working out a budget for your trip.
Transport/Car Hire in Oahu
When we planned our trip, we did a lot of research into the attractions we wanted to see and how easy it is to get to them. One thing you need to be aware of is that most of the top attractions are all spaced apart from each other. It isn't like a city break where you can walk between attractions or jump on a metro system. The island as a whole takes just over an hour to drive across, so we decide the best option for us was to hire a car.
There are tours such as the Oahu Grand Circle Island Tour, which will take you around the main sightseeing spots of the island. But that would be all in one day and we didn't want to restrict ourselves to a set time. You also have the option of the hop on hop off bus system, otherwise known as the Waikiki Trolley. This only covers the Honolulu area, while although there are some major tourist spots, you will miss out on so much over the other areas of the island. If you're comfortable driving, then we would strongly recommend hiring a car and enjoying all of Oahu.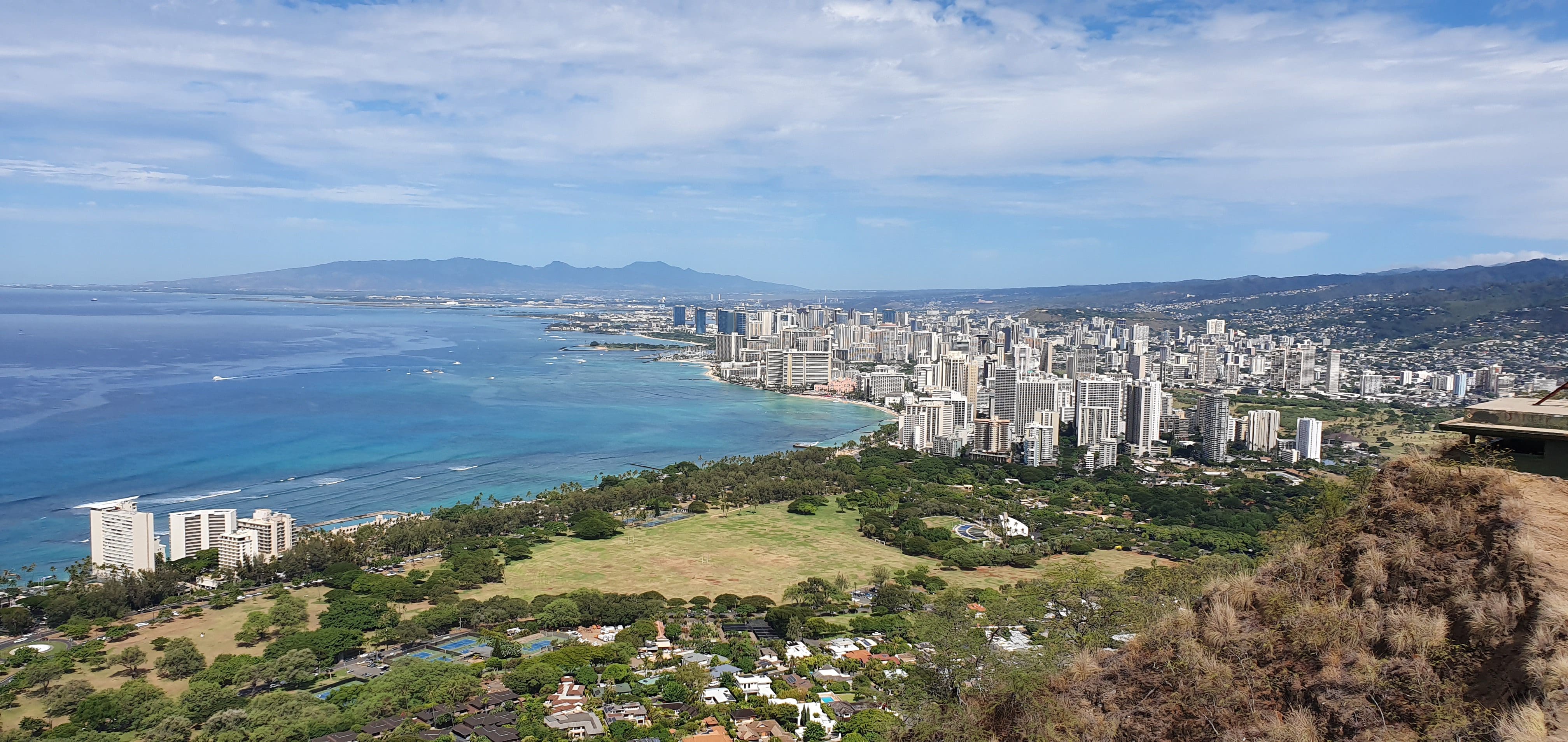 As with the flights, we booked our car hire through Sky Scanner and found a parking garage nearby which didn't charge a ridiculous price. It is worth doing some research on parking prices and not just accepting the cost of your hotel parking. In total we paid $80 parking for the entire week, when our hotel was $45 for just one night. Picking the car up from the airport was incredibly simple and it was even easier dropping it off. Though the signs could have been a little clearer for the drop off at the airport.
If you choose not to hire a car then there are plenty of airport shuttles available and some even welcome you with a flower lei; you can't get more Hawaiian than that.
Top Tip: Book your hire car with free cancellation at a price your happy with, then re-check the price regularly to see if there is a drop, if so re-book your car at the cheaper price.
What to Pack for Oahu
As you can imagine Oahu is pretty much a t-shirt and shorts kind of place. With that cool Hawaiian vibe, you can't help but don the iconic Hawaiian shirts, or for the ladies out there a gorgeous floral dress. All of that is completely fine, but it is worth taking something for those days when things are a little cooler. We went towards the end of September and found that there was quite a bit of rain throughout the day. It was only in small pockets, but if you're out and about you will need to be prepared. It can also get a little cool at night, so we'd recommend a thin jacket to keep yourself warm so you can enjoy the Hawaiian sunsets.
If you're anything like us and you're planning on a lot of sightseeing, then comfy shoes are a must! There are numerous hiking trails on Oahu, so why not lace up those trainers and check out the stunning views.
Other than that, it's pretty much everything you'd pack for a beach holiday. But if you have forgotten something, then we're sure you'll be able to buy it on the island as they have numerous stores including a Don Quijote (Japan fans out there will know what that is).
Our List of Attractions and Things to do in Oahu
Within our guide to visiting Oahu Hawaii we are giving you a comprehensive list of all the attractions we personally visited, but also a few we'll be checking out on our next visit. This means we've done all the research for you! All you have to do is read through our list and decide which places you fancy visiting.
We do recommend checking out open and closing times, and having some sort of itinerary. Also getting to some attractions earlier in the morning can be beneficial. For example, the Byodo In Temple only has a small car park and isn't a particularly huge place, so it fills up with people really quickly which can ruin that tranquil experience.
Here's the list of the attractions and places we visited in our seven days on the island.
Pearl Harbour and USS Arizona Memorial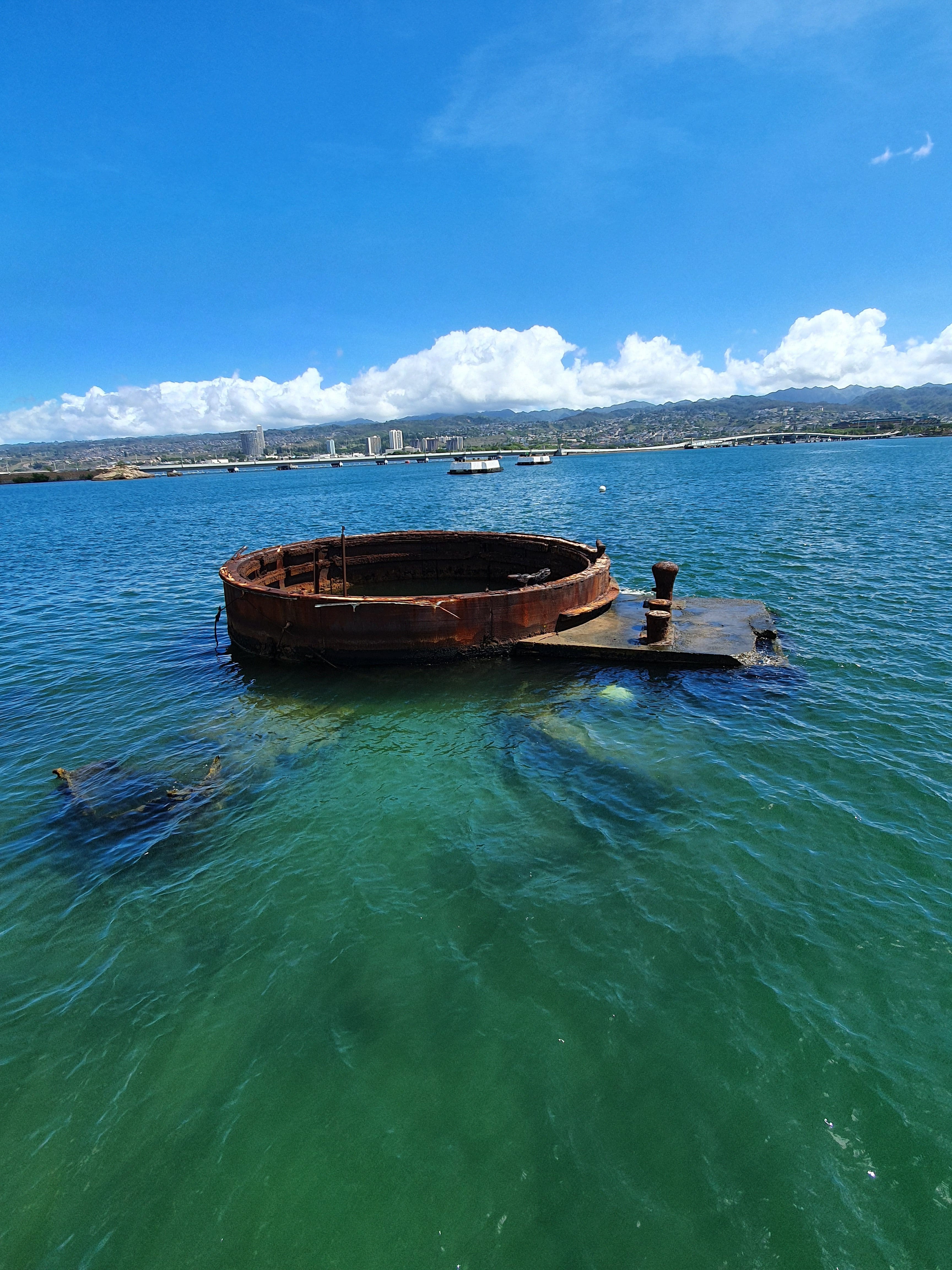 Probably one of the most popular destinations when you visit Oahu, but also one of the more emotional ones is the Pearl Harbour Memorial. The museum is on the site where the attack on Pearl Harbour occurred on December 7, 1941 and thousands of people visit to pay respect to those who lost their lives and remember the sacrifices given by soldiers and the military.
The memorial has a number of different things to see including the USS Arizona Memorial, Battleship Missouri, Bowfin Submarine and the Pacific Aviation Museum. When you arrive at the museum you will see two kiosks in front of you, one is for the USS Arizona Memorial and the other is for the rest of the museum. Our recommendation is to get to Pearl Harbour early and to head to the USS Arizona kiosk first. This part of the memorial is free, but tickets are limited each day and you are given a set time to attend the USS Arizona monument. There is plenty of information around the site about what happened on the day of the attack and the area Pearl Harbour is based in. When you reach your ticketed time, you will head into an auditorium and watch a film about the attacks and the memorial you are about to visit. USS Arizona was one of the vessels hit and sank during the attack and many people lost their lives, so it is quite a sobering and upsetting film to watch. After that you will head on a boat to the actual memorial. The image of the rusted wreckage will stay with us forever, but we felt it was a beautiful tribute to those who lost their lives.
Once you have seen the USS Arizona you then need to make the decision about what other parts of the museum you want to visit. This is when you will head to the other kiosk to check out the prices. There are a number of packages depending on what you want to see, but we chose just to visit the USS Missouri which is a huge battleship. You should be warned in advance that Pearl Harbour can take an entire day, if you want to do all of the different museums. But if you're short of time then we can recommend the USS Missouri, as it gives an in-depth look at life on the ship. We had read that the aviation museum was incredible and has windows in the building that still have the bullet holes from the attack. Both the USS Missouri and the aviation museum are accessed by a bus, whereas the Bowfin Submarine is on site at the main entrance to the memorial. We can say that Pearl Harbour is a must if you're visiting Oahu and it is accessible through most public transport routes and on the Waikiki Trolley.
Duke Paoa Kahanamoku Statue and Waikiki Beach
If you ask anyone what they think of when they think about Hawaii, probably 90% will respond with Waikiki beach. The iconic golden sand is the perfect place to top up that tan, or even learn to surf. There are plenty of surf shops and rental places along the beach, but if you're a little nervous about trying it yourself then you can sit back and watch the experts. Most hotels within the Honolulu area offer their patrons free beach chair and towel rental. Ours even offered parasols and suntan lotion, all we had to do was sign them out and return any items at the end of the day.
Waikiki beach is lined with hotels and restaurants, so it's the perfect spot to grab a mai tai and watch the sunset. Duke's Waikiki was our favourite place to go to, because the food and drink was reasonably priced and tasted out of this world.
Another famous landmark in Oahu can be found as you walk along Waikiki beach and that is the Duke Paoa Kahanamoku Statue. Duke Paoa Kahanamoku is called the father of modern surfing because he was instrumental in sharing his love of surfing around the world. His bronze statue has Duke welcoming you with open arms and on most days you will see leis on his hands and feet. It's a pretty quick tourist spot to check out, but definitely one that is worth doing.
Kualoa Ranch
Found on the eastern side of the island, Kualoa Ranch is the ideal place for those of you looking for an adrenaline rush. The ranch is a 4,000-acre private nature reserve and it covers a variety of terrain from steep mountains to dense rainforest and even the coastline of Kanehoe Bay.
When you arrive at Kualoa Ranch it looks a lot like summer camp, with people either rushing to their tour or waiting. There's a pretty awesome shop and restaurant, which serves a great range of food.
Tours at the ranch include UTV 4 Wheel Drive Tours, Kualoa Kayak Adventure Tour, ATV Tours, Horseback Rides, Jungle Expedition Tours, Secret Island Beach Activities, Taste of Kualoa Farm Trolley Tour and our personal favourite the Hollywood Movie site tour.
Lots of movies and TV shows have been filmed on the land surrounding the ranch, including Lost, Hawaii Five-0, Jurassic Park and Kong Skull Island. They recommend you pre-book your tour because they sell out pretty quickly, especially the movie tour which is the most popular. We're not going to give anything away here, but make sure you have your camera ready, because you'll see movie sets and items from your favourite shows. Even the scenery is worth a snapshot or two! Prices can seem a little expensive, but we personally found that the tour was worth what we'd paid.
Byodo In Temple – Valley of Temples Memorial Park

Although it isn't necessarily something you'd expect to see in Hawaii, Byodo In Temple is an incredible sight to behold. Having been to Japan 6 months before our visit to Oahu we were intrigued as to what to expect.
Byodo In Temple is at the foot of the Ko'olau Mountains in Valley of the Temples Memorial Park and is a non-practicing Buddhist temple. As you drive through the cemetery to reach the temple, you can't help but notice the beautiful scenery surrounding you. The temple itself is simply stunning and houses a large Buddha in the centre. As with many temples you are required to remove your shoes, but it is the perfect place to take a moment and appreciate all that is around you.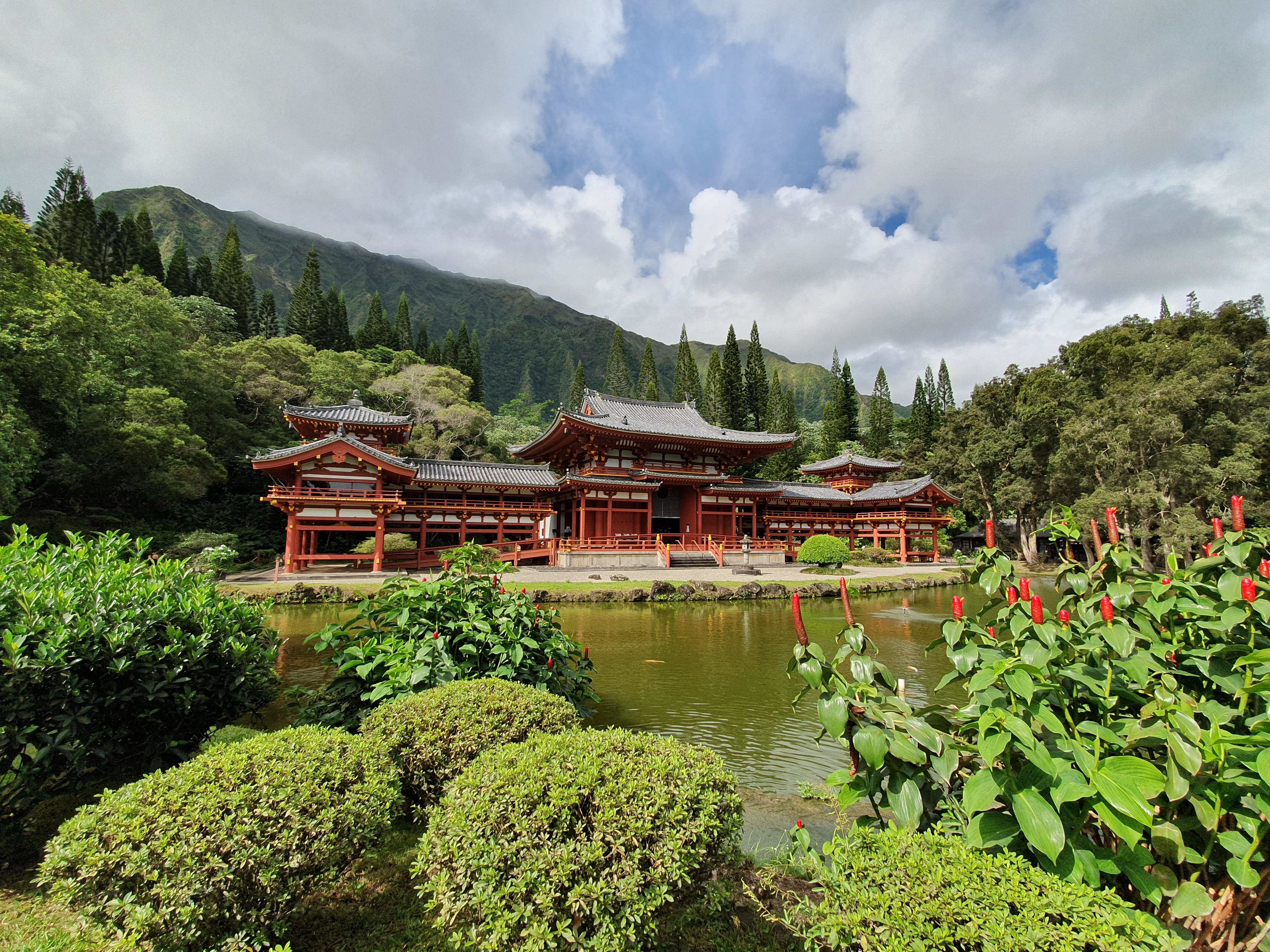 Sadly, there is a cost to entering the temple, but once you see the stunning building and grounds you won't mind. This includes a koi carp pond and even wild peacocks wandering around, plus a small shop selling oriental items.
If you're staying in Honolulu then it can be quite difficult to get to Byodo In Temple, if you don't have a car. It is included in the Oahu Grand Circle Island Tour, so that may be the easiest option to see the highlights of the island.
Dole Plantation
We have to admit we were incredibly excited about visiting the Dole Plantation. We're huge fans of dole whips at Disney World and this is like the motherland of dole whips. Again, based more towards the north of the island, the dole plantation began in 1950 originally as a fruit stand. Don't worry though because it's a little more than that now, because you have a pineapple garden maze, plantation garden tour and pineapple express train tour.
We chose to do the train and garden tour, which is the perfect way to learn about the plantation and the fruits and vegetables grown there. As you can imagine there is plenty of pineapple plants dotted around, but when you add in the idyllic scenery this really is a great touristy thing to do.
Before you head off though you have to grab a dole ice cream and check out the huge shop, which offer an array of pineapple products.
Iolani Palace and King Kamehameha Statue
Any Hawaii Five-0 fan will instantly recognise the King Kamehameha Statue from the beginning credits of the show. It's one of the reasons tourists flock there to get a picture with the iconic statue. What they probably don't know is that King Kamehameha was the monarch who founded the kingdom of Hawaii, so he is an important part of the countries history. Again, he is normally adorned in flower leis, as a sign of respect from his people. The statue is within Honolulu so is pretty easy to get to if you're using public transport or the Waikiki Trolley.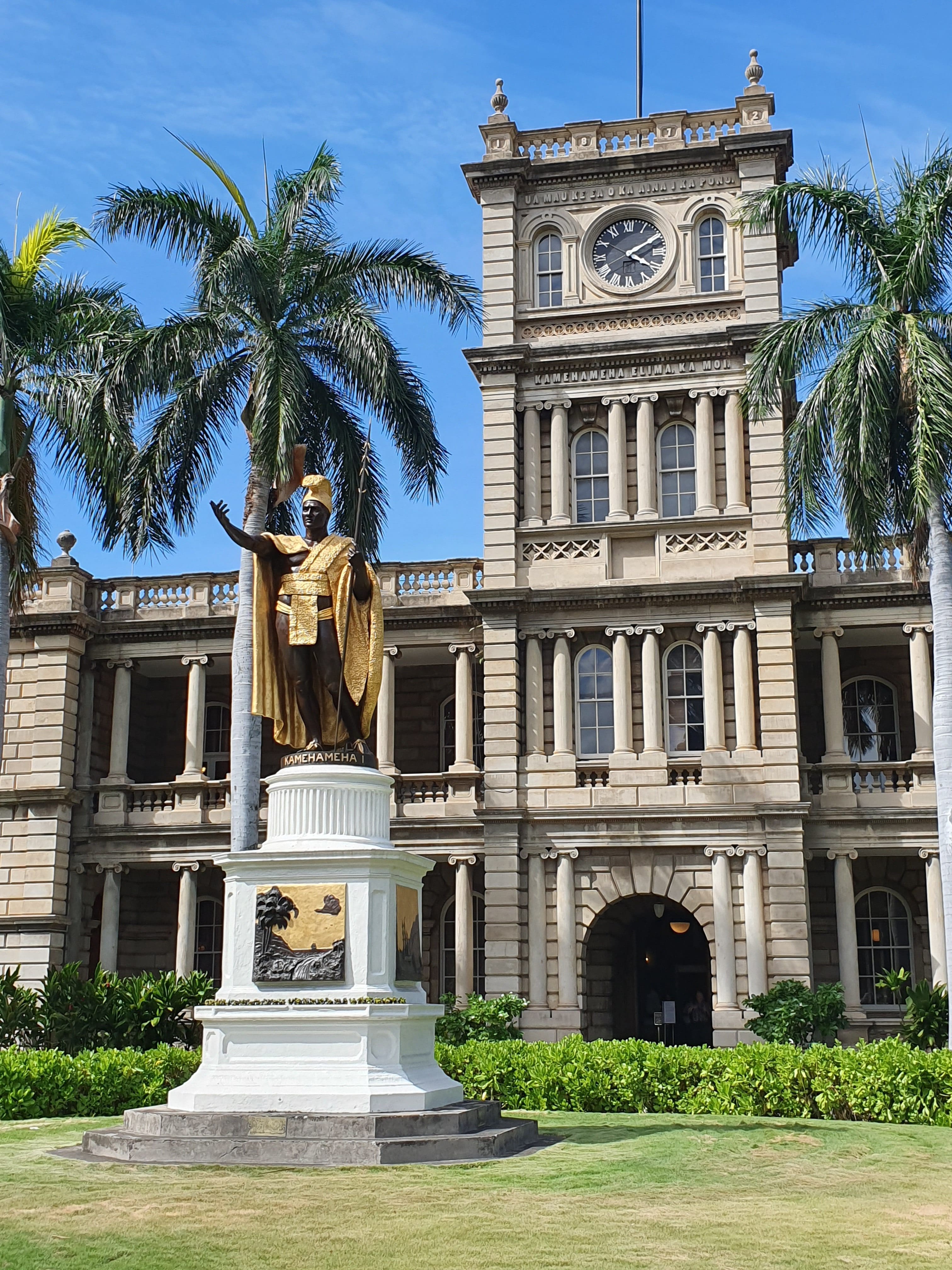 Literally across the road from the statue is the Iolani Palace, which was the home of the rulers of the kingdom of Hawaii until 1893. The palace has a number of rooms you can visit, both upstairs and downstairs. You can buy a ticket from the shop which is on the left-hand side of the palace. Before you enter you will be given shoe covers to preserve the floors in the palace and audio tour headphones so you can walk around at your own pace.
Diamond Head Hike
For anyone visiting or staying in Waikiki, you'll see this next tourist spot in the background of most of your pictures. Diamond Head is a crater which was formed 300,000 years ago during an eruption. The actual monument covers 475 acres and includes the entire crater.
Have you ever fancied climbing up to a volcanoes crater? If yes then this is the perfect opportunity, because the views from the top are incredible. We have to admit we found this hike a little taxing. We're not the fittest, but also, we do a lot of walking when we travel so thought it wouldn't be too strenuous for us. The actual hike is about 0.8 miles and most of it is walking on natural paths which wind up. There are two points where steps take you to the next level and there's a long tunnel (not great if you're claustrophobic). Although the hike was a challenge, the pride when we reached the top was exhilarating. Make sure you take plenty of water, because there isn't much breeze as you climb to cool you down.
We'd also recommend hitting the hike early, because car parking spaces fill up fast. There is a public car park a little further down which we used for free. The car park in Diamond Head does come with a charge, but it's a shorter distance on the way back. Again, most public transport and the Wakiki Trolley stop at the base of the crater and there's a dole whip stand with ice cream and pineapple drinks; the perfect way to rehydrate from your hike.
Chinaman's Hat
A really quick sightseeing spot is the Chinaman's Hat or as it's known locally Mokolii. It really is a sight to behold as you drive up the coastline, but it can also be viewed from the Kualoa Ranch. So again, remember to have your camera out and keep a look out for it.
In Hawaiian mythology the Mokolii or 'little lizard', is the remains of a lizards tail which was cut off and thrown into the ocean by the goddess Hi'iaka. Although it's known as Chinaman's Hat because it looks like the Asian conical hat we associate with China.
Manoa Falls Trail
Manoa falls trail was the first hike we attempted in Oahu and to be completely honest it was our favourite. We unfortunately chose the wettest day of our trip to hike, so it made it a little slippy and muddy, but to be honest it only added to the thrill. The trail is longer than Diamond Head at about 1.6 miles and it didn't feel as difficult because it wasn't as steep, it was also shaded by foliage from the trees.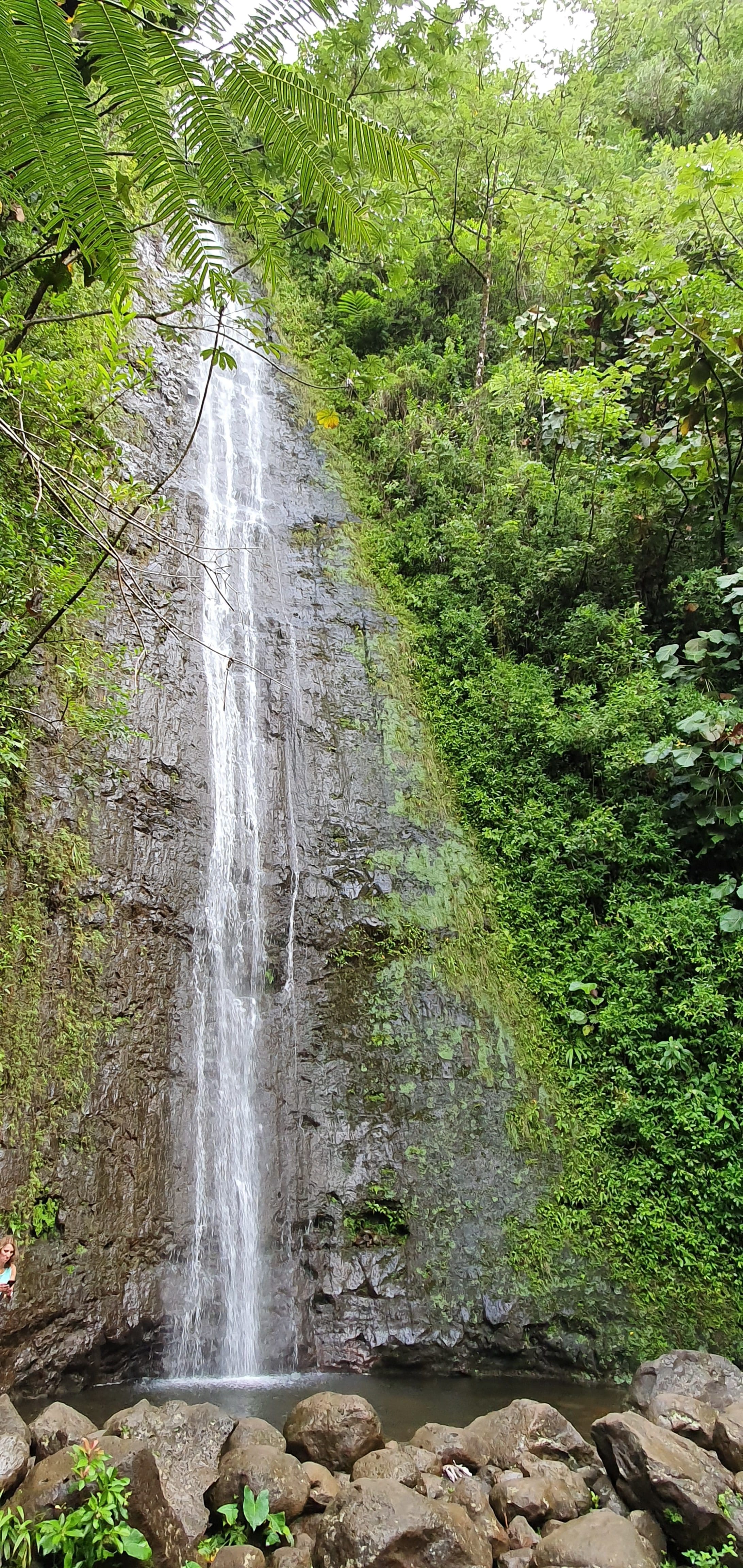 Not only is your hike up absolutely stunning, with so many picture moments along the way. But you end the trail at a stunning waterfall which will simply take your breath away. Sadly, this spot can become busy, so again it may be wise to get there early so you can really take it all in. There is parking at the bottom of the trail and you pay in the little shop which is next to it. The shop has lots of drinks and snack for you to stock up for your hike.
Halona Blowhole
Another quick pitstop along the coastal highway is the Halona Blowhole, which is a formation in the rocks at Halona point. We had to visit this site twice to really see it in action, so make sure the tide is high and there's a bit of a breeze before you go.
There is parking available at the spot of the blowhole and everyone has an amazing view. You will see that when the waves hit the rock formation, the pressure will blast some of the sea spray through a hole, almost as if it's a geyser. It's pretty fun to watch and not exactly something you get to see every day, so definitely worth a visit.
Ho'omaluhia Botanical Garden
Ho'omaluhia Botanical Garden is pretty much what you would expect, it's a huge 400 acre garden filled with beautiful plants and wild life. We only spent a short time here and didn't get to see it all, because it is huge!
The park is split into sections with specific botanicals from a certain region, for example there is Africa, India and Malaysia. There is no charge for parking or entering the park, but it is a little off the beaten track. If you're not in a car then it may be difficult to get to. We did enjoy it, but we wouldn't put it at the top of our list of things to do in Oahu.
Atlantis Submarines – Waikiki Beach

Before we left for Oahu, we had seen reviews for Atlantis Submarines and thought it would be an incredible experience. Because there was so much we wanted to do, we decided not to pre book and just turn up on the day if we had time. Obviously, it's always better to book in advance but thankfully they could fit us on the submarine. The booking hut is close to the Hilton Hawaiian Village in Waikiki and it's here you will board a boat which takes you to the submarine.
This attraction can seem a little pricey, especially if you're heading to Hawaii with family in toe. But experiences such as this will always be at a cost and they are memories that will last a lifetime.
Once you are on the submarine, it will sink to around 100 feet below the surface and then manoeuvre its away around artificially built reefs. The submarine has glass windows on either side so you can see the marine life, which tend to gather around the reefs. The tour guide explains the types of fish and other marine life you will see as you swim along. We saw quite a few sea turtles and sharks, but we know that other reviewers of the submarine experience have seen very little; it's all potluck really.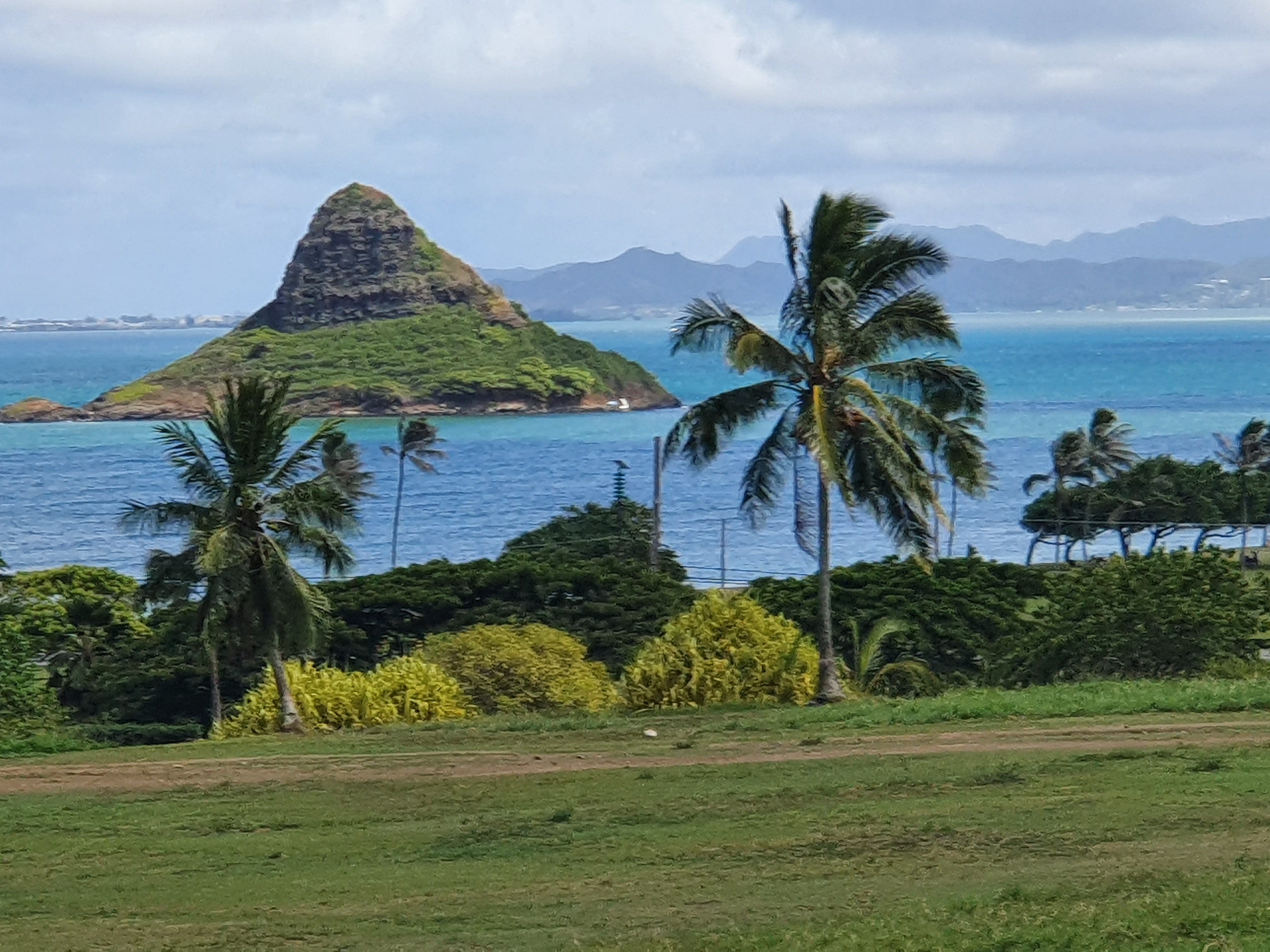 This may not be for you if you're seasick, purely because the boat getting to the submarine can be a little bumpy. Also we were warned that it could feel claustrophobic on the submarine, but we felt completely fine and you're too busy staring out of the window anyway.
Hanauma Bay
Hanauma Bay is a marine life conservation area and is formed within a volcanic cone, making it a snorkellers dream. Unlike all of the other beaches on the island, this one does come with an entrance fee and that is purely down to demand and sometimes misuse of the beach. There is also a cost for parking, but when you arrive and take that first look at the stunning beach and crystal blue water you won't mind. Hanauma Bay is one of the top tourist spots on the island, so as you can imagine it gets busy fast. To be completely honest there are plenty of beaches around the island which are equally as beautiful, but without the cost.
Spitting Caves
This is pretty similar to the Halona Blowhole, in that the force of the waves makes it seem like the rocks are spitting out water. Even though the location is pretty secluded and the walk down to it is steep and a little treacherous, it was still one of our favourite places to visit. The waves were at full force and made for a beautiful geyser affect. The views are stunning, and you can get some beautiful pictures whilst you're there. Plus, if you're really lucky then you will witness the insanity of the local cliff jumpers, who leap from the cliff face into the ocean below; something that's not for the faint hearted.
Oahu Beaches
A trip to Oahu or Hawaii wouldn't be complete without heading to the beach for the day. The problem is there are so many of them and most tourists all tend to head to Waikiki or Hanauma Bay. If you're driving, then we recommend going north and hitting the beaches on the north shore. One of our favourites was Lanikai beach, otherwise known as turtle beach. There's not really any parking, changing rooms or public conveniences, but imagine swimming or sitting on the beach sunbathing as turtles relax next to you. It is truly a sight to behold and one we will never forget.
If your hotel provides beach chairs and parasols, then pack the car up and head off to find a little bit of solitude in beautiful Hawaii.
Scenic Routes Along Oahu's Coastal Roads
This is really for those of you who have chosen to hire a car and drive around the island. You will notice as you head along the coastal roads that there are scenic points dotted around. They will have car parking spaces and normally they do not charge. We highly recommend stopping at a few and taking in the beautiful scenery, because Oahu is just stunning. If you're heading towards Hanauma Bay or Kualoa Ranch, then keep an eye out for the brown signs and if you have time just pop into a couple and keep that camera handy.
Things we didn't do in Oahu
As you can see there is so much to do in Oahu it's hard to fit it all in, so the best thing to do is read our guide and choose the things that you really fancy. There are a few bits we didn't do and it was purely because of time and cost. So, we thought we'd mention them and then you can decide if they're a must on your Oahu bucket list.
Hawaiian Luau
Yes, we know, it may seem crazy to you that we didn't do a luau when we were in Hawaii. Sadly because of food intolerances the cost of it simply wasn't worth it for us. Though we have been told that both Germaine's Luau and the one in the Polynesian Cultural Centre are considered the best.
The cost of the Luau tends to include your food and one alcoholic drink, plus the incredible entertainment of traditional Hawaiian dance. But there are a variety of packages available which should pretty much suit everyone.
If like us you're a little hesitant about the food but would like to see some Hawaiian performers, then there is a free show on Waikiki beach every Tuesday, Thursday and Saturday between 6.30 and 7.30. It's called the Kuhio Beach Hula show and displays amazing halau hula dancers, a torch lighting ceremony and traditional blowing of the conch shell.
Bishop Museum
The Bishop Museum holds the worlds largest collection of Polynesian artifacts and is the perfect place to slow down and take in a little culture. There are various special exhibits, as well as a natural history section.
Polynesian Cultural Centre
Sadly, this is one we would have liked to have done, but we just didn't have the time. The Polynesian Cultural Centre is the place to learn about all of the Polynesian islands and is described as a living museum. There are live shows depicting traditional dances and even exhibits and demonstrations. Looking at everything that is available within the centre, it will probably take you a day to really make the most of it. The Polynesian Cultural Centre also have special events, including an evening show and luau.
Honolulu zoo
Honolulu Zoo is between the slopes of Diamond Head and Waikiki, so if you're staying in the Waikiki area it is pretty easy to walk to. There is both an admission fee and parking fee, but neither seem too excessive. The zoo is huge and has an African savanna, primate and elephant habitat. There is a café and picnic area, so you can take time to relax and eat in the beautiful Hawaiian sunshine.
Food in Oahu
There is pretty much every type of restaurant you could imagine and probably more in Oahu. If you like chains such as Cheesecake Factory or Hard Rock, then head to Waikiki. There's even a Kona Brewing Company Restaurant on one of the main highways, which is perfect for the brewery fans. As we mentioned before there's a huge Japanese influence on the island, so expect incredible Asian restaurants.
But if you're after some local dishes then a luau is always a good choice. There you can try delicacies such as Kalua pork, haupia, poi, Hawaiian sweet bread, kulolo and laulau.
For the vegetarians and vegans out there, you haven't been left out. Most restaurants have plant-based options, for example the vegan cobb salad at the Cheesecake Factory. But Oahu have a number of vegan restaurants dotted over the island, who from personal experience offer incredible tasty dishes.
Of course, one of the most popular things to do in Hawaii is to head to the north shore and visit a food truck. There are quite a few scattered around, but we visited Giovanni's shrimp truck along the Kamehameha Highway. Be prepared to wait, because these guys get very busy and you could be there for at least half an hour. Hawaii Five-0 fans will be aware of the character Kamekona and his shrimp truck. Well that actual truck can also be found on the north shore of Oahu at Punaluu.
It's not all shrimp though, because there is pretty much a food truck for everything, including pizza, baked good and tacos. The Elephant Truck also on Kamehameha Highway sells Thai food, including some vegan Thai dishes.
Guide to Visiting Oahu Hawaii – Our Round Up
Hopefully our guide to visiting Oahu Hawaii has been the perfect starting point for planning your trip. With any luck we'll have the chance to visit again, so we can expand on this list and provide you with more detail; especially as it is one of the best places to swim with dolphins in the world. But there is still plenty for you to do and see, because Oahu is the perfect all-round destination. Make sure you leave some beach time free, there are some insanely beautiful beaches and there is nothing like swimming in the ocean with a sea turtle bobbing past you.
If we were to go back to Oahu, we would have no hesitation in renting an apartment or booking an Airbnb more rurally. This would give us the local vibe we tend to enjoy when we travel and it's easy to get around when you have a car. Also, you wouldn't have those pesky car park costs to pay.
We know you will have the best time when you visit Oahu, because it is such an incredible place with the most incredible people. Again, as we previously mentioned, have some sort of itinerary in mind if you plan on doing a lot of sightseeing. All that's left to say is mahalo for taking the time to read this and aloha!
*All pictures used in this guide were taken by and remain the property of Make a Bucket List.co.uk.