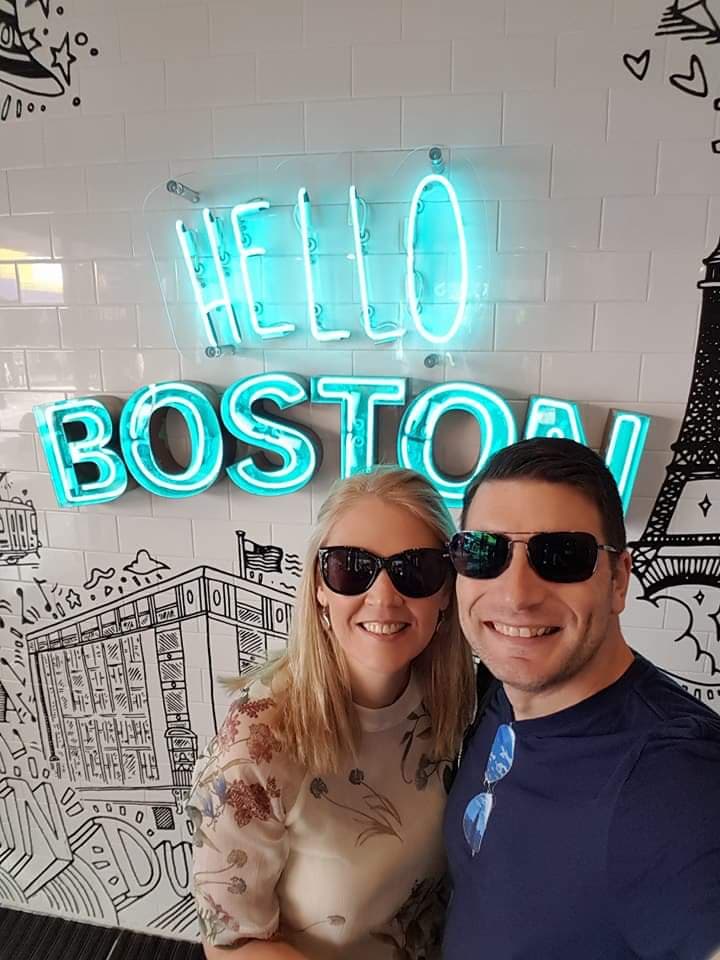 This charming city is often an afterthought for those regular travellers to America, which is a shame because Boston has everything the modern-day tourist could ever want. Great food – check, steeped in history – check, plenty of tourist attractions – check and warm and friendly locals – double check! So, whether you're planning your first trip to America or you're an old hand but considering somewhere new. Let us tell you why Boston should be at the top of your bucket list and the reasons we love it so much.
Boston Massachusetts Bucket List Advice
Having been to Boston and the state of Massachusetts a number of times, we feel we are pretty clued up on everything Beantown has to offer (a nickname for Boston). We have visited most of the attractions in the area, including the quirky ones that are generally only known by locals. On top of that we have even packed up a hire car and driven around Massachusetts, heading to little towns such as Plymouth and Falmouth, and catching the ferry over to Martha's Vineyard to spend a day with the affluent. So, it is safe to say that you are in great hands and once you've been to Boston, we're sure you'll be eager to go back.
How Long Should I Stay in Boston

The first decision to make is how long you will spend in Boston, which will then help you decide which attractions you have time for. Sadly, Boston can be an expensive place to visit, mainly because it is a city, but there are ways to reduce that cost which we will go into further down the guide.
To really see Boston on your first visit, we would recommend staying 5 nights which will give you 4 full days. Some of the attractions will require travel time and you may want to wander out to places like Salem or Lexington and Concord, which can take up a day. Of course, the longer you stay the more you can fit in, which isn't a problem because Boston has so much to see.
Where to stay in Boston
There will be two major factors in your decision on where you want to stay and that is money and the attractions you want to see. The closer you are to Boston Common the more you will pay for accommodation, but it's worth remembering that Boston is a great walking city. Places that look miles away on your map, will not feel as far away as you meander around the historic streets.
If you are really strapped for cash, then you can always stay in one of the outer neighbourhoods such as Fenway/Kenmore or South Boston. Commuting into the city centre is pretty easy, so it will depend on how important that lost time on the commute is to you. If you are planning on staying within the city then most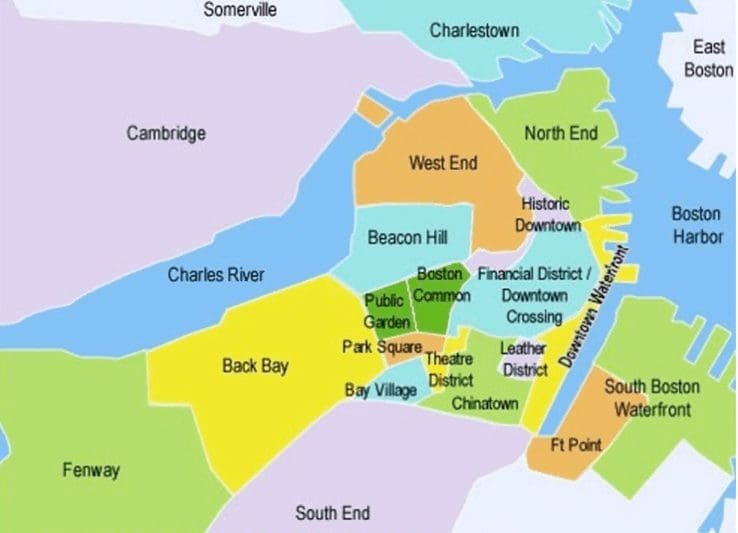 touristy spots tend to be around Boston Common, Beacon Hill and Historic Downtown. Any attractions around that are pretty easy to walk to and you can always grab the MBTA Subway. Where to stay is completely dependent on you and your budget. We have stayed in hotels in the Back Bay area and walked in every day, or in a hotel on the Common and even an apartment via Airbnb. Each had their own positives and negatives, though we always found it was far easier being located in the city, because Boston is a walking holiday and you will be tired at the end of the day.
When to go to Boston
We discovered the hard way that choosing the right time to go to Boston is essential and we're Brits who are used to rain and cold weather. We stayed in Boston for 4 nights at the end of March and boy was it cold. There were piles of snow on the sides of the road and pavements making it difficult to manoeuvre. Then add in the chilly breeze and you get two very frozen tourists, who ran back to their hotel room every couple of hours to warm up. Now everyone is different, and you may be made of hardier stuff than we are, but this is why we would always recommend the spring and autumn months as our favourite times to go. Boston in the fall is beautiful, especially as you wander around the parks and common. Summer months can get pretty hot, but more importantly it will get busy with other tourists. May and September generally give you the best of both worlds, with fewer people and great weather. If you're a fan of the cold, then you can always opt for the winter months but be aware that some of the attractions we're about to tell you about may not be open.
What to Pack for Boston
This one is completely dependent on what you want to do when you are there and the time of year you are visiting. The colder months you definitely need warm layers to keep away the chills. But we've been to Boston in September and walked around in jeans and a t-shirt, so researching the temperature is our first tip. Of course, comfy shoes are a given, because city breaks are all about walking and you have plenty to see, so make sure your feet can take it. After that it's pretty much what you'd normally take, obviously if you're travelling from abroad make sure you have plug adaptors, but there are plenty of shops to grab bits if you have forgotten anything. We ended up buying a bath towel for the apartment we stayed in and because it was so lovely, we brought it home.
Transport and Travel Options in Boston
As we have already mentioned Boston is the ultimate walking city because most things are pretty accessible on foot. But if the thought of blistered tootsies isn't for you, then there are other ways to get around, more specifically the MBTA Subway and Hop on, Hop off buses.
Subway
As you can see from the diagram, Boston's subway (known as the T) covers every inch of the city and expands to the outer neighbourhoods which house some popular tourist attractions. The various lines are colour coded to make it easier for you to establish which route you're going, i.e. if you were heading to Fenway Park it would be the green line to Riverside (because Riverside is the last stop). Subway stops are everywhere around the city, so if you don't want to walk then simply pop down the escalator and get yourself a 'CharlieCard 'or 'CharlieTicket'. They can be purchased from the vending machines in the subway stations and are only a few dollars for the day. You can of course buy one for a longer period, but we suggest heading over to the MBTA official site for further details.
Buses
The CharlieCard can also be used on the buses as it's a general travel card for the area. Bus routes cover the city but because it's city centre traffic it tends to be slow, so our recommendation would always be the subway if something is a distance away and you cannot walk.
Boston Hop On Hop Off Bus
There are a few companies within Boston that offer the option of hop on, hop off. Our personal preference has always been the 'Boston Old Town Trolley Tours', because they cover the majority of places you will want to visit when you're there. The simplicity of the process is what really attracts tourists to this option. Simply purchase a day ticket and you can either sit on the bus for the full circle and discover historic and interesting facts about Boston. Or you can get on and off whenever you reach a stop with an attraction you wish to visit.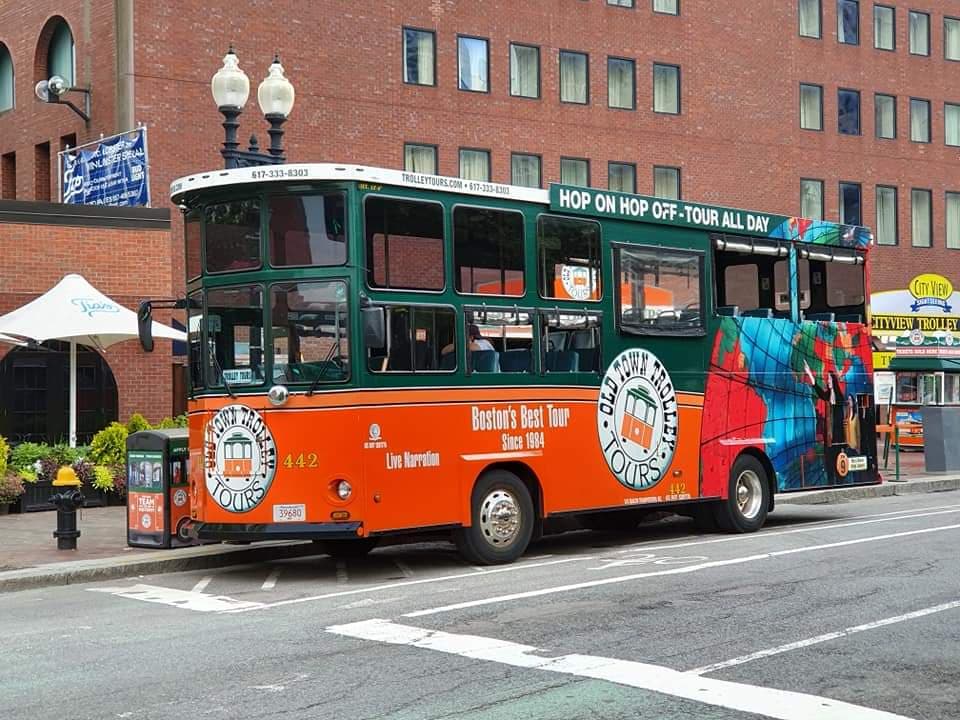 The beauty to this option is you're seeing the city as you drive around, but it can take a little longer than it would if you hopped on the subway. So, if you're in a rush to get things done that may be a consideration. The hop on, hop off buses are a good starting point for those of you who are new to Boston and don't really know what attractions you wish to see.
Taxis/Ubers/Lyfts
Of course these are available throughout the city and we have used them all on occasion. Personally, we prefer walking and using the subway, especially as our knowledge of the area has grown the more times we visited. We tend to grab an Uber from the airport which costs between $15 and $45 dollars, depending on the vehicle and time of day. You can of course use the subway which is the cheapest option, but not exactly the most relaxing for those of you who have had a long flight. The drive time from the airport to downtown Boston is about 15 minutes, depending on traffic. But again, within the city the roads can get busy, so we would recommend the subway over a taxi for general touristy days.
Cars/Car Hire
Probably one of the most expensive options in the city, mainly due to the cost of parking. On average you're looking at $25 dollars a day, so if you're driving in and staying in Boston then that's something you will need to consider. If you're hiring a car and heading out, then there are plenty of car hire places dotted about and you can simply pick up your car and go. We have hired a car for the day and driven to Lexington and Concord, and also driven down to Martha's Vineyard for a few nights. Both very easy to do and because we only had the car when we were travelling, we didn't have the extra cost of parking in Boston.
Boston Attraction Pass
Before we actually explore the top attractions to head to (and there are a lot!), we wanted to give you the best option for making the entrance prices a little bit cheaper. We use GoCity.com and their Go Boston pass which provides admission to some of the best attractions in the area. Simply head over to the site and make sure that there are places that you want to visit on their extensive attractions list. Then you need to decide how many days you want the pass for, they have a 1, 2, 3, 5- or 7-day pass option available. It's important to point out that the pass is for full days only, so if you start your pass at 2pm on the Monday it will finish on the Monday night and not at 2pm on the Tuesday.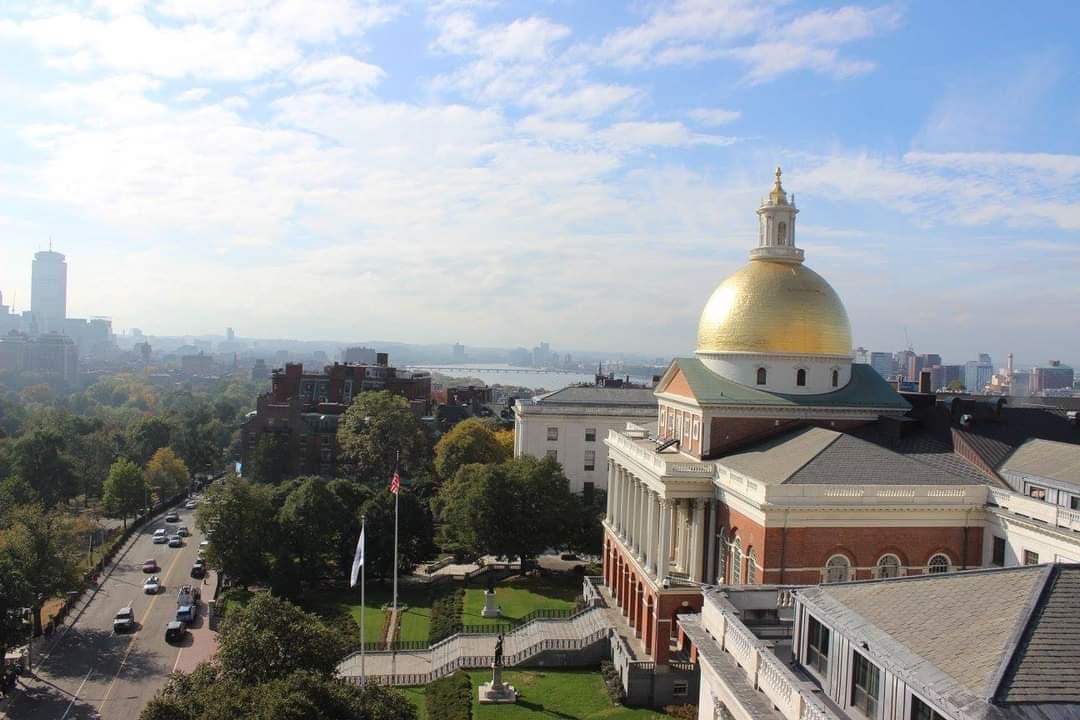 We tend to stay in Boston for four nights, so a three-day pass will cover the full three days that we are there. Once you purchase the pass then everything you need is on your mobile phone including your entrance tickets and maps, or you can print off the ticket and use a paper copy. You simply head to the attraction and scan the code you've been given, there is no additional costs to pay and the more places you visit the more worthwhile the pass. During our years of using the GoCity passes in a number of places worldwide, we have visited attractions we wouldn't even have considered if we were paying the full price for them. Some of these are now our favourite memories, so it's something to consider before you visit.
Our List of Attractions and Things to do in Boston
So, this is probably the most important part of this guide, because anyone new to a destination wants to know what amazing things you can do when you're there. We're not going to lie, there's so much available it's insane and yes, we've done most of them. So, we'll list the things we loved on our trips, then we will mention a few of the attractions that are available but sadly we haven't seen. Our advice is have a read through and pick out 10 you really want to do, then choose a spare ten if you have time (it will depend on the length of your visit). Because time is limited, you're going to want to focus on this list for your first and probably second visit to Boston.
But if you fancy something a little out of the mainstream, then we do have a list of 'Quirky Things to Do In Boston' which may entice you.
The Freedom Trail
Probably the most popular thing to do in Boston for those amongst you who are interested in the history of America. The trail is 2.5 miles long and it begins in the area of downtown Boston and ends in Charlestown, near the Bunker Hill Monument. It stops by sixteen important locations and you can easily find it because it is marked by a row of bricks (usually red bricks) which stand out from the path. When you reach a special monument or building you should see a marker in gold, which denotes the reason why that area is so special. Many of the points of interest we will detail below and add 'Freedom Trail' next to the name, just to make it that bit easier for you.
Boston Common and Public Gardens (Freedom Trail)
Boston Common is the oldest city park in the United States, now that alone doesn't make it an impressive place to see. But what does are the statues and structures dotted around the park and the public gardens. The common has a frog pond located at one end, which is ideal to relax by in the warmer months and which converts into ice skating rink in the winter. We've even witnessed the pumpkin float festival which happens every October and sees many locals place their carved jack-o-lanterns into the pond to create a stunning display.
The Public Gardens can be found just across the road from Boston Common and this is where you will find the Swan Boats and Make Way for the Ducklings Statue. Both areas are the perfect way to begin your Boston trip as they summarise the city perfectly, that beautiful combination of natural and cityscape. There are a number of subway stations around the area, so we found this the best place for accommodation.
Swan Boats of Boston (Freedom Trail)
The swan boats have been floating on the lagoon in the public gardens since the 1870's and their popularity has grown, making them a Boston landmark. Because the lagoon is drained during the winter months, this attraction is very seasonal, and we've sometimes visited, and it's been closed. So, if this is high on your bucket list then we recommend you check the sites calendar before you book flights and hotels. The boat itself is peddled by a driver, so all you have to do is sit and relax. It lasts for about 12 to 15 minutes and you can truly take in the beauty of the gardens and the cityscape around you. The swan boats look quite majestic on the water and they are the perfect addition to all of those pictures you'll take around the garden. This was one of our favourite memories on our first trip, because it was iconic Boston.
Make Way for the Ducklings Statue
This is the perfect addition to your trip and takes up relatively little time. We love a good photo opportunity, so this is the place to head after you've wandered around the lagoon or ridden the swan boats. Make Way for the Ducklings Statue consists of 9 ducks, Mrs Mallard and her eight ducklings, who have been there since 1987. These bronze statues are based on the children's book 'Make Way for Ducklings', written by Robert McCloskey which is about a pair of mallards who raise their family on an island in the Public Gardens lagoon.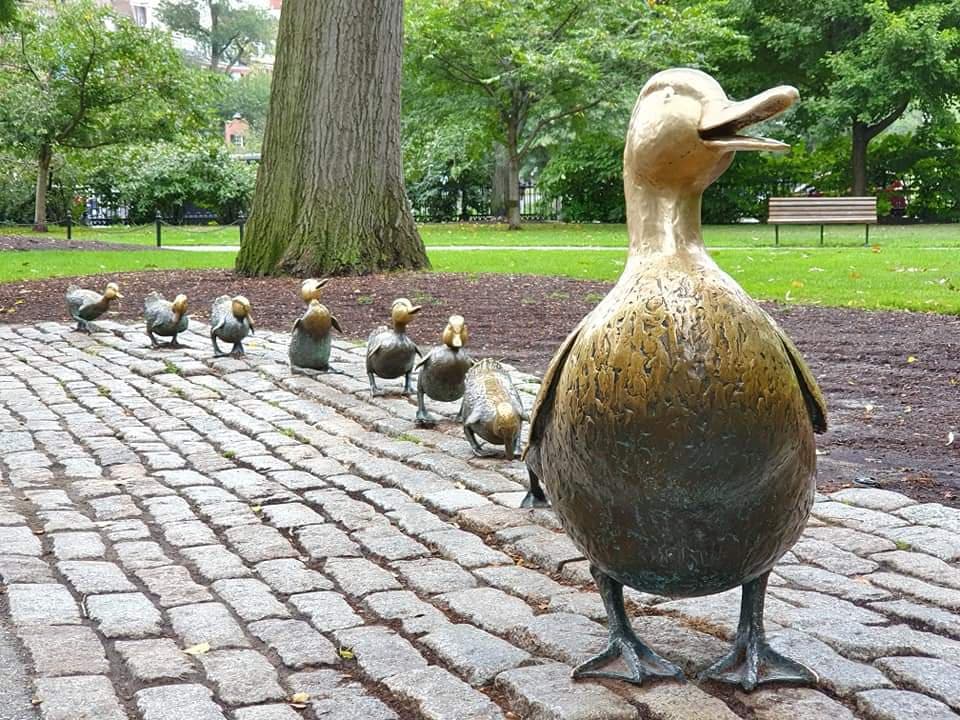 Alike the swan boats this statue has become an icon of Boston, so you'll find most of the tourist shops have copies of the book which you can buy.
New England Aquarium
We must admit that the aquarium isn't something we would have paid to visit, if it wasn't on the GoCity pass. But we're really pleased we did, because this is one of the more beautiful aquariums we have been to. Located by the wharf which isn't too far from Quincy Market, this is the ideal spot to visit when you or the kids have had enough history lessons. As you can imagine you will see the usual animals and fish, including penguins, turtles and sharks. But it's the Giant cylindrical Ocean Tank in the centre of the room which simulates a Caribbean coral reef, that will take your breath away. This vast tank houses thousands of species, and because of the way you walk around the aquarium you can easily see them from all angles. If you're lucky you may even see someone dive in there to clean the tank.
Faneuil Hall Marketplace and Quincy Market (Freedom Trail)
Although they are separate buildings and often people get confused, we have combined them in the same paragraph because they're right next to each other. Faneuil Hall is a marketplace and meeting hall, so you can pop in and browse locally made items and touristy bits. But it has also been the location of famous speeches made my Samuel Adams, James Otis and other Bostonians calling for independence from Great Britain. It is a stop on the freedom trail and a pretty impressive building to witness, so we definitely recommend you take a look.
Just behind Faneuil Hall is Quincy Market, which is the ideal stop for any foodies reading this. Quincy Market was built as an indoor market for vendors to sell food and supplies. Nowadays it's foodie heaven and home to the Cheers Bar, which is a replica of the tv programme Cheers. Wander through the market and you will find every type of dish imaginable, including chowder which is a Boston favourite and the Boston cream pie. If you prefer to take your time and eat, then you'll also find a number of restaurants dotted throughout the market and of course the usual tourist shops.
The Bull and Finch (The Original Cheers Bar)
Most people know the Bull and Finch as the Cheer Bar from the popular NBC show Cheers. This is because the exterior of the Bull and Finch was used in the show to add some authenticity; whilst the actual set was filmed elsewhere. So, for your first visit you may be a little shocked at the inside, because it's very different. Taking that aside it's still pretty cool getting a picture of yourself walking down those famous steps and by the iconic door. Inside you will find a raft of memorabilia and a pretty extensive food and drinks menu, all with characters names from the show. Norm even has his spot named with a plaque and there's a shop selling lots of Cheers goodies. Just a reminder that there are two Cheers Bars, so if you ask directions we recommend you ask for the Bull and Finch. The other Cheers Bar is the replica which is based in Quincy Market, but it's also worth a visit if you're a fan of the show.
Boston Red Sox Fenway Park Tour
As one of the most famous sporting locations in the world, Fenway Park is known to be Americas most beloved ballpark and home to the Red Sox. Although located a little out of the downtown area of Boston, you can still commute there relatively easily via subway or the hop on hop off buses. The area around the ballpark has been transformed into a baseball fans dream, with shops and restaurants all themed on the sport. Whether you're a baseball fan or not, we still highly recommend the Fenway Park tour, it covers much more than any other sports tour we've done and combines the history of the Red Sox and Fenway's effect on Boston. You need to book your ticket prior to the date, because there's only a limited number available and this is a popular attraction in Boston. The tours happen all year round, except on game days, so make sure you check out the site before booking. During the tour you can get your picture near the field, sit atop the famous Green Monster and take a walk through the press rooms. This will take up a couple of hours of your day as it's a guided tour, but we found it was worth every minute and even did it again the next time we visited Boston.
Boston Massacre Site (Freedom Trail)
Located outside the Old State House you'll find the site marker for the Boston Massacre. The marker signifies the area where five people were shot by Redcoat soldiers following growing tensions about taxation. This was a significant turning point in public opinion and led to the Boston Tea Party and revolution against the British crown. This won't take up too much time but is a definite place to stop as you wander along the freedom trail and take in the history that made America.
Samuel Adams Brewery Tour
We've done so many brewery tours we've lost count, but the Sam Adams tour will always stand out as one of our favourites. Prewarning, the brewery is a little out of the way and will require you taking the subway and walking a couple of blocks. If you're driving, then they have a car park but spaces are limited. Firstly, and most importantly there is no charge for the tour, although you can donate towards one of the breweries many charities. The Samuel Adams tour is about an hour long, with the first 30 minutes involving a guided tour around the facilities and an explanation about the brewing process. The other 30 minutes is spent in the tasting room which is styled like Oktoberfest, with long tables and benches. Beer is given to each table in a large jug and you simply pour in whatever you want to try in the small glass you are given, which you can keep. This is the perfect way to try freshly made Samuel Adams beer, so it's definitely worth that train journey.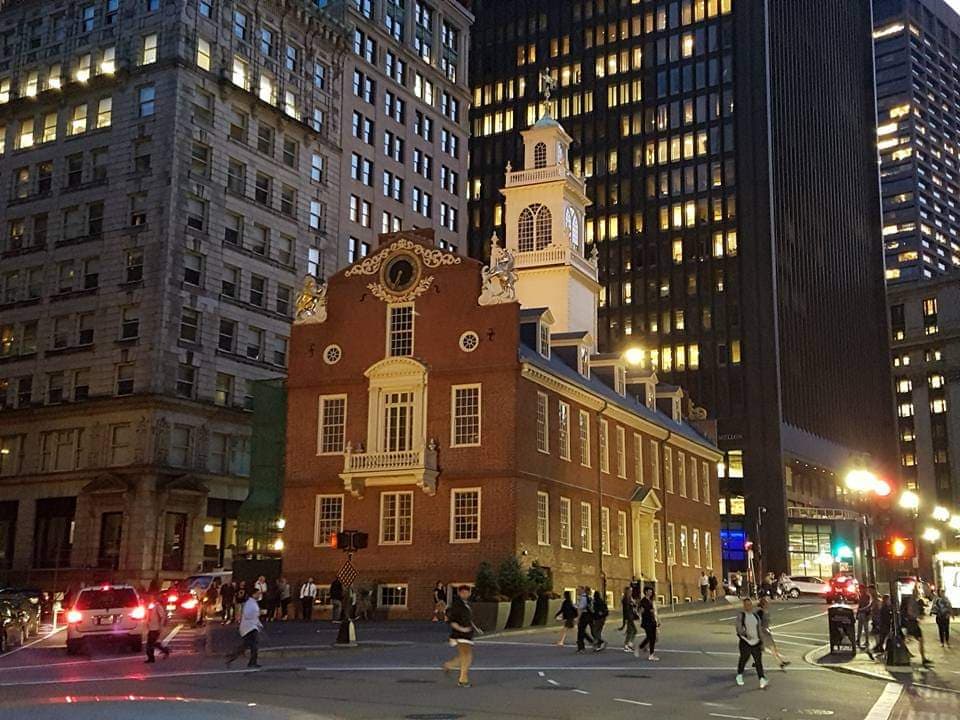 There is a small gift shop at the end to buy any extra beer for the journey home. We recommend checking out the website for dates and times, to make sure you can fit it into your trip.
Massachusetts State House (Freedom Trail)
The Massachusetts State House is the seat of government for the Commonwealth of Massachusetts. With its beautiful golden dome, the state house has become an emblem for the city of Boston and is a perfect picture for any visitors. You'll find it across the road from Boston Common and it is a pretty spectacular sight to behold.
Old State House Museum (Freedom Trail)
This museum offers a deluge of Boston history including the Tea Party, Boston massacre and revolution. The Declaration of Independence was even read from the balcony for mass crowds to hear and celebrate. At the front of the building, below the balcony, you will find a marker where the Boston massacre occurred. Inside there are some truly incredible revolution-era artifacts including John Hancock's red velvet coat and tea salvaged from the Boston Tea Party. For those of you who want to immerse yourselves in American history, then the Old State House Museum is a must.
Boston Duck Tour
If you're looking for the best of both worlds on your Boston trip, then the Boston Duck Tours is the perfect way to do it. Hop onto the WWII styled amphibious landing vehicle and you'll enjoy a tour around the centre of Boston, with narration from the conDUCKtors. We really enjoyed this tour because it had lots of fun facts about the city and added in a few laughs along the way. You then head down to the Charles River, where the duck boat will drive in and then float. Although you don't head out of the city as far as the bus tours, you still get a great all-round look at Boston. The scenery is spectacular, so make sure you have your camera ready. We only did the duck tour because it was on our city pass, but now having done it, it's definitely something we would recommend to any first timers in Boston.
Paul Revere House (Freedom Trail)
Situated in the North End of Boston is the house of famous revolutionary Paul Revere. It can be quite hidden, so we recommend you firstly follow the Freedom Trail which is the red bricked path through Boston. If you still struggle, then the best way to find the Paul Revere House is by Google maps. Paul Revere is famous for 'The Midnight Ride', which occurred on the 18th April 1775 and saw Revere ride to Lexington to warn Samuel Adams and John Hancock that the British were approaching. So as a key part in the history of America, having the opportunity to visit his house is something we jumped upon. It is a very old house (obviously), so not easy for those with disabilities. But the staff who await you in each room are so informative about the house, Paul Revere's life and his family. You will even find the first bell cast by Paul Revere in the courtyard, which is rumoured to have sounded awful.
The Harvard University Tour
It's not often we bring you something to do in Boston that's free, especially when it is a tour. But the Harvard Tour is student-led and as such is completely free unless you leave a tip. To get to the location we took the subway from Boston Common to Cambridge. Pretty much straight away you will see stands for the tour, but we advise you check online for times and dates. This is a walking tour so comfy footwear is needed and you will be shown various buildings around the campus. The tour guide will explain the history of Harvard, its buildings and some of the famous attendees. They also let you into the life of a Harvard student and the pranks which are commonly seen. You'll even have the chance to rub the foot of John Harvard, which is supposed to bring you luck.
Old South Meeting House
This beautiful building was a church and meeting house and is renowned for being the gathering place for the Boston Tea Party. The inside is beautifully kept and details the participants and attendees of the meeting house. For us this attraction was relatively short in comparison to other museums or buildings, but if you have the time and especially if you've bought the attraction pass, it is worth a visit.
Old North Church
Alike the Paul Revere House, the Old North Church can be found in the North End of Boston. So, it would make sense to tie both of those attractions in together. The church is famous for the "One if by land, two if by sea" signal during the revolution. In April 1775 Paul Revere told three patriots to hang lanterns from the churches steeple to warn Charlestown patriots that the British army was on its way. This is another iconic location for the travelling historians out there but remember this isn't a museum. It is actually a working church and as such may be closed due to services.
Bunker Hill Monument
This colossal granite obelisk is a monument to the Battle of Bunker Hill which took place on the 17th June 1775. It was one of the first major battles between the patriots and the British army and is most notably know because the patriots held off three British attacks. There is a small museum next to the monument detailing its history and you can actually climb the 294 steps to the top. This is no mean feat, so if you have health issues or even struggle with heights, then we suggest giving it a miss. We have to admit though we loved it when we reached the top and saw the spectacular views of Boston, though we're not sure we'd do it a second time.
Harpoon Brewery Tour and Beer Hall
There's not one, but two brewery tours in Boston and this one is more centrally located than the Sam Adams tour. The Harpoon Brewery is a working brewery and as such tours are only done on certain days and at certain times. The cost if five dollars each and with that you have the opportunity to try a number of their beers. The start of the Harpoon Brewery Tour is in their beer hall which has a huge bar and serves food such as pretzels. You can see the brewery from the beer hall, so when your tour time comes you won't have far to go. The tour covers how Harpoon makes their beer and the ingredients, but we'll warn you in advance that it can get warm in there. The price is definitely worth it for the amount of beer you'll try, so make sure you're not driving that day.
Granary Burying Ground
Yes, it's a graveyard, but it's the final resting place of famous revolutionary war-era patriots which include Paul Revere, Samuel Adams and John Hancock. The five victims of the Boston Massacre are also buried within the Granary Burying Ground. There are a few tours available to provide you with information about the site and the people resting there. But if you're short of time this is somewhere you can see pretty quickly before your next stop. Again, you'll find it easily if you follow the freedom trail from Boston Common.
Boston Teaparty Ships and Museum
This immersive attraction takes you through the story of the Boston Tea Party from beginning to end. They do this using actors, interactive exhibits, artifacts, and an impressive replica of an 18th century sailing vessel. You go through various sections of the museum from planning the rebellion at the meeting house and throwing the tea overboard, to finding out what happened afterwards. There are even a few surprise artifacts from the actual "Destruction of the Tea". We really loved this museum, especially because it helped build our historical knowledge before we went to the actual locations such as the Old South Meeting House.
JFK Presidential Library and Museum
Most people will know the legend that is John Fitzgerald Kennedy who was the 35th president of the United States before his assassination in November 1963. JFK was born in Boston and as such it would make sense to have a museum dedicated to him there. Sadly, it's a little way out of the centre of Boston, so you'll need to grab the subway and travel there. We recommend doing the Samuel Adams Brewery tour and then the JFK Presidential Library and Museum on the same day, as both require travelling out and are in the same general location. The museum can only be described as huge, so give yourself the time to stroll around. There are artifacts from his life including his sailboat outside, re-mastered films and interactive displays. This museum is perfect for whatever you're after, whether it's a quick glimpse into his life or you want to learn more about JFK. There is a café and shop on site, but we chose to sit outside on the picnic benches, because you have the most incredible view of the Boston skyline in front of you.
USS Constitution
The USS Constitution also known as Old Ironsides was a frigate of the US Navy and is the oldest commissioned naval vessel still afloat. The name Old Ironsides is based on the fact that the vessel was never defeated in battle, most notably in the war of 1812 against the United Kingdom. The museum not only gives you the history of the USS Constitution, but also a peek into the life of the sailors onboard. To get onboard the vessel there are security checks and an ID is needed. So, for those travelling from outside the United States remember to bring your passport.
Charles River Sightseeing Tour
If you choose to do the Boston Duck Tour, then you'll probably be satisfied that you've ticked off a boat tour on the Charles River. But if you're looking for something a little more in depth, then this sightseeing tour is the one to choose. We have to admit it's not an easy location to get to and sadly we chose to walk there which took a while. But when you do arrive you will enjoy a 70 minute narrated cruise down the Charles River and the boat even has a bar. We're a sucker for a river cruise, because it slows down the fast pace of a city break so you can relax a little. But if you're short on time, then this probably isn't the one for you and we'd do the Duck Tour instead.
Isabella Stewart Gardner Museum
Isabella Stewart Gardner was a traveller and art collector who lived in Boston. Although she collected a number of exquisite pieces in a small scale, when her father passed away she inherited $1.75 million. This led to her accumulating a vast collection including Rembrandt's Self-Portrait, Age 23 in 1896. Her dream was to show her beautiful collection and so she built a museum which has significant European influences. This museum is quite out of the way for those of you who are replying on public transport, so you'll have to use the subway. But if you are an art lover or simply enjoy beautiful architecture then the Isabella Stewart Gardner Museum is a must do attraction.
Other Popular Boston Attractions
As you can see we've done quite a bit in Boston, but sadly we haven't done it all. So here are a few things to do in Boston we haven't yet tried.
Whale Watching
MIT Museum
Boston Movie Mile Walking Tour
Boston Childrens Museum
Freedom Trail Foundation Walk into History Tour
Franklin Park Zoo
Boston Food Tours
Our Essential Experiences for Your Boston Trip
So, if we haven't already blown your mind with how awesome Boston is and the incredible things you can do or see there, then here's a few little extras;
Champions Sampler Tower
If you're looking for a quirky and fun meal then we recommend heading to the Boston Marriott Copley Place. In there is Champions Bar which is an American Sports bar and home to the Champions Sampler Tower. At the time of writing this, the tower was $49 and when we originally went in 2012 it was $40 and fed a party of four people. So, when you break it down the price is really reasonable. Especially when you discover that the tower includes 2 pounds of wings, 8 cheeseburger sliders, fully loaded cheese fries, a stack of onion rings, dips, and sauces. If you're feeling a little guilty, then they tend to have a few carrot and celery sticks thrown in for good measure.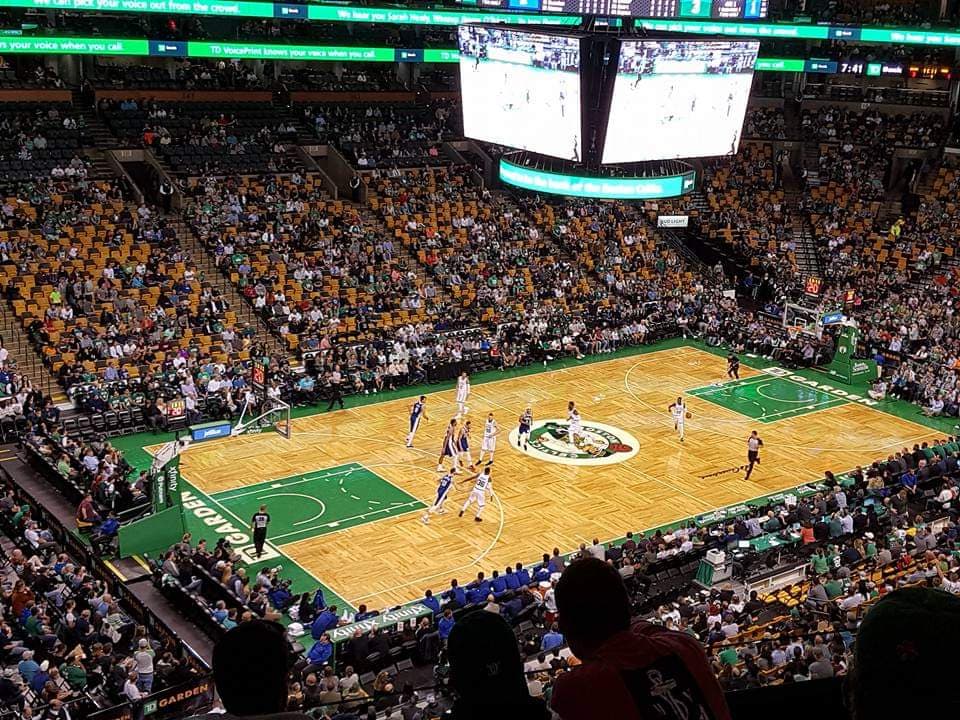 Brick Red Samuel Adams Beer
If you are a beer fan and like to try out local delicacies, then Brick Red is a must. It is only sold in a number of establishments within the Boston area, so if you have never visited before than the likelihood is you have never tried it. For the connoisseurs out there, this beer is a red ale in colour with a caramel flavour and is a must have every time we visit. It was created as a thank you to Boston from the brewers Samuel Adams, who are now a worldwide success and still based in the area.
The Last Hurrah
This whiskey bar in the Omni Parker House offers a relaxed formal drinking atmosphere but is a must visit for those who like to walk in the shoes of the rich and famous. Charles Dickens stayed in the hotel for five months during 1867 and 1868, as did John Wilkes Booth in 1865 (eight days before he assassinated Abraham Lincoln). But most famously The Last Hurrah was the location where John F. Kennedy proposed to Jacqueline Bouvier, then had his bachelor party and finally announced his candidacy for the United States Senate. You don't have to be a guest of the hotel to be able to enjoy the luxury of The Last Hurrah, we popped in and enjoyed a cocktail or two.
Sports Games at TD Gardens
As a couple of Brits who don't really know a lot about sport, we've always been interested in going to a basketball game. So, when we discovered that the Celtics were playing during our trip, we had to grab tickets. Prices vary depending on where you sit, but to be honest we found them pretty reasonable. Even if you have no idea of the rules, you will fall in love with basketball and the whole atmosphere. From the crowd cheering, to the shows during the intervals and of course the incredible food; we grabbed a giant slice of pizza and a beer. TD Gardens is a great venue and is easily accessible by train, subway or by foot if you're based in the city. If basketball isn't your thing then why not check out a Boston Bruins hockey game. Most fans use Stubhub to get their tickets but remember that hockey and basketball are played in the winter months, so they may not have any games on when you're there.
The Bleacher Bar at Fenway Park
After your Fenway Park Tour why not head to the Bleacher Bar for a relaxing drink and an amazing view. The bar is situated below the bleachers of Fenway Park's centerfield and offers a window directly into the stadium. There are limited seats in the bar, especially in front of the window, but if you're looking for a unique experience then it's worth the wait and the food is pretty good too.
What more can we say? We hope this will have either convinced you that Boston is an incredible place to add to your bucket list, or we have helped you plan your trip. There are many historical sites in the United States, but not many of them can lay claim to being the 'Cradle of Modern America'.
Add in the incredible food, drink and friendly locals and you have a vacation to beat all vacations. If you use this guide to enjoy Boston then we'd love to hear about it on our Facebook page.