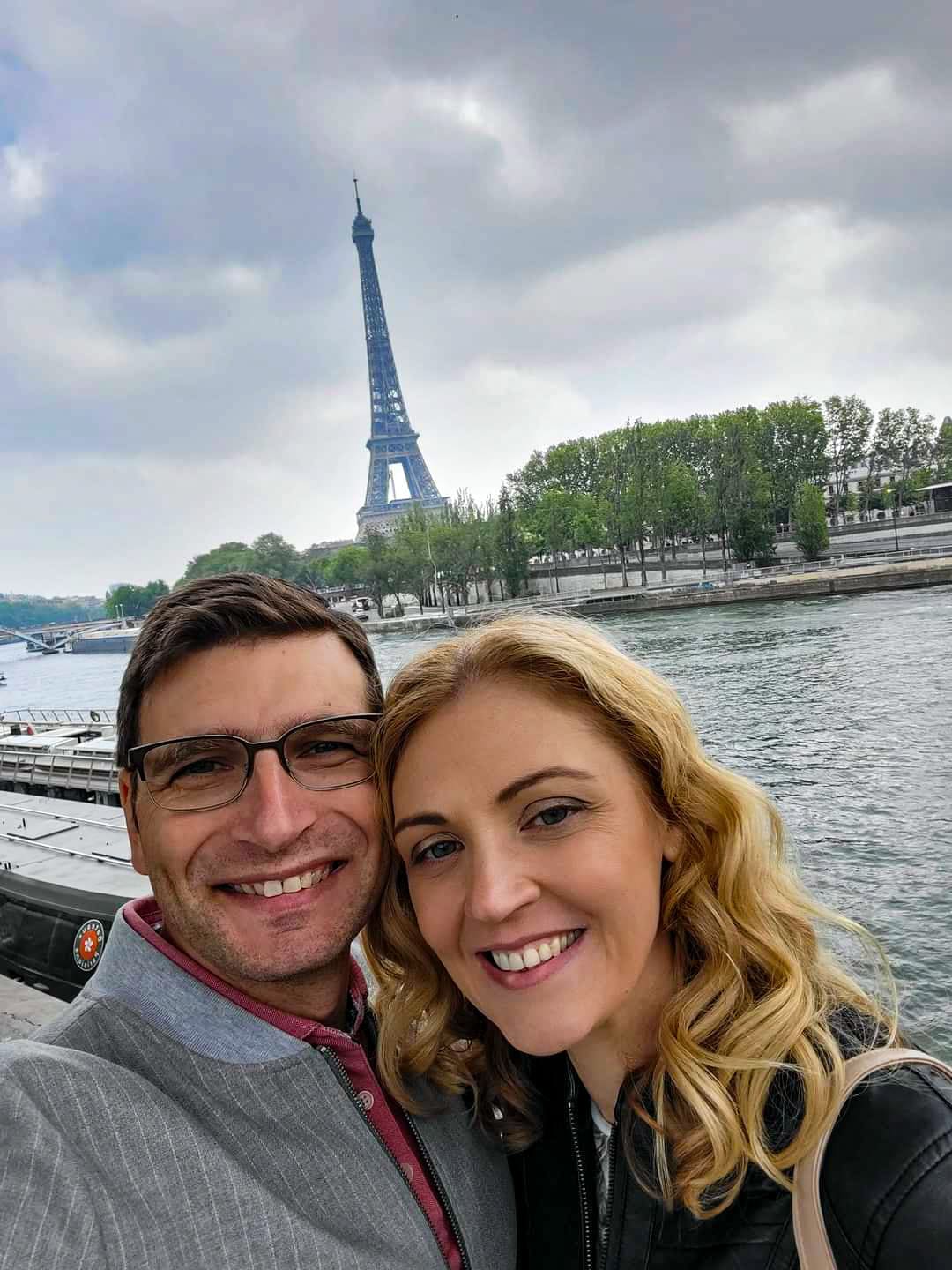 If you're planning on visiting Paris, then we are sure you're eager to take in all of its incredible sights. With over 6 million visitors a year, the Eiffel Tower is one of the most iconic structures in the world and a must for any travellers. It was built between 1887 and 1889 by the French engineer Gustave Eiffel and was the main attraction in the 1889 Paris World's Fair.
Because of its height and unique shape, the Eiffel Tower quickly became a symbol for Paris and by extension the country of France. The beauty of this 330-meter tower is that it can be seen from various areas in Paris, so you can enjoy it from all angles. You will find the Eiffel Tower in the Parc Champ de Mars, which is a large green space between the tower and the Ecole Militaire. The park provides the idyllic surroundings needed to make the tower stand out and it gives you the opportunity to walk around without having to pay for the privilege.
As to whether you simply enjoy looking at the Eiffel Tower from a distance, or you pay to view Paris from the top, is completely down to you. We do have another option called the Paris pass which we will delve into further.
Free Access to the Eiffel Tower with Paris Go City Pass
Most visitors to Paris will head to the Eiffel Tower and queue to purchase tickets. Sadly, this isn't the best option, because you can end up waiting a long time and depending on the time of day, you may not even get up there if they have sold out of space.
Because of this we will always recommend two options, and that is pre-booking online or purchasing the Paris Go City Pass. The latter is an all-inclusive pass for a vast number of attractions all over Paris, including the Louvre, Arc de Triomphe and Palace of Versailles.
Currently (May 2022) if you pick the explorer pass you can choose between 3 and 7 attractions with prices being.
3 Choice from 99 Euros
4 Choice from 114 Euros
5 Choice from 129 Euros
7 Choice from 159 Euros
If you drill down on each attraction, then you'll find a day ticket to Disneyland Paris is 99 Euros alone and as such it's worth getting the pass.
But if you prefer to have unlimited options then the all-inclusive pass is the better choice. It means you can visit any of the places on their list once, because it is based on days. You have a choice of 2, 3 or 4 days and the list is one of the longest we have seen, making this the more worthwhile option.
Currently (May 2022) the prices for the all-inclusive pass are.
2-day pass from 124 Euros
3-day pass from 149 Euros
4-day pass from 169 Euros
As to whether the pass is right for you will depend on how long you're in Paris and how much you're planning on getting done. We would suggest that you check out the website and look through the list of attractions and choose what you would want to do. Then add up the cost and see if it is more than the pass, bearing in mind that a standard Eiffel Tower guided climb is 34 Euros alone, which is a huge chunk of the 124 Euros of a 2-day pass. We have found that by using this option we visited more sights in Paris than we would have if we were paying on the door, including the incredible Sainte-Chapelle and La Conciergerie.
When you trigger the pass on the first attraction, you should be aware that it will only cover full days and not 24-hour periods. So, if you start a 2-day pass at 2pm on the Monday it will finish on the Tuesday night and not at 2pm on the Wednesday. We tend to work it based on the full days we are there, so for example our trip was for 5 nights which meant we bought a 4-day pass. It is worth giving the pass serious consideration, because it takes away the pressure of worrying about finances when you're there and it can lead to you saving money in the long term, whilst having a better travel experience.
How to use the Go City Pass in Paris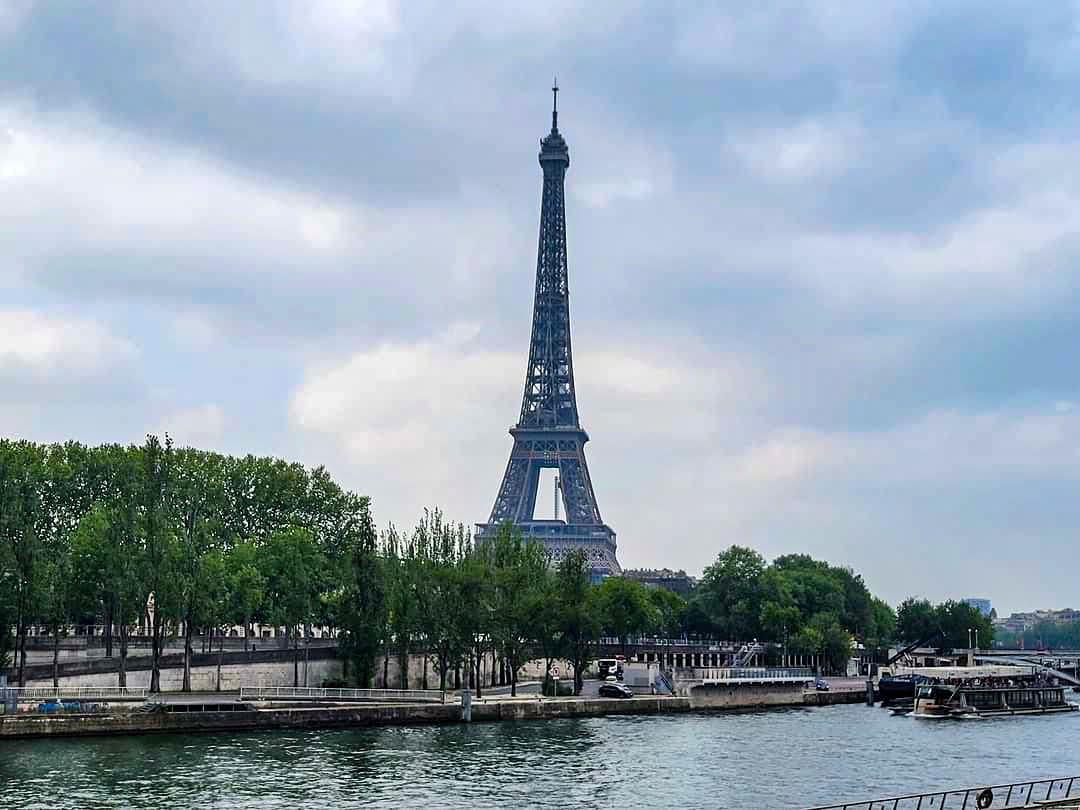 If you choose to purchase the Go City pass, then you will receive an email of confirmation which will have a QR code on it. This code is what you will give to staff when you arrive at the attraction. Many people will show the code on their phone which will then be scanned at the venue, but we have always printed off a copy because we have found their scanners work best on paper.
You will then receive another email on how the pass works and it is important that you read this through. There will be a link for the attractions available on the pass called 'Plan Ahead' and then an additional one for anything that needs pre-booking. This includes the Louvre, Eiffel Tower, Disneyland Paris, La Conciergerie, Palace of Versailles and Sainte Chapelle. Because you will have to book in a set time and date, it may take a little working out as you will need to map out how to get to each spot.
Eiffel Tower Ticket Price
To begin with it's important we explain that the Eiffel Tower has a 1st floor, 2nd floor and the summit, with each level offering a different view of the city below. You can climb the first two floor by stairs or using the elevator, but the summit is accessed by elevator only. The tower is generally open between 9am and 11.45pm, but this can vary depending on the season and weather.
We would always recommend that you book a date and time slot for the Eiffel Tower. As you can imagine it gets incredibly busy and this will reduce your waiting time on the day. If you've bought the Go City pass, then you do have the tower included. The explorer pass has an elevator guided tour, whereas the all-inclusive pass only offers the guided climb. Our preference was to use the elevator, but sadly we had already bought the all-inclusive pass, so we ended up purchasing a separate ticket. Was it worth the extra cost? In all honesty it really was, we had walked an awful lot during our city break to Paris and anything that saves your feet is money well spent. For those of you buying directly from the Eiffel Tower site, the ticket price will depend on how you access the tower and which floor you will be going to.
As of May 2022, the following prices applied.
Climbing ticket with access up to the 2nd floor only is 10.70 Euros
Climbing ticket with access up to the 2nd floor and elevator to the summit is 20.40 Euros
Elevator ticket with access up to the 2nd floor only is 17.10 Euros
Elevator ticket with access up to the 2nd floor and elevator to the summit is 26.80 Euros
Which option you choose will depend upon your mobility and how much you're looking to spend.
How to Book Tickets
The process of booking your ticket on the Eiffel Tower website is pretty straightforward. First you need to choose a date (try and be a little flexible), then pick the level you want to go to and if you are climbing or using the elevator. The site will finally ask what time you wish to visit and once confirmed you will enter personal details for all of your party. This will mean that the e-tickets sent to your email address will have yours and the other members of your parties' names on. As such they are non-transferable, and you may be asked to show identification to validate your ticket.
What to Do When you Arrive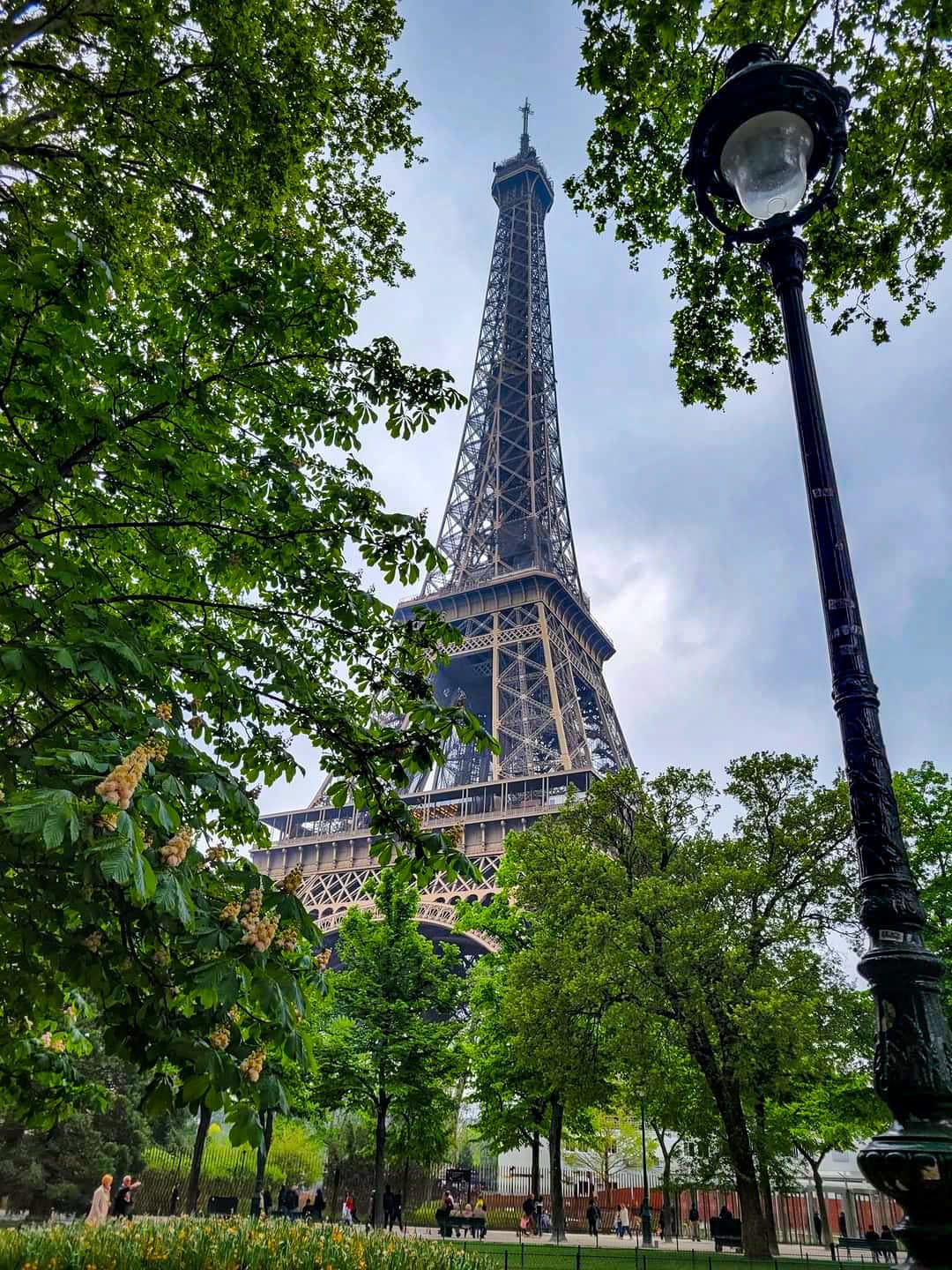 Upon arrival all visitors to the Eiffel Tower will be required to go through a security and bag check. It's worth arriving a little before your allotted time, so that you can make sure you get through the security queue.
If you arrive without pre-booking tickets then you will be sent to a line to purchase them, but this can be quite long. Buying tickets beforehand or booking with the pass, means you will be directed to the queue labelled 'visitors with tickets' which is under the green flag. The route you take up the tower will depend on which you have chosen, the stairs or elevator. We can strongly recommend the elevator; it was quick and fun. Having seen visitors walking up the stairs, it did look incredibly taxing, so it may be worth spending a few extra Euros for the comfort.
It is recommended to give yourself two hours for your visit because there is a lot of queuing, but that will completely depend on how busy it is. If you are using the elevator then there is one which takes you to the first and second level, then you will exit and take another elevator to the summit. You will see a queue for the summit elevator (on the second level) and when you reach the front, they will ask to see your ticket to ensure you have purchased access to the top. You have to pre-purchase a summit ticket; you cannot decide you want to go to the top once you are actually on the Eiffel Tower.
Heading down is even easier than heading up, you will see markers for the queues by the elevators and stairs. We found there was less of a wait to go down then there was to go up.
Facilities on the Eiffel Tower
The Eiffel Tower is more than an iconic structure, because you can enjoy fabulous French food, delicious drinks and incredible views. There are four food spots on the tower which include.
Madame Brasserie – A restaurant offering contemporary cuisine showcased by Michelin-star chef Thierry Marx. It can be found on the first floor and offers view over the Seine.
The Jules Verne – Found on the 2nd floor of the tower, this is a one Michelin-Star restaurant looking over the Champ de Mars. It offers contemporary French cuisine by Frédéric Anton.
The Buffets – If you are looking for a snack to takeaway then head to the buffet which you will find on the Esplanade, 1st and 2nd They have hot and cold foods, with a number of options which should suit everyone.
The Champagne Bar Experience – If you want to take a moment to celebrate being at the top of the Eiffel Tower, then head to the champagne bar and grab a glass of fizz. There are a number of drinks available, including some alcohol-free options.
As well as food and drink you will find shops offering a number of souvenirs and products as a reminder of such a special day. There is one on the esplanade, 1st floor and 2nd floor, so if one is too busy then you have others available.
Tips for Visiting the Eiffel Tower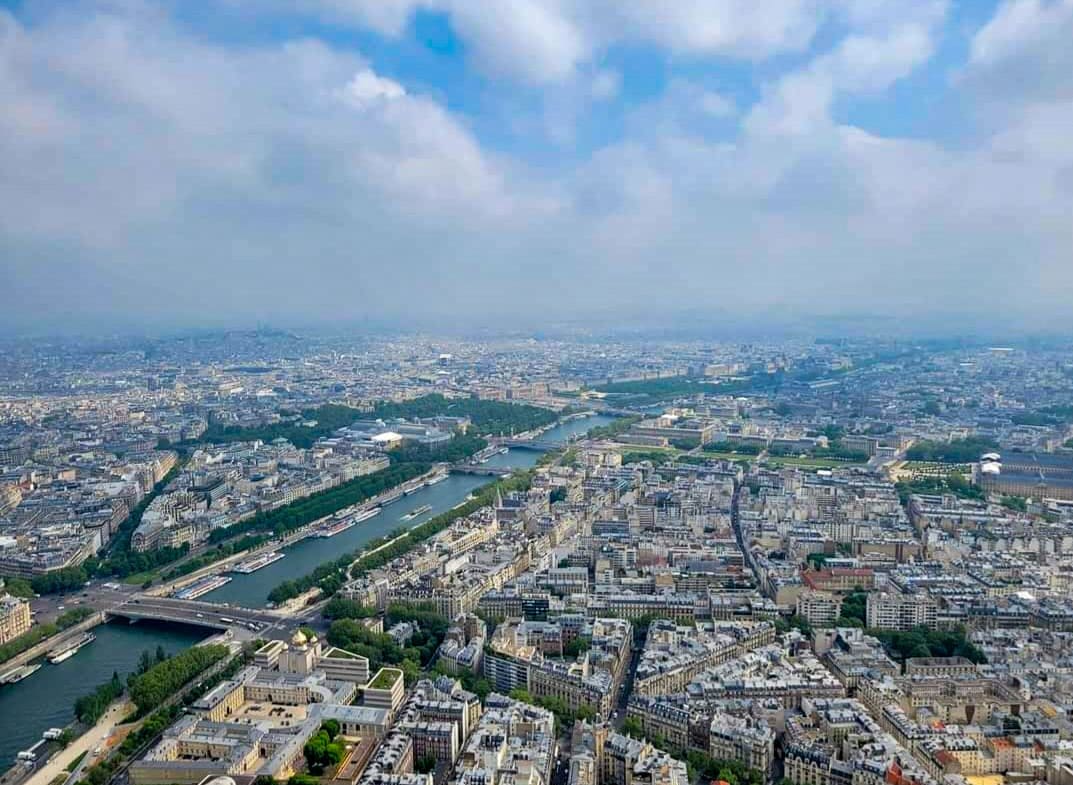 To help make your visit as smooth as possible, here are a few tips for you.
Pre-book tickets – we've already mentioned this but it's worth pointing out again, because as with most of the top attractions in Paris, the Eiffel Tower books up fast. If you have a pre-booked ticket, you will join a faster queue than those who just turn up. If you're heading to Paris at peak times such as the summer months, then the sooner you book the better. Sometimes you can wait hours and that's taking time away from seeing other attractions in Paris.
Be flexible – Not only can days book up for the tower, but so can the time slots and the ticket options. If you're set to a specific day to visit and all of the time slots are booked up for the summit, then why not still visit the 2nd floor and enjoy the views and facilities. If the summit is important to you, then make sure you book well in advance or show up early on the day and you will hopefully get a ticket.
Choose the best time to go, day or night – This will completely depend on what you want to see and how much time you have. Because it was our first time we went through the day, so we could see Paris at its best and have enough time to get through the other things we wanted to do. Lots of people enjoy going up at sunset and waiting for the lights to begin sparkling. When we visit Paris again, we will head up at night-time, because we will have more time and so we've done both options.
Plan in enough time – For most people this is a moment that they'll remember for life, so give yourself enough time that you don't feel in a rush. There's plenty to explore on the Eiffel Tower itself and in the park surrounding it. This can be difficult to do if it's your first trip to Paris because there is so much to fit in, so try and give yourself at least a couple of hours.
Check the weather – If you're buying tickets when you get there, then you have the flexibility to check the weather. Rain and fog can really ruin the experience, so work out if you still want to go on that day or choose another where it's a little clearer.
Work out how to get there – Making sure you get to the tower on time is important, especially if you have a pre-booked slot. We used the RATP app which is a metro planner for Paris. Simply add your starting spot and where you want to go, and it will work out the quickest route via the metro system and tell you when the next trains are coming. Another option is to use Google, because they will say which options are best for whatever time of day you're on.
Protect yourself from pickpockets – Sadly big crowds will attract pick pockets, so it's wise to be careful with your belongings when you're on the esplanade and up the tower.
The secret apartment – We saw this apartment but didn't realise what it was. The little hideaway which is fully furnished was a spot that Gustave Eiffel would use to work in. You can peek inside and see what life was like at the time of the building of this incredible monument.
Save time and take the stairs – Now we've mentioned above about our preference to take the elevator up. But if the wait to go down is a little long, then why not use the stairs instead? This will not only be faster, but it will also give you a different perspective as you wander down.
Should I Visit the Eiffel Tower?
We've given you all the details on what to do, where to go and how much, but we're sure you're wondering what we thought of the Eiffel Tower. Someone told us before we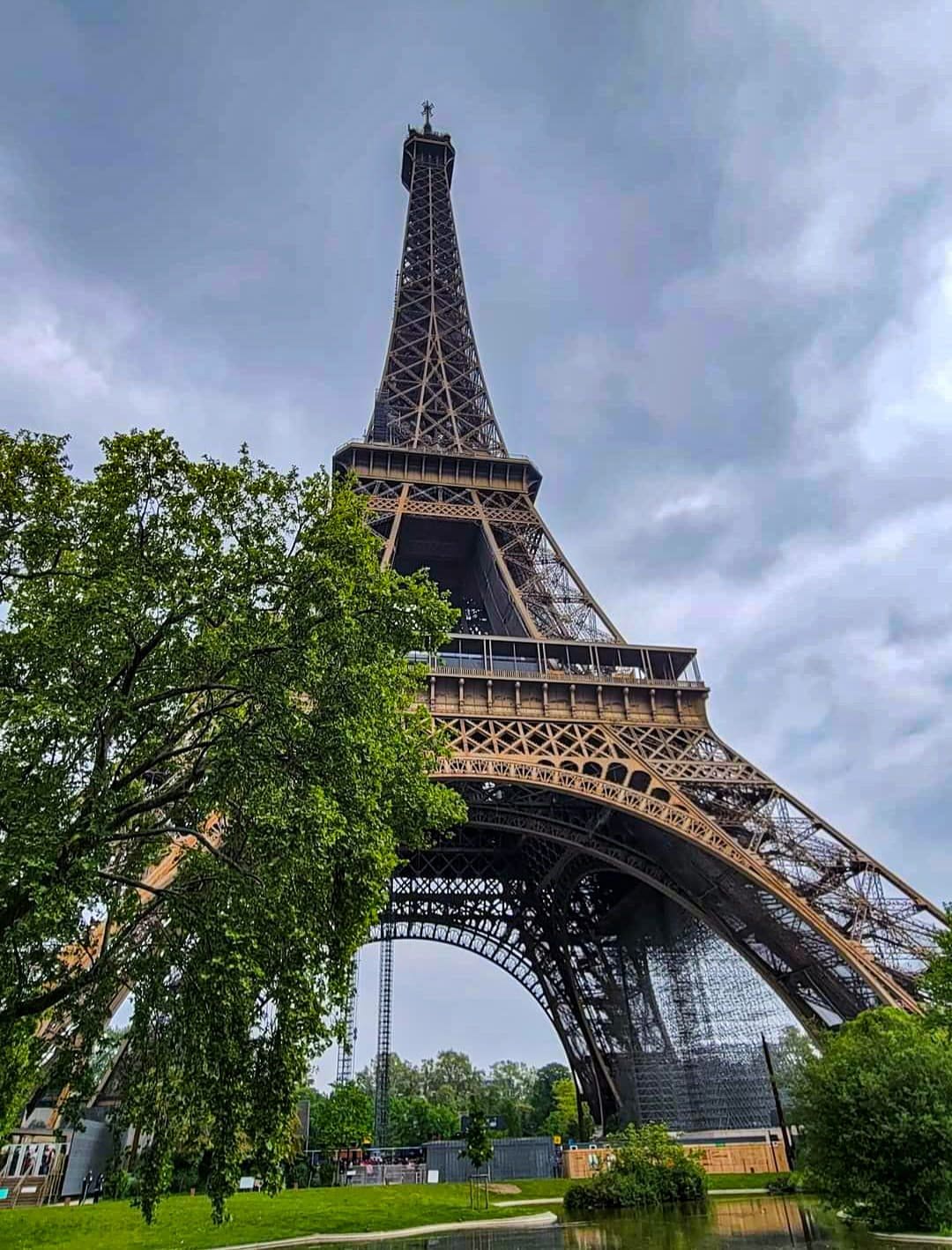 went, that seeing the tower gives you a greater feeling than actually being on it, and we have to admit that we agree. You will never get tired of seeing the Eiffel Tower, no matter the angle or the time of day. It's beautiful in the day and night, especially when it is lit up.
So, does that mean you should save your money and not go up? No, we still loved every moment of it, even though we had many many queues to go through. The elevator up to the 2nd floor goes at an angle up the leg of the tower and it's quite thrilling to see the metal work and views.
Our favourite bit was the view from the summit, because it was so expansive, and Paris is so beautiful to see in all its glory. But if the purse strings are a little tight and you cannot afford to go up the tower, then don't worry too much. Save your pennies and spend your time walking around the Champ de Mars and the quaint streets of Paris, to get that perfect picture.
Either way take it in and enjoy it all, because you're in one of the most beautiful cities in the world. If you're looking for full details on the things to do in Paris, then check out our Paris guide, where we pretty much give you everything you need to know and a plan of attack to get the most out of your time there.
If you end up visiting Paris then please tag us into your pictures on Instagram, we love to see when our readers have ticked another one off their bucket list.