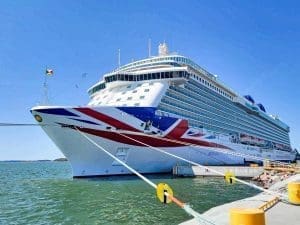 Our love of cruising has only intensified on each trip, and it is because of this we wanted to try more cruise lines and different routes. This led to us heading towards the Baltic Sea on a cruise which visited Sweden, Denmark, Germany, Finland, and Estonia during May 2023. We set sail from Southampton having used CPS (Cruise and Passenger Services) for our parking in the port. But what really set this cruise apart from the others we have experienced so far, is that this was our first trip with P&O and more specifically on the Britannia.
Although we have heard of P&O before, we always expected the cost to be extortionate, and it would all feel a bit snooty with ball gowns and tuxedos every night. We can confirm that we were completely wrong and as with other cruise lines you can sail how you want; but we'll delve into that a little further down.
This is our guide on the P&O Britannia, where we'll explore everything from the deck plans, food, and drinks to the entertainment.
If this is your first ever cruise and you're wondering what to take with you, then take a look at our 'What to Pack for a Cruise – List of Cruise Essentials'. Although this doesn't delve into everything you'll need such as socks and underwear, it does provide you with an extensive list of items which will make your cruise that little bit more comfortable.
Arrival at Southampton for Parking and Embarkation
We'll only touch on this quickly, because you may be cruising on the Britannia but you're not leaving from Southampton. But because Southampton is such a busy port for P&O, it's worth us giving you a little information on the process we went through to board the ship.
As we drove into Southampton, we followed our sat nav, even though the signs directed us another way. Sadly, the sat nav was wrong and took us via another direction which was much longer. The docks in Southampton cover a large area, but even going the wrong way we still ended up working our way back to the one we needed, so it wasn't a big deal.
Compared to some of the cruise terminals we have seen, the ones in Southampton are much bigger. We have used the parking providers known as Cruise and Passenger Services (CPS) a couple of times, but for cruise parking in Dover. They were always so efficient there, so we decided to use them for our Southampton cruise parking too.
Alike Dover the whole process was incredibly easy, we simply displayed a print off on our windscreen and we were directed to a section of the terminal and followed instructions. Once we got to the directed spot we simply parked up and gave them our keys and removed our luggage. We would always recommend that you take pictures of your car before you leave, although CPS will do the same. It's then a short walk to the terminal across the pedestrian crossings because we can imagine when you travel the area will be as busy as when we arrived.
Unlike Dover there is a system in the luggage drop off area of Southampton's terminals. The area you leave your luggage will depend on the deck you are on during your cruise on Britannia. The best thing to do is ask one of the Stewards who are walking around and tell them what deck you're on and they will be able to help you. There are signs up around the area, but they were difficult to see in the chaos and we didn't quite understand them, so it was easier for us to ask for help.
Make sure you arrive at your allotted time only, because you will end up having to wait. We saw a lot of people standing in a side queue because they arrived early, but because we got there at our allotted time we simply walked into the terminal.
The terminal is pretty self-explanatory, and you will be directed by various members of staff. Just make sure you have your boarding pass available before you enter the terminal, because you will be asked repeatedly to show it to staff throughout the process.
After going up a set of escalators we joined a queue to check in and once we reached the desks, we were asked for our boarding passes and passports. Check in was quick and painless, but that was mainly due to the fact we had done most of the work when we did the online check in, such as adding our pictures.
Once check in is complete then it's the usual security process, which is the same as you would do if you were going through airport security. So that would include removing watches, belts, wallets, keys and taking laptops out of your bag and placing them in the tray.
After that you're done, then you can head up the gangway and your holiday begins.
Security Checks on Britannia
Whenever we cruise, we always find it easier after boarding to head straight to our muster station for the security briefing. Then once you've finished you can head to lido and enjoy your vacation.
The security briefing was incredibly easy on P&O Britannia, we simply went to the muster station which was on our boarding pass. Once we reached the designated area which is clearly sign posted, then we simply had our boarding pass scanned and a member of staff explained what we had to do and where we should go in cases of emergency. They do recommend that once you leave your muster station and gain access to your room, that you watch the full safety briefing which is available on the TV in your cabin.
Unlike some of the other cruise lines we've travelled with, you can head to your cabin straight away. The room cards can be found in an envelope at the cabin door, and it can be used to get in and out of your room, and to charge any drinks or purchases to your cruise account. Cash is not accepted in any of the bars, restaurants, or shops onboard.
Most cruise lines leave your luggage outside of your cabin door, and P&O did the same. It didn't arrive until a couple of hours later, so make sure any items you need are in your hand luggage such as medications and even a change of clothes if you want to use the lido deck and pools.
Britannia Ship Statistics and Deck Plans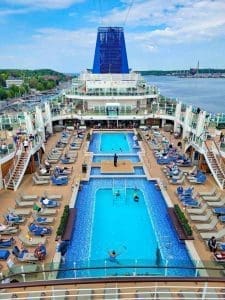 Year Built – 2015
Passenger Capacity – 3,647
Staff/Crew Capacity – 1,398
Length of Britannia from End to End – 1083 Feet (331 Meters)
There are 18 decks on the P&O Britannia, but guests don't have access below 4 (the medical centre is on deck 4). On decks 5, 6 and 7 you will find most of the facilities, then between deck 8 and 15 is the cabins and suites.
You will find the pools and buffet restaurant on Lido deck, which is on 16, and then on 17 is a pool, cookery club and the gym. The top deck is the 18th and it has a bar, basketball court and promenade which is the running and walking track.
If you're a big fan of swimming pools then you will find there is a total of three, with two being found on the Lido deck midship and one on deck 17 in the Serenity area. Unlike many of the other cruise ships we have been on, all the pools are heated. They also have two hot tubs on deck 17 midship and one on deck 17 aft.
Britannia P&O Cabins
We'll start off by giving you an idea of what cabins are available on the Britannia and then we'll go into the room that we stayed in, which was an inside cabin.
The types of cabins currently available are.
Inside Cabins
Larger Inside – Cabin size 170 sq. Ft
Inside – Cabin size 159 sq. Ft
Balcony Cabins
Superior Deluxe Balcony – Cabin size 280 sq. Ft
Balcony with Sofa – Cabin size 212 sq. Ft
Balcony (obstructed view) with Sofa – Cabin size 212 sq. Ft
Balcony – Cabin size 205 sq. Ft
Balcony (obstructed view) – Cabin size 205 sq. Ft
Suite Cabins
Suite – Cabin size 382 sq. Ft
Single Cabins
Single Balcony – Cabin size 164 sq. Ft
Single Inside – Cabin size 134 sq. Ft
As mentioned above we stayed in an inside cabin and had family members in a balcony room. Both rooms were pretty much the same size, with the obvious exception of the window and balcony section.
Within the main room you have a double bed, side units and a dressing table which has tea and coffee facilities including a kettle. We've been on a few cruise lines and none of them have provided a kettle and tea making facilities, and we will admit to loving it. You also have a fridge and in the dressing table draw is a hair dryer. There's a TV on the wall and plenty of lighting around the room which can be controlled by light switches in various locations, including the headboard. You'll find an option for lower lighting which we found to be perfect at night-time as we watched TV. The lights work in the same way as many other ships and hotels, whereby you need to use a card in a slot to turn them on.
The TV is better than other cruise lines because they offer live TV, some streamed options, children's TV, and a raft of movies including some recently released options. You'll also find a radio channel and a cruise information section which includes the weather, navigational chart, and ships webcam.
There is a section between the main room and bathroom which is an open wardrobe and has a small cupboard with shelves and the safe. The wardrobe is basically a rail with hangers which is a little different to the other cruises we've been on which have fully enclosed wardrobes.
The bathroom is quite small, but what we did like about it was the fact that the shower had a glass screen and not a curtain which clings to you when you're wet. Within the shower you will see a shampoo and body wash dispenser, then in the sink area you will find soap and tissues. There is plenty of unit space and shelves to hold toiletries and other essentials. We were surprised how powerful the shower was and how hot the temperature got, which is quite unusual for cruise ships, even in the morning when a lot of people will be showering at the same time.
Overall, the room didn't feel too small, the only gripe we had was that there wasn't a ton of space in the cupboard when you placed your suitcases and bags at the bottom, although there were plenty of hangers.
As with most cruise lines, you will be introduced to your cabin steward on the first day. They will make up your room daily if you wish them too, for example making up your bed or fresh towels. Depending on your length of cruise they will even change the bedsheets about a week in. There is a sign on the door to either clean the room or inform the steward you're resting.
Horizon – Ship and Entertainment Information Sheet
During your time on the cruise, you'll need to keep up to date with a lot of information, whether it's about the entertainment on the ship, the ports, or general requirements. Since Covid 19 we have seen the introduction of more cruise apps, but P&O have retained the paper-based information leaflets. Theirs is called Horizon and it is left outside your door the evening before.
Horizon provides everything you need to know during your cruise, including the following.
The Ports – This includes the arrival time and the latest time to be back on board. Also, information on the port including currency exchange, postage, people to contact if you have any emergencies on shore, if you require your passport ashore and details of any shuttle bus services.
Details on Clock Changes – Due to the fact you're probably sailing through time zones, you will need to be made aware of any clock changes. This was detailed at the bottom of the Horizon leaflet.
Dress Code – During our cruise we had a number of formal nights, which tended to be held on sea days. Horizon will have a section which details whether the dress code is black tie or evening casual and what that means.
Deal of the Day – Throughout your cruise there will be various deals within the shops, whether it's on jewellery, clothing, or perfume.
Entertainment – Most of the Horizon leaflet covers the entertainment on the ship. This includes everything you can find in the theatre, bars, spa, photo gallery, gym, shopping atrium and Lido deck. You'll find that entertainment will be shown in order of time with most activities starting at 7am and ending late. We'll explore what entertainment is available further on in this guide, but it includes shows, quizzes, and classes.
Restaurant Opening Times and Other Facilities – Although you won't have detailed lists of what is on offer in each restaurant because this will change each day. Horizon does have an additional pull-out section which has the restaurant opening and closing times. On this you'll also see the opening times of the bars, shopping, and other onboard services. It's a handy piece of paper which you can fold and pop into your pocket.
We must admit that our preference for accessing information about entertainment would be on an app, the use of paper does seem a little outdated and wasteful. Our last cruise was with Carnival, and we quite enjoyed having the app and all the information we needed on our phones. Taking that aside, P&O's Horizon was incredibly useful during our cruise, and we just got use to carrying it around with us. They covered everything we needed and so much more, just make sure you throw it in your bag as you leave the room.
The 'My Holiday' P&O App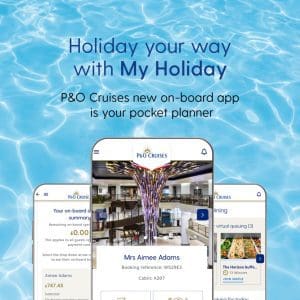 Although we have mentioned above that we'd have preferred an app to discover what entertainment is on board, you may be surprised to find that P&O actually does have an app available. The problem is it doesn't really hold that much information and we barely used it whilst we were sailing because everything you need is on the Horizon leaflet. To log into the My Holiday app, you need information such as the cabin room and booking reference. Then head to the P&O site, make sure your data is off, but plane mode and Wi-Fi are on. Don't worry you won't be charged anything by the cruise line, this is a free service.
When you're on the cruise ship and you log into the My Holiday app, you'll see the following.
Dining – Within this section you will see what restaurants are available, and there will be sample menus for that day. You can also book and put yourself in the queue for certain restaurants such as the Peninsular, Meridian and the Glass House.
Shore Experiences – Provides you with the opportunity to see what excursions are available and the ability to book. You can filter on the app by port and sort by price, then simply book and it will be added to your cruise account.
On Board Account Summary – Although you don't want to spend your holiday worrying about money, it is important to keep an eye on your onboard account. With P&O when we bought a drink, we handed them our room card and when they brought the drink, they would also give us a receipt. Now we found this a little unusual, because on other cruise lines you are expected to sign a receipt to prove you have received the drink. Because of this we did regular checks of our account to make sure that all the information was correct. It would be difficult to remember at the end of the vacation what you had or had not bought, so makes sense to look throughout. On the first screen you are shown the total transaction amount, but there is an additional section which displays a drilled down amount.
My Bookings – This section shows anything you have booked during your trip such as excursions.
My Diary – Very similar to the bookings section, except it includes restaurant bookings and anything for the theatre.
Medical Assistance – If you require information on who to call if there is an emergency then this section provides details. It includes the medical centre which is open every day on deck 4 between 9am and 6pm.
Spa – For those of you considering using the spa but you're wondering what is available, then you will find this section useful. It holds the Oasis Spa treatment menu in full, but sadly there are no prices on there so you would need to contact the spa itself for further details. It's here you can also find the fitness schedule within the gym, including personalised classes or training sessions which you can pay for.
Entertainment – Now this is where we would expect to see a full list of the daily entertainment so that we could simply check our phone rather than the Horizon leaflet. Sadly, there's very little available on here and all you will see is what shows are on the Headliner Theatre and if there is any availability for that show.
Drinks – This was actually quite handy because you didn't need to ask for a menu at any of the bars, you simply went on the app, and it was there. Basically, this shows you every menu for every bar, but it didn't show prices.
Cabin Services – As well as essential holiday information including health and safety tips and things to be aware of during your trip. The cabin services section also provides a ships guide and a map of each deck, including where you can find all the available facilities. This is also the area that you will find the room service menu which includes breakfast, daytime bites, night-time nibbles, and drinks.
Internet Packages – We couldn't see much information in this section, but from looking online there are two packages to choose from. The first is 'my wi-fi essential' which is the cheaper of the two and ideal for simple browsing, email, and social media. There's also 'my wi-fi ultimate' which gives you faster connection speeds and is perfect for browsing, email, social media, streaming of music and movies, and video chat. You can choose both as a cruise plan option or opt to pay per day.
Youth – This is the area for the parents, because it provides a summary of what is available for the younger cruisers.
Entertainment and Activities on P&O Britannia
The entertainment aboard the Britannia was vast and high quality, especially the shows within the Headliners Theatre. We were astounded by the talent of the performers, but they were a small part of what made this a memorable cruise. We'll explore a little of what was available in each room when we sailed, but obviously this may change so just be prepared.
Headliners Theatre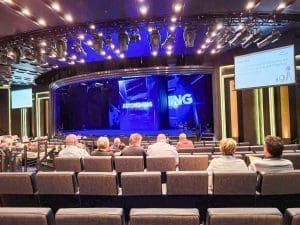 Because it is the hub of entertainment it would make sense to start there. The theatre is quite compact compared to others we have been in, which is why it's important that you prebook your shows before you board. This created a slight problem for us as our mealtime clashed with the times we had chosen for the show, this was due to the fact we had booked the saver fare. So, on most of the nights we cruised on Britannia we chose to eat in the buffet restaurant.
The lay out is similar to many other theatres you will have been in, and the seats are pretty comfy. There is no drinks service in the theatre, but you can take them in, although the holders on the seat are awful. You'll find that the shows are always full, and it makes sense when you see the quality. The performers have all been in the entertainment industry for a number of years and their experience shows. There was something new every day whether it was Britannia's performers or special guests. We adored the magician/comedian Manuel Martinez who appeared a couple of times during our 2-week cruise. There were also impersonators such as the amazing Miss Understood with her Pink show and Daniel East as Ed Sheeran. Plus, incredible singers such as Jo Rochelle with her eclectic range of songs and Vocal Xtr3me.
But it was the Headliner Theatre Company who provided the wow moments, so we strongly recommend you book them before you cruise so that you don't miss out. Our favourite shows during the cruise was Brit Pop, Mr Tickerton's Clock Work Circus, Gravity and Astonishing, which is a magic show created for P&O by Stephen Mulhern and Jonathan Wilkes. You will be given an envelope for a card trick which we still cannot work out. But it's small touches such as these which made the entertainment on P&O Britannia really stand out.
If you haven't prebooked then there is a standby queue where you'll be slotted in before the show starts. They'll have an idea how many seats are left because as you enter the theatre, you're asked for your cabin number. Our advice would be to head to the show half an hour before it starts, because it will fill up quickly and you want to make sure you get a decent seat.
The Live Lounge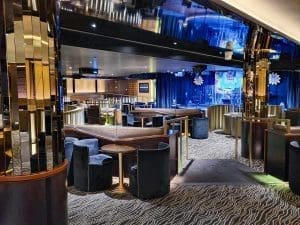 On the other side of the ship to the Headliners Theatre is the Live Lounge. It ended up being the spot we enjoyed the most for entertainment because it provided a laid-back atmosphere. There's a bar and drinks service within the lounge and plenty of chairs, including comfy sofas. The best part is that you can sit anywhere in the room and chill out whilst listening to the awesome entertainment on offer.
Alike Headliners, the entertainment varied each day, but within the Live Lounge there was something offered throughout the evening (whereas the theatre only had two shows). During our cruise we enjoyed entertainment from the onboard band Pulse, and they themed each night, whether it was 70's hits, rock classics or cheesy tunes. The karaoke was also held in the Live Lounge, and you could find family friendly or adult only. You can even watch some of the Headliner's acts as they may also perform in the lounge, with both the Pink and Ed Sheeran impersonators appearing there at some point through the cruise.
If you're a fan of comedy then this is where you'll find most of the comedians, but sadly on our cruise there was only really one stand up option. Cruise Lines such as Carnival have specific comedy theatres and tend to have three or four comedians during the cruise. But we're not complaining because the amount on offer and the standard overall was excellent.
Brodies Bar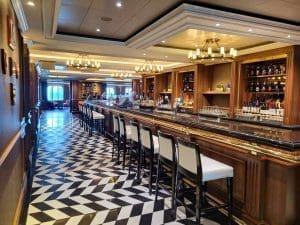 As one of the central bars on the ship, Brodies Bar is a hub for entertainment. Not only is this the place that you can watch the top sporting action, but you'll also find that all the quizzes, race events and virtual games such as bowling are held there. The quizzes were incredibly popular on the ship, but boy were they hard, so you may need to get some practice in beforehand.
The Limelight Club
You'll only have access to the entertainment in the Limelight Club if you pay the additional charge. At the time we cruised it was between twenty-five and thirty-five pounds each, but the cost will depend upon the performer. Within the Limelight Club you can enjoy an exclusive three course meal and be entertained by a celebrity performer. The atmosphere is very cabaret style and gives guests an intimate exclusive feeling. There were three artists during our cruise, including Ray Quinn and Kevin Simm from Liberty X and Wet Wet Wet. We chose not to pay for the Limelight Club because the food options for our preferences were limited and we didn't specially want to see either performer. If you're a fan, then it's not a bad price at all to see a show, but we have been told that if you're doing it for the food specifically, then the options are similar to what you would find in the main restaurant on the black tie/ formal nights. It's a quirky extra offered by P&O Britannia and we enjoyed seeing the celebrities walking around the ship enjoying themselves.
Blue Bar (Atrium)
Found in the centre of the ship on deck 5, the Blue Bar provides a spot where you can people watch with a tipple or two. When it comes to entertainment in the atrium it tends to be singers, and we had two during our cruise. One a female singer who was incredible and then a male singer who played the guitar. We enjoyed this spot for entertainment because you could still chat as they performed and the whole vibe really suited us.
The Crow's Nest
Sat in the front of the ship this bar has incredible views, hence the name. But when it comes to entertainment you can enjoy the beautiful sounds of the piano. Because this is a more upscale spot on the ship, you would expect the entertainment to reflect it. As such most evenings there tends to be two or three sessions where the onboard pianist will delight guests with an array of songs, whether it's old classics or modern greats.
The Crystal Room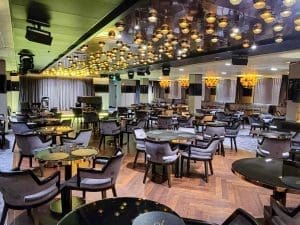 We've predominantly cruised on American cruise lines, so because this is our first trip on a British line we were shocked at the entertainment on offer. The Crystal Room is quite a large space and is used for a number of forms of entertainment, but predominantly you'll find numerous dance classes and by that we mean ballroom. The ship has professional dancers who can help you learn the basics of a variety of dances. But it was lovely to just sit and watch as guests who obviously knew what they were doing, took to the dance floor.
Because some of the entertainment will pull in larger crowds, Brodies Bar is a little too small, so this is where the Crystal Room comes in handy. There were a number of game shows held there such as quizzes and challenges, but our absolute favourite event was the silent disco.
If you've never heard of a silent disco, then it's where guests are given a set of headphones and you have the option to pick the song you want to hear. Usually, two or three channels are active, and they can be alternated between using a button on your headphones. This means that depending on your music taste you can choose the channel you want to listen to. The best part is that when you remove the headphones the room is completely silent. We loved it on the cruise when one of the two DJs would ask for the crowd to yell and only half the room would do it. It's so much fun to not only take part and dance to the amazing music, but it's quite funny to watch without the headphones on. It also means that if people want to talk to each other then they don't have to shout over whatever music is being played and you have the option of more than one song. We'd really recommend giving this a try, we were lucky enough to experience it twice on our cruise and even took elderly family members with us the second time and they loved it too.
Lido Deck
You won't find a lot of entertainment on the Lido deck, but there was the odd addition to our Horizon magazine. It was predominantly music quizzes, sail away or by the pool DJ sets, with more being offered on sea days.
The Cookery Club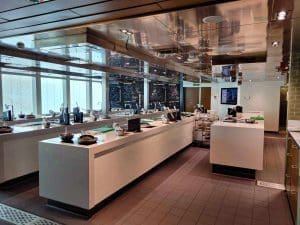 Cruises shouldn't just be about ports and pools, there is plenty of opportunity to learn some new skills. The Cookery Club is the perfect example of this because it is an opportunity to hone your cooking techniques. These masterclasses do come at an additional cost, but you're learning from the best chefs in the business and it's fully interactive, meaning they will give you the ingredients and you can eat the results at the end. You will find a Cookery Club schedule in your cabin, which gives you an insight into what classes are available, the times and the cost. Looking at the schedule when we cruised (Spring 2023) the average price was forty-five pounds.
The type of cuisine you can make really varies, but here are a few examples (bear in mind these may vary).
Indian Favourites
Breadmaking
Thai Street Food
Great Bakes
Scandinavian and Baltic
Classic Pies
Spanish Tapas
Portuguese Street Food
Looking at the information sheet provided on the Britannia, they confirm that the class is suitable for all abilities, whether you already enjoy cooking or you're a total novice. You'll be given tips and tricks to create delicious dishes. Everything is already measured up and you're given access to a fully equipped kitchen area, so your two hours will be focused on cooking rather than preparation.
The Studio (Cinema)
Most cruise ships we have been on show movies on big screens on the Lido deck. Although we regularly see people relaxed on the sun loungers wrapped up in blankets, it's not been something we have particularly enjoyed. Most movies are shown at night when you're sailing and that means it tends to be cooler on the lido deck, and sometimes windy.
Now P&O have provided us with movie cruise ship heaven, by actually providing an indoor cinema. It looks pretty much like your average cinema, with the large screen at the front and the rows and rows of seats. When we sailed there was two or three movies a day, but they tended to be the same ones on rotation. Times each day will vary, so you need to check the Horizon magazine to find out what movie is showing and when.
If you miss one of the movies and you don't get the chance to see it in the Studio, then you'll find it available on the TV in your cabin. We were incredibly impressed by what was offered on our cabin TV, but we will admit that it's kind of fun watching a movie in a cinema on a cruise ship.
The Casino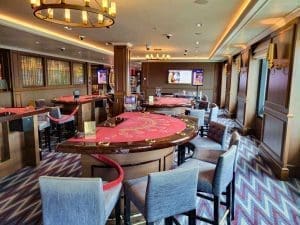 Compared to other ships we have been on, the casino is very small and there doesn't seem to be much focus on gambling in the entertainment guide. You will find a few slot machines and casino tables, plus you can purchase lottery tickets.
If you do play then you will see an icon on the screen as you gamble, and it will tell you how many free drinks you can have within the casino. You receive free drinks based on the points accrued as you play. Within the casino there are supposed to be members of staff around, but we didn't see any, so ended up heading to Brodies to get our drinks.
Additional Facilities
Photo Gallery – Pick Up Pictures
Most cruise ships have a photo gallery section, but we found the ones on P&O incredibly easy to access and simple to use. We also found it important to note that P&O aren't as bothersome with their photographers as we have experienced on other cruise lines. You will rarely be asked if you want your picture taken, if at all. But there are plenty of photographers dotted around should you want a memory of a fantastic vacation.
To check your photos head to deck 7 where you will find computer screens. Type in your cabin number and your photos will appear, then you can purchase them and have them printed. They normally take 24 hours to be uploaded, so we recommend waiting until the following day to take a look.  
Library
You may find we make a lot of comparisons to other cruise lines throughout this guide, but that's to give you an idea of the differences that stood out on the P&O Britannia. One such difference is the fact that Britannia has a specific room for a library, whereas on many other cruise lines you tend to have a few old books in a games room.
The library can be found at the back of the Crow's Nest bar and has one of the biggest ranges of books we have seen on a cruise ship. They are even sectioned out into categories such as fiction, biographies, wellness, travel, children, and reference. To borrow a book from the library you simply choose the book you want, fill in the sheet, then once finished you will find a slot box to place it in.
Ivory Suite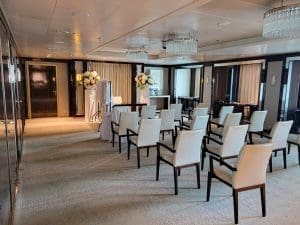 Not exactly an entertainment space, but it still maybe something you are interested in. The Ivory Suite is a room for celebrations, such as weddings and vow renewals. During our cruise there were a few events held there and as we took a peek into the room, we saw beautiful flower displays ready for a wedding. Looking at the set-up of the rooms, it looks like they use both the Ivory Suite and the Marlowe Suite for bigger events.
P&O have a dedicated team of specialists who will explore what it is you're looking for and aim to make the process stress free. They offer various packages, but our advice is to contact them for more details on pricing.
The Marlow Suite
Located in between the Crow's Nest and Ivory Suite, this room is an area where you can sit and read or play games. There is no bar there, but they will bring you drinks from the Crow's Nest. Most of the time it's nice and quiet in there, but on occasion if there are lots of people it will get a little noisy. If you have forgotten to bring any games with you, there is a double cupboard filled with paper, pens, board games and cards. You can buy your own deck of cards from the cruise essential shop, but when we tried, they had sold out. Should you find yourself in the same situation then you can buy used packs from the casino for a couple of pounds.
Shopping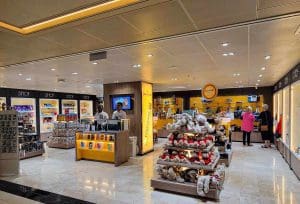 Found on deck 6 there is a decent range of shopping options on the Britannia. On one side of the ship, you will find clothes and jewellery, including Clogau, Pandora, Radley, Clifton Fine Jewellers and Ted Baker. On the other side there is the duty-free style shop which offers perfume, cigarettes, cigars, alcohol, skin care and make up. You will find promotional stands dotted around with daily discounts on handbags and jewellery.
The holiday essentials store can be found on deck 5 near the Limelight Club, and it offers a range of items such as medicines, plasters, toothbrushes, teddy bears, bags, and snacks.
Whitewall Art Gallery
Although the Art Gallery is only a small space, they offer some incredible pieces for sale. It can be found in the atrium next to the Blue Bar, and even if you're not considering buying anything we'd recommend going in to take a look. We saw a pop art piece for around fifty thousand pounds, but don't be to put off by that because prices vary dramatically.
Explorers Club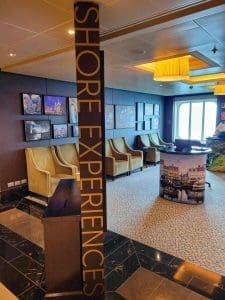 The Explorers section can be found on deck 5 not far from reception and provides information to guests about the excursions which are available. You can find details during the cruise on the My Holiday app, but if you have any additional questions then our advice would be to head to the Explorer's Club. You will find staff there on occasion and they provide daily print outs of what the excursions are, and which are fully booked or still available. From our experience we found the prices of excursions on P&O to be reasonable, especially for European city breaks. Within the guide in our room, it says that excursion prices begin at £15 per person.
Loyalty and Cruise Sales
You may be on your cruise and enjoying it so much that you are thinking about the next one. P&O are there to help because on deck 7 mid ship you will find the cruise sales area. Members of staff will be available to sit and go through with you what cruises are available with P&O, and help you book so that you have something to look forward to once your cruise is sadly over.
Sports Facilities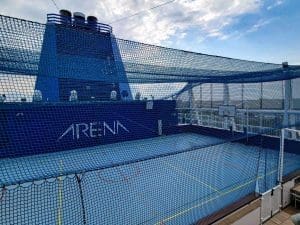 Deck 18 on Britannia is for the sporty passengers out there, because this is where you will find the basketball/football/cricket court, the walking/running path and golf driving nets. There are traditional deck games on 17 such as shuffleboard and ping pong.
The Gym
Although this might not be a priority for your cruise trip, you may be surprised to know that many people visit the gym during their trip. The workout facilities in the P&O Britannia gym are impressive, it's probably one of the largest we have seen on a cruise ship. You'll find a range of machines from treadmills, cross trainers, rowing machines, weights machines, and an extensive free weights area. All the equipment seemed to be of a high quality, and we enjoyed the views of the ports as we worked out. As with other cruise ship gyms there were plenty of towels available and the hygiene wipes to ensure the equipment was clean for you to use.
If you want to take your exercise a step further, then you could always pay for a personalised fitness session with one of their instructors. They will show you around the gym and help you work out a routine using the equipment available to get the body you have always wanted.
There's also an unlimited class pass which is purchasable and gives you the opportunity to attend additional specialised exercise classes which are listed in the Horizon magazine. During our cruise there was a body sculpt bootcamp, pathway to yoga, pure form Pilates and tour de cycle.
The Retreat
Located near the Serenity sunbathing area, you will see two doors either side of the Serenity bar. By the door there is a key card slot, but not really anything else as to what the Retreat is. We peeked through the slats of the doors, and you can see there are comfier sunbeds and a VIP experience sunbathing area. Thankfully we didn't put our cabin key into the slot, because from researching the Retreat it is a chargeable sunbathing section. If you're the kind of person who prefers extra peace and quiet, then you may wish to pay the additional forty pounds per person for the day. You'll not only enjoy the comfier beds, but they have a few nibble options such as mini pastries and you can order drinks, but they will still be charged to your cabin account. Basically, you're just paying for a quieter area to sunbathe.
The Oasis Spa
We will admit that we didn't use the Oasis Spa ourselves, but we spoke to the staff there and have done some research into what is available. The spa on the Britannia is one of the biggest available of all the P&O cruise ships, which means it offers a lot more in the way of treatments. You can book in two-hour spa slots which give you access to the facilities, but not any treatments.
The facilities in the Oasis spa include a hydrotherapy pool, thermal suite, heated orthopaedic beds, heated water beds, a large dry sauna, steam room, cold sauna, and tropical rain shower. Within the treatment area there are fifteen rooms, and they offer an incredible range of spa favourites. This includes massage, wellness treatments such as acupuncture and aesthetic treatments. There's also a salon within the spa offering hair treatments and nail services such as manicures and pedicures.
Laundrette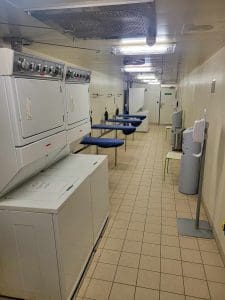 You will find laundrette rooms dotted around the ship and they are free to use. There are washers, dryers, and ironing boards available, but we couldn't find anywhere to purchase washing powder or fabric softener. We have been told that powder is available in the holiday essentials shop, so maybe ask if you need any, or bring your own. They have opening hours which are 8am to 10pm and the laundrette may be closed in some of the ports.
The Reef Kids Club
If you're looking for entertainment for the kids, then The Reef is for you. This kids club can be found on deck 17 and is one of the biggest dedicated areas for children between the ages of two and seventeen years old.
There are five age specific rooms in The Reef Club.
Tumblers – 6 months to 2 years – This is a play area with soft mats and toys. Although there aren't specific organised activities, it's the ideal spot for parents to play with their little ones and meet other parents with babies on the ship. The Tumblers room opens at 9am until 5pm on sea days and 10am to 5pm during port days. Between 6pm and 2am the room turns into a night nursery for children up to 4 years old. There is space for 15 cots, and it is a complimentary service which is a first come first served basis. For water play check out the Surfers section.
Splashers – 2 to 4 years – This bright and spacious room includes a soft play area with a slide, a creative play area with Play-Doh and crayons, a dressing up area, puppet theatre and a small library. The staff there make sure that the kids have a day packed with activities such as face painting, games, and songs. Each day there is a story time at 7.45pm and then a movie between 8pm and 11pm. The children aren't required to be toilet trained, and staff have nappies available and will change them. But they do encourage parents to bring their own. For water play check out the Surfers section.
Surfers – 5 to 8 years – As we head to the older kids, you'd expect there to be more activities available and we can confirm that P&O Britannia provides. The Surfers room is sectioned off into different activity areas, including a spot for Lego, a giant soft play area, a puppet theatre, foosball, Wii TV, and screens for PS4 gaming. The game selection is age appropriate, and staff will limit how long each child spends playing. Don't worry because your kids will be too busy to simply focus on computer games. The Surfers group have a busy daily itinerary which includes, a ship wide hide and seek, learning circus skills such as plate spinning, bowling, a pirate hunt and duel, and to top it all off there are talent shows. Of course, holidays should include some water fun, so all kids from Tumblers through to Surfers have access to an enclosed Splash Zone. This can be found outside the Surfers room and includes a pirate ship with water cannons and a shallow water play area with spray jets for toddlers. You can also find small foot powered buggies for younger kids to 'drive' around in.
Scubas – 9 to 12 years – Because this is classed as the tween age, there tends to be fewer scheduled activities provided. Britannia know that the kids will choose to come and go as they please, but that it's still a good idea to have a space where they can meet other cruisers their age. Within the room you'll find 12 computer screens and age-appropriate games, a pool and air hockey table, a DJ booth and dance floor. The activities that are provided includes Lego, crafting and the ship's DJ teaches the kids how to mix music.
H20 – 13- to 17-year-olds – The H2O room is available from 10am to 1pm, 2pm to 5pm and then 6pm to 11pm on both port and sea days. If the teen is on board, then parents must also remain. This area can be described as more of a nightclub than a kid's room. Alike the Scubas there are fewer organised activities, but you will find some games, talent shows and parties on the schedule. It's really just a great spot to hang out with your new friends and play computer games or watch movies. At the back of deck 17 is a teens-only pool area, which includes a plunge pool, deck chairs and access to the H2O room.
Because The Reef can be found on deck 17 which is the Sun Deck, the rooms offer incredible views. There is even a waiting room for the parents when they come to drop off or pick up their children. As you would imagine there are age specific activities, games, and entertainment.
Kids club hours are 9am to 1pm, 2pm to 5pm and 6pm to 11pm during sea days. When you're at port the hours are generally the same, with exception of the opening time which is 10am. Also, parents must stay on the ship if their kids are in The Reef.
No matter the child's age you have to register and there is a Parents Talk on the first day of the cruise to introduce you to the staff and explain how The Reef works. Because of their age, Splashers and Surfers need to be signed in and out by their parents. Unfortunately, you cannot drop off babies and toddlers, so if you want to take part in the Tumblers class then you'll have to stay with your child at all times.
During the cruise there are plenty of events such as the welcome parties, The Reef's Got Talent show, kid's discos, and a cookery club.
Britannia Bars and Drinks
There are plenty of bars available on P&O Britannia, with each offering a differing atmosphere to accommodate all their guests. To order a drink you grab the attention of a server, tell them what you want and then give them your room card. They will take your card away with them and when they bring your drinks, pass it back to you. Our advice is to make sure it is your card because mistakes can happen. You will be given a receipt, but you are not required to sign anything. At first, we found this unusual because on other cruise lines we have been required to sign a receipt to prove that we had accepted the drink. It is worth keeping an eye out on your cruise account to make sure that the right charges have been added. It can be difficult to remember at the end, so it would make sense to monitor as you go.
This list of the bars on Britannia will provide you with a general idea of what is available, and the type of drinks you'll find in each.
The Crow's Nest
The Crow's Nest is the bar which you see on most of Britannia's promotional information and for a very good reason. It can be found at the front of the ship on deck 16, which means it provides impressive views in a classy atmosphere. During the day it's relatively empty, but it will get busy at nighttime because it is essentially the ships piano bar. If you spend time there in the day then you can wear shorts and flip flops, but you will be asked to leave and change as it leads up to 6pm. On Gala Evenings you are required to wear more formal clothing which is indicated by a sign near the entrance of the bar. The Crow's Nest is beautifully decorated, and you'll find comfortable chairs and sofas throughout, many near the large window overlooking the ocean. Drinks are similar to the options elsewhere on the ship, with a range of classic cocktails, beers, wine, and soft drinks.
Brodies
With a relaxed sports theme, Brodies has the atypical pub look and is a popular spot on the ship to meet up with friends. It's found quite centrally on deck 6, so you'll pass it frequently during your cruise. Brodies is the main spot for activities such as daily quizzes and interactive sports like bowling. Because Brodies is next to the casino, you will find some activities relating to gambling such as jackpot pre-sales. Around the bar there are a number of large TV screens and during the day and night they will show various sporting events, but especially Live Premiership Football. Near Brodies is a pool table, which was always in use every time we walked past. When it comes to drinks, there is a large range available including British beers and ciders such as Fullers London Pride, Old Speckled Hen, and Black Sheep Ale, then your usual wines, soft drinks, and spirits.
Blue Bar (The Atrium)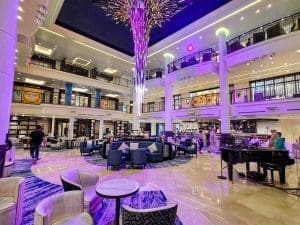 The first thing you see on the ship on embarkation day is the Blue Bar, which is basically the Atrium. It's at the centre of the ship and is quite a large space of chairs and tables. The Blue Bar is opposite to the Market Café and as such guests use the seating for both. The bar and atrium are designed with a modern classic style, obviously in a blue theme as suggested by the name. This isn't the bar if you're looking for a relaxed evening, because there's a lot of hustle and bustle within that area, but it's perfect for people watching. There's lots of evening entertainment within the Atrium section, with singers and musicians performing there. During our two-week cruise we had two performers on rotation, who performed different songs each night. Around the Blue Bar and Atrium, the servers will walk around and wait the tables in the area. The menu is very similar to the other bars, with a good range of beer, wine, cocktails, and spirits.
Java
As you can imagine with a name like Java, this area is predominantly a coffee house. It serves Costa Coffee (a UK Brand of coffee shop) and hot drinks, blended fruit coolers and speciality teas. They also have a selection of cakes on offer if you fancy something a little sweet with your coffee. When we looked at Java on the P&O app, we could only see hot drinks, but when we actually ventured over, there was a bar section too. Within the bar there was the same range of drinks as you can find in the other bars. We sat in Java once and in all honesty, it wasn't the most relaxing space to sit, mainly because it's near a thoroughfare and as such people are constantly walking back and too. There were many occasions when we passed and saw guests playing cards or games, so we think it depends on what you're after. Personally, it wasn't our preferred drinking spot, but there are tables and chairs outside the café on deck 7 which is perfect on a sunny day.
Sindhu Bar
This is a small bar area just outside of the Sindhu restaurant, which is an Indian. The menu isn't as large as the other bars on board, but there is a good range of wines. Sindhu Bar is ideal if you're looking for somewhere a little quieter to relax, the only problem is you may struggle to get a seat because there aren't many available.
Crystal Room
The Crystal Room is another prominent area for the larger more popular entertainment options such as ballroom dancing, karaoke, quizzes and even our favourite, the silent disco. There is plenty of seating around the dance floor, with lots of chairs and sofas in a beautiful white contemporary style. When there is no entertainment on, the bar will be closed, and the room can be used as a chill out space. You can grab a drink from the nearby Java instead. During the activities the bar will be open, and servers will walk around the room taking orders. Again, you will find a range of drinks from cocktails to beer, wines, spirits, and soft drinks.
The Glass House
This is predominantly a restaurant found on deck 7, which has been headed up by the award-winning wine expert Olly Smith. But you can access their impressive wine menu, with samples and wine flights being available to purchase.
Market Café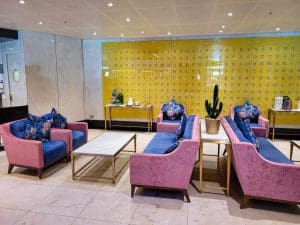 Found in the Atrium, opposite to the Blue Bar, the Market Café is similar to Java just with a more relaxed vibe and no bar. They offer Costa Coffee, hot drinks, blended fruit coolers and speciality teas including fruity options. There is a great range of cakes and patisseries, but in addition there is a section of ice creams in either cones or sundaes.
Deck Bars
Whether you're relaxing by the pool or sunbathing to top up that tan, you're never too far from one of the five deck bars on P&O Britannia. As well as drinks, many of the bars offer a wide range of ice creams which you can purchase.
Arena Bar – This is next to the basketball court on deck 18, but during our cruise it was never open. It offers a small selection of alcoholic and soft drinks, which is ideal if you need to hydrate after playing a game.
Serenity Bar – The Serenity pool is the adults only section on deck 17, so it would make sense there would be a bar. Within the bar there was a huge range of cocktails, beer, spirits, soft drinks, and hot drinks. There are servers around the pool area, so you don't even have to move from the comfort of your sun lounger.
Lido Bar – Opposite the Riviera Bar and next to the pizzeria and lido grill, is the Lido Bar. This is quite central on deck 16 and it can get quite noisy with DJ's playing and music quizzes. The drinks on offer are the same as the other bars and servers are always walking around to take your order.
Riviera Bar – Opposite to the Lido Bar is the Riviera Bar and it is quite large. It seems a little odd to have two bars so close to each other, but we assume that on certain cruises this space can get extremely busy and as such they are needed. Again, the drinks options are the same.
Sunset Bar – Found at the back of deck 16, this bar and sunbathing area is a little quieter because it's hidden away. It is the ideal spot to take in the spectacular views as you relax and take in the peace and quiet around you. As you can imagine the drinks options are the same even though the bar here isn't huge. It may not always be open, depending on the weather.
Restaurants on P&O Britannia
Food is quite an important aspect on any cruise ship because all your meals will be made on there. So, you need to make sure you're catered for and that it is high quality. P&O know the importance of this, so they offer a wide range of dining spaces and restaurants throughout the ship. Some of these are included in your cruise and others have an additional charge, but we'll go through each to give you an idea of what they offer.
Horizon Restaurant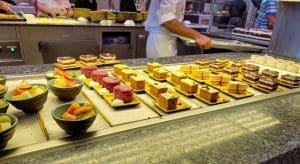 We thought we'd start with the buffet restaurant, because for most guests this is where you'll spend most of your time eating. Horizon works the same as most buffet restaurants in that you grab your plate and cutlery and then wander around and help yourself to whatever food you'd like. There are a number of food stations, but they appear to repeat the same options. We're not complaining when we say that because when it comes to choice they offer a great variety, and it changes every day. We had members of our party who were vegan and suffered from food intolerances and even they were catered for. If you are vegan, vegetarian, gluten free or you suffer from allergies or intolerances, then you'll be in heaven on P&O Britannia. Unlike many of the other cruise lines who have a label of what the food is and logos which give you a basic premise of the possible ingredients. In Horizon you will find that every dish has a name label and the main intolerances on the front. But what makes P&O even better is they put the list of ingredients on the back, so you can determine for yourself whether to eat it or not. Fingers crossed the other cruise lines adopt this policy soon, because it made life so much easier. As well as this they also have a section for allergen products such as plant-based milks, vegan cheese and butter or gluten free bread and dressings.
Horizon is essentially the place to eat if you want to be a little less formal when you dine. Plus, it gives you phenomenal sea views to make your meal even more relaxing. Breakfast includes the usual cooked items such as eggs, bacon, and beans, plus continental with cereals, pastries, and fruits. There is a good range of fruit juice and even smoothie drinks in the morning too.
At lunch time there tends to be one option of soup and then the main buffet section which changed every day. We saw many options from full roasts, pasta, curry and stir fry. There is a salad bar which offers the basic lettuce, tomato, and cucumber, but in all honesty it's not the best we have seen. Some days they have specialist meal days such as best of British or Asian. If you have a sweet tooth then you're in luck, because Horizon offers several desserts including warm options. If you're vegan and thinking they won't have anything for you, then you may be shocked to find out that on most days there was one option available. We became addicted to the vegan cheesecake; it was heavenly and soy free (most days). For the cheese and cracker connoisseurs there is a section available next to the bread.
The evening meal options were generally the same as lunch time, with maybe the odd difference. Just a little tip from us, we found the fries from the Lido Grill to be nicer than those in Horizon.
Now because we like to be honest, we're going to give you the good and the bad, but obviously this is our personal experience. The good was the range offered, especially for those of us who struggle with intolerances. Even though we generally ate similar meals, at least we had an option available for us and the ingredients list for each was a gamechanger. The one negative which everyone in our group agreed, was that in general the food was lukewarm; one exception being the hot desserts which could be scalding. It didn't impact the overall taste of the food, or stop us from wanting to eat there, it just would have been better if it was a little warmer. But again, this may change when you're cruising on Britannia.
The Beach House
Within the Horizon Buffet restaurant, you will see an area sectioned off and it is here you will find The Beach House. It is a pop-up dining venue with a separate reservations desk, and you can book it on your My Holiday app. Because of where The Beach House is positioned, there isn't really a dress code and as such you can go in your casual clothes such as shorts. Of course, this doesn't include beach wear such as swimming outfits.
The Beach House is a speciality dining option and as such you have to pay an additional supplement. It is inspired by South American, Caribbean, and Stateside cuisines including plenty of comfort foods and hearty dishes. From looking online, the current cost is £7.50 per person which isn't too extreme and as such it's a great option for families who fancy something a little different.
Within that additional charge you will receive a three-course meal and usually there are two menus available during your cruise. So, if you enjoyed your first visit then you may want to go again and try the other menu. You will notice that on the menu depending on the item you choose there may be an additional charge on top of the £7.50.
The Beach House is one of the more affordable speciality dining options and as such it can be busy, so we would advise that you prebook. If you're vegetarian or vegan then you will find options on both menus, including desserts.
Examples of starters are.
Crispy Bacon and Cheese Potato Skins with Spring Onion, Sour Cream and Cajun Dip.
Super Charged Salad Served in a Tortilla Cup.
Hush Puppies.
Piri Piri Chicken Thighs.
Baked Porcini and Ricotta Crepes.
Panko Crumb and Filo Straw Tiger Prawns.
Beach House Nachos.
Wicked Spicy Buffalo Wings with Garlic Mayonnaise or Blue Cheese Dip.
Crispy Bacon Caesar Salad.
Baked Garlic Mushrooms with Spinach and Cream Cheese Sauce.
Burnt Ends Hash.
Sea Salt Pork Crackling.
Examples of Mains are.
Sizzler Plates – For example, Tiger Prawns, Turkey, or New York Strip Beef Steak.
Hickory Glazed Cedar Plank Salmon.
Southern Fried Chicken Tenders.
Caribbean Pulled Pork Cubano Sub.
Lentil Cheese and Bean Dog.
Slow Cooked New Orleans Suckling Leg of Lamb to Share.
Texan Slow Cooked Beef Brisket and Hot Links Sausage.
Double Decker Burger Prime Beef, Dry Cured Bacon and Monterey Jack Cheese in a Sesame Brioche Bun.
Beach House Rib Combo.
Blackened Atlantic Cod Fillet with a Jack Daniels Miso Glaze.
Salt and Pepper Chilli Squid.
Creamy Truffle Mac and Cheese.
Cook Your Own Beef Fillet off a Lava Rock.
Examples of Desserts are.
Baked White Chocolate New York Cheesecake.
Philadelphia Carrot Cake.
Key Lime Sundae.
Triple Layered Chocolate Fudge Cake.
Banana and Strawberry Daiquiri Sizzler.
Milk Chocolate Fondue to Share.
Warm Apple and Pecan Pie.
Triple Layered Chocolate Fudge Cake.
If you are looking for something a little different from the main dining room or buffet, then you may want to try The Beach House. The portion sizes are decent, and the food is a little fancier than the main restaurant. We're told that items such as the fillet steak and burger are worth the additional cost. This is ideal for those of you looking for quality food, without having to dress up to the nines.
Poolside Dining
Sometimes when you're enjoying a relaxing drink by the pool, you get peckish but the thought of having to change clothes for food can be off putting. The easiest option is to head to one of Britannia's poolside dining options which include.
Pizzeria
Can you imagine anything better than freshly made pizza? Found near the lido pool is the pizzeria which offers handmade stone-baked pizza topped with gooey Provolone cheese from Italy. It's open between 11am and 6pm, and there are a few topping options available such as pepperoni, four cheese and margarita. You can grab a slice or two for a light bite or treat yourself and enjoy a full pizza.
Lido Grill
This was an incredibly popular dining spot during the day, and it is available between 11am and 6pm. You can enjoy tasty hot dogs, burgers, and French fries, plus there are a range of toppings. We found that the fries were better from the Lido Grill over the Horizon Buffet. The food comes in a cute basket as if you were in a diner, so it's easy enough to carry back to your sun lounger and enjoy.
Sundaes Ice Cream Parlour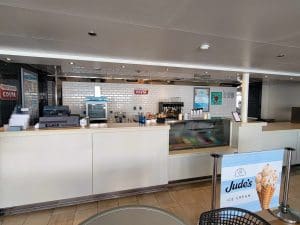 Also open between 11am and 6pm, but there were a few times during our cruise it was closed because the weather was cold and we couldn't imagine anyone queuing for ice cream. Not only did they offer an amazing selection of Jude's ice creams such as Very Vanilla, Truly Chocolate, Salted Caramel and Ginger Spice. But they can be served in cones or cups, depending on your preference. The ice creams are an additional cost and as such do not come included in your cruise package. Sundaes Ice Cream also serves milkshakes and Costa Coffee if you're looking for a little pick me up.
Oriental Restaurant
The Oriental Restaurant can be found on deck 6 and it is the main dining area where guests will head for one of two sittings. It will either be a 6.30pm sitting or 8.30pm, the latter being the same as the first show in the theatre. You will be sat with your group or may join other cruisers on a mixed table which is always a fun experience. The restaurant is decorated in rich bronzes and golds, which provides an elegance for the near 500 guests who can dine in comfort.
Around the Oriental there are huge ocean view windows, but you may find that you are sat without a view. The restaurant offers delicately crafted dishes, and you will see the same menu in the Meridian and Peninsular restaurants. The options you are given will change each night and vary throughout the year, but some that we were offered are.
Examples of Starters are.
Oak Smoked Duck Breast and Rémoulade Salad with Aromatic Black Cherries.
Marinated Courgette, Hummus, and Feta Salad with Pitta Straws.
Beef and Caramelised Onion Broth.
Chilled Gazpacho with Oven-toasted Garlic Croûtons.
Twice Baked Crab Soufflé with a Shellfish Cream Sauce.
Examples of Mains are.
Grilled Barramundi in Lobster Butter Sauce with Mediterranean Vegetables, Sugar Snap Peas and Polenta Chips.
Roast Saddle of Lamb with Dauphinoise Potatoes, Broccoli Florets and Baby Carrots.
Coq au Vin with Pomme Purée, Mediterranean Vegetables and Green Beans.
Wild Mushroom Tartlet with a Madeira Truffle Velouté served with Julienne Vegetables and Fried Rice.
Examples of Desserts are.
Bananas Foster with Filo Pastry and Clotted Cream Ice Cream.
Tarte au Citron.
Coconut and White Chocolate Panna Cotta with a Tropical Fruit Salsa.
Cheeseboard: A Selection of Regional British and Continental Cheese with Biscuits.
There is a vegan and vegetarian option for each section and if you have food intolerances or allergies then it is best to inform your waiter beforehand so they can accommodate. The menu changes daily and they offer additional luxuries on formal nights.
During our cruise we only ended up eating in the Oriental a couple of times, because our sitting was 8.30pm and it clashed with the shows we had booked. We asked to change to the other option of 6.30pm but we never heard anything further. Because we wanted to see the shows, we tended to stick with the Horizon buffet. Of the couple of meals we had in this restaurant we didn't have the greatest experience, but we have heard that other guests enjoyed it. We had asked for specific diet allowances and our food never ended up arriving. When we asked about it, we had to wait a while longer as if our order had been forgotten. When it arrived it wasn't very nice, so we left it. Other family members who ate off the normal menu found the food to be ok, but nothing special. Of course, everyone's experiences will be different, we just wanted to provide ours.
Peninsular and Meridian Restaurant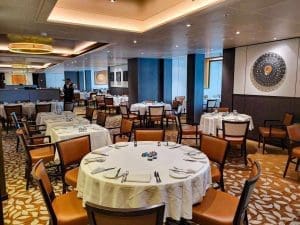 As we mentioned above, if you eat in the Oriental Restaurant, you are given one of two set times. If this doesn't work for you, for example you want to see a show or you refer an earlier or later time to eat then you can opt for the Peninsular or Meridian Restaurant. They offer the flexibility of freedom dining, which means that you will join a virtual queue and must wait for a set time before being called to be seated for your meal.
The Peninsular can be found on deck 6 and offers the same menu as the Oriental. The Meridian is on deck 5 and again offers the same menu as the other two restaurants, but you can also enjoy breakfast, lunch, and afternoon tea. Both restaurants offer modern British cuisine in a sophisticated atmosphere.
Market Café
Opposite to the Blue Bar is the Market Café which is a chilled area for those of you who fancy a coffee, tea, or something sweet. Master Pâtissier, Eric Lanlard brings his expertise to the Market Café and Britannia's afternoon tea experience.
Found on deck 5 we saw an array of Bakewell slices, chocolate fudge cake, cheesecake, and carrot cake on display, but they also offer ice cream and sundaes.
If it's simply a warm drink you're after, then this is the place to grab your Costa coffee or speciality tea and take a seat as you watch the waves crash by. There were quite a few options, but we especially loved the berry tea.
The seating nearby the café is ideal if you're looking for somewhere quiet to read or relax and take in the views.
The Epicurean
Found near the Crow's Nest is the fine dining experience known as The Epicurean. The word Epicurean means 'devoted to sensual pleasures' such as food and drink, and this is the perfect way to explain this restaurant. Now we'll begin by saying that this is a supplementary dining option which is currently £28 per person, but with that you are given a unique food experience in an elegant surrounding. This restaurant is ideal if you're celebrating a special event, or you simply want a romantic evening with your loved one. There is an ambience in the room that exudes class, from the beautiful décor and the serene music to the stunning ocean views.
The menu is inspired by classic British dishes, but they are given a modern twist by expert chefs, and it is completed with expertly chosen fine wines and flawless service.  During sea days you can also book Eric Lanlard's afternoon tea, which was quite popular during our cruise.
Examples of starters are.
Alaskan Snow Crab, Langoustine and Salmon Caviar Cocktail.
Pea and Chervil Custard, Parchment Bread, and a Cucumber Mojito.
Seared King Scallops and Scallop Tartare.
Charred Cucumber, Kohlrabi and Cucumber Ketchup.
Chicken and Morel Mushroom Mousseline with Pistachio Crumble.
Duck Liver Parfait, Sweet and Sour Pickled Vegetables and Spinach Anglaise.
Jamón Pata Negra Ibérico de Bellota.
Examples of mains are.
Black Cod and Canadian Cold Water Lobster Tail.
with Avruga Caviar Gratin.
Bouillabaisse Fondue and Bee Pollen Dressed House Salad.
Torchon of Wild Atlantic Halibut Grenobloise for Two.
Saffron Poached Fennel and Petit Salad.
Caramelised Aubergine and Cauliflower Tabbouleh.
Redman Limousin Irish Beef Fillet.
Maris Piper Potato Terrine and Creamed Baby Spinach.
Soy Noodles and Stir-fried Oriental Greens.
Maple Glazed Saddleback Pork T-Bone.
Examples of mains are.
Crêpes Suzette.
Vanilla Pod Ice Cream.
Granny Smith Apple Sorbet and Elderflower Parfait.
Baked Valrhona Chocolate Cheesecake.
Poached Amarena Cherries, Aged Balsamic Vinegar and Sour Cream.
Lemon Meringue Tart.
Lavender Meringue, Raspberries and Shortbread.
Belgian Chocolate Jaffa Cake.
The Glass House
This restaurant can be found on deck 7 and is opposite to the Java Café, with views over the atrium. Although it is sectioned off, it doesn't have the seclusion of restaurants such as the Epicurean, because of its proximity to the atrium.
This stylish venue offers an informal menu of steak and seafood, with wines by the glass which match each course. There are supplemental charges for this restaurant, which is between £5.25 and £7.50, depending on your menu choices.
As well as a restaurant The Glass House is also ideal for light bites, lunchtime tipples and even offers a tasting room. The selection of wines was chosen by wine guru Olly Smith and there are over 32 to try during your vacation.
Examples of the Small Plates are.
Spiced Lamb Skewers.
Tempura King Prawns.
Popcorn Chicken.
Peppered Cheese Polenta Chips.
Curry Spiced Seared Scallops.
Chicken Liver Parfait.
Thai Beef Salad.
Trio of Classic, Broad Bean and Red Pepper Houmous.
Sindhu
Found on deck 7 is the Indian inspired Sindhu restaurant and bar, which is the ideal spot if you're looking for a relaxing atmosphere and something a little different. As you can imagine this is a supplementary restaurant with a current price being between £15 and £25. The menu for Sindhu was designed by Michelin star chef Atul Kochhlar who drew inspiration from his native India. This means your taste buds will be delighted by an array of rich spices, delicate flavours, and wonderful aromas, all in sumptuous surroundings.
Examples of Starters.
Hariyali Jhinga.
Ginger and Mint Tiger Prawns, Pineapple Chutney.
Karara Kekda.
Crisp Soft Shell Crab, Celeriac and Apple Slaw, Passion Fruit Chutney.
Kozhi Sukka.
Tamilian Spiced Chicken, Mixed Leaves, Tomato and Coconut Relish.
Gosht Ki Chaapein.
Kerala Style Beef, Paratha Flatbread, Pickled Vegetables.
Chana Pakodi Chaat.
Black Chickpea Dumplings, Chickpea Salad, Masala Houmous.
Examples of Mains.
Kalyera Mappas.
Lobster, Seafood Biriyani, Spiced Coconut and Mango Sauce.
Lasooni Machhi.
Pan Roasted Salmon, Spiced Wilted Spinach, Tomato and Tamarind Sauce.
Tandoori Murg.
Tandoori Half Chicken, Mixed Leaf Salad, Makhani Sauce.
Calcutta Batak.
Nalli Nihari.
Slow Cooked Lamb Shank with Saffron, Yoghurt and Rose Water .
Erachi Chettinad.
Navrattan Kofta Korma.
Examples of Desserts.
Chocolate Textures.
Chocolate Truffle Mousse, White Chocolate and Mint Sorbet, Mint Chocolate Soil.
Cardamom Bread and Butter Pudding.
Ginger Custard.
Blueberry Bhapia Doi.
Yoghurt and Berry Mousse, Mixed Berry Jelly, Fruit Compote.
Khatta Meetha Teeta.
Chilled Mango and Passion Fruit Parfait, Chilli Glass.
The Limelight Club
Not far from the atrium lobby (deck 5) is the Limelight Club and you'll spot it often because it's quite prominently advertised on the ship. This is reminiscent of the traditional supper club, which combines quality dining along with a show. But what makes it more exciting is that many of the performers are household names in the United Kingdom. During our cruise we had Ray Quinn and Chesney Hawkes, and yes throughout the day you will see them wandering around the ship which adds some fun to your cruise.
As you can imagine this is a supplemented restaurant and you can pay between £25 and £35 per person. This may seem expensive, but in reality, how much would you pay to simply see those acts perform, never mind the addition of the high-quality food.
The restaurant has quite an intimate, classy setting, with a stage at the centre of the room. There are shows every night, exclusively for adults and depending on the act they can book up fast. As well as the show, the price includes a three-course menu which is served during the performance and then the venue turns into a late-night dancing area which is a unique and fun experience.
Examples of Starters.
Mojito Cured Salmon.
Crisp Honey-Glazed Berkshire Black Ham Hock.
Examples of Mains.
Pan-Roasted Fillet of Onley Grounds Beef.
Pine Nut Tapenade-Crusted Lamb Rack.
Butternut Squash, Mushroom and Cashew Nut Spring Roll.
Examples of Desserts.
Dark and White Chocolate Mascarpone Bomba.
Strudel of Pistachio Kataifi Pastry with Pine and Fir Tree Syrup.
Room Service on P&O Britannia
Cruises can be hard work and tiring, especially if you have back-to-back ports. So, you may get back to your cabin and simply want to rest, rather than having to get ready to head to a restaurant. This is where room service comes in handy because you can relax in your room and wait for your food to be delivered to your door. There are additional charges added to the order, but it's not too extreme. You can always nip up to the buffet and bring food back to your room. Food categories include baguettes, light bites, large plates, wraps and healthy options. There are even desserts and sweet treats available if you fancy a little something naughty. Room service is available around the clock, but after 11pm the menu is smaller.
If you're after breakfast, then fill in the card and hang it on your door before you go to bed and the next morning the crew member will knock with your order. For other meals simply call room service and place your order and they will bring it to you.
Special Dietary Requirements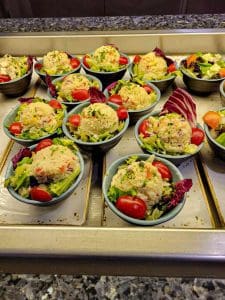 During our booking we indicated that we had dietary requirements, because of this we were given a letter upon arrival which went through what P&O offers. Within that letter we were told that they offer a full menu of vegetarian, vegan, gluten free and low sugar dishes. Also, within the Horizon restaurant there are knowledgeable stewards wearing a yellow 'can I help you?' apron who will be happy to help and explain the ingredients.
If you fancy any of the speciality dining restaurants, then you can contact the restaurants host and explain your dietary needs as you make a table booking.
The Peninsular Club
The Peninsular Club is P&O's loyalty scheme, and it is based on the time you spend on P&O cruise lines. For every night you earn 10 loyalty points, and they will be applied at the end of your holiday. By spending 15 nights or more on board any P&O cruise ships, you will earn 150 points and as such will automatically become a Pacific tier member of the club.
There are six tiers, with each bringing more rewards, and you move through them simply by cruising with P&O. Benefits include onboard discount, a champagne voucher, priority arrival time allocation and welcome on-board reception.
Our Britannia Top Tips
During our cruise there was shuttle transport available at every port. Our first stop was Skagen in Denmark and as we left the ship, we spotted there was a bus available. We looked around and couldn't see any information or signage to indicate a charge. But as we boarded the bus, they scanned our cabin card. When we looked at our cruise account later in the evening, we had been charged four pounds each way. This disappointed us because we have been to ports where you are taken to the main town by shuttle bus at no extra cost. When we investigated it, there was information in the Horizon magazine, we are just so new to P&O we didn't realise. If we had known we would have walked instead because the proximity from the ship to the town wasn't that far, but for some of the other ports the shuttle was a god send. If you have a disability or struggle to walk distances then this is a great addition provided by P&O, even if there is a cost.
Some cruise lines have the swimming towels in your cabin, but on P&O Britannia you will find them by the pools.
You may be given a time slot for the restaurant, which in the Oriental was either 6.30pm or 8.30pm. We were given the 8.30pm slot, which clashed with the time we had booked for the shows. Having requested a change in time form the head waiter, we were told we would be added to the list and a letter would be sent to our cabin, but we never received it. This means that we spent most of our time eating in the Horizon buffet, which was fine by us. We mention this because if you're more of a night owl and you're pre-booking the shows, then it maybe an idea to opt for the later one just in case you're given the 8.30pm mealtime.
During our research before the cruise, we were informed that you can bring alcohol when you board the ship on the first day. The amount allowed is a litre bottle per person or unlimited alcohol-free drinks. We brought in our hand luggage a litre bottle of spirits each. When we were onboard, we noticed that you could purchase a bottle of spirits for your room and the price was incredibly reasonable. As we visited the various ports, we bought local beers and wine, which we then brought back with us onto the ship. Obviously, they need to be scanned by security, but we didn't have any problems. This maybe a European allowance, because we have been told that many cruise lines do not allow it in American or Caribbean ports.
Britannia offers a free newspaper called Britain Today which you can pick up from the reception on deck 5. It's not a full newspaper, just a drilled down version they have created and printed off. Inside you will find world news, sports, celebrity gossip, entertainment the weather and a crossword for the puzzle fans.
There is a drink of the day in most of the bars and you can discover what it is in the Horizon magazine. Most of the time the mocktail can be found on the menu, but the cocktails can sometimes be original.
Our biggest advice would be to spend time the night before going through the Horizon magazine, more specifically the 'shipboard information' at the back. This will provide information pertinent to the ship itself, but more importantly to the port you're visiting. You can find out whether you need to take your passport with you, if there is a shuttle bus service, whether there are any strikes or local issues you need to be aware of and information on crew drills and the dining code.
Disembarkation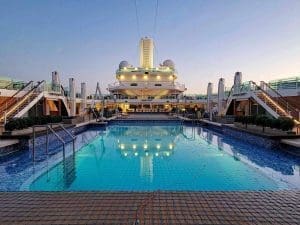 How you disembark from the Britannia will depend on what you have chosen to do with your luggage.
The day before you leave you need to cash out any casino chips and slot winnings before the casino closes. You should find a paper copy of your cruise account spendings left at your cabin door. For most people the balance will be removed from the credit card or debit card you applied to your account. If you're paying by cash, then you will need to settle your account by 10pm the evening before disembarkation.
On the day you leave, your cabin needs to be vacated by 8am. To leave the ship you must show your cruise card which you have used throughout the trip to enter your room and pay for drinks. You have two options when it comes to luggage and that is having it taken away the night before or taking it with you as you leave.
Taking your luggage with you – If you are able to, then this option is the easiest for getting off the ship and it's the one we chose. Between 7am and 8am you can leave your room at any point and head to the gangway which is situated on deck 5 midship. Your card will be scanned, and you simply walk off into the terminal and your transportation home.
Luggage removed the night before – You can choose to leave your luggage outside your room the night before and pick it up in the terminal where trolleys will be available. This is especially handy if you have any disabilities or physical struggles. Bags need to be outside your cabin before 9pm the night before, but remember to keep any medication, valuables, and fragile items in your hand luggage. We'd also recommend that you leave out a fresh set of clothes, because we have heard of a story where a man packed everything away and didn't have any clothes for the next day. The cruise line ended up giving him items from lost and found. Your luggage will be offloaded once the ship has docked and grouped in the terminal by deck order. Within the disembarkation letter posted to your cabin you will find an allocated venue and time. This luggage option means you must wait until that time, or your luggage probably will not be in the terminal. For example, we were told to wait on deck 7 around the Glasshouse and Java until 8.40am.
Would We Recommend P&O Britannia?
Trying a new cruise line can always be a little disconcerting because you have no idea what the food will be like, or the facilities and cabins, and how strict the dress code will be. This was our first ever P&O ship, and we can officially say we're big fans of the cruise line. We're actually quite eager to try their other ships because we hear some of the others such as the Iona are even better than Britannia.
We went with family members and as such it was a mixture of ages, but we can confirm that everyone was catered for. The cabins (even inside ones) are a good size, and the food quality is great, plus there's a lot for vegetarian, vegan, and gluten free passengers.
When it came to entertainment, we were blown away by the options available, more so through the evening. Obviously, this will change year on year as the artists and performers will be different, but if the quality remains the same then you won't be disappointed.
Not everything was perfect, for example our meals the first night weren't the best, the mealtimes clashed with the shows and as such we had to mainly eat in the buffet restaurant, and I wouldn't say our cabin was the cleanest (when compared to other cruise lines such as Carnival). But honestly, we wouldn't let any of these areas put you off from booking with the cruise line or on Britannia, as it didn't significantly impact out trip and we found work arounds.
Cruising has become increasingly popular over the last few years for all ages. Not only can you enjoy exquisite food, drink, and incredible entertainment, but you have the chance to see lots of wonderful new places in one trip. We view cruising as a taster menu for countries or cities because some locations we know we'll go back to another time and stay for a little longer. So, if you've never been on a cruise then why not consider this impressive ship as your first one.
Should you decide to book, or you have already booked, then we wish you a wonderful time on the P&O Britannia and please tag us into your Instagram pictures, we love to see your adventures.