At Make a Bucket List we love a good stadium tour, so living just a short drive away, it would be rude not to visit one of the most iconic football stadiums in the world. A VIP Liverpool FC Anfield Experience Day with Lunch is a must for any football fan, not just Liverpool fans. We have actually been fortunate enough to tour Anfield and sit in the mighty Kop twice, before and after the stadium upgrades. And we have to say, the tour has improved immensely along with the stadium itself. So what exactly can you expect from the Anfield Experience, Legends Q&A and LFC Stadium Tour? Below we'll talk you through our most recent visit and tour options available.
Liverpool FC Anfield Stadium Tour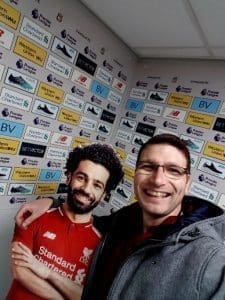 Liverpool FC's history is almost unrivalled with over 120 years of football, 19 league titles and 6 European Cups among their accolades. Just like their cabinet has a multiple trophies to admire, their stadium tours have multiple options you can enjoy. We'll begin by telling you exactly what you can expect to see and do on the standard stadium tour, which is part of all tour packages.
Your tour begins with a visit to the main stand, on route you will pass by the Heineken lounge and through the press room, pre match interviews are held. You will eventually arrive at the top of the main stand where a special welcome awaits.
Walking to the seats, the view that avails itself if truly stunning. Not only do you get a great view of the stadium, but you can also see the city skyline in the distance and that's just the start. During the rest of the tour you can expect to visit the state-of-the-art Home Team dressing room, adorned with shirts players' current and past, as well footballing legends who have played against Liverpool at Anfield.
Next is the bit that every LFC fan dreams of, as you head towards the pitch through the players tunnel, you have the opportunity to touch the "This Is Anfield" sign. Getting a pitch-side view of the stadium is next, including the opportunity to grab a photo of you sat in Klopp's seat, not that he actually sits in it that much.
No visit to Anfield would be complete without a visit to the iconic Kop, where a staff member will regale you with stories from their own experiences watching the mighty reds.
As a final send off, you and your group can grab a photo of yourselves with either the Champions League or Premier League trophy, there are also professional photographers on hand to capture that treasured moment.
Your Anfield stadium tour ticket also includes a new feature, The Boom Room: The Epic Story of Jurgen Klopp's Dream Team.
The VIP Anfield Experience
When you visit the VIP Anfield Experience, you will take part in the Liverpool FC Stadium Tour as well as the new Liverpool FC Museum, plus lots of extras that aren't part of general admission tickets. Whether you're a die-hard football fan, planning a visit with your family or on a weekend break to the great city of Liverpool, the LFC Experience doesn't disappoint.
What's The Difference Between Stadium Tour & Anfield Experience
The main difference between a regular stadium tour and a VIP tour at Liverpool FC is the level of exclusivity and access you get. During a regular stadium tour, guests are taken on a guided tour of the stadium and its facilities as detailed above.
In contrast, the Liverpool FC VIP Anfield Experience provides guests with a more personalized experience, as group sizes are much smaller. Guests are accompanied by a dedicated tour guide who takes them to areas of the stadium that are not accessible to the general public, including the players' lounge.
In addition, the VIP tour includes personalized features such as a welcome drink upon arrival. Once your tour has concluded you will be welcomed by sports presenter, Steve Hothersall, who will talk you through the rest of the afternoon's activities.
You can then enjoy a delicious 3-course lunch prepared by the Club's award-winning chefs, served in one of The Main Stand hospitality lounges with spectacular pitch views. This is followed by a Q&A session with some Liverpool legends, who you get to meet and take photos with; they will even autograph merchandise for you.
Once your VIP Anfield Experience has concluded and before you head home, you may want to take a tour of the club shop. As part of your tour ticket you will get an exclusive 10% discount on your purchase.
Anfield Tour With Legends Q&A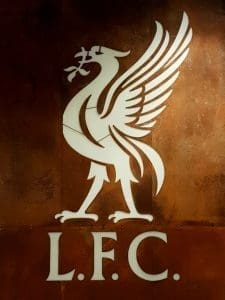 The Anfield Legends Tour is a special tour offered by Liverpool FC that is designed to give fans a unique experience with some of the club's former players who are considered legends.
During the Legends Tour, fans will have access to the same areas of Anfield stadium as the regular tours, such as the press room, the players' tunnel, and the home and away team dressing rooms.
However, the main difference is that the Legends Tour includes a Q&A session with some of the clubs most iconic players, who will share their own personal stories and experiences from their time playing for the club.
Fans will have the opportunity to ask questions and take photos with former players at the end of the tour. The Legends Tour is typically offered on selected dates throughout the year and is subject to availability.
What Legends Can You Expect
The Legends Q&A is led by different former Liverpool FC player on each occasion, so the legends you can expect to see will depend on who is leading the tour on that particular day.
However, some of the former players who have led the Q&A include:
Phil Neal: A former defender who played for Liverpool FC between 1974 and 1985, winning several domestic and European titles with the club.
Jan Molby: A former midfielder who played for Liverpool FC between 1984 and 1996, scoring 61 goals in 292 appearances for the club.
John Aldridge: A former striker who played for Liverpool FC between 1987 and 1989, scoring 50 goals in 83 appearances for the club.
David Fairclough: A former striker who played for Liverpool FC between 1974 and 1983, scoring 55 goals in 154 appearances for the club.
Ian Callaghan: A former midfielder who played for Liverpool FC between 1960 and 1978, making a record-breaking 857 appearances for the club.
Mark Lawrenson: A former defender who played for Liverpool FC between 1981 and 1988, winning several domestic and European titles with the club.
It's worth noting that the Legends Tour can vary, and the availability of Legends is subject to change. Fans should check the official Liverpool FC website for the latest information on upcoming Legends Tours and which former players are available.
As this tour doesn't include a 3 course meal, it's a more affordable option for avid Liverpool fans.
Match Day Stadium Tour
Do you have a ticket to the game? If so then for a small fee you can tag on a pre-match tour. Unfortunately, as the club will be in full prep mode for the game, the dressing rooms and press room will be off limits. But you still get all of the other Anfield tour benefits, including the trophy photo op.
Other Liverpool Experiences
If you have already been on the Anfield Experience or Legends stadium tour, or just don't fancy the tour at all, there are some other experiences you can try.
Anfield Abseil
For the adrenaline junkies out there, LFC have just added this new experience. Climb to the top of one of the largest all-seater single stands in European football and take in some stunning views. Then lean back over the top edge and start your 100ft descent down the side of the stadium, passing the huge club crest as you go.
LFC Museum and Boot Room Experience
Just because you're not doing the tour, you shouldn't have to miss out on some history of one of the most successful clubs. For a fraction of the price of a tour you can take in the museum and Boot Room and still get to visit the stadium, which makes it a great low cost bucket list idea.
This museum exhibition takes you through the history of this iconic club, from the early days and up to their latest league triumph; including European success along the way. You can also see exclusive memorabilia, including signed match worn jerseys and all six European Cups.
Liverpool Day Out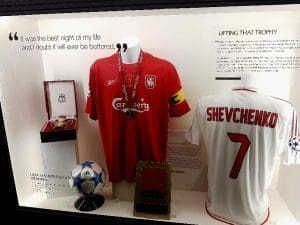 If you are visiting Liverpool on holiday or for the day, maybe as part of a cruise stop, there are lots of other activities you can do to fill up your day. There is the Beatles Museum at Albert Docks, shopping and dining in Liverpool One, or have a few drinks in the infamous Cavern Club and Matthew St.
If you are after something a little more sporting then there is always fun game of indoor golf to be had at Golf Fang Liverpool. For those looking for a bucket list experience that's lots of fun, we definitely recommend trying axe throwing at Hatchet Harry's near Pier Head.
How Much Does a Tour Cost?
We appreciate that not everyone has the same budget to work with, so we are pleased to tell you that Liverpool FC offer affordable options to suit everyone. The current prices of the tours we have outlined above are;
Stadium Tour, Museum & Boot Room – £25
VIP Anfield Experience – £125
Legends Tour – £50
Anfield Abseil – £45
Match Day – £25
These prices are correct as of March 2023, it's also worth mentioning that season ticket holders also receive a 10% discount on any tour packages or experiences.
Anfield Experience Summary
As a Liverpool fan I have enjoyed both of the tours I've done, but the latest one far exceeded my expectations. The old dressing room was a disappointment, whereas the new one is much improved and far more impressive, as are the views from the various vantage points.
One of our group is neither a Liverpool fan nor a fan of football, and the good news is they also enjoyed the experience. So you can take anyone on the tour with you and you will both have a good time, especially if you are having a luxurious 3 course meal.
More Stadium Tours
Obviously there are more sporting stadiums that offer tours, in fact we can't visit a city without visiting an iconic sporting venue. some of our favourite tours have been during visits to Boston, New York, Paris and of course the magnificent Barcelona FC Tour. So if you follow us on facebook, twitter or Instagram, you can be kept up to date with the latest tours or escapades to help you complete your own bucket list items.