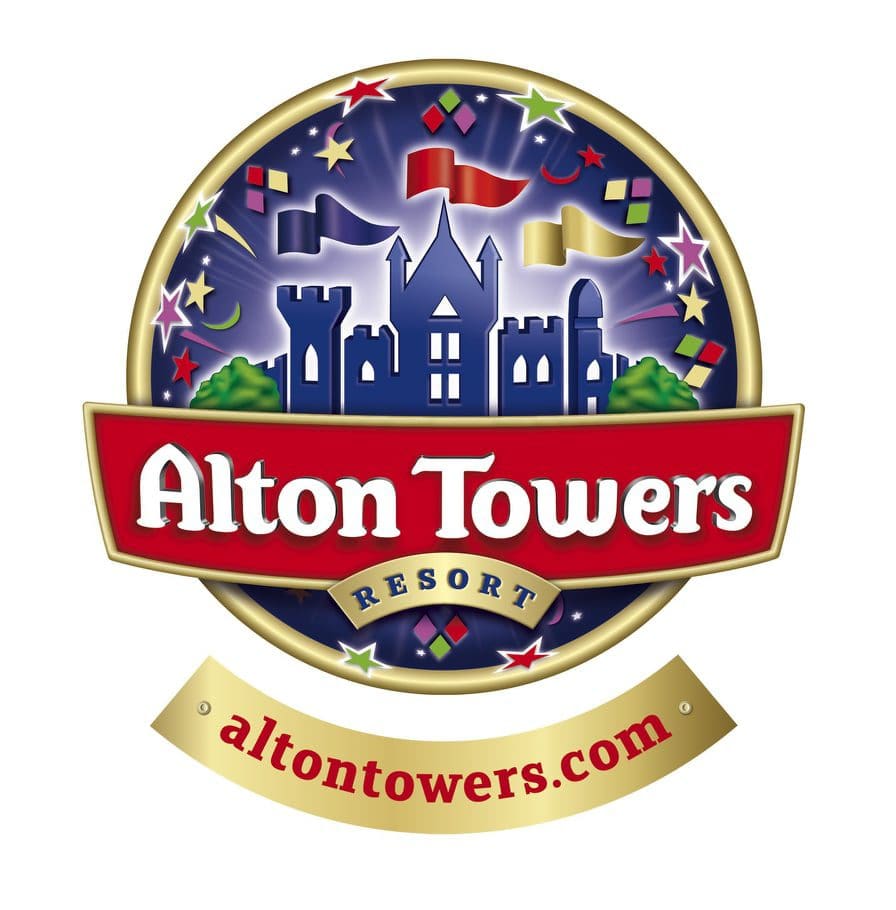 We must begin by saying we're roller coaster addicts, which you will probably have determined if you follow us on Instagram. Our ideal holiday will at some point involve us being thrown around on a theme park ride, until we're giddy. Not everyone's cup of tea but these two bucket listers love it.
Because of this we strive to go to as many theme parks as possible, so as you can imagine Alton Towers was high on the list. Based in Staffordshire, England, this theme park and resort is close to the small village of Alton, hence the name. It's not simply a theme park, because you will also find a water park, mini golf, spa, and hotel complex, making it the ideal short break for adults and kids.
Although the actual park we know and love has been there for just over 40 years, the area has been a spot for adventure for almost 200 years. So, lets dive into the history of Alton Towers before we go into what you'll find when you visit.
The History of Alton Towers
The site was originally an Iron Age camp, but throughout the years it was home to a variety of buildings. Between 1412 and 1924 the land was owned by the Talbot family, otherwise known as the Earls of Shrewsbury.
The Earls and their blood line would own the land for around 700 years and during that time it was an attraction to the public where they could watch acrobats, lion tamers, elephants, and fireworks. Slowly the estate was sold off, until the last piece went to a group of local businessmen in 1924.
During World War 2 the land was requisitioned as an Officer Cadet Training Camp by the Ministry of Defence until the 1950's when it was returned to its owners. It remained a tourist attraction through the 60's and 70's, but on the 4th of April 1980 it became the theme park we know and love.
Alton Towers – Here's the Stats and Facts
It's the UK's largest theme park,
Alton Towers is a whopping 910 acres or 370 hectares,
The Park currently offers 12 themed areas of thrill rides and fun,
The castle in the centre of the park was in fact a home to a wealthy family.
Directions and Parking
Unlike many of the other UK theme parks we have visited, Alton Towers is in the middle of nowhere. So, you will need to consider how you're going to get there.
By Car
You'll find the park between the M1 and M6, and for the last part of the journey it is incredibly rural. The address for your Sat Nav is ST10 4DB, but it can take you down a local farm track, so they advise you follow road signs for the last few miles.
Because the area is so countrified you will find plenty of walkers, cyclists and horse riders, so be careful as you drive along the smaller windy roads.
By Train
The closest train station to Alton Towers is Uttoxeter, which is 10 miles from the resort. After arriving at the station, you will be looking at a 20-minute taxi ride or a 30-minute bus ride. You can also get a train to Stoke on Trent station which is 15 miles or Derby train station which is 25 miles.
By Bus
There are D&G buses available to transport guests to the resort, more specifically:
X41 – runs between Stafford, Uttoxeter and Alton Towers,
32X – runs between Hanley, Cheadle and Alton Towers,
X52 – runs between Nottingham, Derby and Alton Towers.
From the Car Park to the Entrance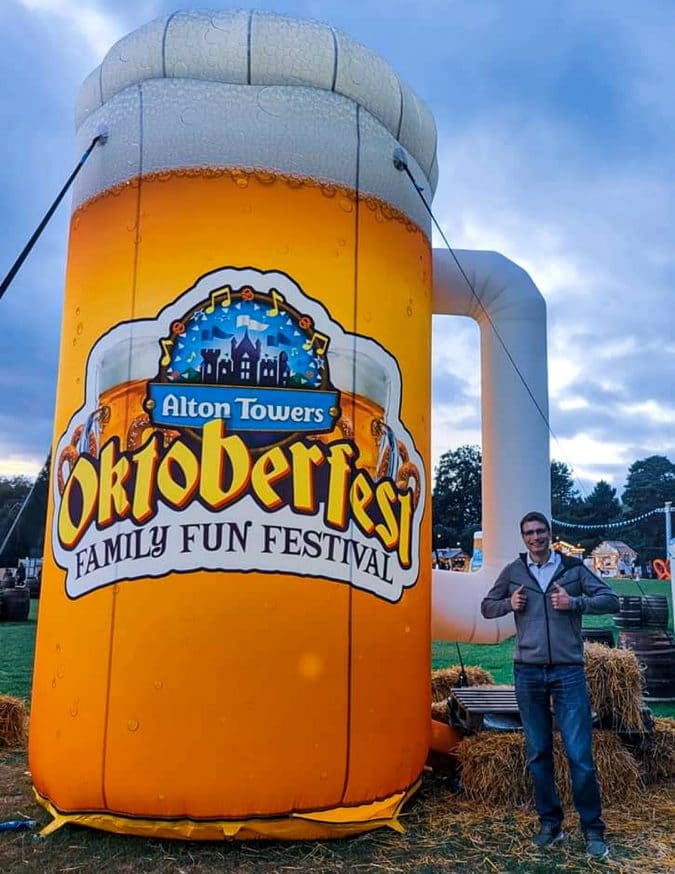 Once you've arrived at the resort car park, you will want to know how to get to the actual entrance. We decided to walk because we were in section A of the car park, but even from there it was a good 10 to 15 minutes. You follow a windy path which can be a little bumpy at times, especially if you are pushing prams or wheelchairs. The further away car park spaces can take up to 30 minutes to walk, so our advice would be to use the resort monorail.
Resort Monorail
Open from 9am until one hour after the advertised ride close time, the monorail is the perfect way to begin your day. It's like a ride before you even get in the entrance, and it will excite the little ones. If you're staying in the resort hotel then it's also better to hop on the monorail.
Car Park
The car park area in Alton Towers is huge, mainly because they need to accommodate the peak summer visitors. For most guests there are two options which is standard parking and express parking. You will be charged extra for parking, so don't be surprised that it isn't included in the ticket price.
Standard Parking – At the time of writing (January 2022) the cost for parking in Alton Towers is £6.00. Although predominantly you will be directed to tarmacked areas, if there is overflow you may be on grass. You cannot prebook standard parking, so it is a first come, first served basis, which can be a pain in peak season.
Express Parking – Again at the time of writing (January 2022) the cost for express parking is £18.00. As you can imagine the main benefit of express parking is its proximity to the resort entrance, which is at maximum a 3-minute walk. If you are staying in the CBeebies Land Hotel then you will enjoy free express parking, but you must provide evidence of the hotel booking confirmation. Also, unlike the standard parking, there is a limited number in the express section so you must book a space in advance online.
Blue Badge Parking – There is a standard charge of £6.00 for blue badge parking and your badge must be presented upon entrance, with the badge holder being present within the vehicle. Only one vehicle per blue badge is permitted within the disabled parking section. There is no prebooking, so we recommended getting there early as it is a first come first served basis.
Paying for Parking
In all honesty we found the car park payment a bit of a faff when we went, but once you know where to go it's not too bad. When you arrive you simply park up and go in, you will pay the parking fee as you leave and get a ticket. The tickets are purchased at either the Resort Box Office on Towers Street, or the Tickets, Sales and Collections Office at the Entrance Plaza, but you can purchase online in advance. There are a number of self-service machines, but they didn't seem to be working when we attended the park, so we went to the box office. Express parking should be booked and paid for online in advance, as they can sell out incredibly quickly.
When you are exiting the park, you will see a barrier system in place and all you need to do is scan the parking ticket. We left right at the end of the day when it was incredibly busy, so staff were simply checking the tickets and allowing us to go through.
Alton Towers Admission Tickets
There are a variety of annual passes, so if you are interested in them then we recommend heading to the Alton Towers website. For the rest of you reading this, these are the prices which were displayed in January 2022 so please be aware that they may increase.
1 Day Pass – As you can guess this means you have access to the theme park for one full day. If you book in advance, it is currently from £34 each, whereas if you purchase on the day you will pay from £62 each. We have found that many brands in the supermarkets have offers on entrance tickets to Alton Towers. We used one for Carex hand wash and got 2 tickets for around £50, so that may be an option for you.
Short Break – This tends to be for people who are staying in the resort hotels and as such you're spending a number of days in the park. It will give you access to the theme park and water park and starts at £40 per person.
When to Visit Alton Towers
There are two things to consider when thinking about visiting Alton Towers and that is the weather and holidays (for example school holidays).
Because the British weather can be so changeable, you may find that you're at the park when it's raining and cold. Sadly, most of the queues are outside, unlike many of the major American parks. We tend to check out the weather forecast for the week before we book our tickets.
The actual theme park is open from March to November every year, but we'd focus more on the months between May and October. Our visit to the park was October 2021 and we had a warmish day with no rain which is ideal.
Obviously if you have kids and you're tied to school holidays then you know it is going to be busy. If you don't, then try and visit outside of any holidays because the queues to the rides will be far shorter and you can do more in the day.
What to Wear at Alton Towers?
As we mentioned in the beginning, we love roller coasters and as such we class ourselves as theme park connoisseurs. We've adapted what we wear to make it easier in the park, but the one thing we will advise is wear comfortable clothing. Comfy shoes are a must because Alton Towers is huge, and you have a fair distance to walk from one land to the other. Also, layers are a great idea, so you can layer up if cold and take off if you're too warm.
We tend to wear clothes with zip up pockets and take the basics with us such as money, mobiles, keys. This means we don't need to visit lockers all the time to get our items, we simply zip them up in our clothes. Remember that a lot of the bigger rides don't allow bags or loose articles and as such you will be asked to leave them in a locker.
Of course, if you have kids or you're taking picnics etc, then this won't be of any help to you. If you want to reduce what you're carrying, then you can hire a locker.
Lockers
There are two types of lockers available in several locations throughout the park (Tower Street, X-Sector, Forbidden Valley, and the Dark Forest) and they are available for either one hour or all day. The small locker is £1 per hour or £5 per day and the large locker is £2 per hour or £10 per day. During the period of time you rent the locker, you can open and close it as many times as you want at no extra charge.
Alton Towers Rides and Lands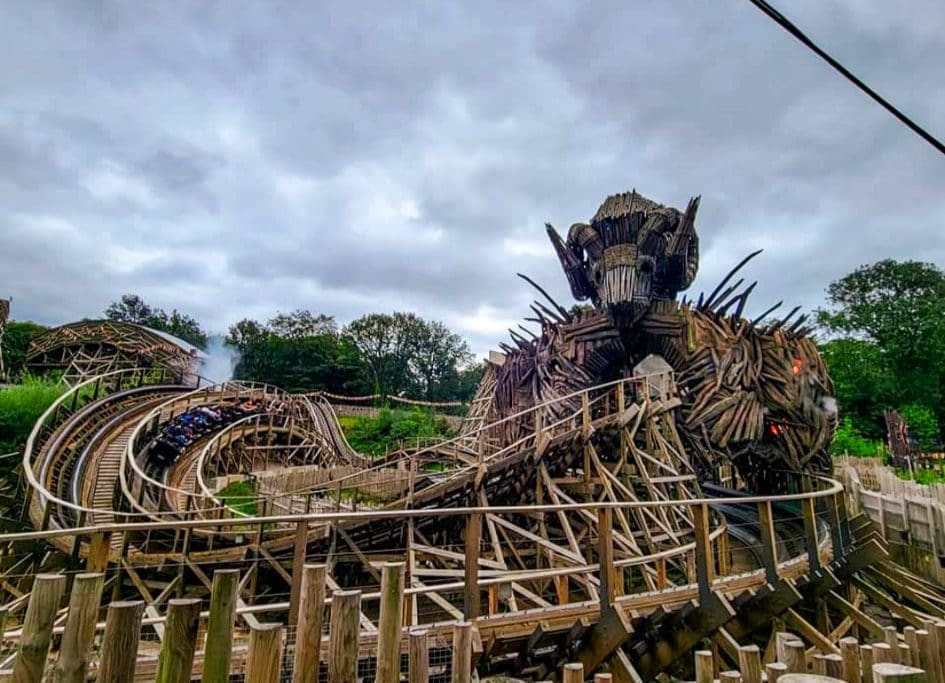 This is the bit we're eager to tell you about, because we love theme park rides, both coaster and the small easy ones. Firstly, you have access to 12 themed areas in Alton Towers which include.
Adventure Land
CBeebies Land
Cloud Cuckoo Land
Dark Forest
Forbidden Valley
Gloomy Wood
Katanga Canyon
Mutiny Bay
The Gardens
The Towers
Towers Street
X-Sector
Within those areas you have over 40 rides to choose from and as you can imagine there's something to suit everyone. But we're going to break it down by adults' rides and kids rides, then we'll tell you about our favourites from our last trip.
For the Adults and Teens
The Alton Towers Dungeon
Wicker Man – Rollercoaster
Nemesis – Rollercoaster
The Smiler – Rollercoaster
Oblivion
Duel: The Haunted House Strikes Back
The Blade
Galactica – Rollercoaster
TH13TEEN – Rollercoaster
Rita – Rollercoaster
Enterprise
Hex – The Legend of the Towers
Spinball Whizzer
Haunted Hollow
For the Kids (10 and under – some must be accompanied by an adult)
Gangsta Granny: The Ride
Peter Rabbit Hippity Hop
Go Jetters Vroomster Zoom Ride
Octonauts Rollercoaster Adventure
Sharkbait Reef by SEA LIFE
Congo River Rapids
Runaway Mine Train
Big Fun Show Time
Something Special Sensory Garden
Justin's House Pie-O-Matic
Bugbie Go Round
Tree Fu Tom Training Camp
In The Night Garden Magical Boat Ride
Postman Pat Parcel Post
Charlie and Lola's Moonsquirters and Green Drops
Get Set Go Tree Top Adventure
Cuckoo Cars Driving School
Heave Ho
Marauder's Mayhem
Battle Galleons
CBeebies Land Photo Studio
Royal Carousel
Raj's Bouncy Bottom Burp
As well as the actual rides, you can also visit the towers which are at the centre of the park. This castle like structure holds a lot of heritage for the area, as we have gone into a little within our introduction. Surrounding that there are impressive gardens which are ideal for those moments when you want to slow down for a bit and take a breath between rides. Some of it is quite hilly and so it may be difficult if you have mobility issues. Should that be the case then why not use the Skyride, a gondola which transports visitors from one part of the park to another. What makes it even more special is the fact that the gondolas travel over the Alton Towers gardens, so you can view them in comfort. The skyride stations can be found on Towers Street, in the Forbidden Valley and in Cloud Cuckoo Land.
Our Top Pick for Rides at Alton Towers
We're pretty experienced when it comes to rollercoasters, but we hadn't been to Alton Towers for a number of years. In all honesty we found that the park offered a great range of thrill rides, more than a lot of other theme parks we have visited. Wicker Man is the newer ride and not only is it fast, but the theme is exciting and spooky too. TH13TEEN is still an exciting coaster, but it's not as fast as Wicker Man so may be the best one to start with if you're unsure whether you like them.
Nemesis will throw you around which we loved, but make sure your trainer laces are extra tight or you may lose them.
For the true thrill junkies, we recommend Rita and The Smiler, which are very different rides. Rita blasts off and hits 100kph in just 2.5 seconds, adding 4.7G of pressure to your body. As you can imagine it's not an easy one to ride, but the biggest thrills aren't meant to be. The Smiler is more about spins, because you have 14 loops to get through with a speed of 85 km/hr. There is even a vertical climb which feels like you're heading straight to heaven. If you like rollercoasters but want something a little easier then Galactica is a great choice, but you will be upside down for some parts of it.
Two of the smaller adult rides we adored which didn't have long queues were Spinball Whizzer. This has you whizzing at 60kph on a coaster track, whilst the car swivels at 360 degrees at the same time. Also Duel: The Haunted House Strikes Back which is a haunted mansion where you have the chance to shoot the ghouls and ghosts with your laser gun.
Food and Drink at Alton Towers
For many, theme park food will always be a quick bite in between rides, to keep them fuelled for the day. We don't really consider the parks to be the aficionados of fine dining, but you'll be surprised to know that many have upped their game in what is offer.
Gone are the days of just burgers and chips because there is so much more to consider such as allergies and intolerances. The Alton Towers website states that all eateries have allergy information, and you can gain access to those lists prior to your visit if you contact the guest services department.
Here are the current options available.
Corner Coffee – Sandwiches, pastries and cakes,
Woodcutters Bar and Grill – Freshly prepared meals from a list of options,
Rollercoaster Restaurant – An incredible restaurant where your food is served on a rollercoaster track,
Explorers Pizza Pasta Buffet – Pizza, pasta and salads,
The Burger Kitchen – Numerous burger options,
Just Chicken – An Oblivion themed restaurant,
Welcom-inn – Serves alcohol beverages and bar snacks,
Coffee Lounge – Sandwiches, pastries and cakes,
Nitrogenie – Ice cream,
Courtyard Hot Dogs, Wraps and Waffles
Donuts
If you prefer healthier food options then Alton Towers recommends Woodcutter's Bar and Grill. But they also have a 'Healthier Choices' logo around the park, so that you know where to find more nutricious options. There are plenty of vegan and vegetarian choices too, but again contact the park so you have a greater idea of what is available before you go.
Special Events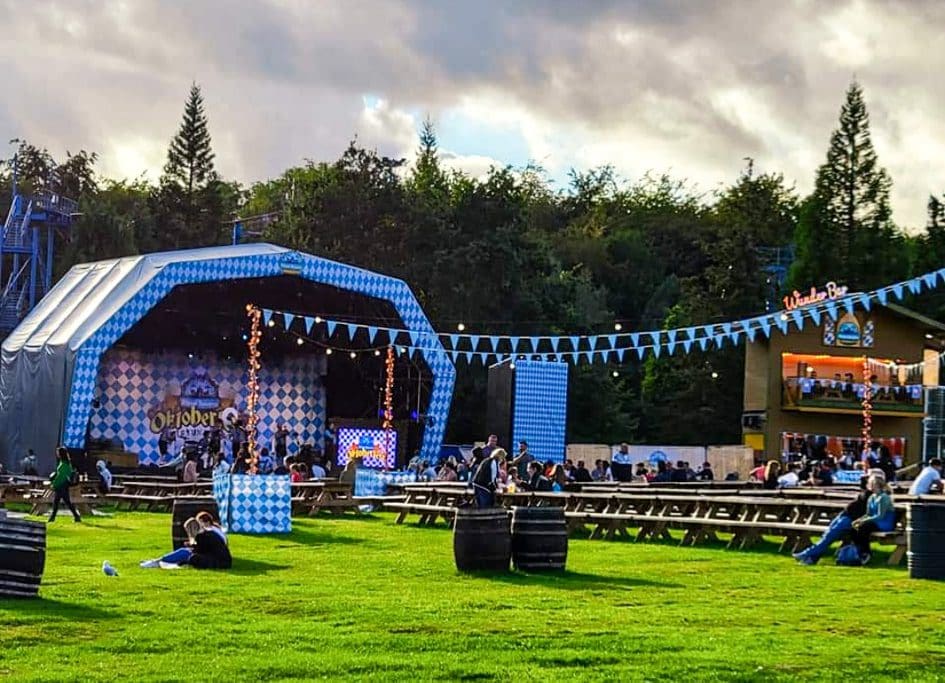 Throughout the year Alton Towers hosts special events such as concerts, themed shows and even races. The list will vary each year so check out their website for more details. But here are a few of the regular ones:
February Half Term – There is a pirate and princess week, with live shows and plenty of fancy dress.
Oktoberfest – We went during this time, and it was so much fun. Lots of German foods and drink, with plenty of live music and dancing.
Scarefest – A Halloween festival with a scaremaze.
Fireworks – Around bonfire night Alton Towers will hold a 3-day firework event.
Christmas – Meet Santa and enjoy some festive fun at the resort's accommodation.
New Year's Eve – Celebrate the start of a new year at a traditional Gala Dinner.
Alton Towers Hotels
If you want to stay longer than a day, you might be considering one of the Alton Towers hotels. They have the Alton Towers Hotel, Enchanted Village, Splash Landings Hotel, Stargazing Pods, Woodland Lodges, Luxury Treehouses and the CBeebies Land Hotel.
These unique hotels will create unforgettable memories for everyone. You should be aware that even if you book a night, you still have to purchase a theme park or water park ticket separately.
Waterpark
The Alton Towers waterpark is both indoors and outdoors, plus it is open all year round. There are lazy rivers, crazy cannons, Bubbly Wubbly pool, Flash Floods flume and the thrilling Master Blaster water coaster.
Spa
Not the first thing you think about when you imagine Alton Towers, but their spa offers luxurious tranquillity which will help restore your body and mind. The spa is located within the Alton Towers Hotel, and you can book both individual treatments, and incredible packages.
Their relaxation rooms give visitors varying environments to unwind and destress. They have a Laconium, Multi-Sensory Shower, Edwardian Sauna, Pool, Whirlpool and hot tub, Steam Room, Effervescent Footbaths and Tepidarium. There's also a Rasul room where you can apply mineral rich mud which helps to detoxify your body.
So, What Did We Think of Alton Towers Resort?
We've thrown in some facts about the hotels, spa and waterpark to give you a full picture of what is available. But really, we can only give you our opinion on the actual theme park, because it's the only place we visited.
So, what did we think? We absolutely loved it! Which is why it finds a spot on our list of the best UK theme parks. We had been to Alton Towers many, many years earlier and remember it not being that great. But we will retract any comments made and simply say that the rollercoasters are thrilling. Our favourites were the Smiler and Galactica because they were more than just the everyday theme park ride.
Be prepared though for lots and lots of walking, because the actual grounds of Alton Towers are vast and there is quite a distance between each area. If you have mobility issues or struggle with distances, then make use of the skyride.
Food and drink wise, we didn't have much, just a nibble of some fries. Mainly because we don't eat a lot when we're going on heavy duty coasters, so check out reviews online before you go.
On a side note, you can leave the park and re-enter on the same day, should you need to for any reason. Just make sure you get a hand stamp so you can re-enter.
All that's left to say is we hope you have an incredible time and make sure you tag us on Instagram with your pictures. We love to see our readers having a great time and ticking off a few more items on their bucket lists.