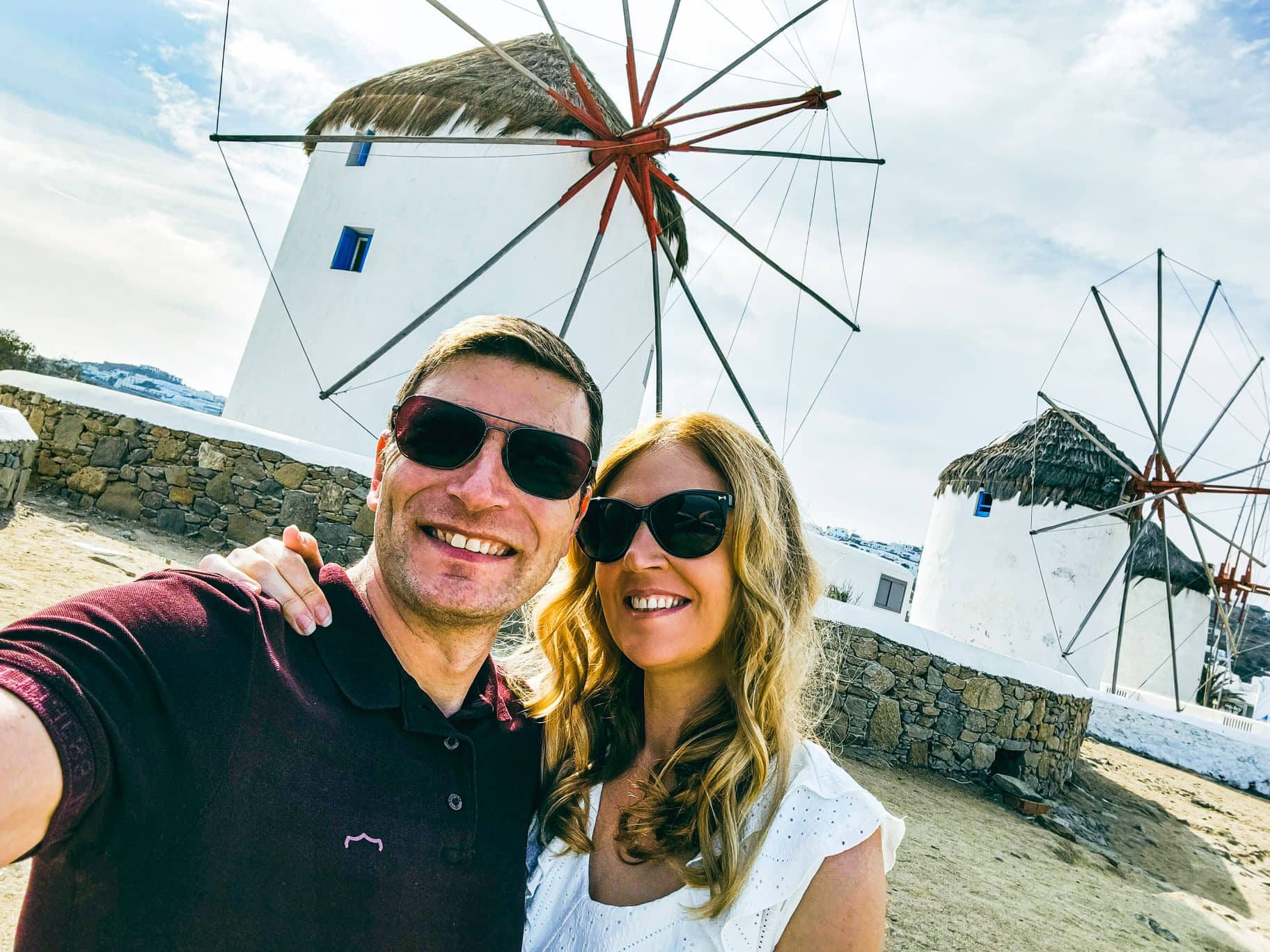 Athens has always been a city we've longed to visit, so we decided to look at flights and head out to the incredible capital of Greece. During the planning stages we found great travel options which left us in Athens for longer than we had planned. This led us to looking at Greek cruises and it is how we came across the seven-night Norwegian Cruise Lines (NCL) Greek Island Cruise, on the Norwegian Jade.
We booked in late October 2021 and would be arriving on the ship in November 2021, a mere two weeks later. So, planning had to be done quickly, but in all honesty most of the time preparing was focused on the four nights we were spending in Athens after the cruise. We have detailed this in our guide on visiting Athens which will give you everything you need to know.
For a trip which was so last minute that we barely had any time to plan anything, it was an incredible experience and we're eager to tell you about it. This guide to the Norwegian Jade Greek Island route will provide information on the ship itself, food, drink, the facilities and what activities you could enjoy if you booked it as well.
We specifically took a route which stopped at
Mykonos
Patmos
Rhodes
Heraklion
Olympian/Katakolon
Santorini
All of these were places we wanted to visit, but we have to admit being incredibly excited about Mykonos and Santorini.
Norwegian Jade Cruise Ship Statistics
So, let's start with some facts about the ship which was built in 2006 and was refurbished in 2017.
It weighs 93,558 gross register tons,
The ship can take 2,404 people,
It is 294 meters in length and 38 meters max beam (the width of the ship at its widest point),
There are 1,037 crew on the ship.
As you can see it's a pretty big ship and there is plenty for you to do on there. But we'll start at the point we arrived in Athens, because we imagine most of you will be flying into Athens international airport.
Getting to and From the Cruise Terminal in Piraeus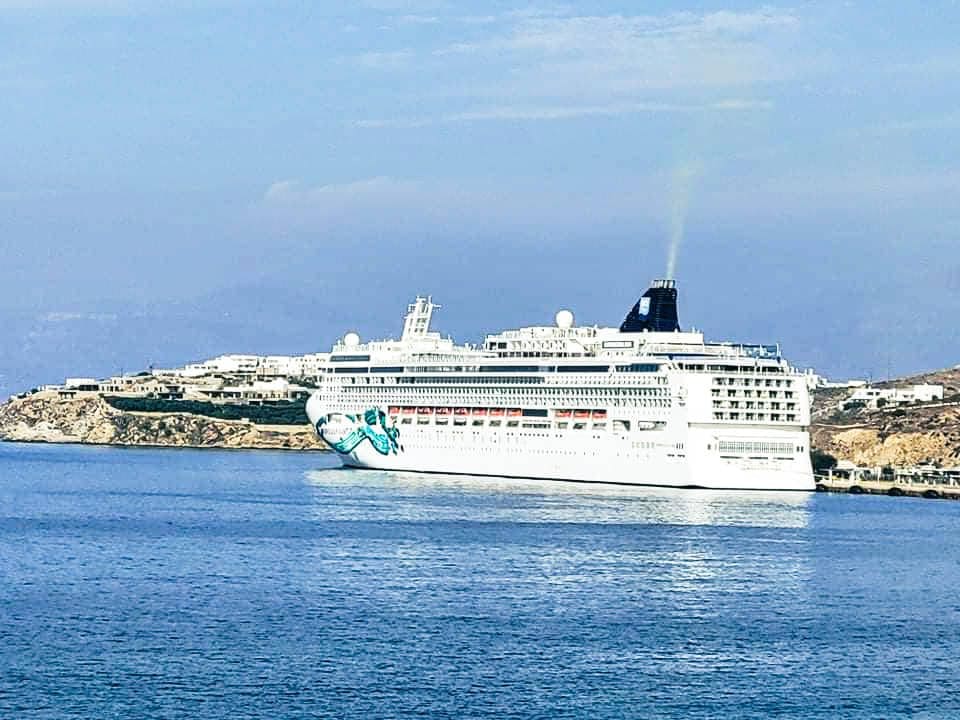 There are a few options available to you from Athens airport, but we'll focus on buses, trains, and Uber/taxi's.
Buses – Bus route X96 (express) goes from Athens airport to Piraeus, Drapetsona and then back again. A bus departs every 30 to 40 minutes and it takes about 60 minutes to get there. Tickets cost 6 Euros per person, per trip which makes this the cheapest of the options.
Trains – This is the option we chose on our journey from the airport to Piraeus. You will find the train station across the road from the airport, and it is clearly marked. If you tell the attendant at the ticket office that you are going direct to Piraeus, they will tell you what platform to go to and the time of the next train. There are two sides to the platform, one being the metro and the other the suburban train; again, they are clearly sign posted. Once you get on the train you simply stay on it to the end which is in Piraeus, and it will take about an hour. The cost per ticket is 9 euros each way, so a little bit more than the bus. But the trains are pretty comfortable, and they felt safe when we were on them, which was at night. The only problem with both the train and bus, is that once you reach your destination you then have to find transport to the port or your hotel. We really struggled to get a taxi or Uber from the train station and had to walk 20 minutes to the hotel. Now that doesn't seem too bad, but it was at night, on uneven pavements and then a huge hill. So, as you can imagine we were exhausted at the end of it, especially as we had just flown in. You may be able to flag down a taxi just outside the station, but if not be prepared for a walk.
Taxi / Uber – We took a taxi after the cruise from the port to Athens city centre and then from the centre to the airport. Both times it worked out to be much more expensive than public transport, but of course it was more convenient. You will find that most Uber drivers are also taxi's and as such don't be shocked to see a yellow taxi rock up. The journey from the airport to Piraeus can take between 40 and 90 minutes, depending on traffic and it will cost you between 50 and 60 Euros. The Uber app will tell you how much the cost is, but if you're getting a taxi then make sure you ask before you get in.
You may be heading straight to the cruise terminal, if so we highly recommend making sure you have transport all the way there. We stayed in Piraeus the night before we set sail in the Phidias Piraeus Hotel. It was perfect for us for the night because it had plenty of shops and restaurants around. The staff were friendly, check in was quick and easy, and the room had recently been renovated so was nice and modern. There is a small lift, so you'll probably need a couple of trips to get your cases up. But they have a free shuttle from the hotel to the cruise port which saves a few pennies.
Booking and Checking in Process for the Norwegian Jade NCL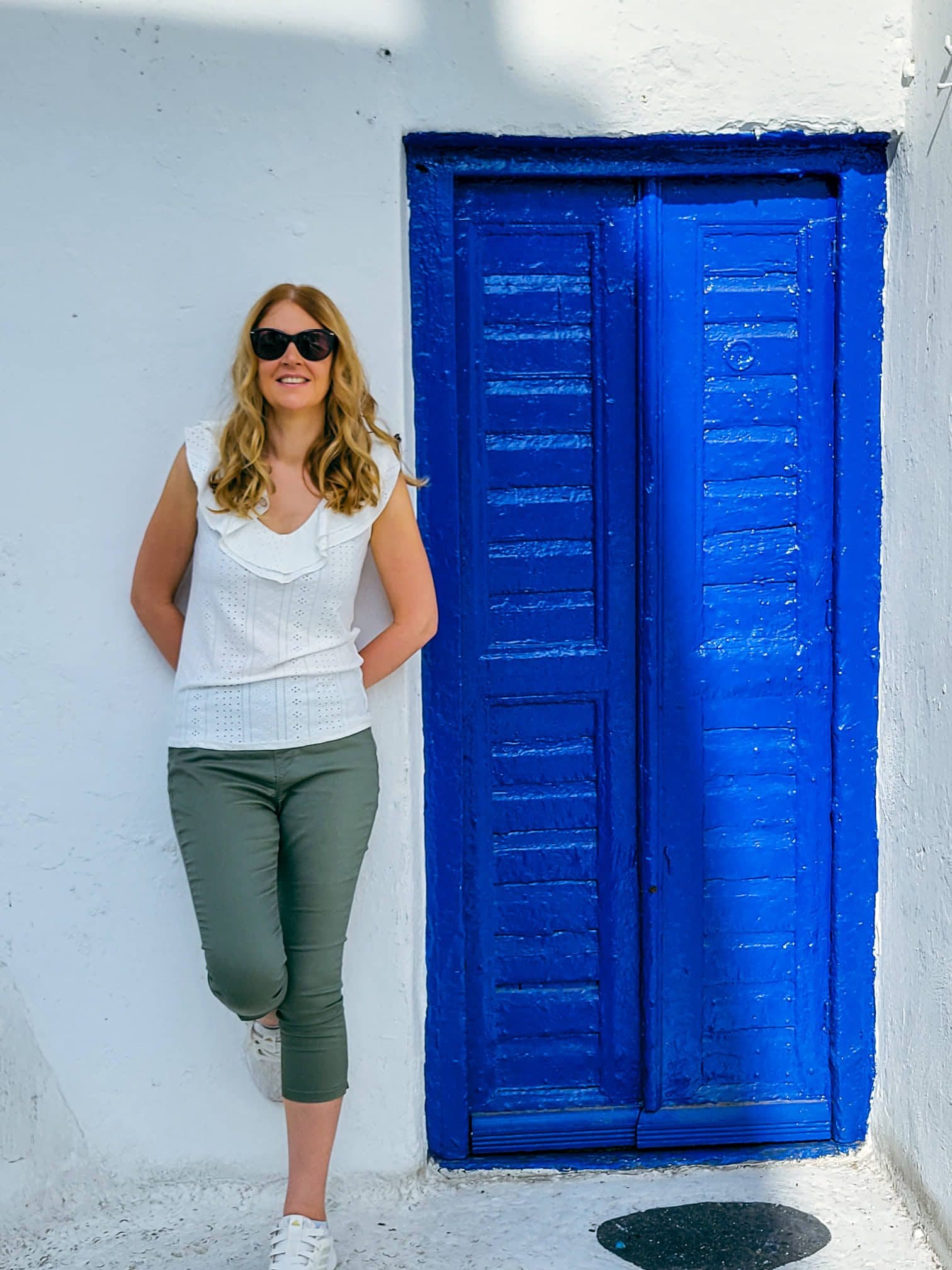 Before we dive into what you can expect on the cruise, we'll just go through the booking process. In general, it's the same as booking anything else such as a flight or holiday. You just go through the various prompts and choose what you want, more specifically, do you want to include flights, drinks packages, excursions, and what type of room.
Once you have booked you will receive confirmation via email and details as to what you need to do before you arrive. It will include pre-picking a time to board the ship, watching an emergency protocol video, uploading a picture for security, and completing passenger information. This can be done 2 weeks in advance, but online check in closes 3 days before you embark. You can of course complete the check in procedure when you reach the port terminal, but it means your boarding process will take longer.
We also had to register with the NCL approved Covid 19 testing company, so that we could be tested at the cruise port before we proceeded onto the ship. Our trip was November 2021, but obviously this can change so make sure you read any emails sent to you thoroughly.
The actual check in process was simple, even with all the covid elements. Staff were informative and friendly, and you were simply moved from one section to the next. We had to wait to get tested, then complete the lateral flow test, wait for the results, check in for our room key, go through security and then we could board. It sounds a lot but we felt quite relaxed throughout, and each step was streamlined.
What's available on the NCL Jade?
This was the biggest cruise liner we have ever been on, because previously we have only ventured on smaller Caribbean cruises to places like the Bahamas.
The ship has 15 decks, and you board on the 4th level, so everything you need is pretty much above that. The main floors are deck 7 which has restaurants, bars, shops and one of the entrances to the theatre. Deck 6 also has bars and restaurants; it is where the casino can be found and also has an entrance to the theatre. Deck 12 is the buffet restaurant, fitness centre and also takes you out to the pool area. But we'll go through a full inventory of the facilities so that you have everything you need to know beforehand.
The Cabins
Here's a small breakdown on the range of cabins available on the Norwegian Jade.
Inside Cabin – This was the standard of room we stayed in, and it was a lovely size with plenty of wardrobe space.
Oceanview Cabin – Very similar to the inside cabin, but with a porthole view of the ocean.
Balcony Cabin – In general they tend to be larger rooms, but the main selling point is the balcony and view. You can enjoy watching the waves roll past as you sit and relax in your room.
Club Balcony Suite – Has the beautiful ocean view and balcony, but you also have a sitting room which gives you extra space to spread out. It also has a luxury bath and shower.
Suite – Pure luxury with an aft-facing balcony, a queen-size bed and sofa bed. Some have a living and dining area with butler and concierge service.
The Haven – Located at the top of the ship, with large bedrooms, luxury bath and shower, a living area, dining area, private balcony and access to a private courtyard, plus a butler and concierge service.
Restaurants and Speciality Dining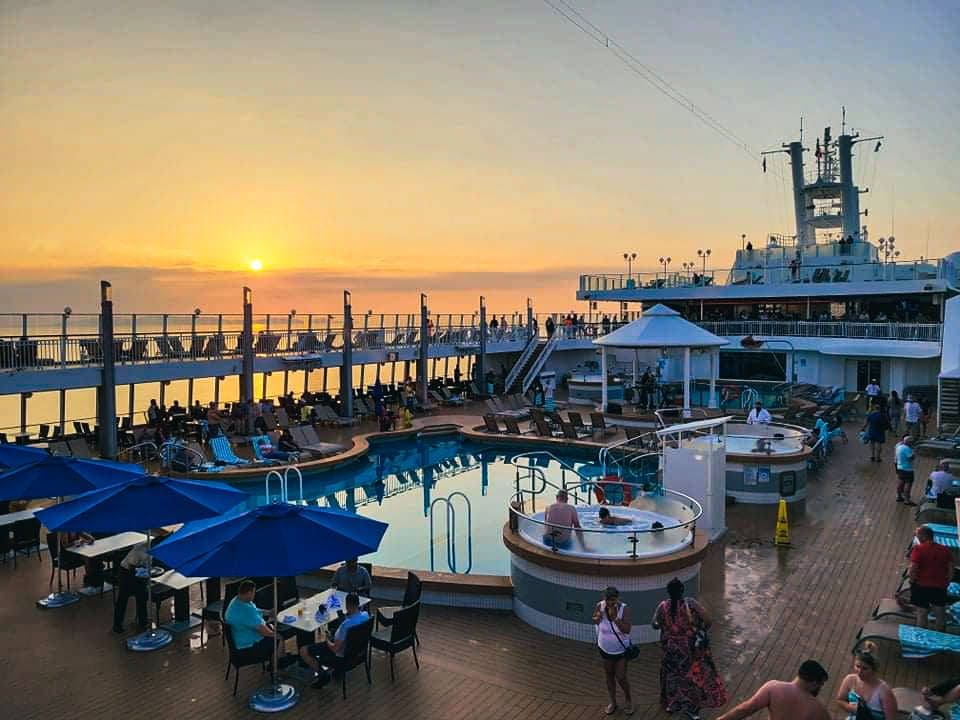 We'll talk some more about the food further on in this guide, but this is a list of restaurants available on the ship and as you can imagine we didn't get to visit them all.
Moderno Churrascaria – Brazilian food
Cagney's Steakhouse
Garden Café – Buffet Restaurant
The Great Outdoors – Buffet Restaurant
La Cucina – Italian Restaurant
Topsiders Bar and Grill – Pool Side Snacks
Jasmine Garden – Asian Resturant
Sushi
Atrium Café – Cakes and Pastries
Teppanyaki
Alizar – Main Dining Restaurant
Grand Pacific – Main Dining Restaurant
Le Bistro – French Cuisine
O'Sheehan's Neighborhood Bar and Grill
Bars
Spinnaker Lounge – At the top of the ship, so you can expect incredible views.
The Atrium Bar – This is quite a central spot on the ship, but in all honesty we didn't really feel a comfy vibe there. It was next to guest services and as such can get busy and there were better bars. They serve the usual drinks, plus coffees and pastries. You will also see live music performed during the evening.
Jade Club Casino Bar – For those of you who fancy a tipple as you're playing your favourite slot machine.
Magnum's Champagne and Wine Bar – Perfect if you're after some bubbles to finish your day at sea. Magnums has an extensive list of wines and champagne which would suit even the biggest connoisseurs out there. It's also next to the live entertainment, so an ideal spot for those of you after a chilled night.
Mixers Martini and Cocktail Bar – If you're looking for something a little fruitier for your drink, then head to Mixers. We were impressed by the range of cocktails that was offered on board.
Sake Bar – Next to the Jasmine restaurant and although it is only small, it offers a number of Sake options.
Bliss Ultra Lounge – Has more of a night club vibe to it, so as you can imagine there's plenty of low lighting. Karaoke was held here most nights and DJ's or live bands played.
Java Café and Bar – For those of you in need of a caffeine hit, the Java Café serves frozen coffee, espressos, cappuccinos, teas, pastries and cookies.
Sugarcane Mojito Bar – Another option for the cocktail fans out there.
The Pitstop – One of the two options on the top deck for those of you who like a tipple as you catch some rays. They offer a wide range of options including cocktails, some of which are frozen and delicious.
Topsiders Bar and Grill – Very similar to the Pitstop, just a bigger bar and closer to the pool. You have an excellent range of beers, spirits and cocktails.
Tankards Beer and Whiskey Bar – They have a great list of whiskey and beer, plus it's close enough to the live entertainment that you can hear it, but far enough that you can still chat.
The Great Outdoors – This is both the buffet restaurant and a bar, so grab some amazing food and a tipple of your choice and check out the scenery.
O'Sheehan's – The Irish bar is mainly a restaurant, but there is a section for anyone who simply wants a drink.
Dress Code
Daytime – Generally on NCL the dress code is quite relaxed with most people wearing swimming costumes, shorts, flip flops and t-shirts. Obviously if you're going into the buffet restaurant then wear something over your swimming costume and bare feet is not allowed.
Evening – Most people who have never cruised before imagine ball gowns and tuxedos. Those days are long gone and instead you simply dress smartly. So, no beach wear, just more of the clothes you would wear to a restaurant or on a night out.
Additional Facilities on the Norwegian Jade Cruise Ship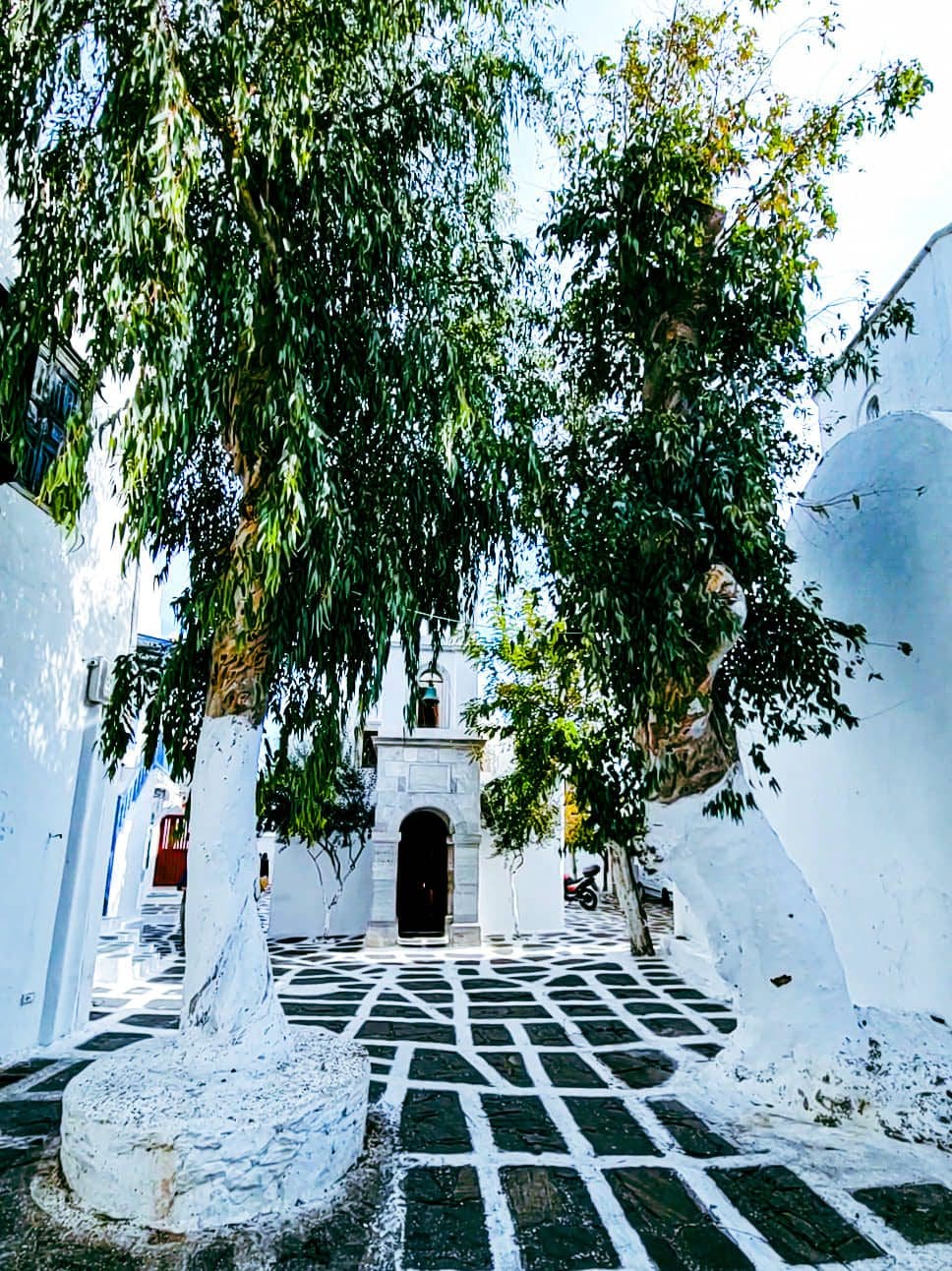 Stardust Theatre – This huge theatre can accommodate 1024 people and every seat has a great view of the stage. There were three shows performed during our trip and we saw two of them. To say we were impressed is an understatement, because the dancing and singing was of such a high standard. Also, you can take a drink in with you, or there are servers moving around the crowd before the performance taking drink orders. The three shows are:
Blazing Boots – Which is a tribute show to classic country pop songs, so you will enjoy a wide range from tear jerkers to those favourites which get your feet tapping.
Elements – A show based on the four elements Earth, Air, Wind and Fire. This was the second show we saw and in all honesty, we didn't think it would be our kind of thing, but wow. There are acrobatic elements to the show, but we won't say anymore and ruin it for you.
Palace of Lights – Sadly we didn't see this one, but it is themed on 1950's Cuba with salsa and mambo, and incredible music.
Perspectives Studio – This is a professional photography studio where you can have portraits taken to capture the memories of an incredible holiday.
Professional Portraits – Very similar to the studio, expect you'll find the photographers located around the ship with varying backgrounds. There is no cost to sitting and having your picture taken, then you can go and check it out afterwards to see if you want to buy it. On every cruise we have taken, the staff will photograph you as you board the ship. It's simply a step to get through as you embark, and you can purchase the photo as a holiday souvenir.
Art Gallery – Yes you read that correctly! There was quite an extensive range of pieces from varying artists. We would recommend that you take a look early, because you will be surprised by how many pieces were sold.
Basketball/Volleyball/Tennis Court – Our cruise had a port every single day, so most of the time the court was empty, but we did find the occasional person playing basketball.
Business Centre and Meeting Rooms – They offer the Scalzi Bridge rooms, the Academia Bridge room, and the Rialto Bridge room for any business meetings.
Card Room – For those of you who love a little competition, why not head to the card room and play some games. There is plenty to choose from including board games and chess.
Cigar Lounge – Within this area you are allowed to smoke in public, but what makes it extra special is the fact that the Cigar Club is a relaxed space. They offer a number of premium cigars and spirits such as cognacs, so if this is your thing then why not treat yourself.
Entourage Teen Club – The ship caters for the youngsters too because they have their own space away from parents. Made to imitate a surfer's paradise, the teen club has lots of things to do, including video games and air hockey.
Fitness Centre – With incredible views out of the side of the ship, the fitness centre has both cardio and weights equipment. It is one of the better equipped gyms we have seen on our travels and is open from 6am to 11pm. There is always someone available for assistance and they are great for advice on technique.
Hot Tubs – There is an incredible four hot tubs on the NCL Jade, and they are heaven! Especially after you've had a long day walking around sightseeing, it's bliss to soak your weary bones in the warm bubbles. Of course, they can get busy, but we found that during the day when you are ashore and people were on excursions, that most of them were empty.
Internet Café – You can purchase Wi-Fi on the ship, but it is pretty expensive. We had free roaming for Greece, so when we went ashore it was fine to use our contracted data. It was only at night when the ship was at sea we didn't have any internet, which was fine for us. If you want to contact people at home but not purchase any additional packages, then you can use the internet café.
Jade Casino – We're not professionals, but we like to dabble every so often. The Jade Casino is an impressive space with a bit of everything from Roulette, Blackjack, Craps, slots, and Poker. There is a raft of slot machines with minimum deposits to suit all types of bettors. As you can imagine the best way to credit is via your room card.
Jogging/Walking Track – Found on the top deck and circling around the tennis/basketball court is the jogging/walking track which we used a few times.
Library – If you're looking for something to read, forgotten your book or finished the one you brought, then fear not because NCL Jade has its own library with a great selection.
Mandara Spa and Salon – A beautiful relaxing spa with several treatment options including massage and nail treatments.
Pool – Located on deck 12 this is one of the larger pools we have seen on a cruise ship, and it was the perfect way to cool down in the Mediterranean sun. Topsiders Bar and Grill is located next to it and servers walk around taking drink orders, so you don't even need to move from your sun lounger.
Sapphire Kid's Pool – This is a kid's section for little swimmers which has a shallow pool with a slide.
Spa Thermal Suite – The perfect treat for those of you who are after a relaxing holiday. This form of sauna helps your body detox and improves circulation.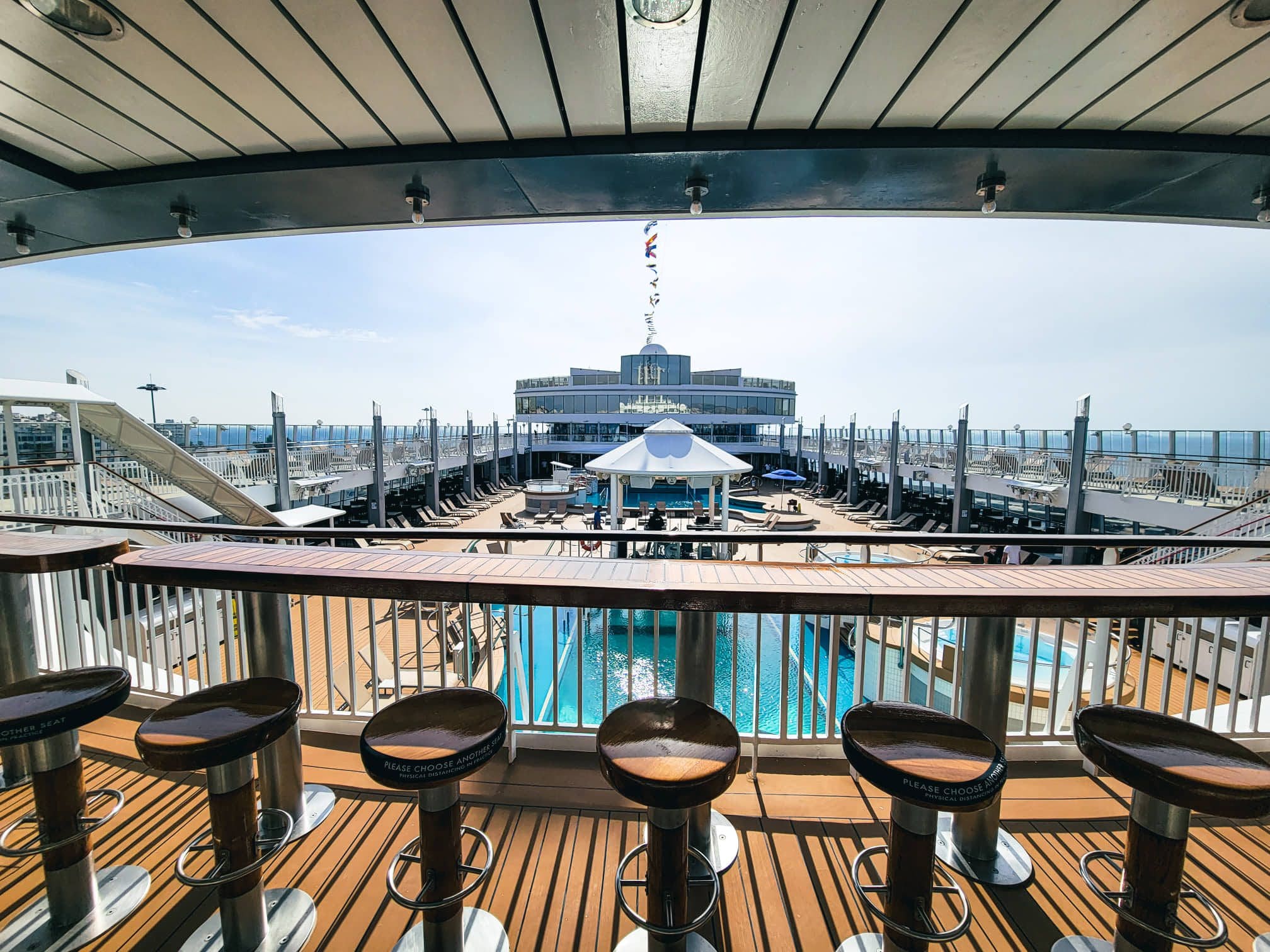 Splash Academy – For kids between the ages of 3 and 12, the splash academy is a place of active games, arts, crafts, and water-based theme days.
The Chapel – Available daily for anyone who wants to use it, but it can also be used as a meeting room.
Video Arcade – With a great range of games, this is the perfect pitstop for those of you after a bit of fun.
Shopping – It may be a cruise ship, but that doesn't mean you cannot shop till you drop. This is what's available on board:
Effy Jewellery – Is a fine jewellery brand.
Galleria Shops – A range of duty-free items, including jewellery, handbags, alcohol and perfume.
The Galleria Boutique – Forgotten your bathing suit or you need a need t-shirt? Then head to the Galleria for a great range of clothing.
The Photo Gallery – they have a range of items such as cameras, binoculars, camera accessories, frames, and photo souvenirs.
The Tides – If you are thinking about your next cruise already, then head to the Tides and see what deals they have to offer.
NCL Jade Food and Drink
No matter your food preferences, we are sure that the Norwegian Jade will be able to accommodate you. We are predominantly plant based and as such asked for vegan food. In all our experiences of cruising and travelling abroad, we have never eaten so well and so much. If you have any special food requirements, then head to the main restaurant on the first day and inform them. They will either take the information or they will tell you where to go.
We went to the Jasmine restaurant where a food specialist took our details and entered it against our room. This meant that for every meal they were aware and could prepare a dish especially for us. We would pick what we wanted to eat during our meal for the following evening and enjoyed varied dishes such as burritos, curries, chillies and stir-fry's. Starters ranged from tomato bruschetta, soups, and spring rolls. The dessert was always a fruit plate, because sadly they didn't have anything cake based for us to enjoy.
Within the buffet restaurant we informed the chef about our preferences, and they walked around and pointed out what was available to us. This was ideal and we didn't realise how much we could have, especially those of you who love a good curry.
If you're not limited food wise then boy are you in for a treat, because they pretty much offer everything you could want. The buffet restaurant has a multitude of options for breakfast, lunch and dinner. Then add in the main restaurant which has an array of starters, mains, and desserts. Finally throw in the speciality restaurants and it can all become quite overwhelming. Even in the bar areas such as O'Sheehan's and Topsider's, you can grab a burger and fries or a sandwich. To give you some examples they had stews, soups, cheese toasties, omelettes, pizzas, lasagne, sandwiches, cakes, salads and so on and so on. Pretty much something to suit everyone's palette, even a sushi bar!
When it comes to drinks again there are so many options its difficult to list them all. The bars have an array of cocktails, wines, beers, and spirits, which will vary depending on which one you're at. Within the buffet restaurant you can enjoy fruit juices or an alcoholic beverage; we loved the white wine. But you also have coffee and tea places dotted around, with options such as green tea being available.
Activities on the Cruise Ship
Every night when your room is turned down, an activities sheet is left called 'Freestyle Daily'. It will provide information on the port that you will visit the following day, including if it is a tender port or not. But it will also list the activities for the following day with the time and where to go on the ship, including live music, games, shows and any offers or competitions.
The list is too extensive for us to put here, but to give you a few examples, there was live music every night on a number of spots on the ship. You had DJ's day and night, karaoke in the bliss lounge, bingo every night, and then extra activities such as learning Spanish, yoga lessons, wine or whiskey tastings and singles mixers. There's pretty much something for everyone, all ages, so you'll never be bored.
Places Visited During NCL Greek Island Cruise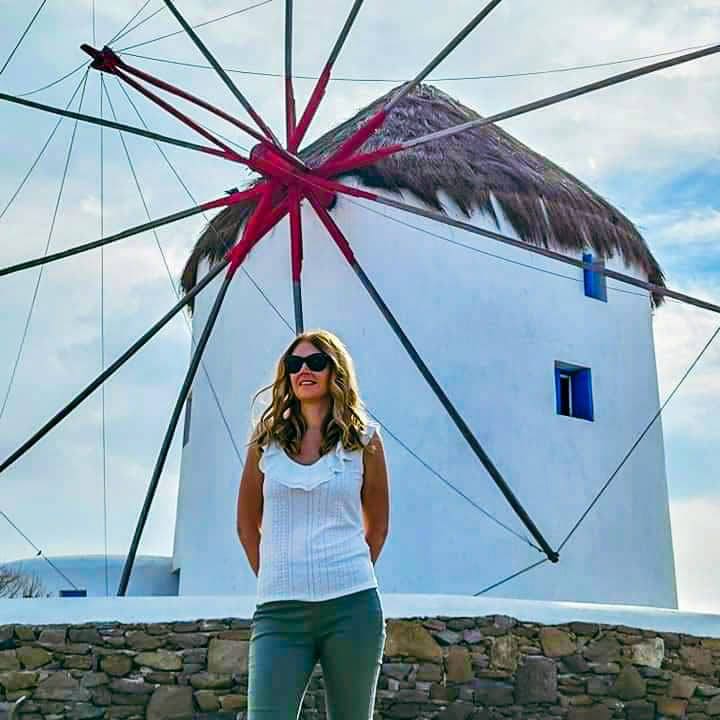 We mentioned in the beginning that during this 7-night cruise, we visited Mykonos, Patmos, Rhodes, Heraklion, Olympian/Katakolon and Santorini. This variety of Greek Islands was quite enticing for us, because we hadn't seen a lot of Greece and the cruise ticked off a few places we had always wanted to see.
The best part of European cruises is that most cruise ships dock in the main towns, so that you can simply walk in to explore. Unlike Caribbean cruises where you have to book an excursion to really see the place you've visited. So, we opted to just get off the ship and have a wander, rather than booking the excursions. But we will give you an idea of what is available on each stop, just in case you would rather do more than see the local town.
We found the prices of excursions to be quite steep, especially in comparison to the Caribbean options. At the time we looked (November 2021), transfers to the beach alone were 33 euros which to us didn't seem worth the money.
We'll give you a little information on what each port had to offer and the main excursions. You can then decide what is best for you on your holiday.
Mykonos
Known as the Ibiza of the Greek Islands, Mykonos offers a party atmosphere during peak season with its many nightclubs. Of course, this isn't going to be a focus for people on a cruise ship, so what else does Mykonos have to offer?
You will dock in Tourlos which is close to Mykonos Town, but unlike the advice we had read before we went, we strongly advise that you do not walk to the town. There is a free shuttle bus provided to and from the town, and both are obviously sign posted. The actual walk is quite a distance, and it can be on roads with no pavements, so save some time and just hop on the bus.
Within Mykonos Town you can enjoy the iconic row of 16th century windmills, Paraportiani Orthodox Church and Little Venice. There are quaint tourist and jewellery shops, plus plenty of restaurants and bars to stop and relax for a coffee.
What makes Mykonos Town so beautiful is the endless rows of whitewashed houses, with little blue doors. The iconic images we normally associate with Santorini. Most people from the ship followed each other along the same tourist route to the windmills at the end.
We did the same, but on the way back wandered further into the town through the little streets and took the most beautiful pictures. Mykonos is a photographer's dream, with bougainvillea draped everywhere and sleepy local cats whiling away the hours in the midday sun.
In all honesty we didn't feel like we needed an excursion and most of the excursions were in the same areas we walked too anyway. So, it depends if you're after an in-depth history of the place or you simply like to walk about and take it all in.
If you're definitely interested in an excursion, then here are a few of the more popular ones.
Let's Take a Selfie – Take the perfect selfie in Mykonos to share with family and friends,
Made in Mykonos – Sample locally made products such as cheese, yoghurt, beer and organic dishes.
Delos: Birthplace of Artemis and Apollo – The birthplace of the Goddess Artemis and God Apollo is a UNESCO World Heritage Site.
Mykonos on Foot – A walking tour exploring the beauty of Mykonos, both lifestyle and history.
Just a couple of extra tips for those of you who decide to wander around the town. Firstly, look out for Petros the pelican who tends to hang around Little Venice. He's famous for posing with tourists as they take a selfie or photo and has now become an icon of Mykonos Town. Secondly try and bring smaller notes when you get your Euros, it helps when you are buying any touristy bits in the smaller shops.
Patmos
One of the lesser-known islands on our cruise, Patmos is famous for being the place where the disciple/apostle John had his visions as told in the Book of Revelation of the New Testament. It was also where the book was said to be written.
To visit Patmos you will have to board a tender boat to sail over to the shore, which is really easy. The port is small, and it leads into a little town of shops, restaurants and bars. Its quite nice to wander around for an hour or so and look at the shops.
If you're interested in heading further afield then at the top of a hill is the Monastery of Saint John the Theologian. This was built in 1088 and has elaborate frescos and chapels, plus there is a museum in connection to the monastery.
Between the Monastery which is in Chora and the port town of Skala, you will find the Cave of the Apocalypse. It is meant to be the location where John the disciple wrote the Book of Revelation.
If you're interested in excursions in Patmos, then there are two that NCL offer, and they both involve a tour of the cave and Monastery which are both UNESCO Sites. If you prefer to go yourself then you can get a taxi from Skala to the Monastery and the driver will wait for you for an hour; the cost is 40 Euros. We had read that you can walk to the monastery but from speaking to people who attempted it, it was too dangerous as there was no proper pathway.
Rhodes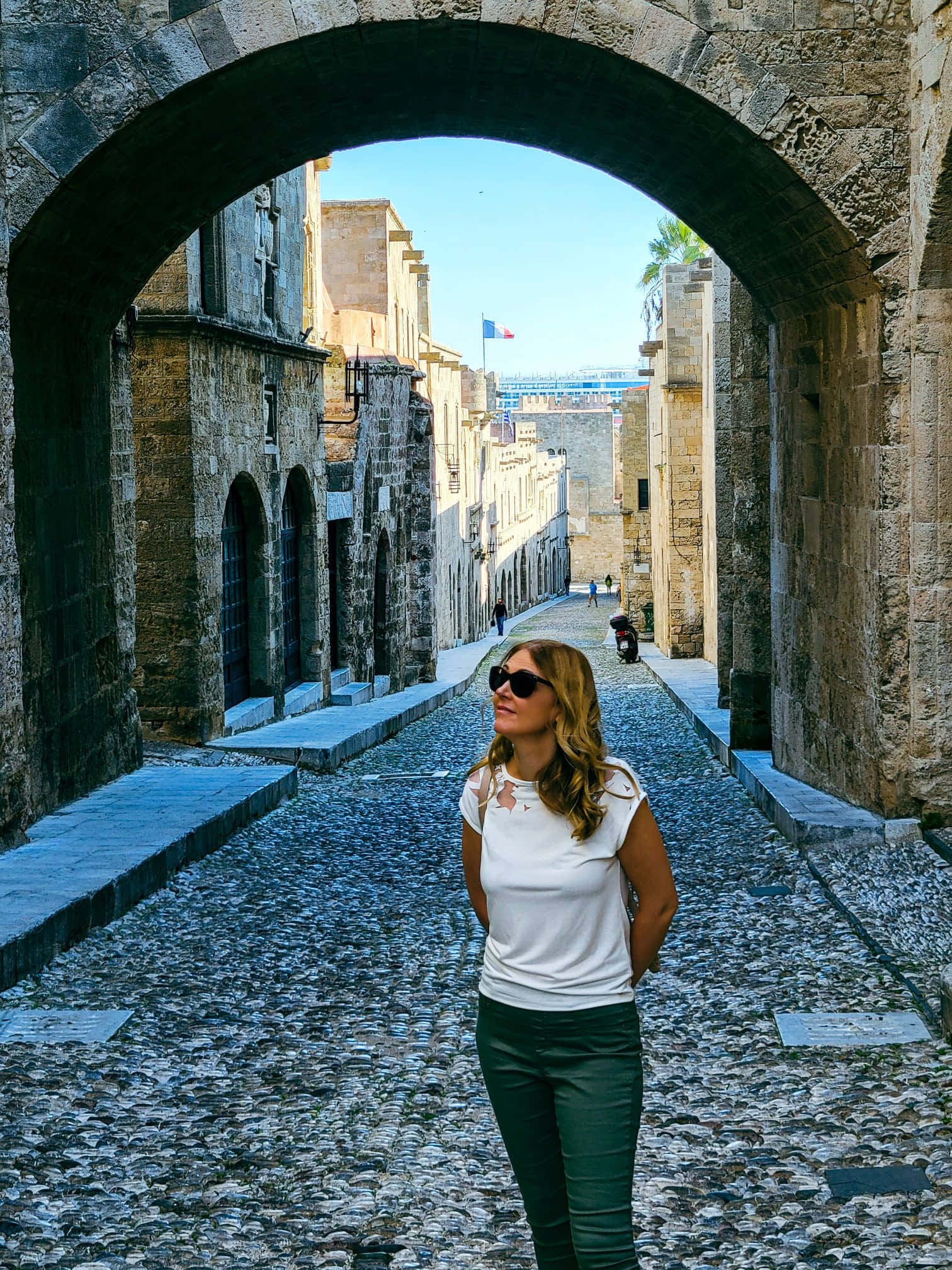 The largest of the Dodecanese islands in Greece, Rhodes is a popular tourist destination and a historical capital. Within the Medieval City of Rhodes, you will find plenty of things to do including shops and restaurants, the Palace of the Grand Master of the Knights of Rhodes (a castle built by knights), the Street of the Knights, the Archaeological Museum of Rhodes, the Roloi Clock Tower and the Byzantine Art Museum. This is the best-preserved fortified city in Europe and another UNESCO Site.
The best part is the fact that Rhodes Town is a 10-minute walk from the cruise port, so you don't need any buses or tender boats. Just outside the port you will find taxis and a hop on hop off bus. The bus route is only small, but they are pretty good options for getting around a new area and learning about what you are seeing.
We loved wandering around Rhodes Town, not only was there plenty to do, but it was incredibly beautiful and perfect for those Instagram pictures. But if you want to try one of the excursions then here are a few offered by NCL;
Highlights of Rhodes – Begins at the old port of Mandraki and tour historic sites around the island.
Ancient Lindos and its Acropolis – Head to the ancient town of Lindos and visit the beautiful acropolis.
Traditions of Rhodes and Home Visit – Board a coach through the New Town of Rhodes, along Mandraki Harbour and Fort Nicholas. Up to Monte Smith hill for views of the ancient stadium and the Temple of Apollo. Then a visit to Koskinou to a home decorated with local art ceramic plates and observe the techniques of the potter's craft.
Heraklion
This is the capital of Crete and is known as a port city, due to the massive dock and marina. Within Heraklion you will find two monuments, the Palace of Knossos and Phaistos Palace. Around the cities Venetian port is a 16th century fortress called Koules and within the walls you will find Turkish and Venetian fountains.
Because the cruise port in Heraklion is so big you cannot just walk off and into the town. There is a free shuttle bus back and forth, similar to when you disembark in Mykonos.
Some of the excursions available in Heraklion via NCL are;
Go Local, Cretan Village of Krousonas – Explore the village of Krousonas, including the St Irene of Kroussonas Monastery.
Knossos and Village Life – Explore the village of Knossos and the village of Arolithos to see how people lived in the past.
Scenic Agios Nicolaos – Head to Elounda and stroll around the resort town of Agios Nikolaos, with a bustling harbour, restaurants and shops.
Olympian/Katakolon
When you port in Katakolon you will have the opportunity to visit Olympian, the site of the first Olympic Games which took place in 776 B.C. The journey is about 40 minutes by bus, and you will arrive to an ancient ruin of pillars and statues. The site includes the Temple of Zeus which is considered one of the Seven Wonders of the World.
If you haven't booked an excursion on the ship then you can either get a taxi or a bus, there are plenty available. Next to the cruise port is a small town with a few shops and restaurants. There is also a little beach nearby, which is nothing spectacular, but we saw a turtle on the beach as we strolled along. Within the town you can jump on a little train which takes you around the local area for a cost of 6 Euros.
Some of the excursions available through NCL are.
Olympia and Archaeological Museum – Visit the Olympic Stadium, Temple of Zeus and the Archaeological Museum.
Olympia and Wine Tasting – Not only will you visit the Olympic site, but you will also go to a family-owned vineyard and tour the winery. You will have a chance to taste the wines produced by the Kanellakopoulos family.
Santorini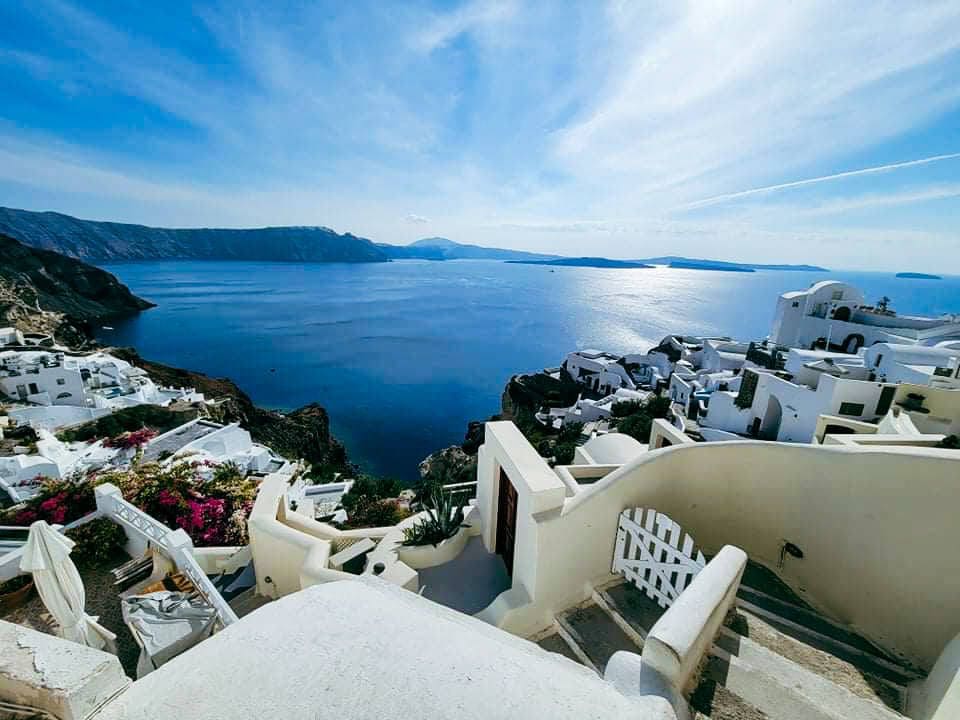 We've all seen the pictures of the stunning Cycladic whitewashed houses, adorned on the side of a cliff. So, as you can imagine we were extremely excited about visiting Santorini. This tourist hotspot is a volcanic island on the southern part of the Cyclades islands in the Aegean Sea. As you wander down Santorini's winding streets you will see luxurious hotels and restaurants overlooking the blue seas below.
Because Santorini doesn't have a cruise port you have to take a tender boat to the port of Skala, also known as the old port. This is at the base of the Caldera Cliffs in Fira which is the capital of Santorini. To get from the bottom of the cliff to the top you have three options.
Get the cable car,
Walk the 587 steps from Skala or Fira,
Ride on a donkey up the steps.
If you're energetic and fancy the walk then good for you, we normally take on the challenge, but we took a different route. We would recommend not using the donkey option and the cruise ship prewarn passengers that it is unsafe. Not only can the saddles be loose and as such you can fall off, but the donkeys are seriously mistreated by their owners. This really only leaves one final option if you're going directly to Fira, but in all honesty it is so much fun and the views are incredible.
We took the cable car on the route back and it cost us 6 Euros, so you're looking at 12 Euros for a return ticket. The total journey is 4 minutes maximum, and it will take you right into the shops, so you don't have to walk very far.
Before we went on the cruise, we researched places to visit in Santorini and was told that Oia was the place to go. Oia is where you will see the whitewashed houses and blue roofs, but it is further up the island. A taxi will take about 30 to 40 minutes and we were told it was an average of 15 Euros each way.
When we arrived, we saw a company with a fast boat to Oia, now we will prewarn you, we waited ages to leave. The company won't begin the journey until the boat is full and then we didn't find it that fast, but it was a better option than getting a taxi. We paid 20 Euros in total and that included the boat, a bus from the dock in Oia to the top of the cliff and then a bus from Oia back to Fira. If you were a couple that is a total of 40 Euros, but the taxi route would be 30 Euros minimum. There is a steep walk from the port in Oia to the bus pick up so it would be impossible for anyone with health issues or mobility problems.
When you reach the main touristy spot in Oia you will be happy, because it's as beautiful as the pictures. Most of the stepped areas are private sections specifically for the hotels, so just be careful where you are wandering. There are lots of shops and restaurants to spend time in, but the streets are small, and they got busy quickly. Bear in mind we travelled there in November, so we can imagine it's bedlam in peak season.
We just wandered along and took a raft of pictures and then grabbed a drink, before heading back on the bus to Fira. The capital of Santorini is pretty big and has so much to offer the shopaholics out there, so make sure you leave plenty of time before heading back to the ship. There are lots of churches and museums if you fancy gaining some knowledge about the island itself. But we just enjoyed the sunshine and the chance to stroll around.
There are a number of NCL excursions in Santorini, including:
Let's Take a Selfie – A tour guide will show you the best spots to take the perfect pictures and add in a little history as you go.
Santorini's Musical Heritage – Visit Pyrgo's a little village where you can discover how Greek musical instruments are made. The you will head to a local winery and sample a selection of wines and local delicacies.
Greek Style Celebration – Opa! – Head to Oia and visit a renowned Greek restaurant with incredible food, wine, music and dancing. They will perform 'Zorba the Greek' whilst breaking plates whilst the bouzouki plays.
Hopefully we've covered everything you will need whether you have booked this trip or not. As we mentioned above, we booked the cruise very last minute and so did less preparation than normal. Also, we had the covid element to contend with, such as additional paperwork. But upon reflection now we have returned from the trip, including staying in Athens, it was all so easy.
Boarding the ship was straightforward, the food and drinks were incredible and that's with dietary restrictions. The staff went above and beyond for us, and the room was bigger than we expected. Then add in the incredible ports, with many being simple walks away from the ship and you have the perfect vacation.
The only negative we found and it's a personal opinion, is that the excursions were pretty expensive. When you compare them to the Caribbean cruise options; simply going to the beach was 33 Euros each which seemed excessive to us. But again, we didn't feel the need to book any, but we would still recommend taking a look at them and seeing what you think. Just as a side note the winery tours tend to be pretty early starts, so be aware that you'll be drinking alcohol earlier than normal.
If you decide to book, or you have already booked, then we wish you a wonderful time and please tag us into your Instagram pictures, we love to see your adventures.