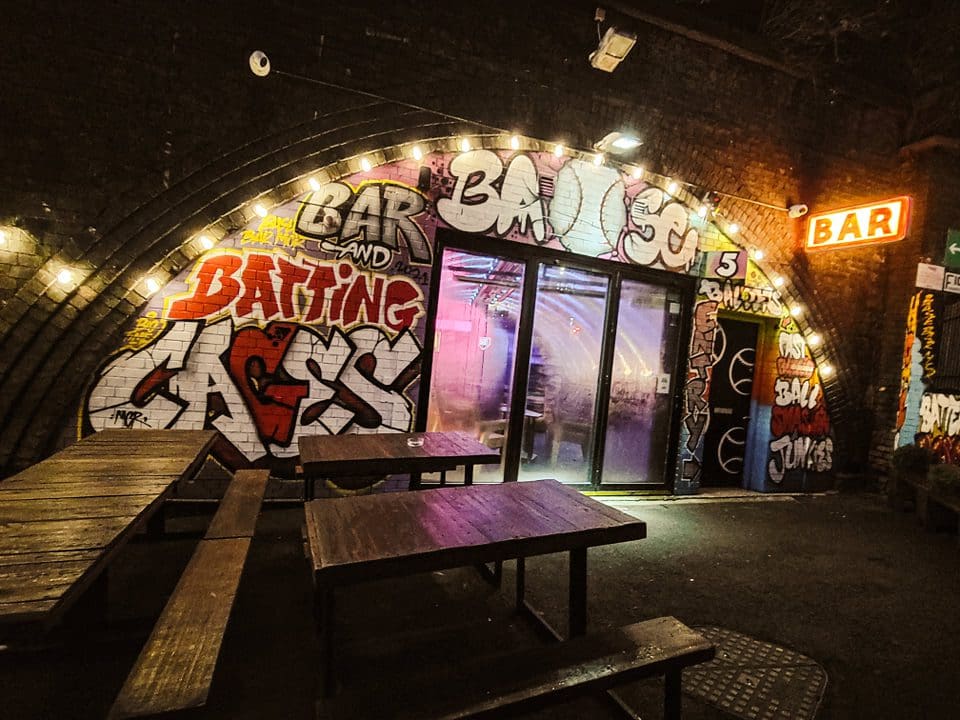 It's renowned for being America's favourite pastime, with many youngsters dreaming of stepping up to the plate, swinging the bat and nailing that home run. So far baseball is the one American sport we haven't watched, but we have been to some of the biggest stadiums including Fenway Park in Boston and Yankee Stadium in the Bronx, New York City.
Even though we've yet to watch a game we have always fancied trying batting cages, especially because we have seen it so often on TV shows. But it's not necessarily something you find in the Northwest of England…until now! So, get ready to discover the world of Base Bar and how baseball may be the next item to tick off your bucket list.
What are Batting Cages?
They're basically an enclosed tunnel which is covered by netting, where you can practice hitting baseballs. The netting will obviously keep the balls within the enclosed tunnel, so you don't have to go too far to get them. Some batting venues use actual baseballs, but at Base Bar you will be glad to know that they have softballs, so less chance of injury.
The batter stands at one end of the cage, which is known as the plate and at the other end is a pitching machine. Once the machine has been filled with balls and turned on, it will intermittently fire them towards the batter who will hit them; or in our case try to hit them.
Most commercial batting cages have varying speeds, which can range from 30 mph to 90 mph. So now you know what it is, lets tell you a little more about Base Bar and how to find it.
What is Base Bar Manchester and Where is it?
Base Bar is the perfect combination of trendy bar and 3 batting cages. The whole place is decorated in neon psychedelic graffiti paintwork, giving it kind of a night club vibe. As you walk in you will see plenty of couches and chairs if you're planning on chilling and having a few drinks after your batting session.
You will find Base Bar at 5 Millow Street, Manchester, M4 4DR which is in the Green Quarter just off Redbank. We parked close to the AO Arena and walked for about 5 minutes, so you have plenty of car parks around the area to choose from.
Booking the Batting Cages
The process of booking your time in the batting cages is pretty easy, because you can either give them a call or head to their website at basebar.co.uk. On the site there is a 'Book Now' option, this will take you through to choosing the activity which is either booking a table for food and drinks or batting. Once you have clicked on batting you will be asked how many guests. The bar has 3 cages and within each there is a limit of 5 people. If you have a larger group then they will add on another cage, so instead of one you will spread out over two.
Once you have confirmed the number of people, then you are asked to choose a date and time. A summary will then show you the full details and you will continue through to complete any bank details.
A Top Tip from us is to keep an eye on the Base Bar MCR social media pages because they often promote discounts which you can use to reduce the cost. We enjoyed 50% off when we visited, but instead of playing less we just increased the length of time we had in the batting cages.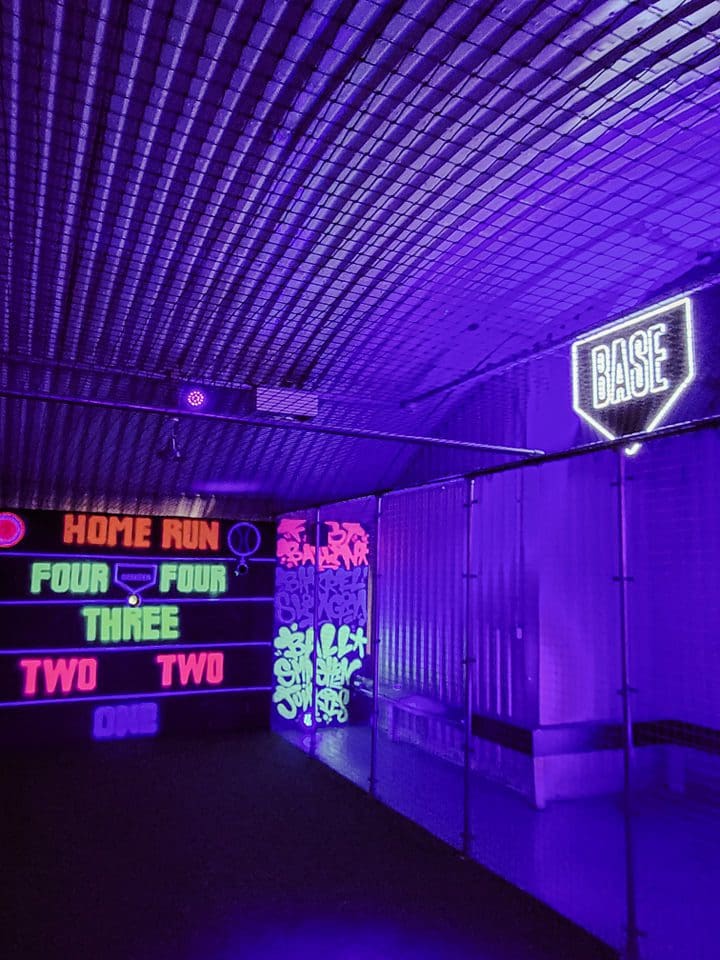 Down to the nitty gritty, 'how much does it cost', well each cage can have up to 5 people for a 30-minute session. For one cage it is £30 for a 30-minute session, but in all honesty that's simply not enough time to truly enjoy the experience. We would highly recommend booking the hour slot (which you have to do as two slots on the website), which if there's 5 of you it's still only 12 per person. Of course, if you spot a discount code then you'll find it's all a lot cheaper.
If you're booking a group and it has anyone under the age of 18, then you would have to choose a slot before 7pm. They can also accommodate private bookings and parties for kids if you request it in advance.
You can always book on your own if you want to improve your batting skills. If you're booking an extra-large group, then it is wiser to email Base Bar on hello@basebar.co.uk or complete the 'Contact Us' form.
Base Bar does accept walk-ins, but you should bear in mind that the cages may be booked up and you might have to wait.
If you're planning on following up the batting cages with a few drinks, then they advise that you book a table under the 'booking type' section of the website. This will generally only be at times when Base Bar is busy, but when we went at 5pm on a Wednesday the place was quiet and so it wasn't needed.
Once the booking is complete you will receive a confirmation email and within that is a link to a waiver which you need to complete for the group. You will also get an email closer to the date reminding you of your booking, so double check the details are correct.
If you have mobility issues, then you will be pleased to know that Base Bar is wheelchair accessible. There are no steps into the bar itself and you will find a slope down to the cages. Toilets are found on the same level as the cages and are quite spacious to accommodate everyone.
Gear Up for the Batting Cages
When you arrive at Base Bar and check in you will be given a helmet which everyone will use. It has been sprayed between groups for hygiene purposes. If you have your own helmet and bat then you can bring it with you, but you must be happy to leave it behind their counter when it is not in use.
In general, it's best to wear comfortable clothing and flat soled shoes such as trainers, which gives you the ability to move as you swing the bat.
They will request that you arrive 15 minutes before your time slot, so that you can book in and sign the waiver (if you haven't done it online beforehand). After you've gone through a small introduction on how the equipment works and the safety procedures, then you can begin. Base Bar only allow one person in the cage whilst the machine is active. The balls shoot out at a fair speed and having lots of people standing in the cage could lead to someone getting injured.
The rest of the process is pretty self-explanatory, because once you've mounted the balls in the machine then you switch it on and get ready to swing that bat.
Food and Drinks at Base Bar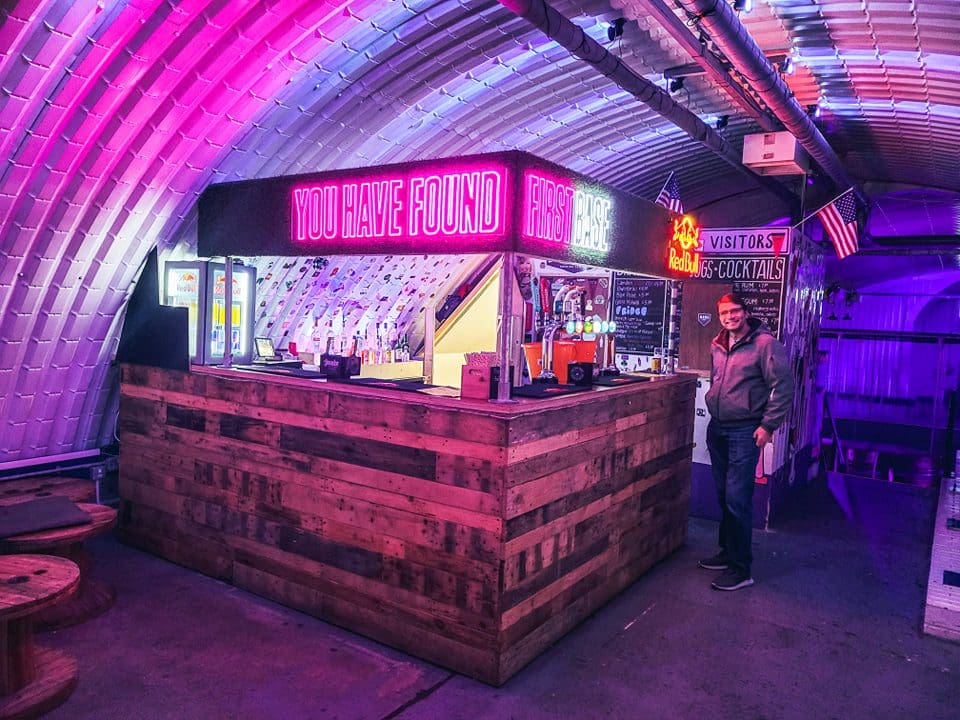 There is a great selection of wine, beer, spirits, and cocktails available at Base Bar. They even do a few variations on hot dogs and nachos if you get the munchies. We found the prices to be pretty good, but if you're looking for something a little cheaper then head over for the Wednesday happy hour.
It's worth noting that if you're seen to be drunk or you drink too much in Base Bar prior to your cage time, then you won't be allowed in. Health and safety is a priority there and as such they want to make sure you enjoy the experience safely.
Base Bar Batting Cages – Are they Worth it?
This is always going to be a personal opinion, but we loved it. Don't get us wrong, we were absolutely rubbish and hardly hit any of the balls. But it's all about the fun of playing and with that we were true winners. The place was a little hidden away and not on a main high street, but we found it relatively easy. We loved the artsy neon paintwork, it reminded us of Ghetto Golf in Liverpool.
The signing in and waiver process is simple to complete and seems a little daunting to read. But when you're in the cage those worries will disappear as you try and focus on how to actually hit those pesky balls. They do move sometimes, so even if you think you've got your aim right, the machine will throw in a high ball.
We were pleased that we booked an hour, because half an hour disappeared and that was with just two of us. So, if there is four or five of you then an hour should be a minimum.
Is it expensive? Yes possibly, because at £30 for 30 minutes you're paying a pound per minute, but bear in mind that could be split over 5 people. Keep an eye out on those discount codes, they will make a huge difference to the price.
If you're keen to visit then head over to the site and book, and please tag us into your Instagram posts because we love seeing our readers ticking off their bucket list.