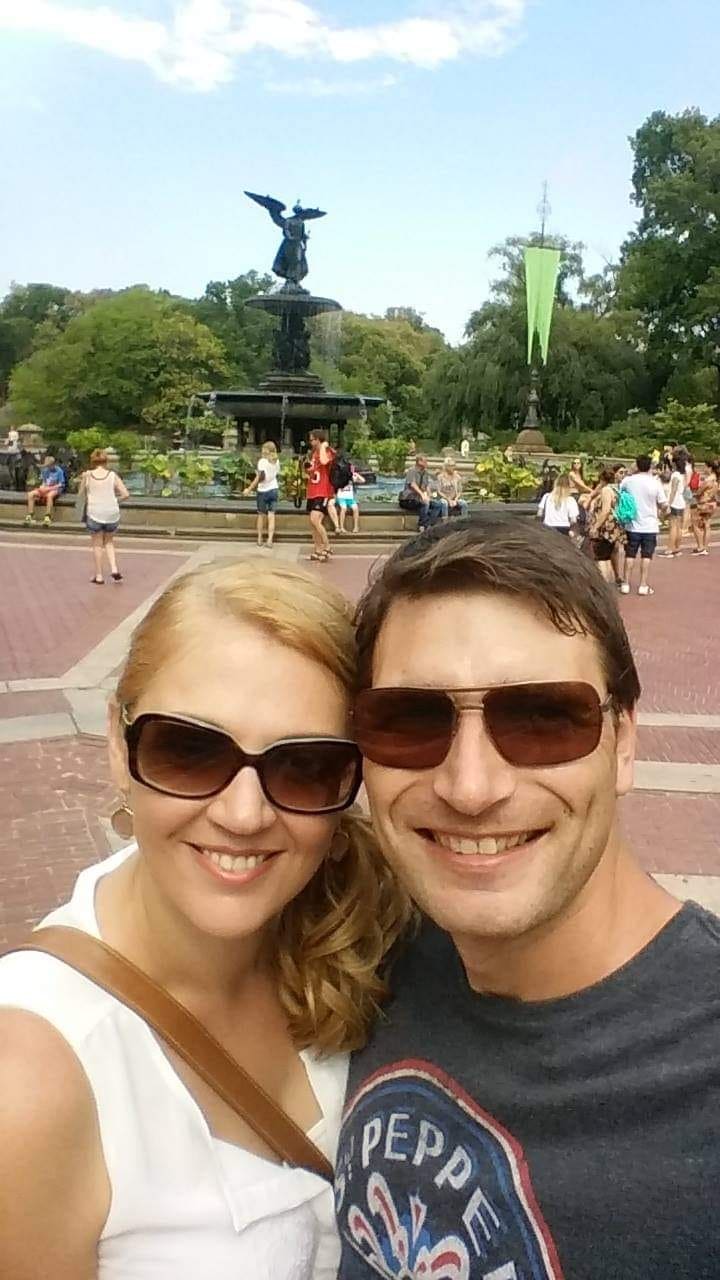 Known as the city that never sleeps or the big apple, New York is at the top of many of our bucket lists. In 2018 there was 65.2 million of us who strolled around central park, went to a Broadway show, or stood atop the Empire State Building. But each visitor has their own individual reasons for wanting to go and the attractions they want to see.
New York City Bucket List Advice
We were lucky to see this great city on a couple of occasions and it was actually our first stop on our very first trip to the United States of America. So, New York has a big place in our hearts, and we hope to help you have the best time when you are there.
How Long Should I Stay in New York City
Because it is an expensive city to visit, most people tend to stay for a short time. Yes, you can get a lot done in a couple of days, but some of the best tours or attractions can easily be missed when you are in a hurry. We tend to go for 5 nights in a big city, which gives us 4 full days to get through as much as possible. The longer you stay the slower you can go and really take it all in, it all depends on how much you want to spend.
Where to stay in New York City
We found New York to be an incredibly easy walking city, but obviously the closer you are to the attractions the better. We have stayed close to Times Square and been in the midst of it all, but also further down Manhattan Island, which gave us greater access to the downtown areas.
Location is always the most important aspect in choosing accommodation, but as well as that you will have to consider cost. New York is not the cheapest of places to visit and that can have a significant impact on where you will rest at night, because boy will you need to rest.
The closer to the main attractions the more expensive your hotel will be, but of course prices will go up and down depending on the time of year you visit. Don't be afraid to head a little further down the island to save those pennies, because you can get around really easily using public transport or tour buses. Also, for the real local vibe, check out Airbnb for apartments or even hostels, which have moved away from their negative stereotypes and are seen as a viable option for somewhere to stay.
The other thing to consider is room sizes, because for both of our visits we had widely different rooms. One was a small box room with two single beds and the other had a king size bed and plenty of space around. Again, this is personal preference, because in reality you will hardly be in your room. But many of the more modern hotels tend to have smaller rooms and it can be quite difficult to manoeuvre around with two people, never mind if there are more you of.
If you are pretty healthy and can walk easily then we would recommend the lower part of midtown. This means you can walk up and hit the main tourist areas such as Times Square, Broadway and Central Park. But you can also choose to head down instead for Washington Square Park and the 9/11 Memorial.
Which Airport to Fly into when Visiting New York City?
You may not be aware of this, but New York City has three local airports, JFK, LaGuardia and Newark. Location wise LaGuardia is the closest, yet JFK is the most popular of the three.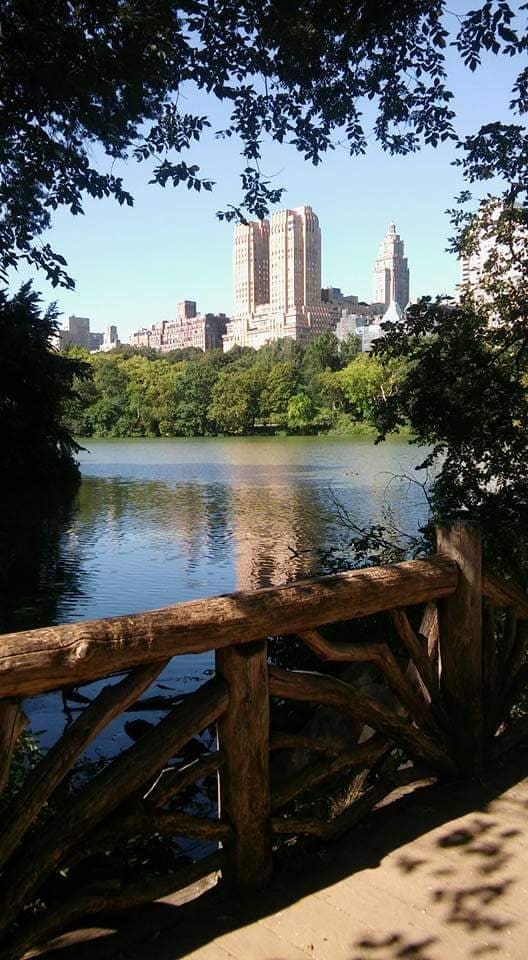 For the majority of tourists, you'll probably head to JFK because it is the primary international airport and as such will be the only one available. Newark tends to be the main hub for internal flights within the United States and LaGuardia is the smaller of the three, servicing much fewer daily flights in comparison. So essentially the decision will be based on where you are starting from, if you are within American then you will have more options than are available to international tourists.
When to go to New York City
New York is hugely popular all year round, but especially at Christmas when the city is adorned in twinkling lights and the Christmas tree takes pride of place outside the Rockefeller Centre. Although this sounds perfect, the main thing you need to consider is the weather, because the whole North East of America can get incredibly cold in the winter months with heavy snow being common. Yes, it's picture perfect, but it can get in the way if you're eager to see as much as possible. A lot of attractions will close for the winter, so you won't have the access to everything that you would normally get in the warmer months.
The alternative to that is the summer, but they can get incredibly warm, especially being in a city with skyscrapers everywhere which reduces the chance of a cooling breeze.
Because of this we tend to choose the Spring or Autumn months, because you get the perfect combination of warm but not too hot. September to October is great for strolling around Central Park and watching the Autumnal changes to the leaves. You also have a better chance that most of the attractions will be open, especially outside ones.
What to Pack for New York City
This will be completely dependent upon the time of year you choose to go. The one must have item is comfortable shoes, because if you're here to see the city then you will be walking A LOT!
Other then that it will be lots of layers, the colder the temperature, the more layers you will need. Although we have been in September and lived in jeans and t-shirts. New York is a relatively relaxed place clothing wise, so wear what you are comfortable in and remember there's plenty of shops if you need to get something in a rush.
If you are planning on going to a Broadway musical, then you may want to aim for smart casual, but again everything is quite relaxed.
For those of you from outside America you will need the usual plug adaptors, but if you forget anything you have shops like Walgreens and CVS everywhere. Remember to leave room and luggage allowance for those NYC goodies that you will be buying.
Transport and Travel Options from the Airport to New York City
There are a number of transport options into Manhattan Island from the airport, obviously depending which airport you have flown into. But the main ones are the subway (which for JFK Airport you connect to by an AirTrain), buses, taxi, and private hire (which we will include Lyft and Uber).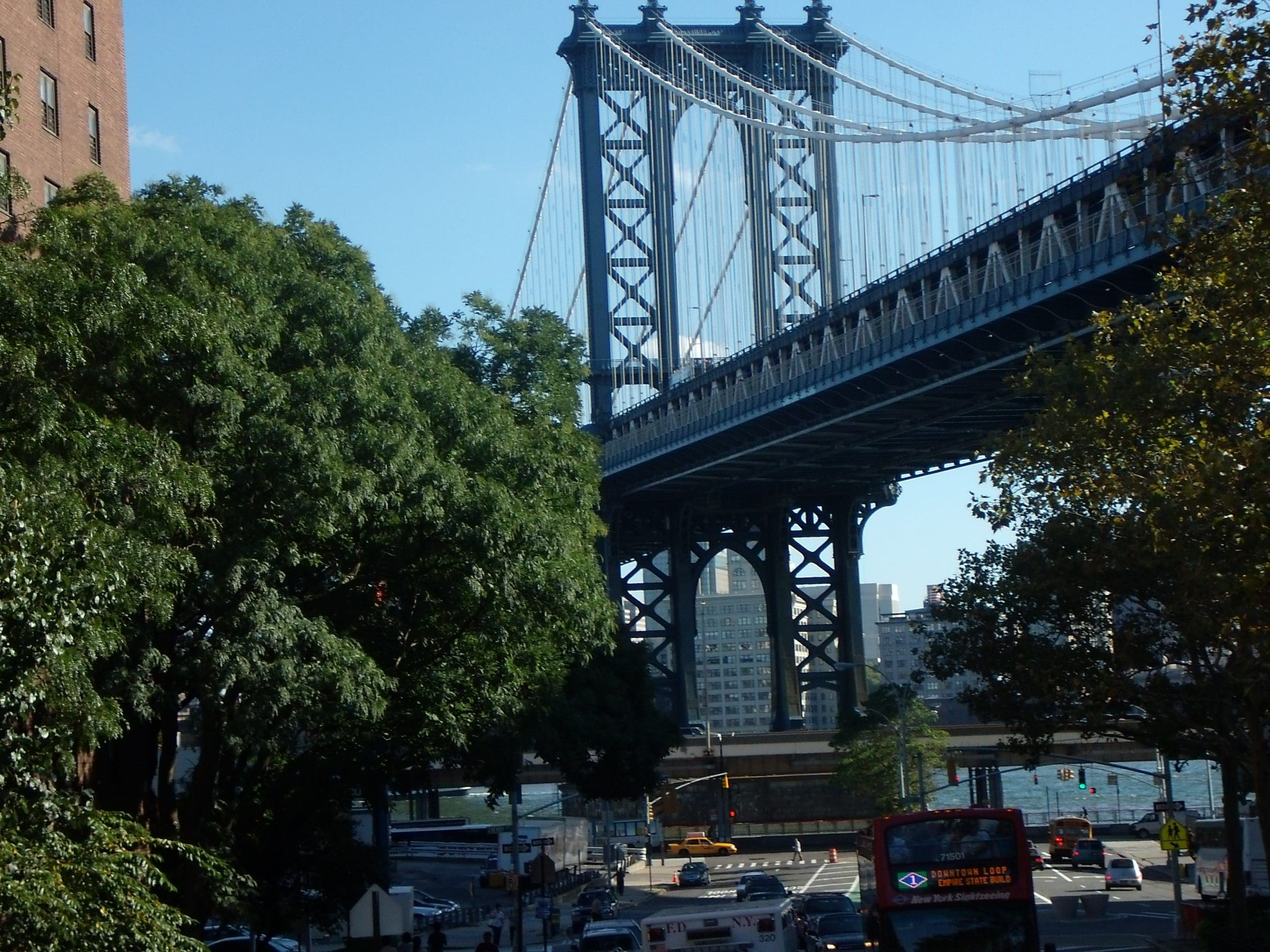 JFK Airport which is the furthest away has a set fee of around fifty odd dollars for taxi's, Ubers or Lyft. This is mainly because of the distance and tolls for bridges. But obviously when you are heaving luggage around it is much easier than taking the subway or buses, even if the cost is far more expensive. Our preference on the occasions we visited was to booked a private hire, because you are assured that someone will be there waiting for you after your long journey and you can enjoy the commute and views of the city. The cost is generally the same as a taxi, but that is dependent on how luxurious the vehicle is. Again, your decision will be down to money, but if that isn't a consideration then why not make your journey in relaxing?
Transport and Travel Options in New York City
When it comes to getting around New York the one thing we always recommend is walking. Our biggest shock on our first trip was how easy it was to walk around and how close the main attractions were to each other. Most of the iconic NYC locations are within the midtown area, it is only really the Statue of Liberty which is on the bottom of Manhattan. Of course, if you want to get around quickly you can use the subway, which is a thrill for many tourists as we've seen it so often on movies or TV shows. There are always the local buses, but by the time they get through the traffic it would have been far quicker on the subway.
Even though we don't recommend local buses, we are big fans of the hop-on hop-off buses, especially if you're a first timer and don't really know your way around. You won't get around quicker than other forms of transport but guides on the bus will point out the locations of 'things to do' and provide historic information or fun facts about the city. It's a great way of learning about the different areas of Manhattan Island whilst you're sat having a rest. The fact that it's hop-on hop-off means that you can utilise the bus to get to those locations that are a bit far to walk. So, as you plan the attractions you want to see, try and locate them on a map and work your transport needs around them. We basically managed to get around the city using the hop-on hop-off buses and by walking. This will significantly reduce those additional travel expenses when you're there.
There is of course private hire such as taxi's or ubers, but unless you want the memories of grabbing a yellow cab in NYC, we wouldn't bother. Vehicle traffic is so busy around the city and incredibly slow, that it will take up a lot of your time. Again, the same for hiring a car which is pretty useless for New York and the parking prices will be extreme.
The New York Pass
This is probably the greatest tip we could give you, because not only does it make your trip to New York City cheaper, it also makes it much easier to plan. There are a few other passes available, but the New York Pass is the only one that is all inclusive and has the majority of the top attractions. We have done a lot of USA attraction passes and this is the best one we have ever used, mainly because of the quality of attractions available.
The premise of the pass is pretty simple, you choose the number of days you want to have the pass for. Even though you have 24 hours from the point of activation it is only for that full day. So, for example, if you trigger the pass at 2pm on a Tuesday, then you will only have it for the rest of the Tuesday. It will not carry over to 1pm on the Wednesday. We work out how long we want the pass based on how many of the attractions we want to do on it (there's a lot!) and how many full days we have. If you're in NYC for 5 nights, we would do the full 4 days and not include the day we travelled in.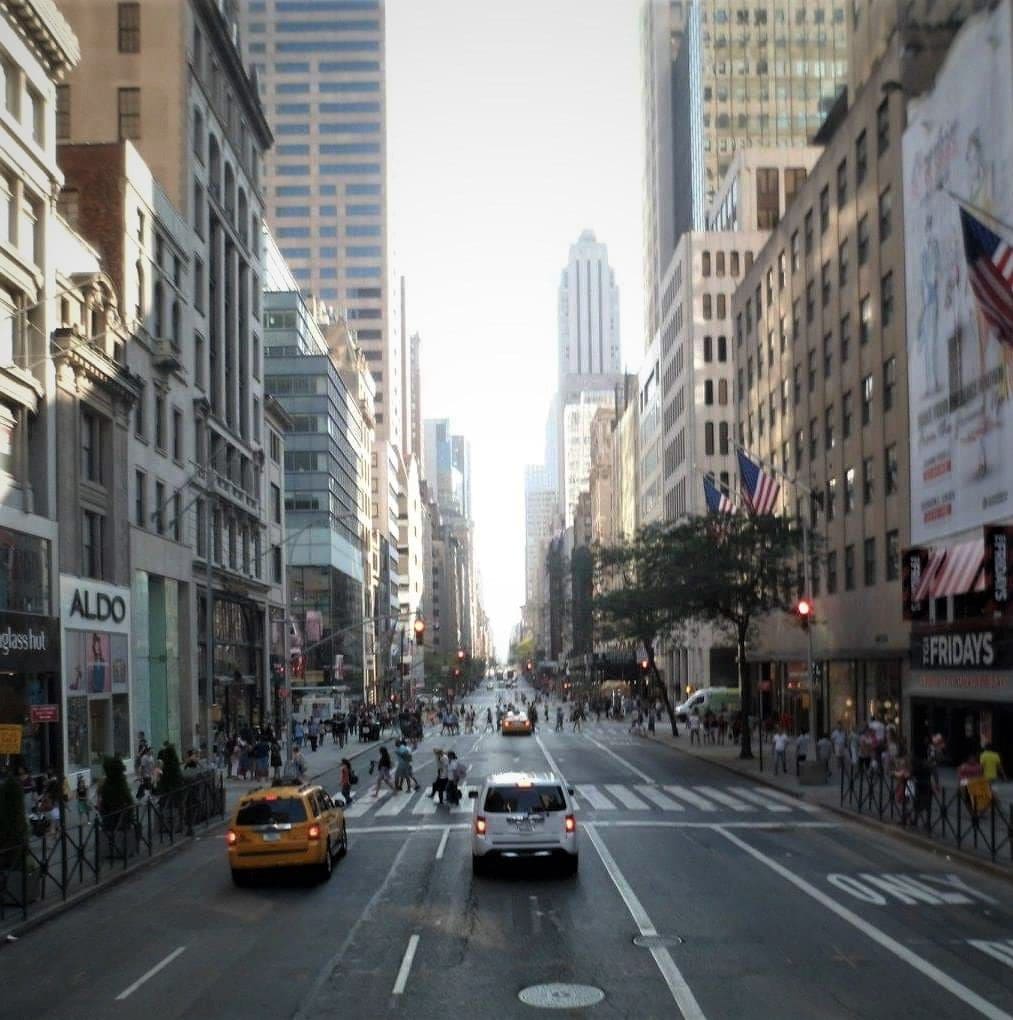 Once you've decided on how many days, then you purchase the pass and you will be sent a barcode for each person which you can keep on your phone or print off in paper format. This barcode is what you will use to scan and enter the attraction. You can only visit each attraction once, so make sure you have to time to really enjoy it.
With the majority of the other passes, you have a choice of one main attraction and then the option of some smaller ones. But with The New York Pass you can access any of the attractions you like. The reason we love this option so much is because not only will each one work out cheaper, but you will try some attractions you normally wouldn't. We ended up with some of our favourite memories of New York simply because they were on the pass. Tours like Madison Square Garden, Yankee Stadium and the Radio City Music Hall were all visited because we didn't have to pay extra, and they were amazing.
They also send you a map of where the attractions are located, what they are and open/closing times. This is the best way to help plan your days in NYC, as you can fit the places that are close to each other in one day and those further out can be another day. Prewarning the Statue of Liberty can take up half a day, mainly because of queues and the time it takes for the ferries to arrive/leave and disembark. Preplanning will help you get the most out of the passes and give you the chance to see more than if you were just meandering around. Remember to look at the times of opening because you may find some open earlier than others, so why not pop in and check them out. The majority of attractions close at about 5 o'clock, so you only have a short window of time to get it all done.
A 3-day pass for an adult is just over two hundred dollars at the time of writing this guide. But when some of the places you will visit charge twenty-five dollars for entry, you can see how the costs would rack up. The majority of the places we mention in the list of attractions will be included in The New York Pass, so really consider this as a viable option before you go.
Our List of Attractions and Things to do in New York City
Now this is the important bit and probably the section that you are eager to read through. We have added and detailed all of the tours, attractions, and the sights we have seen in New York. They're not in any particular order, but the majority of them will be on The New York Pass. Not only will we add a little bit of detail about each item, but we'll pass on any tips we have discovered to make your visit easier.
We would recommend having a read through and then picking the top ten that are a 'must do', then a few for back up if you get through the first group. Of course, this depends on how long you are staying for, because you can get through a lot in a week.

Empire State Building Observatory
As one of the world's most famous buildings, we're sure that the Empire State will be on your list of must do's. Located in the Midtown section of Manhattan, you will find it not too far away from Times Square. Obviously because of its popularity you can expect there to be queues, so we either recommend heading there first thing, or going at night. Our personal preference is Empire State at night and Top of the Rock in the morning. Mainly because you get such incredible views of Central Park from Top of the Rock, you will want to see them in the day.
The beauty of this art deco building will impact you from the minute you step into the enormous lobby. There are two observation decks, one on the 86th floor and another on the 102nd floor. Both are accessible in a glass elevator, but you will pay more for the 102nd floor. If you have The New York Pass then you have free access to the 86th floor and discount for the cost of the 102nd floor.
The views are pretty spectacular, and you will see a wide stretch of Manhattan in front of you. This is the perfect place to stop and take it all in, especially because you are away from the hustle of the streets below. Also, you never know if you may see the perfect romantic moment, alike Sleepless in Seattle.
As well as the viewing decks they also have exhibits about the original site, how the Empire State Building was constructed and what it was like on opening day; plus, so much more.
We would advise prebooking this attraction because as we've already mentioned it will get busy and you don't really want to spend your whole day queueing.
Madame Tussauds NYC

The name is pretty renowned around the world, but if you've never heard of Madame Tussauds it is wax exhibition of some of the most famous celebrities, politicians and royalty around. Who features in the exhibit will vary depending on the location, but if it's NYC then you can expect the big stars.
The location of Madame Tussauds is on Times Square, so smack bang in the centre of the glitz and lights. This specific one was the first we had ever visited, and it was purely because it was included in the attraction pass. Boy did we have fun, because Madame Tussauds is all about taking pictures with your favourite celebs and generally goofing around. There are various rooms which are sectioned by topic, for example sports stars, singers, Presidents, and film stars. It can take you an hour or two to meander around, but this will all depend on how many pictures you take. The best part is that a lot of the exhibits help with the interaction, so you can sit next to Jimmy Fallon on The Tonight Show or sit in the Presidents chair in the Oval Office.
The Madame Tussauds in New York is the best one we have done, so if you're a fan or you have never been in one before, then we definitely recommend it.
Top of the Rock Observation Desk
The Empire State Building isn't the only iconic building with spectacular views. You can also have a 360-degree panorama of Central Park and midtown from the Top of the Rock. This is our favourite option for daytime because you have the clearest view of the park, which is perfect for your holiday pictures. Alike Empire State you will take a lift to the 70th floor which is an awesome experience in itself. Then you will walk out on to the observation platform and again the same as Empire State, will be surrounded the most incredible sight.
We have been asked in the past if you had to choose between Top of the Rock and Empire State which would you pick. Honestly, we would choose Top of the Rock, mainly for those unobstructed views of Central Park and because you can see the Empire State Building within the view of midtown.
Top of the Rock is included in the New York Pass and doesn't need prebooking, though we found early in the morning meant fewer people in the queue and not many on the observation deck.
9/11 Memorial and Museum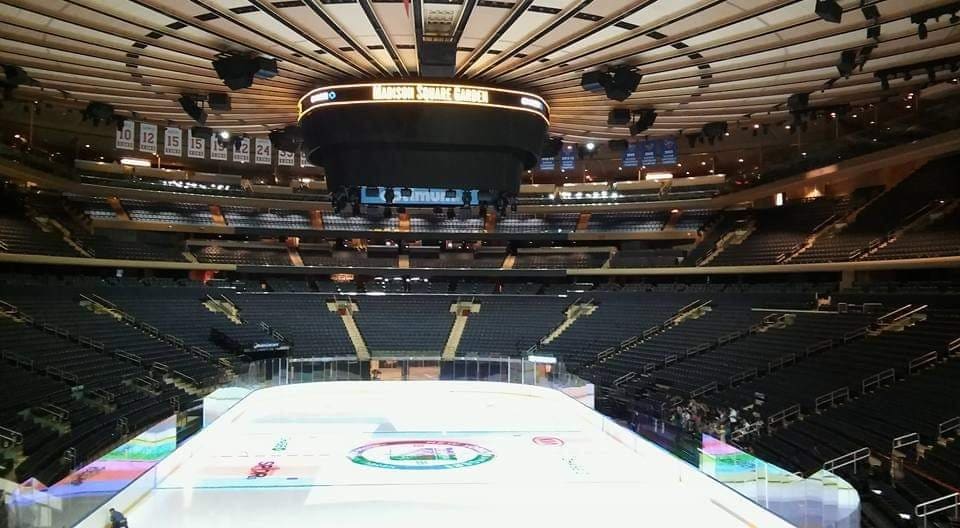 The 9/11 Memorial and Museum is a monument to the nearly three thousand people who died during the terrorist attacks on the 11th September 2001. The memorial can be found where the original twin towers once stood in lower Manhattan, but it actually only covers 8 acres of the original 16 acres of the World Trade Centre Complex.
The design of the memorial has two waterfall pools which are surrounded by the names of the victims of 9/11. It is quite a sobering moment when you see the area the twin towers would have covered and just how many people lost their lives by the number of names on display.
But it's when you go into the 9/11 museum that the true impact of the event will hit you. The museum explores the development of the original World Trade Centre and its impact on the New York skyline. It is worth preparing yourself for when you enter the section about the day of 9/11, because some of the imagery and artifacts are incredibly upsetting. There are remnants of the building and emergency vehicles recovered from the scene. They then explore the aftermath on the location and of course on the people of New York. The museum itself is well thought out and respectful, but quite an emotional rollercoaster which nothing can prepare you for.
Entry is included in the pass and please be aware that this too can be quite a busy place. Location wise it is ideal to combine the museum with the Brooklyn Bridge as they are only a 15-minute walk away from each other.
Statue of Liberty Ferry and Ellis Island
Probably one of the most recognisable icons in the world, The Statue of Liberty was a gift from the people of France and is seen as a symbol of freedom and democracy.
You will find the great lady herself on Liberty Island which is a short ferry ride from lower Manhattan. To reach the island you will have to go through security checks before boarding the ferry, which will include an ID check and scanning of any bags. Then it's simply a wait to board the ferry and for it to head over to the island. This is why we recommend you spare half a day for this particular attraction, because the whole boarding and un-boarding of the ferry can take time. The Statue of Liberty is included in the New York Pass, but it does not include entry to the pedestal or crown levels inside.
When you reach Liberty Island you will be greeted by the most incredible views of the New York skyline. So, wait a moment and make sure you take it all in and get those pictures for memories. Yes, you can go inside the Statue of Liberty, but as we have already mentioned you will have to pay additional charges depending on which area you want to go to. We sadly did not get the chance to go in, but we're told the views from the crown are amazing.
Again, then it's a ferry ride from Liberty Island to Ellis Island, which is where you will discover the impact of immigration in building the United States of America. Ellis Island was the immigrant inspection station between 1892 and 1924. It became a museum in 1990 with a variety of exhibits chronicling the stories of those who arrived for a new life in America.
Then you finally board the ferry once more to be taken back to Manhattan Island. We would prewarn you that the Husdon River can be quite rough, so if you get seasick it may be worth getting yourself some Sea Bands or taking your usual sea sickness medication.
Central Park NYC

Located in the upper end of New York, in the midst of large, impressive buildings is the equally impressive Central Park. Again, it is a New York icon, but Central Park provides visitors with the perfect opportunity to slow down and relax, in what is an incredibly fast paced city.
Central Park covers 843 acres so make sure you give yourself the time to wander about. There is so much to do and see, especially if you're there on a sunny day.
The attractions in the park vary and include the Central Park Zoo (with over 130 species), Central Park Carousel, Strawberry Fields, Wollman Rink, Belvedere Castle and the Delacorte Theatre. As you meander through you will see various landscapes such as the Ramble and Lake, Hallett Nature Sanctuary and the Jacqueline Kennedy Onassis Reservoir. The array of flowers and trees within the park is breath-taking and ideal for the gardeners out there.
On our first trip we only managed at quick walk around a portion of the park and went into the Central Park Zoo. It is relatively small so shouldn't take up a huge amount of your day. On our second visit we really took our time and walked around to make sure we saw all that Central Park has to offer. But if you're in a rush then there are a number of tours available including general history about the park or the TV shows and movies that were filmed there. You can even hire a bike and get around the park at a quicker pace, so you can fit more in. Or go classic New York and hire a horse and carriage through Central Park, although this will only take you in so far and you will miss the main attractions.
We personally loved Strawberry Fields because we are from Liverpool, the hometown of John Lennon who this section of the park is dedicated to. If you are fans of the Beatles and John Lennon then you will find the Dakota building is not too far away from Strawberry Fields. For many fans a visit is a great way to pay homage to the talent and legend that John Lennon was.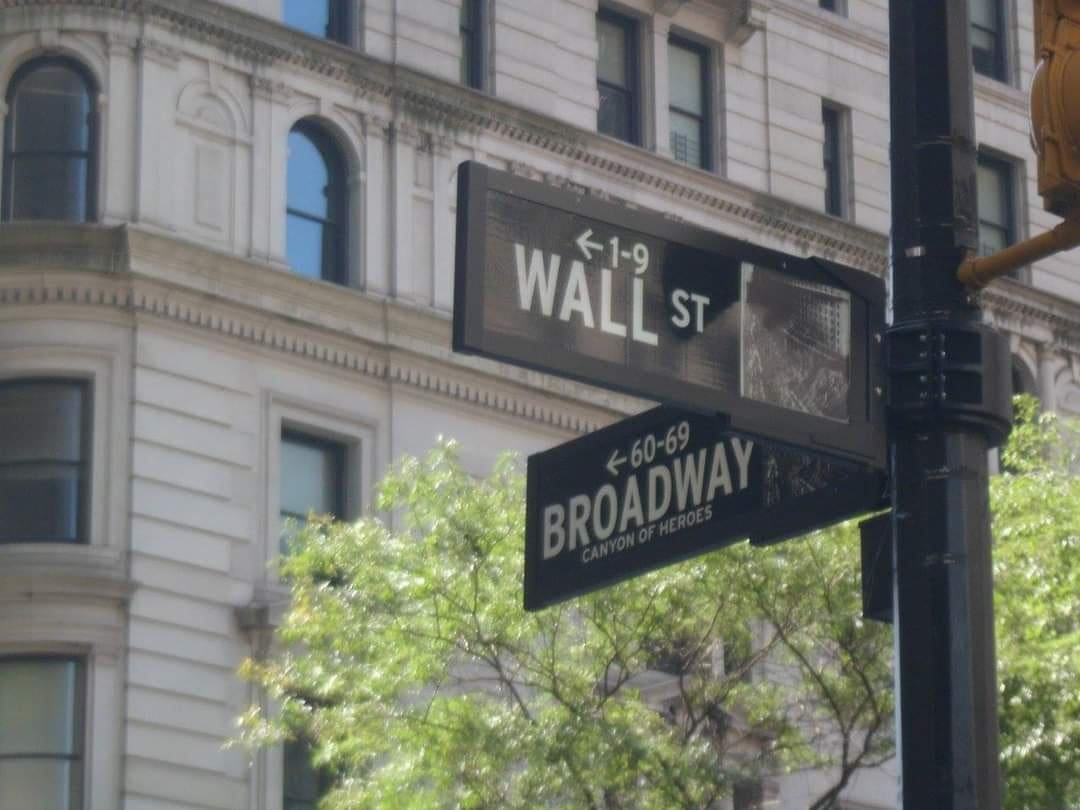 Belvedere Castle is also a sight to behold and it caught us by surprise as we wandered past. But if you have the time simply stroll around and take in the contrast between the natural beauty of Central Park and the stunning buildings within it.
Brooklyn Bridge
The Brooklyn Bridge is pretty high up on most peoples Bucket List for New York. Not only is it impressive to see and an icon of the NYC skyline, but for some it is a feat of engineering. Built in 1869 it was the first cable-stayed suspension bridge in New York, and it provides transportation between Brooklyn and Manhattan.
Now the Brooklyn Bridge is just over a mile long, which for an average walking pace means it will take you 30 minutes to cross. Of course, you're going to want to take photos, which means it can take longer and you'll be fighting against other tourists doing the same thing. We personally only walked halfway across the bridge because we were short on time. You should be aware that for those who are nervous of heights, there are gaps in between the wooden slats on the floor so you can see through to the roads below. Also, you will feel the bridge move especially when it's windy, but even if you walked a little way in, you'll still enjoy the views.
It is worth mentioning that there are different lanes on the bridge to keep pedestrians and cyclists separate. So just be careful when you are taking your photos or wandering about, that you don't get in the way of locals who are simply using the bridge to commute.
For those of you who walk the full length of the bridge to Brooklyn, then you will probably want to head to Washington Street for that perfect picture of its cobblestone streets, with the Manhattan Bridge in the background and the Empire State Building in the distance. If you follow the crowds, they will more than likely take you in the right direction.
Brooklyn Bridge is ideal when you're focusing on attractions in the downtown area of Manhattan, so try and link them all in together on one specific day.
Times Square
Basically a major commercial intersection, Times Square can be found in Midtown Manhattan which is close proximity to a lot of other major attractions. It is more notably famous because of its appearance in a myriad of movies. Meaning no trip to New York is complete without wandering around the streets and taking in the vast billboards and advertisements. The length of time this will take you is completely down to you, but we do recommend seeing it in the day and popping back when it is dark, and the area really lights up.
There are a few notable places in Times Square, including the Hard Rock Café New York, Planet Hollywood and M&M's World. You'll even find the Times Square Studios where ABC News, ESPN and Good Morning America are filmed.
For those of you looking to take in a show then Times Square is the hub of Broadway. This is the place where you will find booths selling tickets for the top shows, so why not take a look and see if anything catches your eye.
Grand Central Terminal
Again another one for the movie or TV fans, because this rail terminal has featured as the romantic ending in many of our classic favourites.
The architecture of Grand Central Terminal is called the Beaux-Arts and this alone makes for a jaw dropping photo opportunity. But as you stand in the busiest terminal in America, just take a moment and watch the average New Yorker as they bustle their way through the crowds. This is another landmark located in Midtown so you can tie it in with the likes of the Empire State Building and Times Square. As well as being a busy train terminal it also offers over 35 places to eat and 60 shops, so you can also grab a bite whilst you are there.
As you can imagine there is no admittance charge to the terminal, but there are a few tours into its history. For those of you who grab that New York Pass you can enjoy a self-guided audio tour for free.
Radio City Music Hall Stage Door Tour
This 5,960-seat music hall is another legendary spot in New York and gave America the beloved Rockettes. Its art deco design and huge auditorium led to the Radio City Hall being the location for the Grammy Awards, Tony Awards, Daytime Emmy Awards, NFL Draft and MTV Video Music Awards.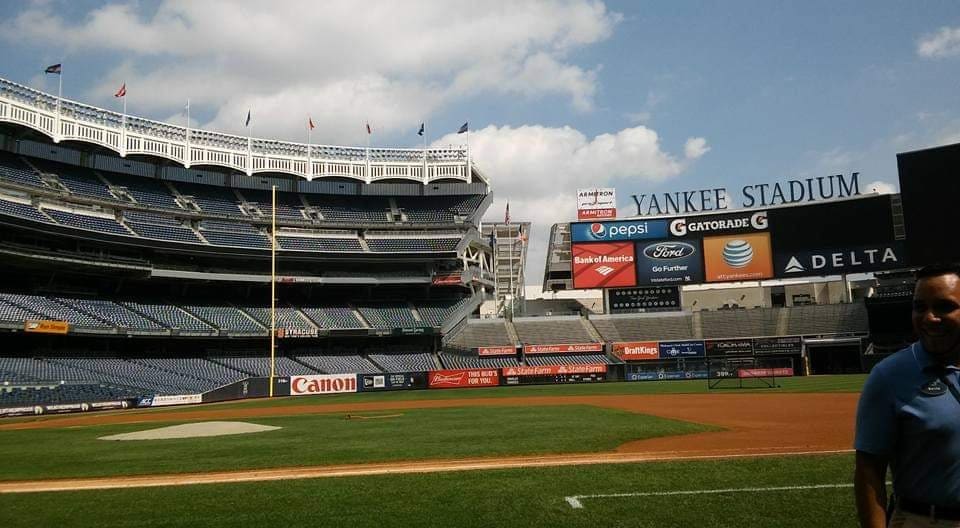 Radio City Music Hall offer a stage door tour which is a 75-minute guided tour into the history of the building, how everything works and offers backstage passes to areas not seen by everyday visitors. We will fully admit that we would not have done this tour if it wasn't free on the New York Pass, but that's the beauty of it, because we were so glad we did. The tour was incredibly informative and took us into a building which we normally wouldn't have had the opportunity to see. Finally, you actually get the chance to meet a Rockette, which maybe more exciting for the American visitors. But we still found ourselves getting swept into the magic of it all and taking plenty of pictures for memories along the way.
American Museum of Natural History
It may already have been a culturally iconic building in New York City, but movies such as Night at the Museum have made the American Museum of Natural History even more popular. You may be a little disappointed if we tell you that you won't see the characters from the movie, but we are sure the museum itself will more than make up for it. What you will see is huge dinosaur skeletons in the entrance to the museum and they are just the beginning of the surprises.
The American Museum of Natural History has a raft of exhibits, some of which are special exhibitions and as such will only be there for a short period of time. There is an admission price for the museum, or you can enjoy free entry with the New York Pass. Just ensure you leave plenty of time available for this one and grab a map, because it is huge and can easily take up a few hours.
Madison Square Garden Tour
We have to admit we're suckers for a stadium tour, so why not visit one of the most famous arenas in the world. When it opened in 1879 Madison Square Garden became 'the' location for the best sports and music events in the world. It is also home to two pro sports teams, NBA's New York Knicks and NHL's New York Rangers.
Located in Midtown you will have the opportunity to view the areas of the arena that everyday visitors do not get to see through their All Access Tour! It is a 75-minute tour of the backstage areas of the arena, including the luxury suite and a view from the iconic concave ceiling. The tour will explain The Garden's 150-year history and you'll learn some interesting facts along the way, especially when they explain how the floor is converted from a basketball court to an ice hockey ring in a matter of hours.
Because you never know what floor you will get when you do the tour (i.e. ice hockey or basketball), be prepared as it can be incredibly cold; so, jackets are a must. We did the tour on a sunny September day in jeans and a t-shirt, only to be met with a super cold arena.
Yep, this tour is also included within the New York Pass, whereas if you pay on the day then its around thirty odd dollars each.
Guggenheim Museum
The Solomon R. Guggenheim Museum is an art museum located near Central Park. Not only does it display some of the most exquisite pieces of artwork, but the building itself is also pretty impressive. As you wander up to each exhibit you will find yourself going round in a circle and that's because the Guggenheim is a cylindrical building, which is wider at the top than at the bottom.
There is an admission charge, but if you have a New York Pass then your entry is included. Obviously depending on your love on art, will determine how long you'll spend wandering around. It is a notable building in New York, so you may want to visit simply to tick it off your bucket list.
The High Line
What once was a rail structure between Gansevoort Street and 34th Street on Manhattan's West Side, is now a public park. This elevated rail track is 1.45 miles long and offers a piece of natural relaxation away from the busy streets below. Not everyone who visits New York for the first time knows about the High Line, so sadly many visitors to the city will miss it.
Not only can you enjoy the flowers, nature and artwork found on the High Line, but it can also be a great spot to get those elevated pictures of the streets and buildings below or in the distance.
Wall Street and The Bull
Wall Street can be found in lower Manhattan and is renowned for being the financial district of the city, with movies such as Wolf of Wall Street exuding power and wealth. There are plenty of walking tours that can be found on Wall Street, which will provide you with information about the history of the area and the buildings.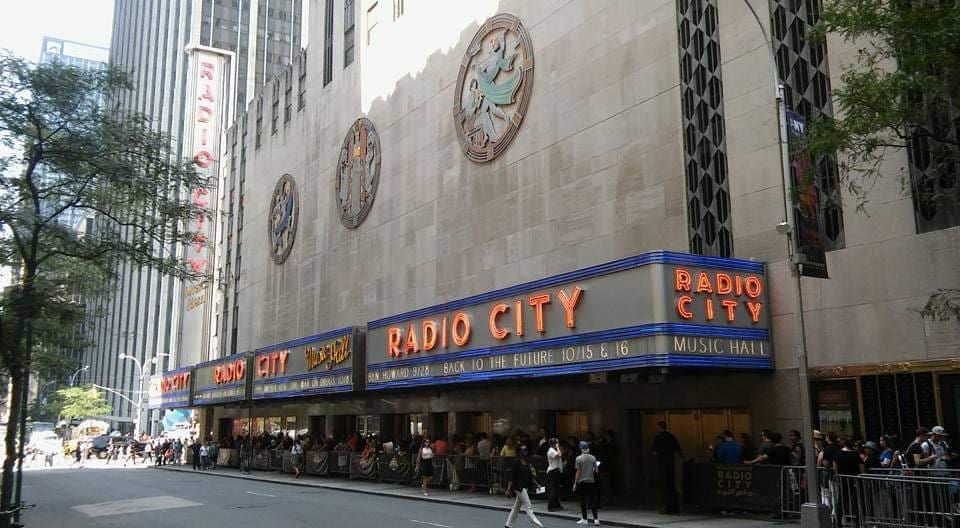 Close by you will find 'The Charging Bull,' which has become a symbol for Wall Street and the financial industry. That whole area can get very busy with tourists and New Yorkers going about their day, so if you want the perfect picture you have to go early. There are lots of myths and stories about the bull, but you will notice many tourists rub the nose, horns and testicles, because this is supposed to be a sign of good luck.
Washington Square Park
Not exactly a tourist attraction, but you will have seen this park so many times in movies or TV shows, it may as well be. Washington Square Park is in Lower Manhattan and is home to the Washington Square Arch. This iconic structure is a gateway to the park and was built to commemorate the centennial of George Washington's inauguration as President. The park itself has a number of interesting statues and a beautiful fountain. It's a great way to sit back and watch the average life of a local New Yorker, whether they're rushing by or sat in the park playing chess.
Yankee Stadium Tour
Whether you're a sports fan or not, we still recommend giving this one a read. The Yankee Stadium Tour isn't just for die hard baseball fans, because you can enjoy walking around the stadium itself and learning about the history of the area. Sadly, the stadium is a bit of a distance out of Manhattan Island and is actually located in the Bronx, but you can reach it via public transport and the hop-on hop-off bus will stop just outside. There is also a Hard Rock Café on location, so you can grab a bite to eat afterwards or one of their lovely cocktails.
The tour itself is ran by tour guides who will not only take you around the New York Yankees Museum, but you will also get to sit in the dugout, see the press box and wander around monument park. It is not as long as other tours we have taken, for example Fenway Park, but if you're a sports fan then it's definitely worth a visit. As you can imagine entry is included on the New York Pass, as is the hop-on hop-off bus.
Other Popular New York City Attractions
Sadly, there's never enough time to get through everything you will want to do, so this is the list of attractions we haven't yet seen.
MoMA – Museum of Modern Art
Metropolitan Museum of Art
St Patricks Cathedral Tour
Fraunces Tavern® Museum
Food on Foot Tours
Skyscraper Museum
Liberty Super express Cruise
Clipper City Tall Ship

Little Extra Tips for Your New York City Trip
Just Look Up – A good friend gave us this advice when we told them about our first trip to New York and we are so glad they did. As you arrive at NYC from the airport, take in the grandeur of the city and look up. All you will see is endless buildings which seem to go on and on up to the sky. There are not many places in the world that make you feel so small, but New York is definitely one of them.
Manoeuvring the Streets – Walking in New York is an art form; you tend to move fast because that's the speed everyone else is walking. But it is important to know whether you are going the right way. On our first morning of our first trip, we left the hotel and just headed any direction. Only after a while we realised, we were walking away from all of the tourist spots. So, here's our quick guide to knowing where to go! From north to south of Manhattan are avenues and from east to west are streets. The streets start from one at the bottom near battery park and the ferry terminal for the Statue of Liberty. One to fourteen is classed as lower Manhattan, fifteen to fifty ninth street is midtown (where the majority of attractions are) and sixtieth onwards is upper Manhattan. Knowing this before you go will make life easier when you are there.
The Flatiron Building – For those of you whom have never been to New York before, you probably won't have heard of the Flatiron. It's not really an iconic building alike the Empire State, but it will catch your eye when you are there. As a beloved New Yorker favourite, this 22-storey triangular building offers a dramatic scene as you head towards Downtown, almost reminiscent of the front of a ship.
Katz's Deli – Most people will never have heard of the incredible

Katz's Deli

,

and why would you it's merely a restaurant. True, but it is also the location of one of the most memorable movies scenes of all time. Remember the fake orgasm scene in When Harry Met Sally? Well this is where it was filmed and there's even a sign above the booth saying 'Where Harry Met Sally….Hope you have what she had'. It is a little out of the way in the lower part of Manhattan, so not exactly a place you can stop on the way to another attraction. But well worth the walk if you love to follow the footsteps of your film favourites.
Shop till you drop – For many visitors to New York the shopping is as important as seeing the city itself. If you're in that group then make sure you take a walk down 5th Avenue, where you will find the top names such as Tiffany & Co and Saks. For designer brand you can head to Madison Avenue with names such as Chanel and Prada. Many visitors prefer the iconic Macy's and Bloomingdale's, both of which are incredibly large department stores offering everything you could imagine. You never know, you may find Rachel Green from Friends in there as a personal shopper. Prewarning these stores are insanely huge, and we got lost in Bloomingdales and struggled to find our way out. So, give yourself a spare day to ensure you have enough time to look at what you want.
The Rink at Rockefeller Center – If you're in New York around Christmas then why not head to the Rink at Rockefeller Centre. Skating under the incredible Rockefeller Christmas tree is on many a persons bucket list and it offers festive fun for people of all ages. You can purchase general admission online or on the day, but the closer it gets to Christmas Day, the busier it will be on the ice.
New York Food and Cuisine
If you're a lover of food then New York will have you covered, because they have everything from work class dining, to food trucks and cart vendors on pretty much every street.
Of course, we're in America so you'll want burgers, pizza and plenty of grease, which is basically everywhere. Gray's Papaya is noted as being one of the best hot dogs you will ever try, so head to Broadway and you'll find them on the corner. For something a little different head to Ellen's Stardust Diner which offers great food and singing waitstaff.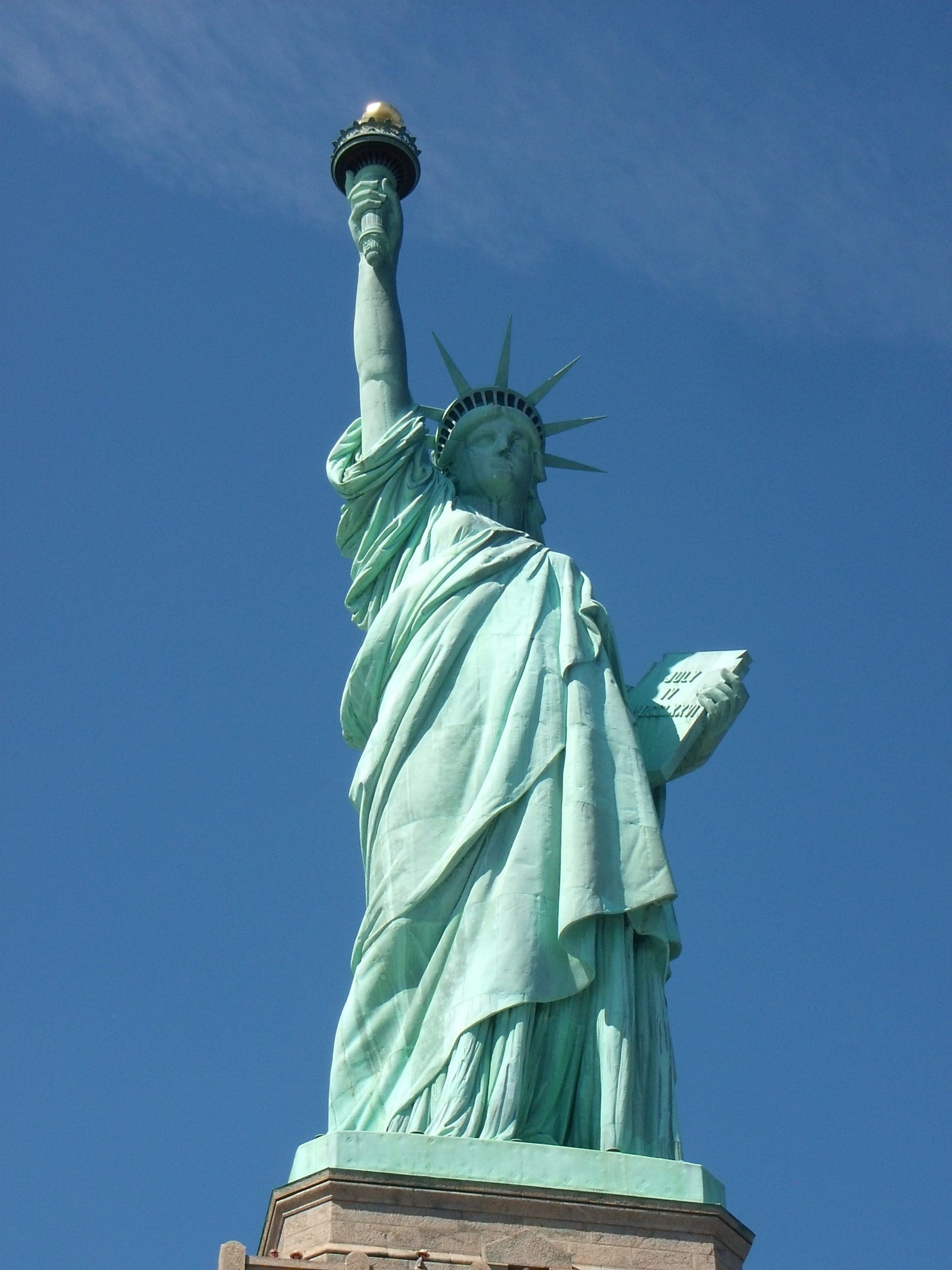 If you're not from America then Cold Stone Creamery is a must, because they offer the option of creating your own ice cream. The ice cream itself tastes like heaven, but when you start adding in gummy bears, brownies and M&M's; well, we think you get the picture.
For the ultimate chocolate fix, head to Serendipity3 restaurant in Midtown which offers the world famous Frrrozen Hot Chocolate. The place is incredibly cute and perfect if you're in New York in the colder months and you need some time to warm up.
There are healthier options too, because as you can imagine from a big city like New York there are plenty of Vegan, Plant Based and Vegetarian restaurants as well.
A guide to New York City was never going to be short, with so many attractions available we would be remiss to leave any of them out. But hopefully we've covered a fair few of them and we will continue to do so when we have the opportunity to go back. This is a city where you can revisit time and time again, but you will still feel as though you've done something new on each visit. You will also find yourself watching movies and TV shows based in New York and instantly return to those great memories you created.